June 6, 2019
Innovation of the Month:
A-GaME: Advanced Geotechnical Methods in Exploration
Did you know up to 50 percent of major infrastructure projects experience schedule or cost impacts because of geotechnical issues?
Advanced geotechnical methods in exploration (A-GaME), June's Every Day Counts round five (EDC-5) innovation of the month, is an expanded approach to site investigation that can reduce risk, optimize site characterization, enhance design reliability, and reduce geo-construction delays and cost escalations. A-GaME offers proven, but underused methodologies and practices that transportation agencies can adopt with confidence based on years of successful application.
Effective site characterization is critical for recognizing potential problems that may affect design and construction and for ensuring safe, well-performing, and cost-effective projects. Using A-GaME methods can dramatically reduce the data gap and provide better data to inform decisions.
The techniques recommended in A-GaME include: cone penetration testing, seismic and electrical methods, measurement while drilling, and using optical and acoustic televiewers. Using these methods can improve an agency's knowledge of subsurface site conditions, providing time and cost savings through a well-scoped investigation.
We invite you to watch our spotlight video and orientation webinar to learn more about A-GaME and the techniques it recommends to improve subsurface exploration.
If you would like to learn more about these proven, innovative geotechnical methods, please contact Ben Rivers of the FHWA Resource Center or Silas Nichols of the FHWA Office of Infrastructure.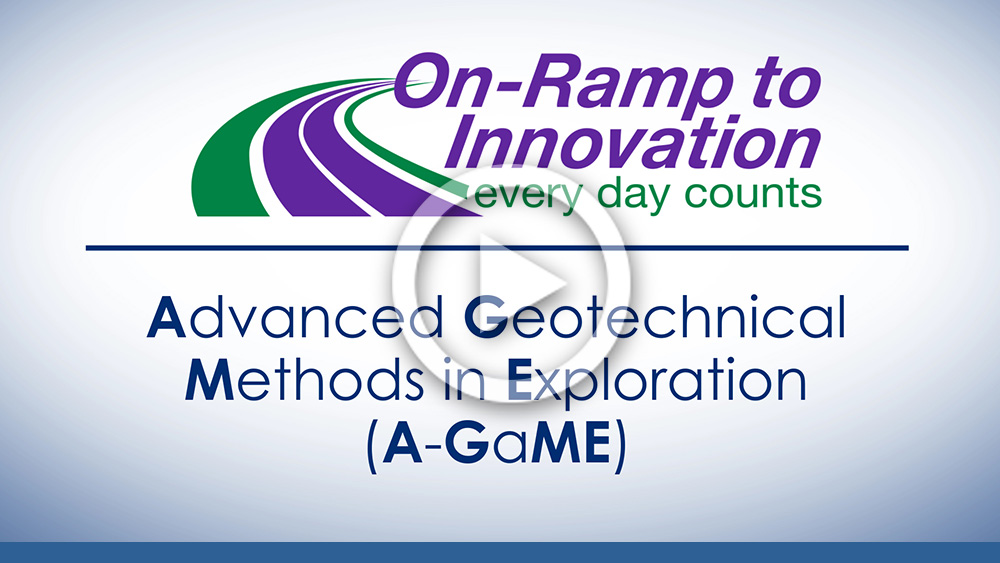 ATSPMs Improve Driver Satisfaction, Save Time and Money in Colorado
The Colorado Department of Transportation (CDOT) has observed improved response timelines and cost savings by proactively addressing signal operation and maintenance issues before they become a public concern. CDOT has implemented automated traffic signal performance measures (ATSPMs) at approximately 50 percent of traffic signals on State highways within the Denver Metro area and infrastructure is being updated at other locations in both the Denver Metro and statewide to collect and analyze high resolution data logs.
The State reports signal complaints on optimized corridors have decreased by as much as 30 percent. CDOT plans to continue the statewide implementation of ATSPMs and is also considering modifying the detection requirements to obtain additional signal related performance measures.
To learn more about how your State can modernize traffic signal management with ATSPMs, contact Eddie Curtis or Rick Denney, of the FHWA Resource Center.
Pavement Preservation Techniques Reduce Backlogs in Kentucky
In the last two years, the Kentucky Transportation Cabinet (KYTC) has seen a noticeable impact on overall road conditions from its use of pavement preservation techniques.
The state uses techniques such as scrub seals, chip seals, cape seals, hot mix asphalt thinlays and microsurfacing. By implementing a pavement preservation strategy, KYTC reports an estimated reduction of $200 million in their pavement project backlog and believe that by 2022, it will be reduced by an estimated $400 million.
To learn more about how your State can use these proven, cost-effective techniques to extend the overall service life of pavements, contact Antonio Nieves, of the FHWA Office of Infrastructure.
About EDC
Every Day Counts, a State-based program of the Federal Highway Administration's Center for Accelerating Innovation, works with State, local, and private sector partners to encourage the adoption of proven technologies and innovations to shorten and enhance project delivery.