July 11, 2019
Innovation of the Month:
Crowdsourcing for Operations
Crowdsourcing turns transportation system users into traffic sensors, generating data that improves real-time operations, and enhances the overall management of transportation systems.
Crowdsourcing for Operations, July's Every Day Counts round-five innovation of the month, leverages the crowd to improve traveler information, traffic incident management, signal timing, weather-responsive management, work zone management, and more. Crowdsourcing is a low-cost, powerful tool to overcome gaps in field instrumentation, data latency, and limitations inherent in traditional real-time monitoring. Crowdsourced data are available wherever and whenever people travel, offering visibility into suburban and rural networks where roadway sensor technology is cost-prohibitive.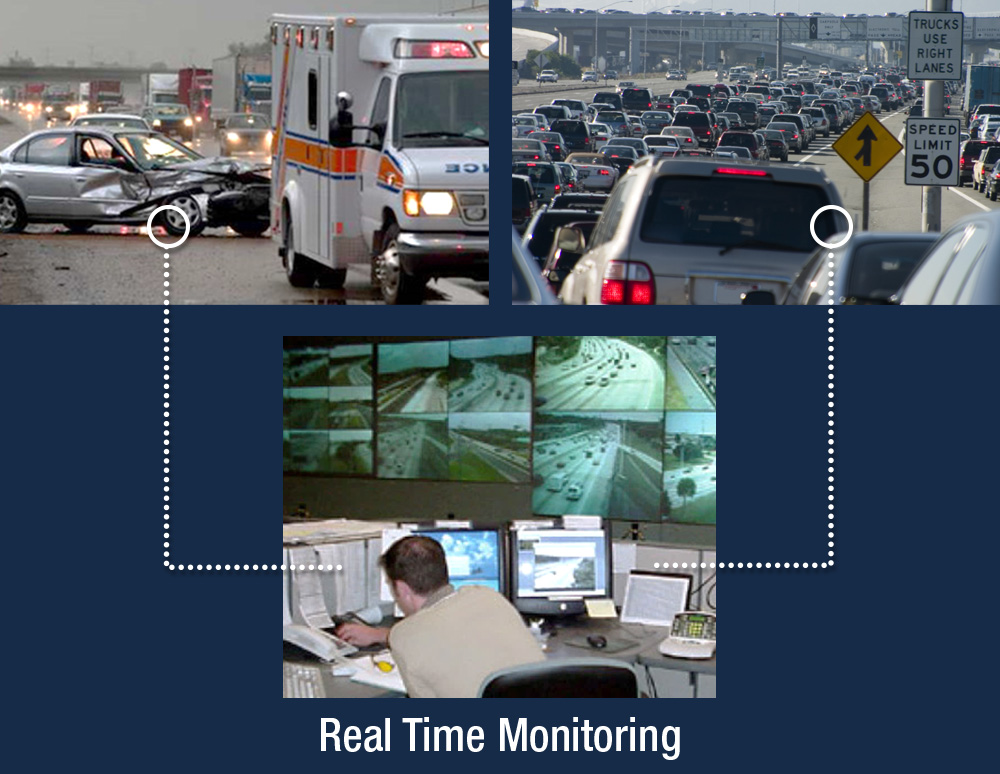 More than half of all State and many local transportation agencies already use some form of crowdsourcing, using data from agency-owned mobile applications, third-party crowdsourced data providers, or social media.
A few agencies have successfully applied an approach that integrates crowdsourced and traditional data to improve agency operations. For example, the Kentucky Transportation Cabinet (KYTC) now has data-driven performance measures for winter operations by integrating multiple crowdsourced data with traditional sensor and automated vehicle location (AVL) data. This has resulted in improved snow and ice operations through better identification of corridors to treat and more effective distribution of treatment materials, and overall better use of taxpayer dollars.
By integrating crowdsourced data from HERE, Waze, Twitter, and Community Collaborative Rain, Hail and Snow Network (CoCoRaHS) with traditional data from iCones, Kentucky Mesonet, Doppler radar, snow plow AVL, road weather stations, and other data, KYTC has fostered many improvements to operations and planning. Traffic management center operators receive email notifications based on events from HERE and Waze to improve incident detection and response. The integrated data is also used to monitor work zones in real time and support research on traffic control performance. KYTC maintenance divisions use the data to identify and respond to issues ranging from potholes to missing signs. Planning, traffic, and environmental groups also rely on this data for improved analyses at lower cost.
Over the next few weeks, we will look at examples of different crowdsourcing applications and how they have benefited State and local agencies across the United States.
To see how crowdsourcing has helped improve operations, watch this Innovation Spotlight video. If you would like to learn more about this innovation, contact James Colyar or Paul Jodoin of the Federal Highway Administration Office of Operations.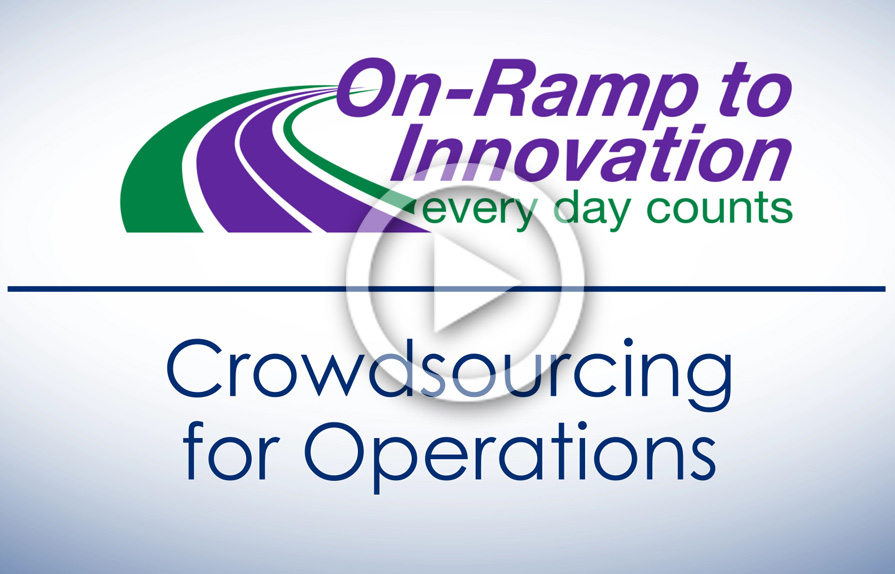 Colorado Uses Friction Sensors to Increase Safety and Lower Costs
The Colorado Department of Transportation (CDOT) is using friction sensors—electronic radars attached to the back end of fleet vehicles—to collect data on the amount of grip present on a roadway, increasing road safety and lowering costs. The sensors relay information on pavement temperature changes, along with friction and moisture levels present on a roadway, to the Maintenance Decision Support System (MDSS) where they determine which segments of roadway need salt, liquid materials, plowing, or a combination of treatments. By mapping site-specific data, maintenance workers can focus on areas that need treatment rather than treating whole sections of roadway.
In testing these sensors on a small selection of roads, CDOT reduced use of solid materials by 21 percent and liquid materials by 56 percent over the course of three statewide snowstorms. These reductions resulted in $180,000 of savings in material costs for CDOT. If implemented State-wide, CDOT estimates these sensors will save over a million dollars per year with the State's average 15 snowstorms per winter.
The program's success has resulted in its expansion, with the State expecting to have 70-80 mobile sensors in the field by the end of winter, 2019-2020. To learn more about road weather management – weather-savvy roads, contact Ray Murphy of the FHWA Resource Center.
Latest Issue of Innovator Now Available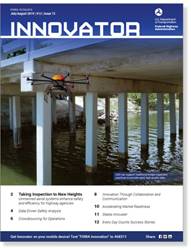 The July/August issue of Innovator has arrived! Inside, learn more about our innovation of the month, crowdsourcing, and other topics such as:
Discover past issues and sign up to receive Innovator by email, or text "FHWA Innovation" to 468311 to get Innovator on your smartphone.
About EDC
Every Day Counts, a State-based program of the Federal Highway Administration's Center for Accelerating Innovation, works with State, local, and private sector partners to encourage the adoption of proven technologies and innovations to shorten and enhance project delivery.