September 19, 2019
Innovation of the Month:
Focus on Reducing Rural Roadway Departures
During the month of September, we are discussing the four pillars of the focus on reducing rural roadway departures (FoRRRwD) initiative—addressing roadway departures on all public roads, using systemic safety analysis to identify those locations most at risk, developing safety action plans, and using proven countermeasures to reduce lane departures.
Once an agency has identified at-risk locations with systemic analysis and developed a safety action plan, it must implement roadway departure countermeasures to achieve crash reductions. There are many lane departure countermeasures to consider, including those in the Proven Safety Countermeasure Initiative. It is important to understand the three objectives that these safety treatments seek to achieve.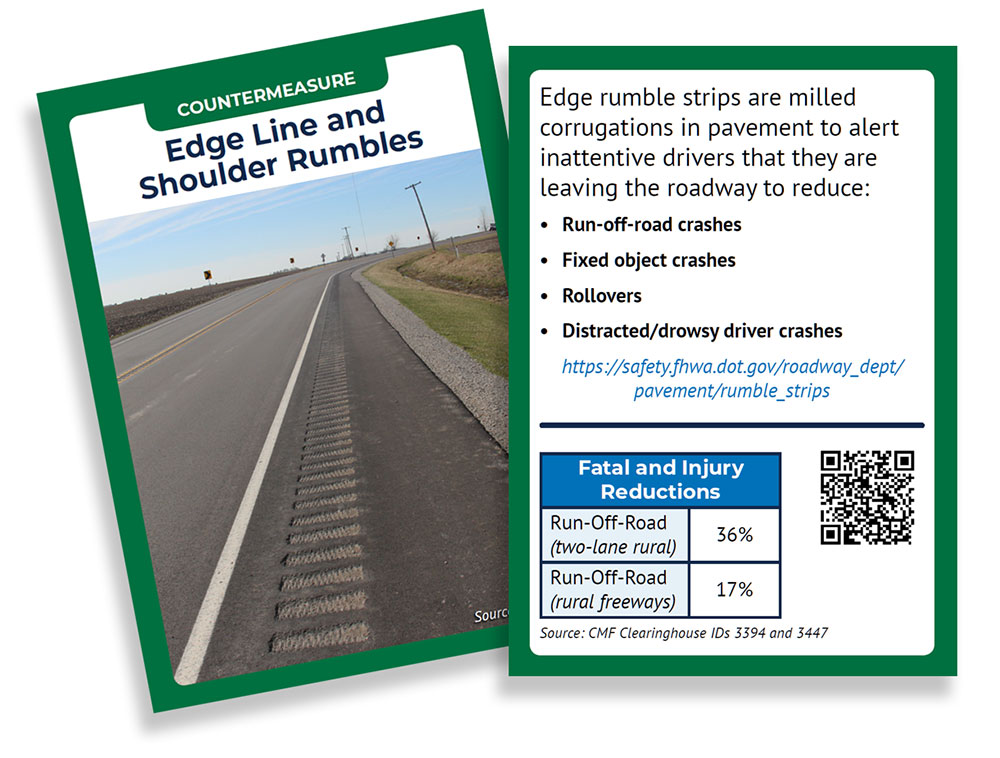 Objective 1: Keep vehicles on roadways and in their lane. Signing, pavement markings, friction treatments, and rumble strips are countermeasures that help achieve this objective. In a study analyzing data from Minnesota, Pennsylvania, and Washington State, centerline rumble strips on two-lane rural roads reduced head-on injury crashes by 38-50 percent.
Objective 2: Increase the opportunity for safe recovery. Shoulders, traversable slopes, clear zones, and SafetyEdge℠—a paving technique that provides a safe transition back onto the pavement, are examples of this objective in practice. In a study including Iowa, North Carolina, Ohio, Pennsylvania, and one Florida county, SafetyEdge℠ reduced all injury crashes by 11 percent.
Objective 3: Reduce crash severity. Barriers and breakaway designs for signs, luminaires, and mailboxes are examples of these types of countermeasures. Cable barriers, for example, are a flexible barrier that reduces crash severity. They are most commonly seen as a median barrier on divided highways, and are being used as roadside barriers on two-lane roads in South Dakota, New York, and Colorado. Cable barriers are particularly effective on the outside of curves, where run-off-road crashes are most common.
To learn more about countermeasures used in roadway departure safety, please visit this website or contact Cate Satterfield with the FHWA Office of Safety or Dick Albin with the FHWA Resource Center.
National Roundabouts Week
Each year, during the third week in September, FHWA celebrates National Roundabouts Week to raise awareness about this safe and efficient intersection design. Modern roundabouts reduce severe crashes by approximately 80 percent compared to traditional two-way stop-controlled intersections.
Roundabouts are effective in urban and rural areas under a wide range of traffic conditions. Today, there are more than 4,000 modern roundabouts in the United States.
FHWA encourages transportation agencies to consider roundabouts during new construction and reconstruction projects, as well as for existing intersections identified as needing safety or operational improvements. There's no way around it-roundabouts are an effective safety countermeasure.
Join the conversation on social media using the hashtag #RoundaboutsWeek.
MassDOT Making Bus Routes Safer for Pedestrians
As part of its effort to integrate pedestrian safety countermeasures into Massachusetts policies, plans, and projects, MassDOT is looking at ways to make systemic improvements to pedestrian crossings along bus routes, beginning in the City of Chelsea.
As part of a pedestrian safety study, Chelsea inventoried pedestrian accommodations at bus stops. Looking at the highest volume stops, MassDOT compared pedestrian-related crashes and the physical conditions of the stops and then conducted road safety audits for Chelsea's bus corridor to identify potential pedestrian crossing improvements, bus stop improvements, and roadway changes to reduce pedestrian-vehicle conflicts.
The City is currently developing a preferred corridor design with safety enhancements, scheduled for completion in late 2019.
The State is evaluating using this process as a model for how to improve pedestrian safety on roadways with bus routes.
To learn more about MassDOT's effort to improve pedestrian safety along bus routes, please contact Kevin Fitzgerald with MassDOT or Michael Pezzullo with the FHWA Massachusetts Division.
About EDC
Every Day Counts, a State-based program of the Federal Highway Administration's Center for Accelerating Innovation, works with State, local, and private sector partners to encourage the adoption of proven technologies and innovations to shorten and enhance project delivery.