March 26, 2020
Innovation of the Month:
Virtual Public Involvement
Over the last several weeks, we have explored several ways agencies can use virtual public involvement tools to increase engagement in public outreach activities. Online ads, often informing the public about a survey, meeting, plan, or project, are a popular and cost-effective way to encourage engagement on matters of public concern. Agencies can choose from a wide array of social media ads and promoted posts, as well as internet search and display ads that appear on websites or in mobile apps.
The highly targetable nature of online ads allow agencies to access hard-to-reach communities or demographic groups, which provides diverse points of view from those who have never participated in public engagement in the past. These ads can target geographic locations (called geo-targeting or geo-fencing) or demographic groups, to strategically expand public awareness in the transportation planning process. Online ads are often paired with print, radio, or television ads, and with other types of information dissemination as part of an overall communications campaign.
The North Jersey Transportation Planning Authority (NJTPA) used geo-targeted ads to increase participation in a virtual meeting and survey for their long-term regional transportation plan, Plan 2045. NJTPA designed the ads to help viewers relate to planning topics by including images of children and adults to remind the public that this plan will affect individuals over a long period of time. The ads reached 1.6 million people over a six-week period and helped to generate 3,000 survey responses. This broad engagement helped NJTPA identify community-supported priorities for improving transportation in the region.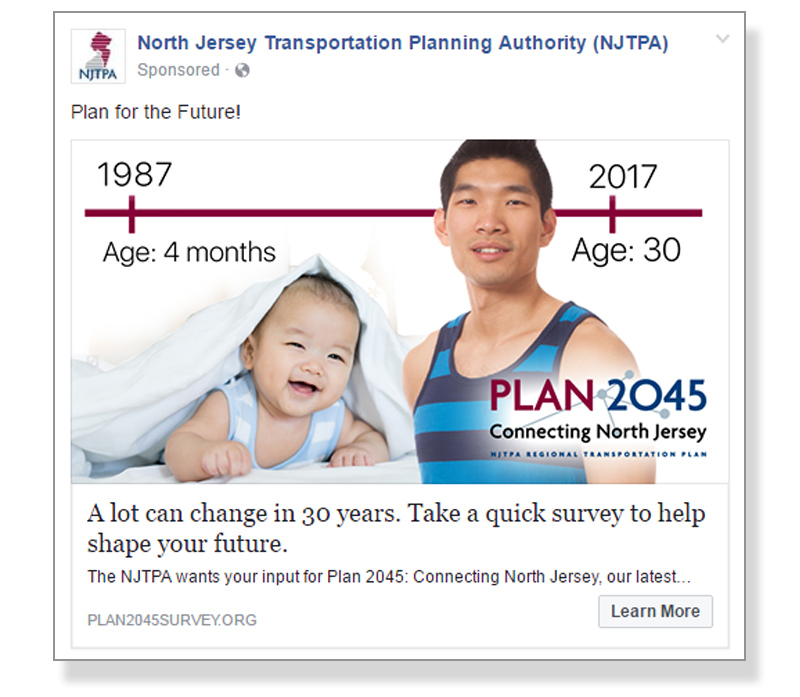 The Broward Metropolitan Planning Organization (MPO) also used social media ads to promote participation in a survey for their Complete Streets Master Plan. As part of this effort, the MPO identified three under-represented areas of the region for a geo-targeted ad campaign. They received over 1,000 survey responses, including 378 responses from areas where participation had been low traditionally. The survey results supported Broward MPO's development of a prioritized list of Complete Streets projects.
To learn more about NJTPA and Broward MPO's use of targeted online ads, please watch this video.
To learn more about how your State can use targeted online ads to increase participation in its public involvement activities, please contact Scott Allen or Jody McCullough, of the FHWA Office of Planning, Environment, and Realty.
Understanding and Responding to Traffic Impacts from Covid-19 Travel Changes
Crowdsourced data can help agencies quickly identify the impact of demand changes on transportation system performance, and efficiently adapt traffic management systems to improve travel. In response to Covid-19 school, event, and food-service closures in Illinois, the Lake County Department of Transportation (LCDOT) analyzed their advanced traffic signal performance measure (ATSPM) demand data with their free crowdsourced corridor travel time data. For example, before State mandates, travel time along State Route 21 North was 12-minutes or less for demand up to 1200 vehicles per hour. After State mandates, the evening peak demand (3 PM - 6 PM) decreased to 800 vehicles per hour, yet, travel time averaged above 13-minutes.
LCDOT defined and implemented systemwide changes to all LCDOT owned traffic signals within two days of State Covid-19 mandates taking effect. The agency is coordinating with the Illinois DOT to modify the timing on State signals in their region and continuing to monitor evolving traffic demand and performance. For more information on the use of crowdsourced data to improve operations, please contact James Colyar or Paul Jodoin, the FHWA EDC-5 Crowdsourcing for Operations Co-Leads.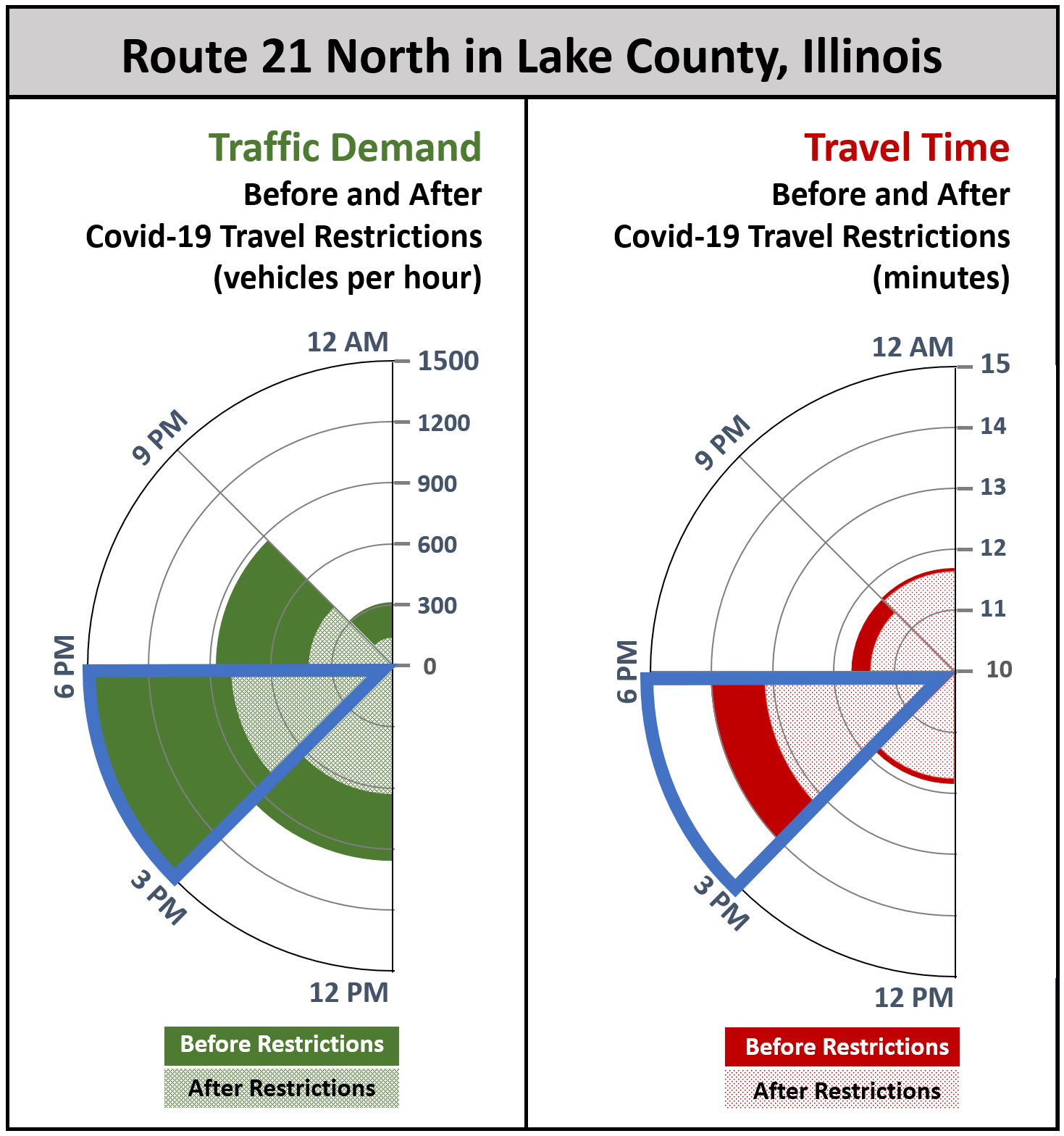 GDOT Crash Analysis Tools and Streetscape Guidance Advance Pedestrian Safety
The Georgia Department of Transportation (GDOT) is taking several approaches to improve pedestrian safety in the state, leveraging policy and technology to implement the safe transportation for every pedestrian (STEP) countermeasures. GDOT's new crash data platform allows transportation practitioners to quickly understand and visualize crash patterns by a variety of attributes (e.g. severity, lighting conditions). This analysis helps identify problem areas and provides valuable insight to inform decisions about the type of safety countermeasures that might be applied at each location.
A location identified from the crash analysis might then be chosen for a road safety assessment (RSA). After the RSA is completed, GDOT tracks the RSA recommendations and implementation stakeholders in a database and uses the percentage of RSA recommendations completed as a performance measure. This helps GDOT work with local and regional agencies to determine where they might need additional help with implementation.
GDOT also recently updated its Pedestrian and Streetscape Guide, which aims to expand the possibilities for pedestrian street design by providing a broad range of information about safety countermeasures. The guide includes a mid-block pedestrian crossing evaluation to help engineers and planners with crosswalk placement and additional safety countermeasures. The crossing evaluation references the FHWA Guide for Improving Pedestrian Safety at Uncontrolled Crossing Locations and provides screening questions that guides the decision-maker collect relevant data.
If you would like to learn more about how your agency can improve pedestrian safety with STEP, contact Becky Crowe with FHWA's Office of Safety or Peter Eun with the FHWA Resource Center
About EDC
Every Day Counts, a State-based program of the Federal Highway Administration's Center for Accelerating Innovation, works with State, local, and private sector partners to encourage the adoption of proven technologies and innovations to shorten and enhance project delivery.