May 28, 2020
Innovation of the Month:
Safe Transportation for Every Pedestrian
The Safe Transportation for Every Pedestrian (STEP) program has supported States and local agencies across the country with technical assistance since the program started in 2017. This summer, FHWA will challenge agencies to consider alarming trends in pedestrian safety and "STEP UP" to implement proven safety countermeasures at pedestrian crossings.
Beginning in June, the STEP UP campaign will highlight improvements that help reduce pedestrian fatalities in dark conditions, between intersections, and involving vulnerable older pedestrians. FHWA will share print-ready materials, social media posts, educational videos, and case studies that illustrate how the STEP countermeasures can help address these urgent issues and conditions.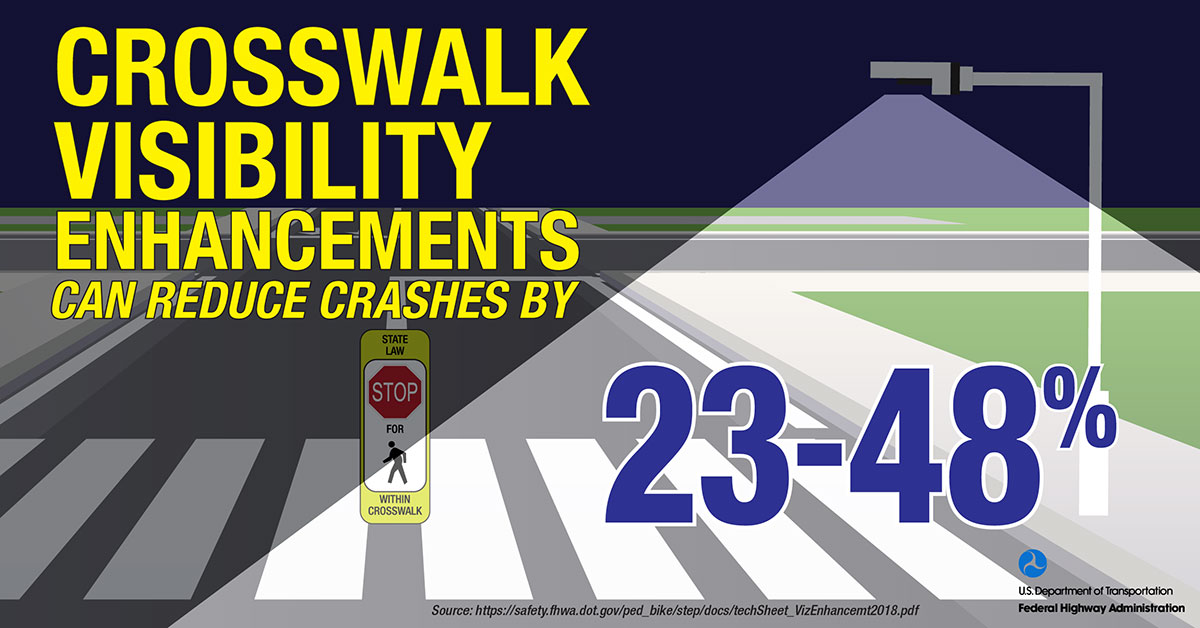 FHWA looks forward to hearing from you! Follow FHWA on social media and share examples of STEP countermeasures that have helped improve pedestrian safety at crossings. If you would like more information on the STEP program, contact Becky Crowe with FHWA's Office of Safety or Peter Eun with the FHWA Resource Center
UDOT Innovations Highlighted at National STIC Network Meeting
The Utah Department of Transportation (UDOT) shared its culture of innovation in action, highlighting three innovations at April's National STIC Network Meeting. UDOT showcased how using Unmanned Aerial Systems resulted in reduced accident clearance times, enhanced bridge inspections, faster collection of survey data, and allowed for conducting sign inspections without lane closures. They are also using Virtual Public Involvement online tools to gather public input and make decisions to gain greater trust and transparency at the local level. Lastly, UDOT described how they are conveying design intent using 3D models and digital files that serve as a legal construction document in lieu of paper plan sets. View their entire webinar presentation. To learn more about UDOT's efforts, contact Rod McDaniels with UDOT.
Also, don't forget that nominations for 2020's STIC Excellence Awards are due to FHWA by July 1, 2020. Take this opportunity to nominate your STIC and share examples of how it is making a difference.
MoDOTs Substantial Safety Commitment
In the spirit of improving safety on every Missouri road, The Missouri Department of Transportation (MoDOT) has been moving FoRRRwD to provide treatments on roadways to address "run-off-the-road" crashes.
By installing thousands of miles of shoulders and rumble strips on rural highways, MoDOT has reduced severe crashes by 30 percent. Guard cable is used on portions of interstates and other major routes, drastically reducing the number of median crossover crashes, which are often fatal. Also, high-grip surface treatments have achieved a 20 percent reduction in run-off-the-road crashes and help hold vehicles on the driving lanes. MoDOT estimated $5.4 billion in total customer savings and 522 lives saved in the latest results document highlighting the ongoing achievements the department delivers to the state.
To learn more about MoDOT's efforts, please contact Julie Stotlemeyer with MoDOT. For more information on Focus on Reducing Rural Roadway Departures (FoRRRwD), please contact Cate Satterfield with the FHWA Office of Safety or Dick Albin with the FHWA Resource Center.
About EDC
Every Day Counts, a State-based program of the Federal Highway Administration's Center for Accelerating Innovation, works with State, local, and private sector partners to encourage the adoption of proven technologies and innovations to shorten and enhance project delivery.