July 30, 2020
Innovation of the Month:
Project Bundling
Last week, we showed you how Idaho saved big with project bundling through economies of scale. This week, we'll look at an Indiana Department of Transportation (INDOT) study that shows just how much that State saved using project bundling.
INDOT examined the effects of contract size and other factors on cost savings achieved by bundling. Researchers used nine years of data from nearly 2,000 bridge projects delivered through more than 700 INDOT contracts. The results confirmed and documented the benefits of bundling and produced models INDOT and other States can use to select the most appropriate projects to bundle in the future. The INDOT study investigated several factors affecting project bundling costs, including project size, bundle size, bidding market conditions, and similarity of bundled projects.
The study found that INDOT's bundling efforts have saved them more than seven percent compared to historical non-bundled pricing. Some of the significant findings of the study include:
ECONOMIES OF SCALE: Unit costs declined as project size increased for all project types.
ECONOMIES OF BUNDLING: Cost per project went down as the bundle size grew. This was true for all bridge project types and for most traffic, small structure, roadwork and miscellaneous project types.
ECONOMIES OF COMPETITION: Having more bidders lowers costs for most bridge projects, but larger contracts can discourage small firms from bidding. According to the study model, the average number of bidders tends to be highest when two to four projects are bundled. INDOT monitors bids and developed rules to ensure that Disadvantaged Business Enterprise (DBE) program requirements were met. Bundles are created in ranges for all sizes of contractors.
PROJECT SIMILARITY: Project similarity within a bundle is an important factor for reducing project cost, especially for roadwork. Proximity also played a major factor, with projects less than 25-30 miles apart resulting in the best savings.
MAINTENANCE OF TRAFFIC (MOT) COST: Project bundling can generally reduce MOT cost for most road, traffic, bridge, and small structure work types. Of all work categories, roadwork benefits the most in terms of MOT cost savings.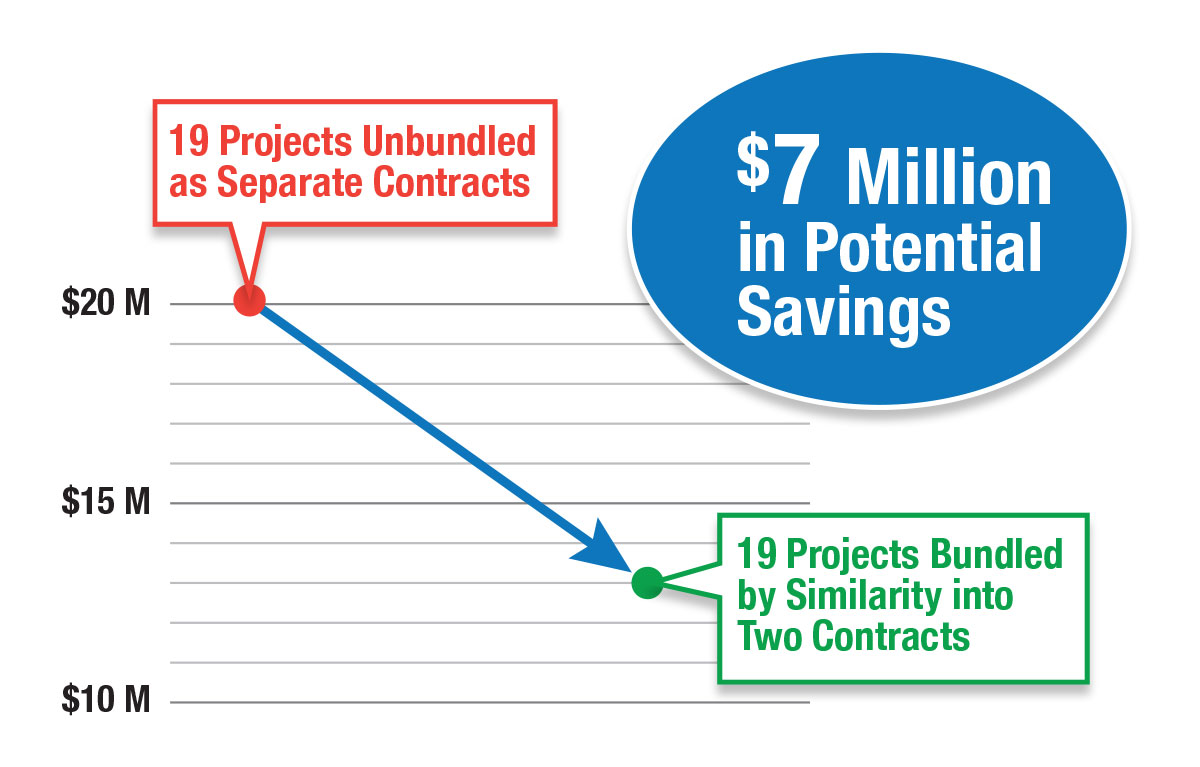 The study recommends future bundling strategies including the use of statistical models to identify projects most suitable for combining into multiple-project contracts. In addition, patterns found in the study can be used to guide the number of projects selected for bundles and the findings can be used as a guide to support project scheduling decisions.
INDOT has developed business rules for bundling more strategically and earlier during project programming, allowing for greater economies of scale throughout project delivery. Based on bundling results, INDOT now assumes a significant annual savings, which can be put back into their budget for additional projects. With a developed process and data, INDOT is now piloting the use of machine learning to help automate bundle selections.
To learn more about INDOT's bundling study and how your agency can use project bundling to save time and money, contact Romeo Garcia with the FHWA Office of Infrastructure or David Unkefer with the FHWA Resource Center.
EDC Storyboard – Making It Safe for Pedestrians at Night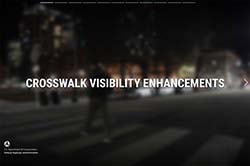 EDC storyboards are a new way to communicate innovation deployment stories in an interactive digital slideshow–incorporating photographs, video, and graphics to create a highly visual experience.
This week's storyboard promotes the use of crosswalk visibility enhancements. In 2018, 76 percent of pedestrian fatalities nationwide occurred in dark conditions. This storyboard proposes four approaches to improve pedestrian visibility and safety at crossings in the dark.
Check it out and let us know what you think about the storyboard!
For more information on improving crosswalk visibility, contact Becky Crowe or Peter Eun with the Safe Transportation for Every Transportation (STEP) team.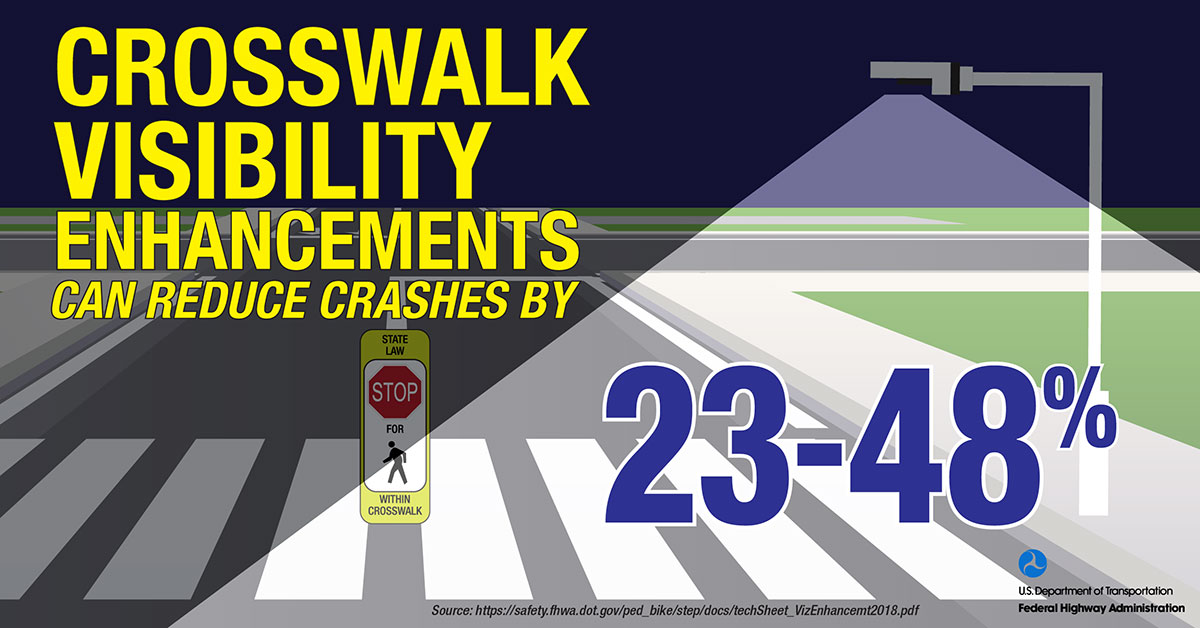 Mobile Weather Station in Burn Scar Location Gives Real–Time Rainfall Information
The California Department of Transportation (Caltrans) recently placed a mobile weather station in its Ferguson burn scar area to pilot the collection of real-time information on rainfall. The data uploads into the agency's cloud and is used by the National Weather Service and WeatherNet for rainfall information. Caltrans used the data effectively, collaborating with local and state law enforcement to close roadways located in the burn scar area pre-emptively to ensure the traveling public was aware of flooding risks and safely using detours to avoid the dangerous, flood-prone roadways.
To learn more about this or other Weather Responsive Management Strategies, please contact David Johnson with the FHWA Office of Operations.
About EDC
Every Day Counts, a State-based program of the Federal Highway Administration's Center for Accelerating Innovation, works with State, local, and private sector partners to encourage the adoption of proven technologies and innovations to shorten and enhance project delivery.