September 24, 2020
Innovation of the Month:
Collaborative Hydraulics: Advancing to the Next Generation of Engineering (CHANGE)
Last week, we discussed the benefits of two-dimensional (2D) hydraulic modeling for bridge scour analysis. In our last post of the month, we want share how 2D modeling is becoming more commonly accepted for floodway analysis and mapping.
For more than 50 years, one-dimensional (1D) hydraulic models have been used to analyze floodplains and floodways through communities for the Federal Emergency Management Agency (FEMA) and the National Flood Insurance Program (NFIP). Regulatory floodways along rivers are established by FEMA to reserve an area of land from encroachment to safely pass the base flood without increasing the water surface elevation by more than a designated height.
With improved representation of flow paths and flow distribution at crossings through 2D hydraulic modeling, engineers can now develop improved estimates of the flood flow characteristics and more accurate representation of the floodway requirements. Ultimately, there is a greater confidence in the modeling results and consequently an improved level of safety with regards to flood risk. FHWA has been actively involved with a FEMA interagency project team to help improve the standards and guidelines for the use of 2D hydraulic modeling. In fact, updated guidance from FEMA is anticipated next month, so stay tuned.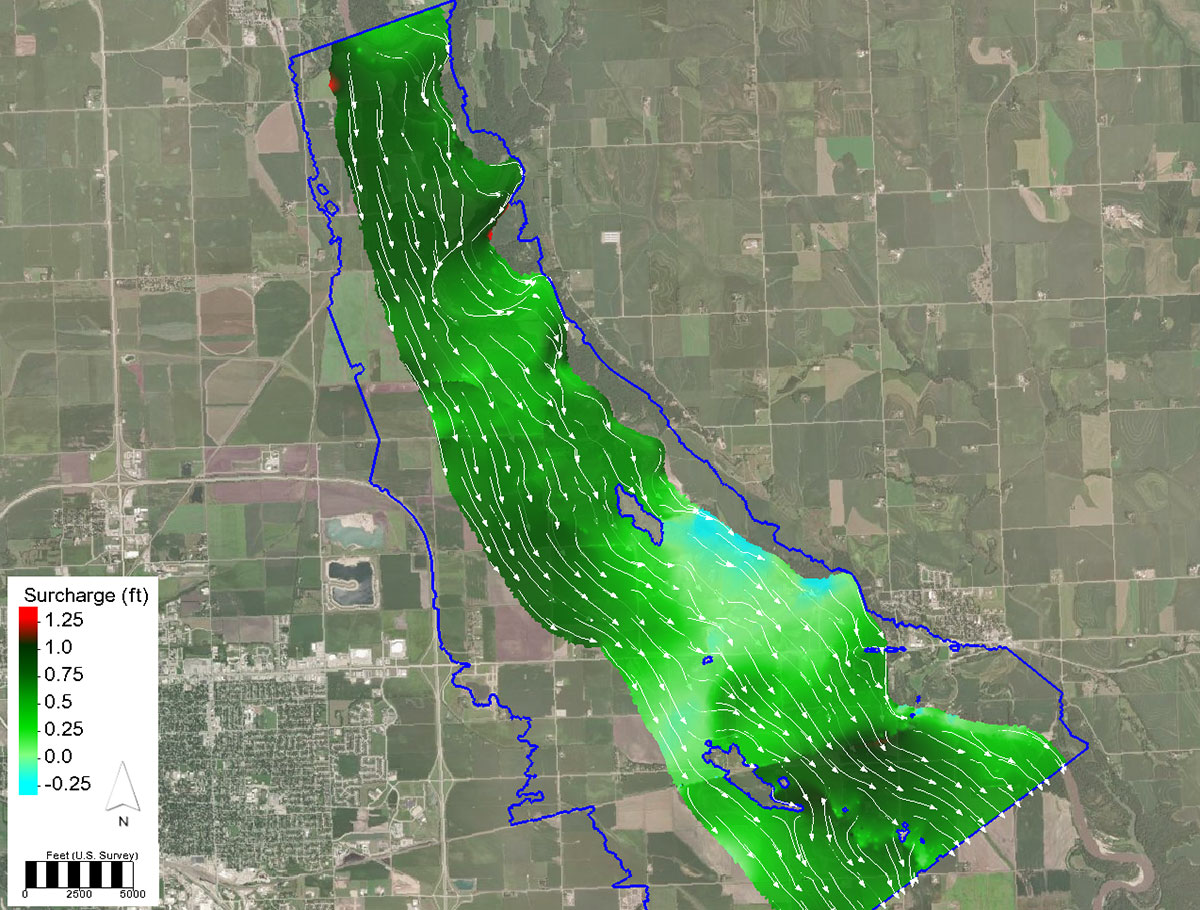 To further support and promote the use of 2D models for floodplain and floodway analysis, FHWA has added specific floodway tools in the SMS software interface for the SRH-2D model. The tools, which include multiple floodway delineation methods and surcharge assessment with evaluations lines, are included in the latest beta release of SMS 13.1. Additional tutorials and resources will soon be posted with the full release of SMS 13.1.
For more information on these new floodplain and floodway analysis tools, please explore the following links.
These new floodplain/floodway analysis tools recently enabled the Washington State DOT (WSDOT), in close coordination with the local floodplain administer, Yakima County Public Services, to demonstrate a no-rise on two bridges crossing the Yakima River. In addition to the no-rise, WSDOT was able to use a single 2D hydraulic model to perform all hydraulic assessments needed to support project delivery. These additional assessments included a bridge scour evaluation, scour countermeasure design, temporary work platform assessment, and fish passage assessment. Without these new tools, an additional 1D hydraulic model would have been necessary to support the floodplain and floodway analyses adding additional time and cost to the project.
To learn more about how 2D modeling can assist your agency's floodplain/floodway analysis, please contact Scott Hogan or Laura Girard, Collaborative Hydraulics: Advancing to the Next Generation of Engineering (CHANGE) team co-leads.
EDC Outtakes – CHANGE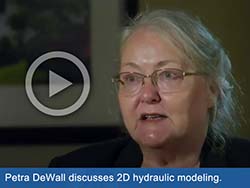 In EDC Outtakes–a series of short interview videos–State practitioners and FHWA personnel give insight into the current round of EDC innovations. In our latest edition, Petra DeWall, Minnesota DOT waterway engineer, discusses the big-picture benefits of having 2D hydraulic modeling software available to an agency.
Keep reading EDC News for future editions of EDC Outtakes!
Louisiana DOTD Analyzing Crowdsourced Data with RITIS Analytics Suite
The Louisiana Department of Transportation and Development (DOTD) recently entered into an agreement with the University of Maryland to use their Regional Integrated Transportation Information System (RITIS) system to analyze queueing data it plans to incorporate into the State's smart work zone program. The RITIS Probe Data Analytics (PDA) suite of tools is an automated data fusion and dissemination system that provides an enhanced overall view of the transportation network. DOTD staff, contractors, and partner agencies can use transportation and related emergency management information through innovative visualizations to improve their traffic operations and emergency preparedness. RITIS components for Louisiana DOTD include real-time data feeds, real-time situational awareness tools, and archived data and analysis tools.
The PDA Suite of tools gives users tremendous capabilities to evaluate system performance in support of traffic operations and specifically work zone management. The emphasis for real-time data is identifying and managing work zone queues to improve safety and situational awareness.
To learn more about how crowdsourcing tools like this can help your agency improve traffic operations, contact James Colyar or Paul Jodoin with the FHWA Office of Operations.
It's STEPtember!
Check out the new resources available through the FHWA Safe Transportation for Every Pedestrian (STEP) program. STEP released new educational videos, case study examples and tools to help agencies select countermeasures for improving pedestrian crossing safety. STEP is also challenging agencies to show how they STEP UP to implement proven safety countermeasures at pedestrian crossings.
The STEP team is here to help! To ask about virtual workshops being offered through the STEP program, contact Becky Crowe of the FHWA Office of Safety or Peter Eun of the FHWA Resource Center. To learn more about the STEP countermeasures, please visit the STEP webpage.
About EDC
Every Day Counts, a State-based program of the Federal Highway Administration's Center for Accelerating Innovation, works with State, local, and private sector partners to encourage the adoption of proven technologies and innovations to shorten and enhance project delivery.