October 29, 2020
Innovation of the Month:
Advanced Geotechnical Methods in Exploration (A-GaME)
Last week, we shared a FHWA Measurement While Drilling pilot program in Montana and listed some of the benefits they're already identifying. This week, we're featuring televiewers, another A-GaME technology proven extremely useful in gathering accurate rock structure information where traditional rock corings cannot.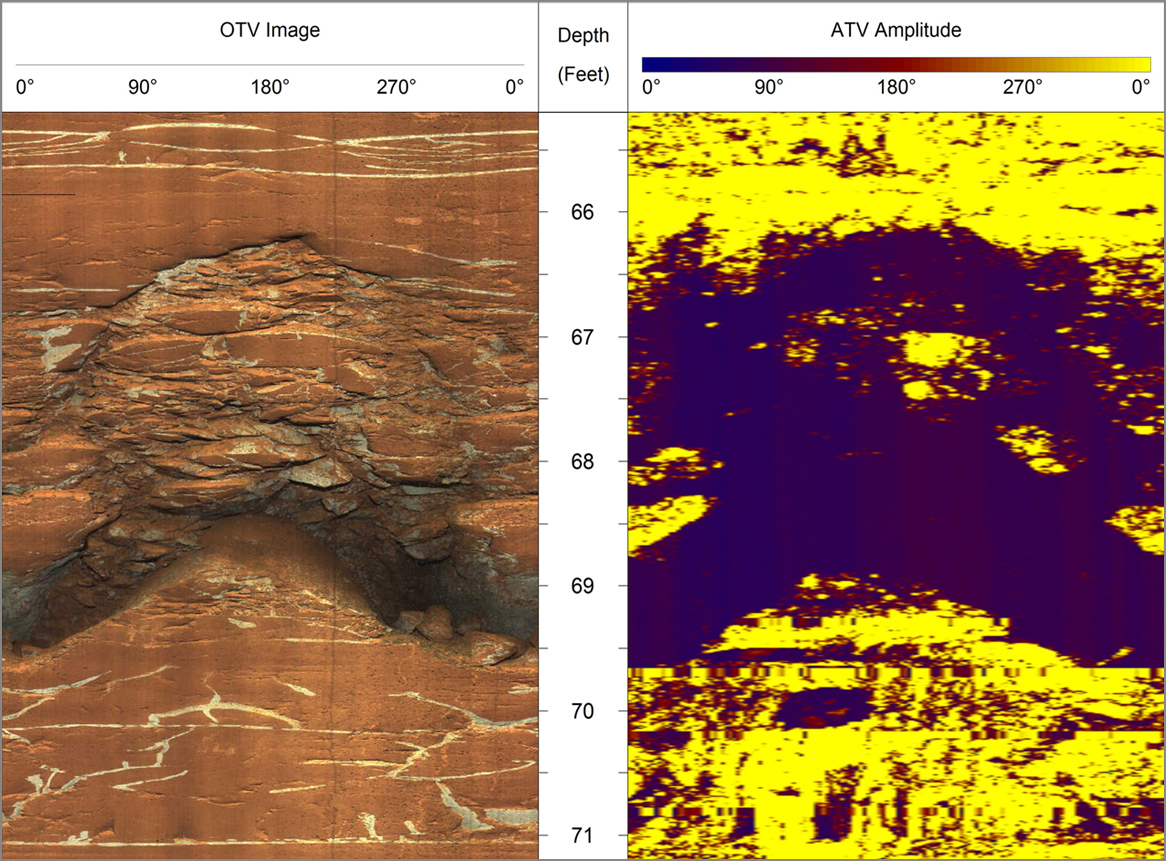 Televiewers use acoustics or optics to produce high-resolution images of underground rock features. Televiewers are especially effective in areas where rock may be weak or fractured and core recovery is poor. In these areas, oriented views give a more accurate representation of in-place conditions and help practitioners make more informed design decisions. In addition, televiewers are generally less expensive, labor intensive, and more reliable than oriented coring methods.
The Western Federal Lands Highway Division (WFL) uses both optical and acoustic televiewer surveys, most commonly for projects with rock cut-slopes and critical foundations on rock. One of the main uses of the information gathered from these televiewers is for developing slope stability models.
At Manning Crevice, just outside Riggins, ID, televiewers were critical in modeling foundation stability for a 300-foot asymmetrical suspension bridge over the Salmon River. Televiewers also helped WFL with condition assessment for all ground anchors on the project.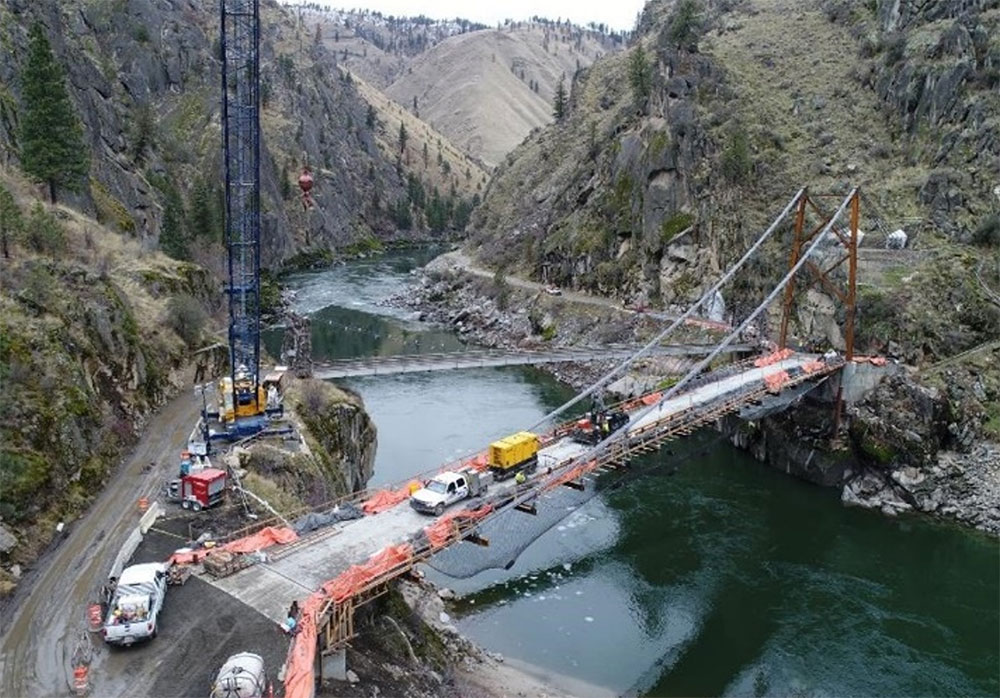 Manning Crevice bridge under construction
Project engineers introduced large foundation loads under the bridge tower and were concerned about global stability failure in the foundation rock-mass under rapid drawdown conditions, as the river regularly has 10-foot water level fluctuations at this location over relatively short time periods. The rock-mass structure details developed from drilling and televiewer surveys was used to understand, analyze, model, and develop the final foundation and ground anchor designs, which successfully addressed the stability concerns.
To learn more about televiewers and how they can help you gather better rock structure information, contact Ben Rivers of the FHWA Resource Center or Silas Nichols of the FHWA Office of Infrastructure.
Iowa Finds Increasing Value Over Time from Crowdsourced Data
Compared to traditional traffic monitoring and detecting methods, crowdsourced data helps agencies quickly detect and respond faster to incidents and other congestion-causing events. In 2014, the Iowa Department of Transportation (IDOT) became an early adopter of using free crowdsourced data through the Waze Connected Citizens Program (now called Waze for Cities).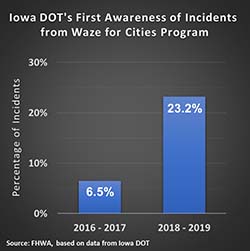 IDOT observed that over time Waze has gained more users and thus has become a more useful data source for early incident detection. Often information from Waze will alert Traffic Management Center (TMC) operators of an incident before their Highway Helper patrol, law enforcement communication of 911 calls, or monitoring closed-circuit television cameras. TMC operators first became aware of an incident because of Waze data in approximately 6.5 percent of instances from 2016 through 2017. From 2018 through 2019, TMC operators first became aware of an incident 23 percent of the time through Waze. Crowdsourcing is a cost-effective strategy for IDOT to reduce incident detection time and better inform travelers to navigate safely around incidents.
To learn more about how crowdsourcing tools like this can help your agency improve traffic operations, contact James Colyar or Paul Jodoin with the FHWA Office of Operations.
Florida Accelerates Safety Projects
The Florida Department of Transportation (FDOT) developed a design-build push-button (DBPB) contract to accelerate the construction of traffic safety improvements. The DBPB approach combines design-build contracting (in which design and construction teams collaborate and construction activities can start before design is final) with push-button contracting (in which preapproved contractors can start work quickly because contractual paperwork is in place). FDOT designed the DBPB contract, for which it received a National Roadway Safety Award, for safety improvements that are too large for in-house maintenance teams but not appropriate for major 5-year work plans, such as installation of pavement markings, turn lanes, and traffic signals. In the first year of the program, FDOT estimated that about 55 crashes were avoided by reducing safety improvement implementation time from 3 years to 310 days.
To learn more about design-build project delivery, please contact John Huyer with the FHWA Office of Preconstruction, Construction, and Pavements
Join Us for the EDC-6 Virtual Summit
Registration is open for the EDC-6 summit. This year's event will be held virtually in three half-day sessions on December 8, 9, and 10.
The summit brings together transportation leaders and frontline professionals responsible for developing and delivering highway projects. We welcome participation from all of our partners–State transportation departments, local agencies, Federal land management agencies, tribes, and industry.
At this event, you will learn about the featured EDC-6 innovations such as e-Ticketing and digital as-builts. This innovation improves the tracking, exchange, and archiving of materials tickets and enhances the future usability of as-built plans for operations, maintenance, and asset management. This process can result in increased project safety and quality through efficient data gathering and sharing.
To learn more about the featured innovations and other events that will take place during the event, view the draft agenda here.

About EDC
Every Day Counts, a State-based program of the Federal Highway Administration's Center for Accelerating Innovation, works with State, local, and private sector partners to encourage the adoption of proven technologies and innovations to shorten and enhance project delivery.