April 8, 2021
Innovation of the Month:
Ultra-High Performance Concrete for Bridge Preservation and Repair
Last week, we introduced ultra-high performance concrete (UHPC) for bridge preservation and rehabilitation (P&R) and described some of the benefits agencies can expect from choosing it for these types of projects. Over the next few weeks, we will provide case studies from State Departments of Transportation that have successfully used UHPC in P&R projects and describe why UHPC was selected and some of the benefits agencies realized.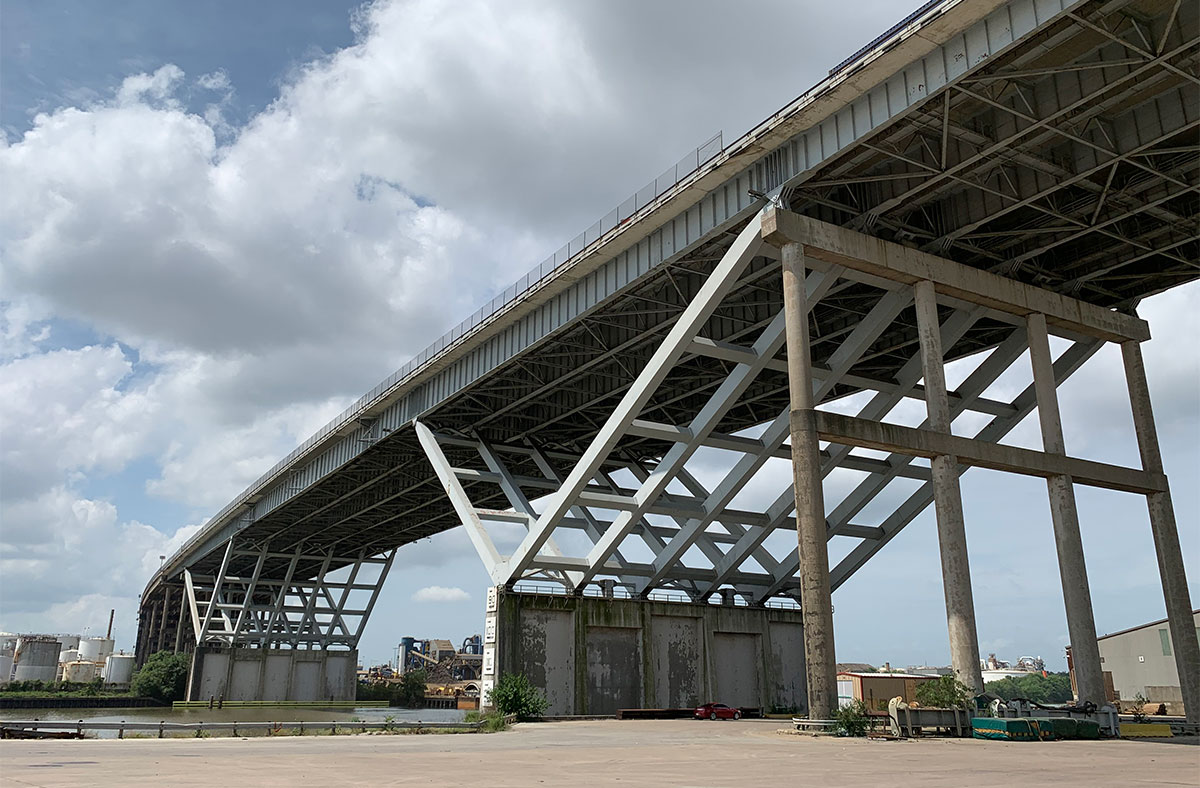 The Texas Department of Transportation (TxDOT) Houston Division recently rehabilitated the Sidney Sherman Bridge using the UHPC beam end repair technique. The bridge sees high traffic volume and particularly high truck traffic volume, due to its adjacency to the Port of Houston. This bridge serves as a vital component for the Port, consistently ranked the nation's largest in terms of overall tonnage.
TxDOT had identified severe corrosion in critical zones at the ends of the steel girders. The complex connections trapped water and debris that resulted in continuous and severe corrosion over time. By the time this was identified, the situation had become critical and immediate action was required. Although emergency repairs were installed, they were only temporary measures to prevent further deterioration. A new bridge was being considered, but construction would not occur for at least 15-20 years, thus a long-term, permanent solution was needed to ensure 15-20 additional years of dependable service life from the existing bridge.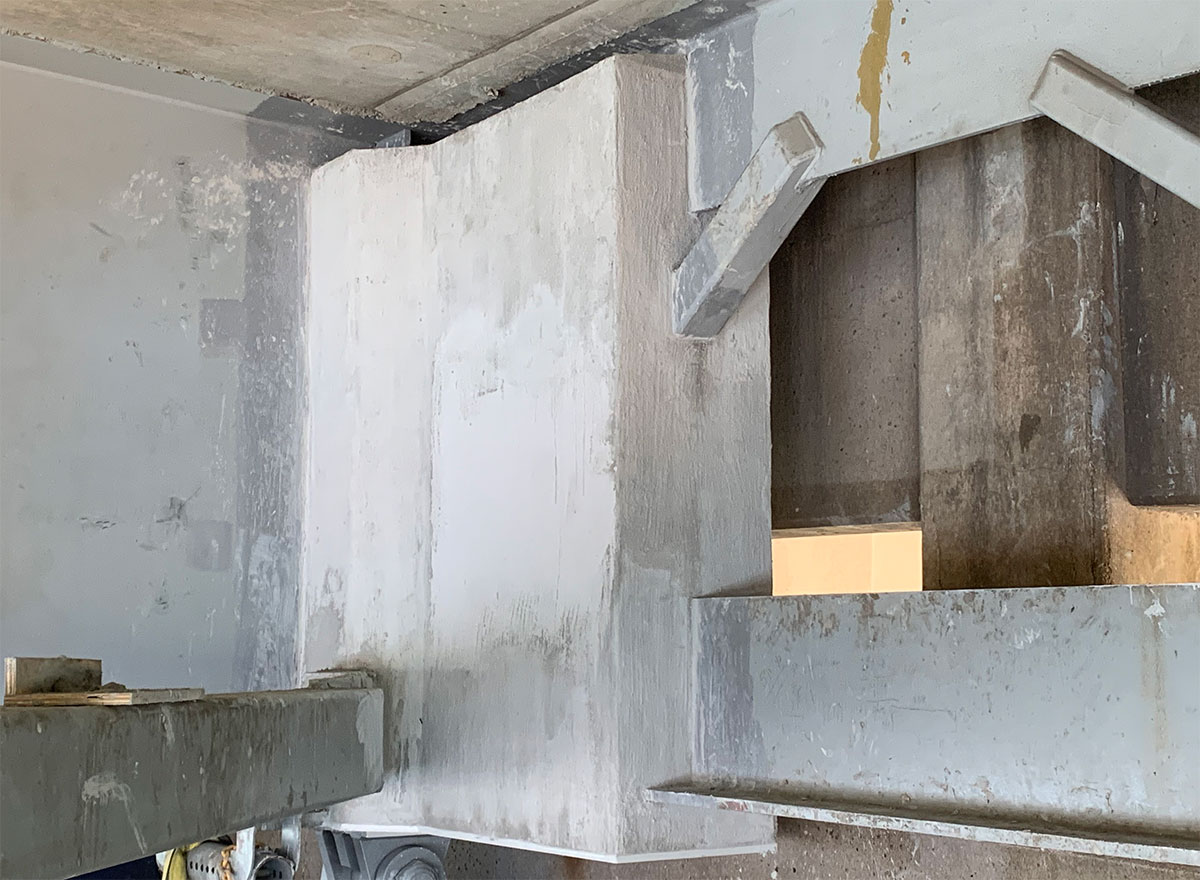 Conventional repair methods would have been difficult and costly to implement due to an unacceptable length of traffic closures on the bridge. The UHPC beam end repair technique, which involves removing corroded steel, installing headed shear connectors, and casting UHPC, provided an alternative solution that allowed the bridge to be repaired safely and with a minimum disruption to service. TxDOT selected UHPC for the project due to its high flowability, high strength, high ductility, and low permeability. A recent Connecticut DOT project that had used UHPC to repair corroded girder ends and the supporting project research conducted by the University of Connecticut enhanced confidence in using the material.
After completion, the TxDOT team concluded that UHPC proved to be a highly effective tool to address multiple concerns in the corrosion repairs. TxDOT also believes UHPC shows great potential for further application in the rehabilitation of aging infrastructure across the nation.
To learn more about UHPC for Bridge Preservation and Repair, contact Zach Haber or Mark Leonard, EDC-6 team co-leads or visit FHWA's EDC website.
Indiana Uses Artificial Intelligence to Maximize Project Bundling
Transportation agencies are using project bundling to capitalize on economies of scale more often and on more diverse projects than ever before. Some State, local, and tribal agencies have used their past successes to develop business rules for selecting bundles early in the planning and programming process. This creates agency-wide efficiencies by making project bundling a standard way of doing business.
The Indiana DOT (INDOT) is incorporating machine learning, a subset of artificial intelligence, to further expand project bundling benefits. Machine-learning is the use of algorithms that improve automatically through experience. The algorithms build a mathematical model based on sample data to make predictions for decisions.
INDOT's machine learning platform uses historical and asset management data, along with business rules, to automate and optimize bundle selections over multiple program years. It reduced the time staff took to create project bundles from weeks to hours. The new approach increased bundling savings by 40 percent and is expected to save INDOT $108 million over the next 4 years.
Watch this webinar for more information about INDOT's bundling program, view the PDF discussing the program in the National STIC Showcase, or contact Romeo Garcia or David Unkefer, project bundling team co-leads.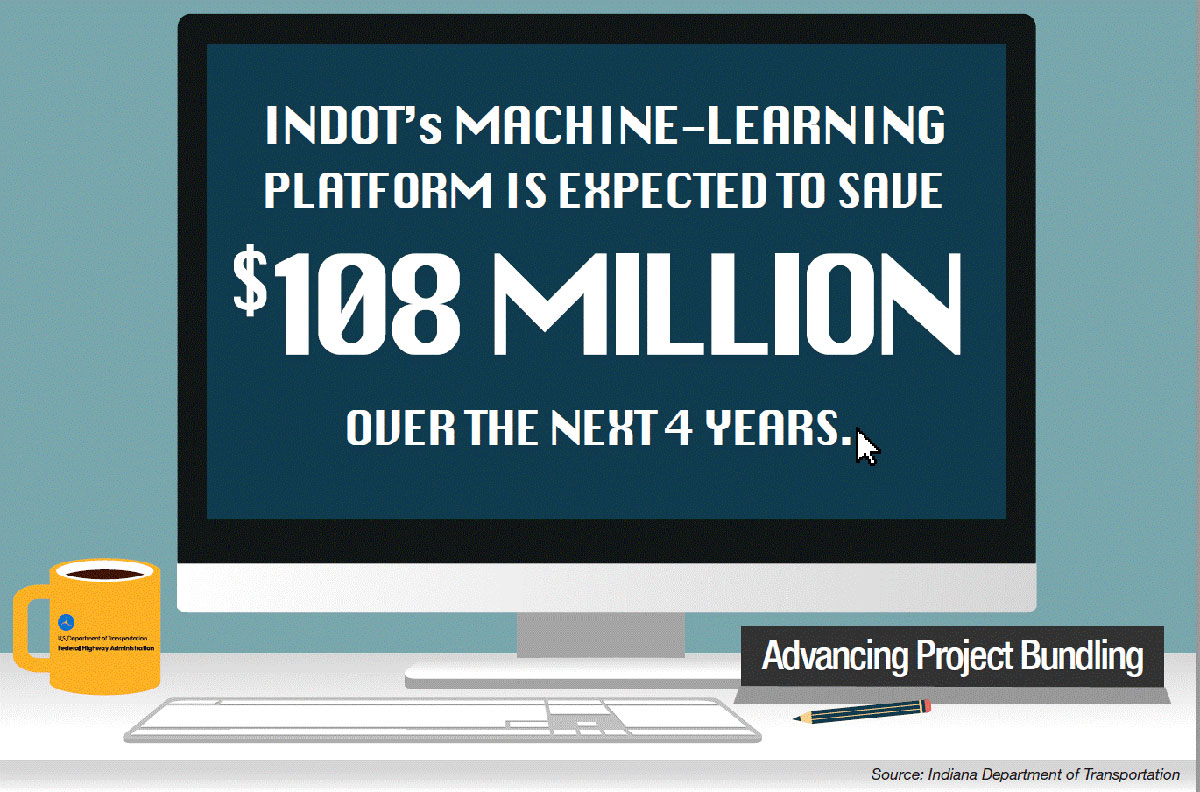 Discover Home-Grown Innovations from Around the Country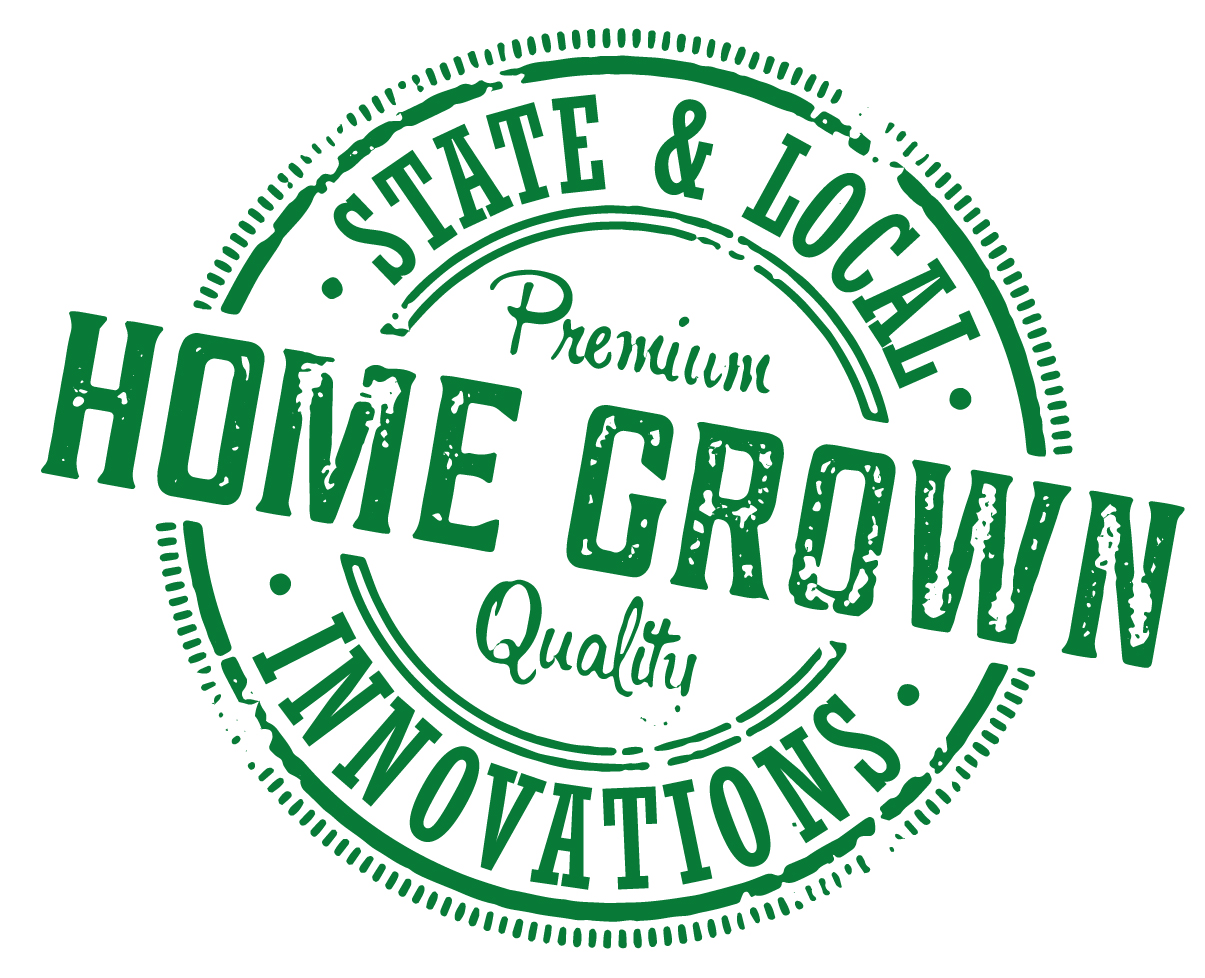 Are you interested in homegrown innovations being used by your peers in other parts of the country? Check out the National STIC Network Showcase, a component of the EDC-6 Virtual Summit. Over 200 innovations, submitted by State DOTs, Local Agencies, and other STIC members, are grouped into eight topic area categories for easy navigation. This site features a convenient one-time registration that will allow you to continue accessing information throughout 2021.
The showcase prominently features several innovations focused on bridge preservation and repair. Learn about the El Paso County, CO, Adaptable Bridge Safety Platform, a unique alternative fall protection solution for bridge deck replacements in areas with unstable soils and limited scaffolding space, but that aren't high enough to require worker catch systems; Indiana DOT's Bridge Deck Preservation using Epoxy Injections, which prevents fluid intrusion and slows down freeze/thaw deterioration; Minnesota DOT's Affordable Bridge Beam End Repair, which used concrete to reinforce beams in need of repair; and Federal Lands Highway's Fiber-Reinforced Polymer Deck Panels, which were used to rehabilitate the 532-foot Fishing Bridge in Yellowstone National Park.
Celebrate the ingenuity of your peers and read about these innovations–developed and deployed in-house at transportation agencies nationwide. Additionally, we invite you to watch the one-hour presentations on-demand that feature many of these and other innovations.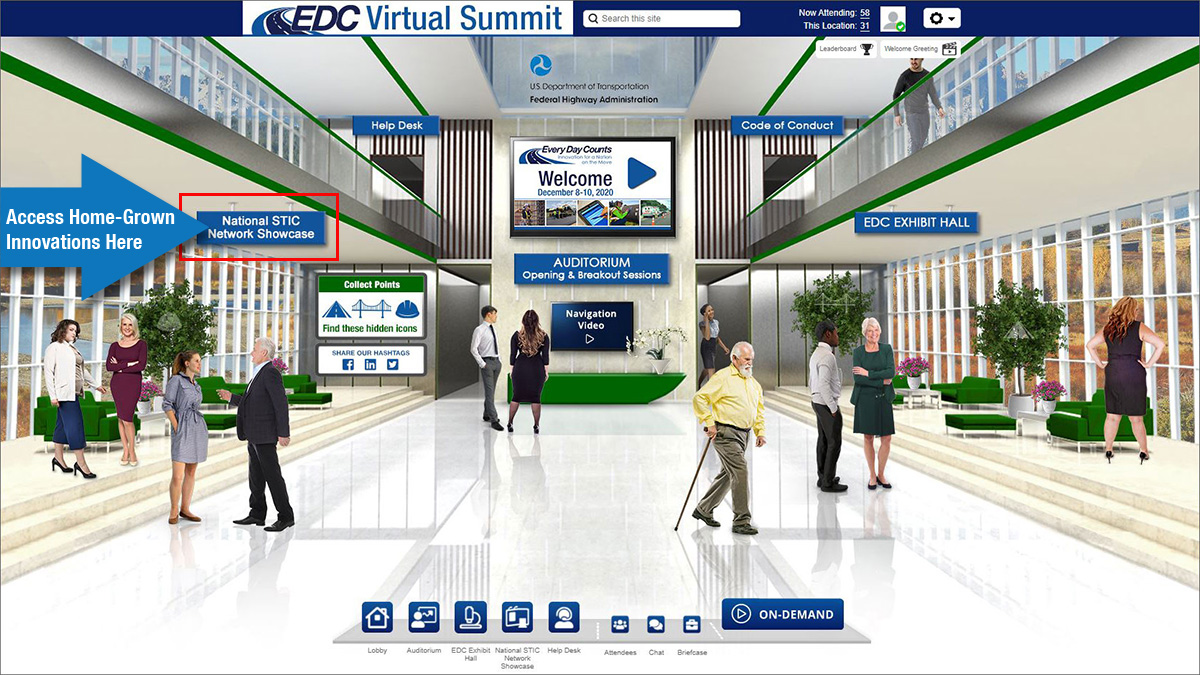 About EDC
Every Day Counts, a State-based program of the Federal Highway Administration's Center for Accelerating Innovation, works with State, local, and private sector partners to encourage the adoption of proven technologies and innovations to shorten and enhance project delivery.