April 29, 2021
Innovation of the Month:
Ultra-High Performance Concrete for Bridge Preservation and Repair
Through the month of April, we have discussed several examples of States using ultra-high performance concrete (UHPC) for bridge preservation and repair (P&R) methods. In the final week, we'll highlight the New Jersey Department of Transportation (NJDOT), which has recently used UHPC in multiple projects for bridge P&R.
NJDOT was familiar with the benefits of UHPC compared to conventional concrete through its use in field cast connections for precast bridge decks for re-decking projects. NJDOT had been looking for a new overlay preservation system for aging bridge decks that would enhance and extend the service life of their existing structures. However, the NJDOT had not used UHPC as a bridge deck overlay. NJDOT decided to install three UHPC bridge deck overlays as part of a research project contract. One of these projects, which was completed on a bridge spanning the Newark Turnpike, included both a UHPC bridge deck overlay and field-cast UHPC joint headers.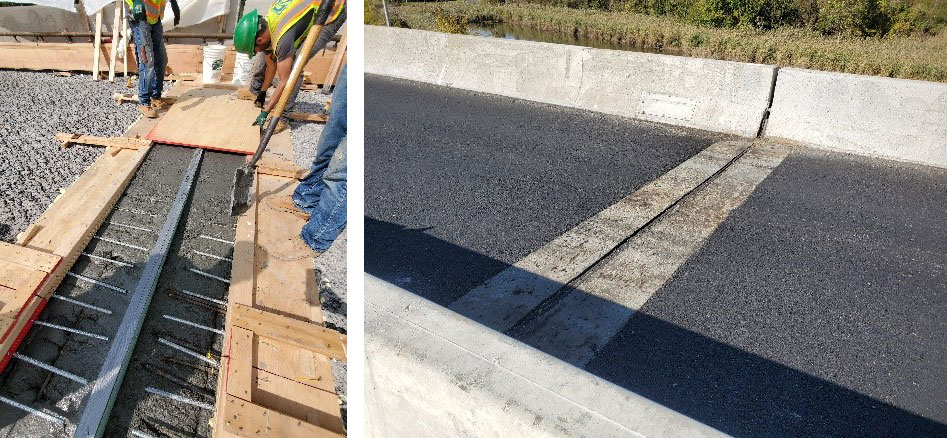 This curved 3-span bridge, originally built in 1979, feeds nearly 30,000 vehicles per day from the New Jersey Turnpike onto I–280. The heavy traffic and the impact of de-icing salts resulted in corrosion of the reinforcing steel in the existing bridge deck, as well as the deterioration of all abutment and pier expansion joints.
Prior to installation of the UHPC overlay and field cast UHPC headers, the existing asphalt overlay was removed, as were the deteriorated expansion joints. A new UHPC header expansion joint solution was installed, and after installation the finished UHPC overlay was covered with asphalt. The resulting 340-foot UHPC overlay is currently the longest continuous overlay installation in North America.
The overlay and the other two installations included in the project showed that preserving bridge decks with a UHPC overlay will provide NJDOT with durable, long-lasting bridge decks and will extend the service life of the structures. Additionally, the bridge overlays showed that UHPC overlay construction methods can minimize traffic interruptions and shorten the total construction time.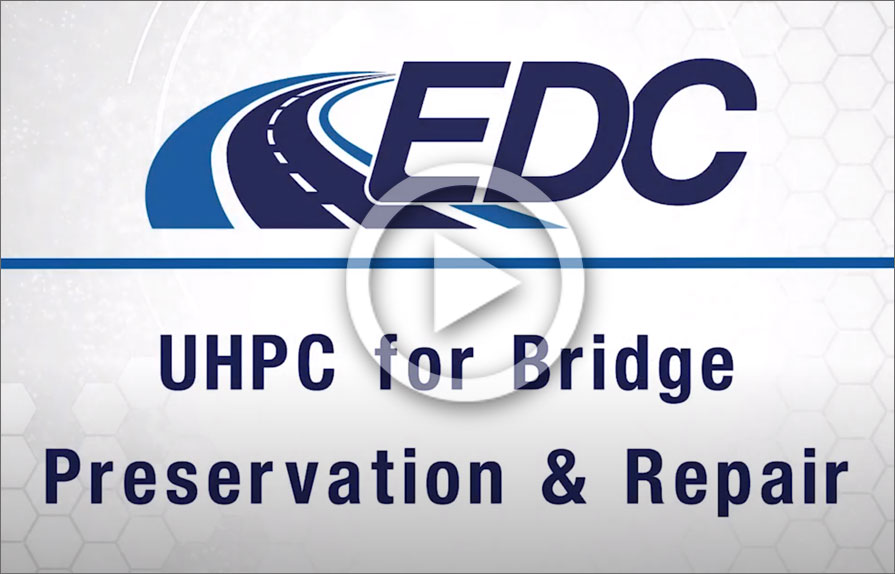 Watch the UHPC spotlight video here. To learn more about UHPC for bridge preservation and repair and how your agency can use it to extend the service life of its bridges, contact Zach Haber or Mark Leonard, EDC-6 UHPC team co-leads.
EDC Outtakes—Ultra-High Performance Concrete for Bridge Preservation and Repair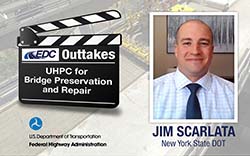 EDC Outtakes—a series of short interview videos—give insight into the current round of EDC innovations from State practitioners and FHWA personnel. In our latest edition, Jim Scarlata, New York State DOT, discusses several benefits his agency has seen using UHPC link slabs for Bridge Preservation and Repair.
Keep reading EDC News for future editions of EDC Outtakes!
High Friction Surface Treatment Pilot in Arizona Sees Positive Results
In 2019, Maricopa County, AZ, completed its first pilot application of high friction surface treatment (HFST) at two locations to reduce rural roadway departures. HFST is a high-quality aggregate that is applied to existing pavement with a polymer resin binder to restore and/or maintain friction at areas with high potential for crashes. This technique is a proven solution for significantly increasing friction for spot applications.
The results of the pilot have been significant. Before installation, the two locations saw 50 crashes occur over a five-year period, 11 of which were severe crashes. After installation, friction values on the wet HFST pavement showed significant improvement. In the first 13 months after the completed application, the two locations have only seen 4 crashes.
If you would like to learn more about HFST and how to bring it to your area, contact Cate Satterfield or Dick Albin with the Focus on Reducing Rural Roadway Departures (FoRRRwD) team.
It's National Work Zone Awareness Week!
In recognition of National Work Zone Awareness Week, FHWA is encouraging states to improve work zone safety and mobility by tracking and analyzing work zone performance. Recent trends indicate that the percentage of fatal work zone crashes involving a commercial motor vehicle increased from 24 percent in 2012 to 33 percent in 2019. The National Work Zone Safety Information Clearinghouse Website has resources and tools for enhancing large truck safety in work zones.
Also, FHWA is leading the Work Zone Data Initiative (WZDI) to improve the availability of information on work zone events—the "when, where, and how" of highway construction activity—by promoting standards and processes that enhance agency capabilities to manage transportation operations around work zones and sharing this information with other stakeholders. FHWA is providing support through written guidance, peer exchange, and the Work Zone Data Exchange (WZDx) standard. The U.S Department of Transportation awarded $2,372,254 on January 15, 2021 for WZDx Demonstration Grants to fund 13 projects in 13 States.
To learn more about National Work Zone Awareness Week, please contact Jawad Paracha with the FHWA Work Zone Management Team.
Stay Up to Date on the EDC Innovations That Interest You Most
EDC teams are always on the move! If you blink, you could miss out on important webinars, case studies, tools, videos, and more. To never miss information for the EDC innovations that interest you most, visit the subscription page and select the topics you'd like to receive updates on directly from the teams that coordinate them.
This week, we're featuring a recent update from the EDC-6 Next Generation Traffic Incident Management (NextGen TIM) team. The update discusses NextGen TIM news from across the country, including information on the FHWA TIM Program self-assessment, highlights from National Traffic Incident Response Awareness Week, and more.
Sign up to receive future messages from the NextGen TIM team and more. If you have additional questions on NextGen TIM, please contact Paul Jodoin or James Austrich, FHWA Office of Operations.
About EDC
Every Day Counts, a State-based program of the Federal Highway Administration's Center for Accelerating Innovation, works with State, local, and private sector partners to encourage the adoption of proven technologies and innovations to shorten and enhance project delivery.