July 1, 2021
Innovation of the Month:
Focus on Reducing Rural Roadway Departures
Nearly 12,000 people die each year when their vehicle leaves its travel lane. That is 30 people today, and every day.
The Focus on Reducing Rural Roadway Departures (FoRRRwD) team has spent the last two years promoting tools and strategies to help agencies across the country drive those fatalities down.
The FoRRRwD approach rests on four pillars. One of those pillars is that safety should be a priority on all public roads, whether they are maintained by State Departments of Transportation (DOTs), local, or tribal agencies. That means, ideally, that resources would be shared and deployed wherever safety issues are, no matter who owns the roadway.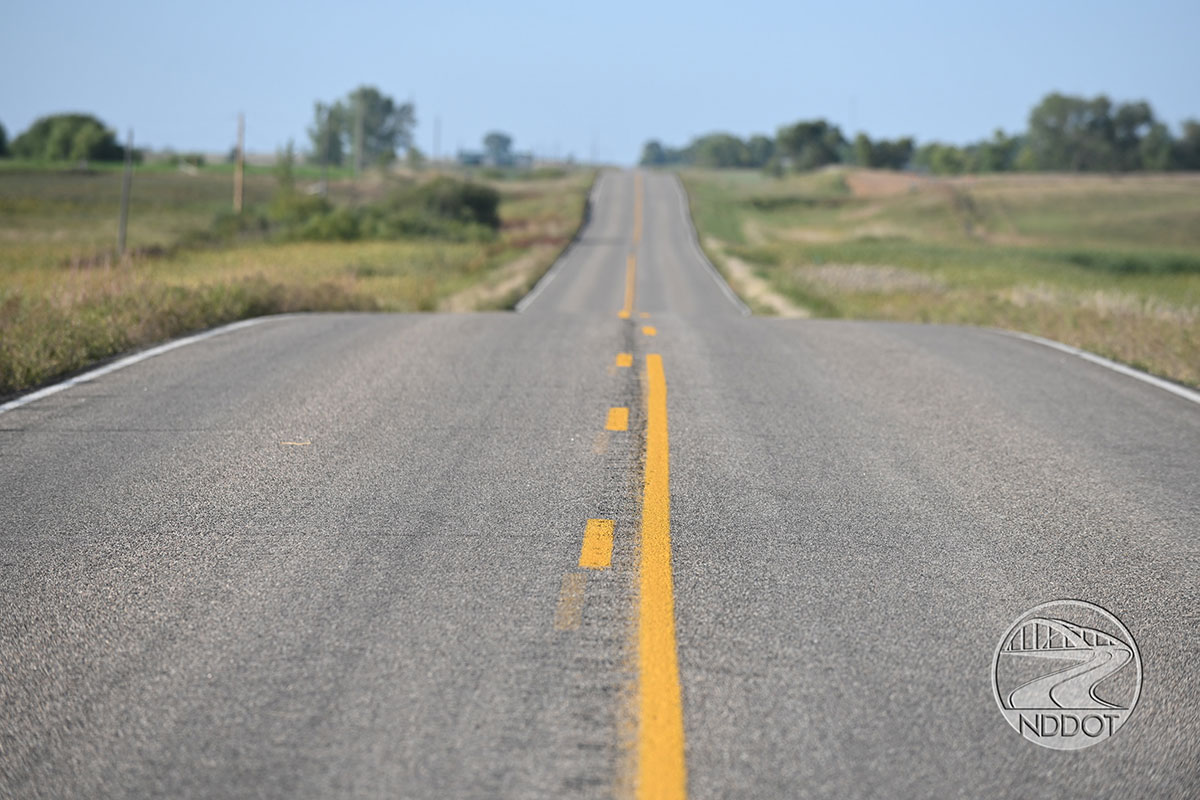 The North Dakota Department of Transportation (NDDOT) proactively assisted local and tribal agencies in the State to achieve crash reductions on their roads by making 50 percent of its Highway Safety Improvement Program (HSIP) funding available to help them implement Local Road Safety Plans (LRSPs). The State also created a website to house their plans to encourage the sharing of best practices. This addressed another FoRRRwD pillar, safety action plans. Local Road Safety Plans were developed for every county, major city, and tribe in the State.
The LRSPs used a systemic approach, which is another FoRRRwD pillar. This approach uses crash and other data to look for risk factors that correlate with severe rural roadway departure crashes. For instance, the Cass County plan used five risk factors for curves – radius, average daily traffic, intersection, visual trap, and crash history.
With the systemic approach, practitioners look for all the curves on their system with multiple risk factors and target proven, cost-effective countermeasures to those locations, sometimes before crashes happen.
In fact, proven countermeasures are the other FoRRRwD pillar. Roadway departure countermeasures such as curve warning signs and rumble strips were implemented on local roads as part of the NDDOT program. These improvements were also bundled in county-wide and multi-county projects, to achieve cost-effective economies of scale.
With these efforts, NDDOT observed a 14-percent reduction in lane departure severe injury crashes on local roads and a 21-percent reduction in curve crashes on local roads.
Visit the FHWA FoRRRwD website to learn more about how you can use the 4 pillars of FoRRRwD to reduce rural roadway departures on your roads. For more information and technical assistance contact Cathy Satterfield of the FHWA Office of Safety or Dick Albin of the FHWA Resource Center.
Project Bundling Reduces Nebraska's Deficient Bridges
In just five years, the Nebraska Department of Transportation (NDOT) has helped counties in Nebraska repair or replace over 300 bridges using project bundling. The effort began with the creation of the Nebraska County Bridge Match Program in 2016 when the State was ranked fifth in the nation for the number of structurally deficient or poor bridges.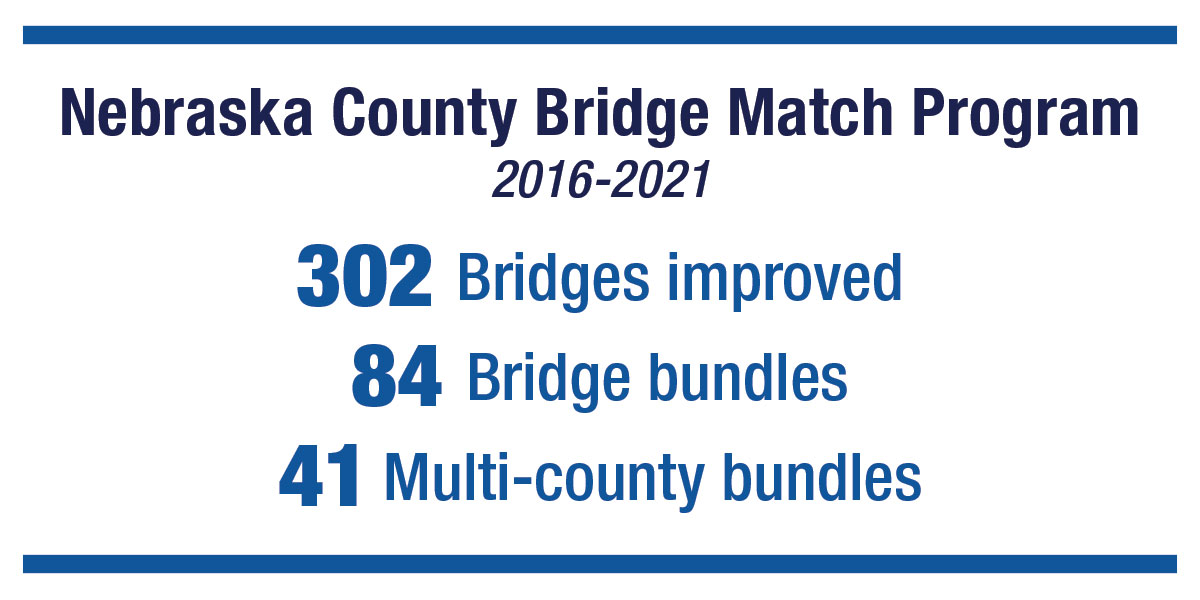 The State legislature created the program and NDOT administers it using the Transportation Infrastructure Bank Fund. The law allows NDOT to expend no more than $40M to promote innovative solutions and provide additional funding to accelerate repair and replacement of deficient bridges on the county road system over seven years.
The DOT developed the program's participation criteria and matching fund requirements in consultation with a statewide association representing county officials. County participation is voluntary. Every October, NDOT sends out a request for proposals. The counties then write proposals based on bridges selected from a list of eligible structurally deficient bridges on the county system. The County Bridge Match Program will end on June 30, 2023.
NDOT's effort showcases that bridge bundling is a successful approach on smaller projects. Eighty-four of the 106 projects in the first five years included bundles ranging from two to nine bridges. Not only are counties bundling their own projects, they are working with neighboring counties to create bundles across county lines. Forty-one of the projects involved multi-county bridge bundles with two to four counties.

To learn more about project bundling, contact Romeo Garcia of the FHWA Office of Infrastructure or David Unkefer of the FHWA Resource Center.
Intersection Safety Outreach and Education Products Available
FHWA's Intersection Safety Program is pleased to share outreach and education products to assist State, local, and Tribal partners in advancing intersection safety efforts in their communities.
Three videos have been produced to help advance efforts to implement intersection solutions that also reflect the Safe System approach. For intersections, this approach involves separating users in space, separating users in time, modifying conflict angles, and reducing speed through conflict areas—all to manage the kinetic energy involved in a potential collision. Each video is 3–5 minutes, and is intended to help State, local, and Tribal agencies explain these intersections to their communities.
To learn more about these and other resources and how they could improve your agency's safety efforts, please contact Jeff Shaw, FHWA Office of Safety.
Discover Home-Grown Innovations from Around the Country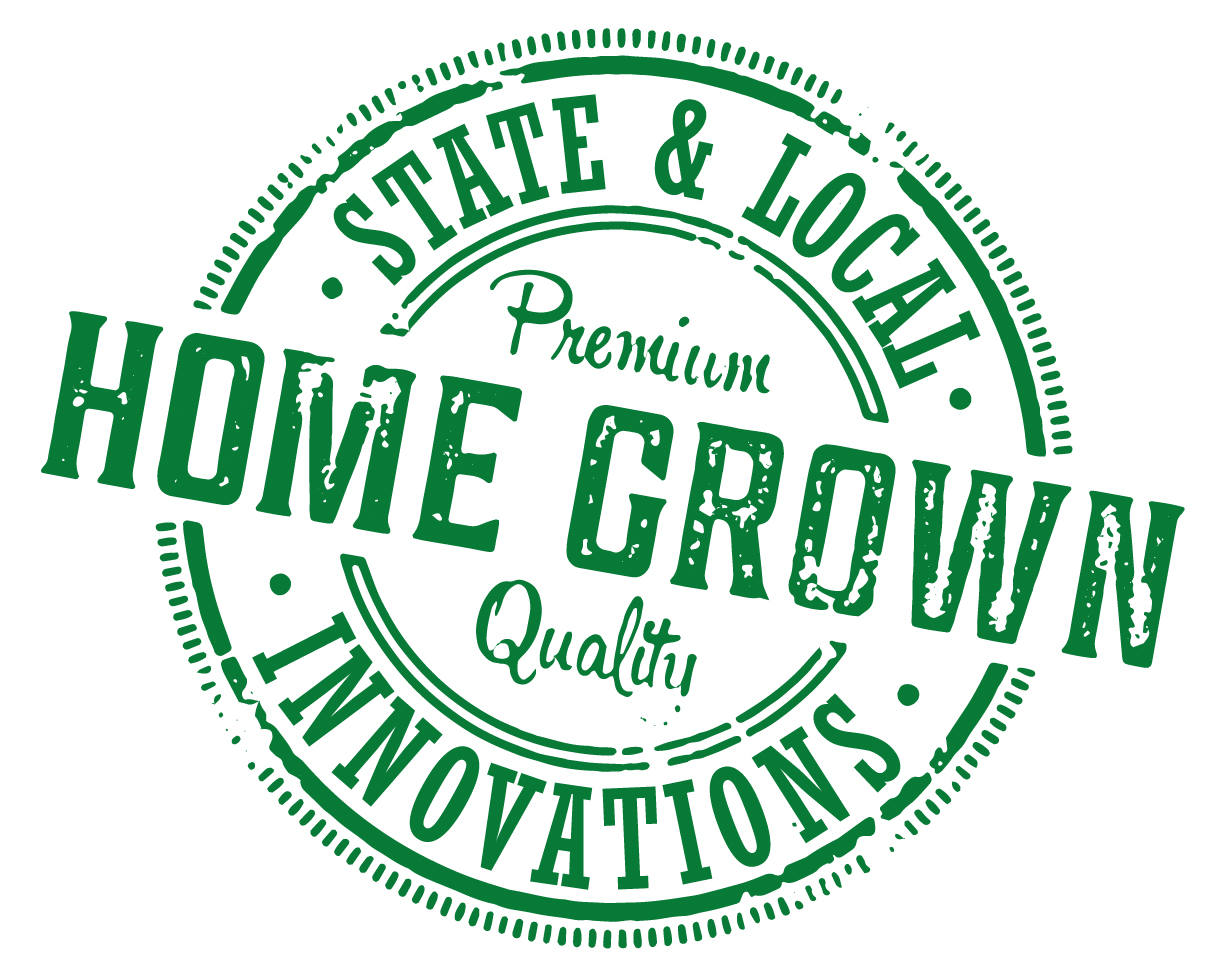 Are you interested in homegrown innovations being used by your peers in other parts of the country? Check out the National STIC Network Showcase, a component of the EDC-6 Virtual Summit. This site features a convenient one-time registration that will allow you to continue accessing information throughout 2021.
The showcase prominently features several innovations focused on rural roadway safety. Learn about the Lyon County, Kansas's use of portable stop and yield signs, which allow for faster sign replacement and easy assembly; North Carolina DOT's innovative use of all way stop at high speed rural intersections, which is consistently effective at reducing crashes for a range of intersection volumes and under a variety of conditions; and the New Jersey DOT's use of data driven safety analysis, which used predictive safety analysis tools to gain support and funding for installation of a modern roundabout at a rural intersection.
Celebrate the ingenuity of your peers and read about these innovations—developed and deployed in-house at transportation agencies nationwide. Additionally, we invite you to watch the one-hour presentations on-demand that feature many of these and other innovations.
About EDC
Every Day Counts, a State-based program of the Federal Highway Administration's Center for Accelerating Innovation, works with State, local, and private sector partners to encourage the adoption of proven technologies and innovations to shorten and enhance project delivery.
Recommended Citation:
U.S Department of Transportation, Federal Highway Administration
EDC News; July 1, 2021
Washington, DC
https://doi.org/10.21949/1521796