July 22, 2021
Innovation of the Month:
Focus on Reducing Rural Roadway Departures
Over the last few weeks, we've highlighted State, local, and tribal agencies that have implemented the pillars of the Focus on Reducing Rural Roadway Departures (FoRRRwD) initiative. Today, we'll tell a story of how the Kansas Department of Transportation (KDOT) made a difference on their local roads.
In Kansas, lane departures are responsible for two-thirds of the fatalities on locally-owned rural roads. Because of this, KDOT chose to set aside all its High Risk Rural Roads (HRRR) Program funding to address safety on these roads.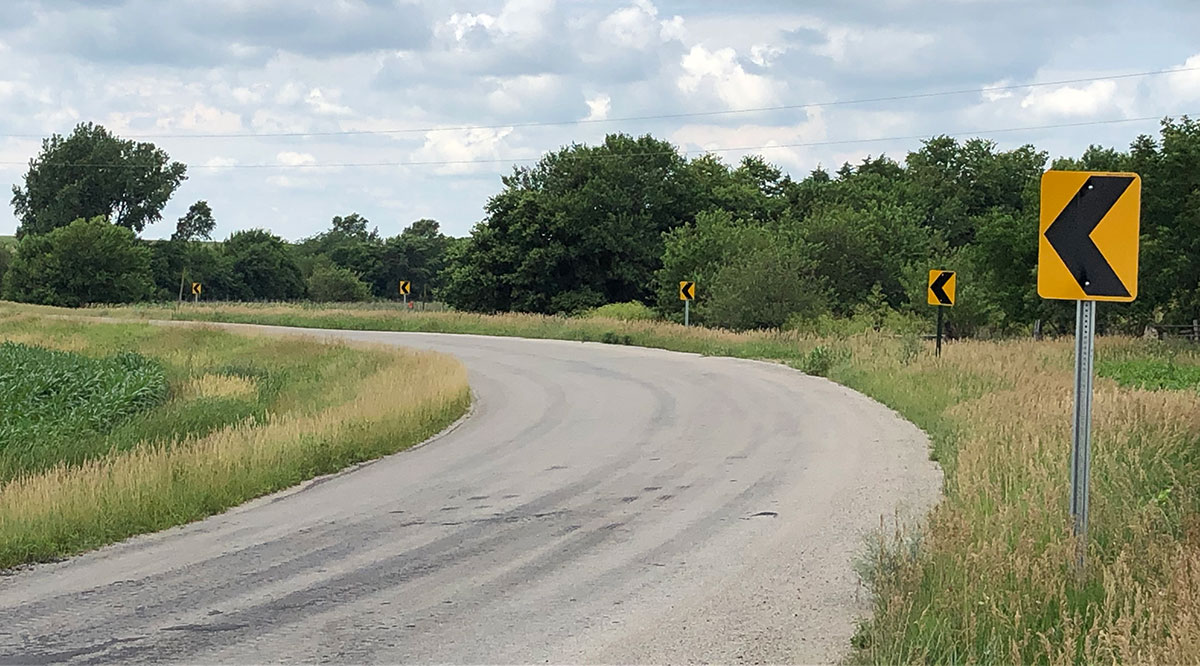 Plotting crash data was time consuming and showed crashes were scattered randomly across the system, which is typical of rural networks. This made it difficult to see patterns of crashes happening over time, limiting local agencies' ability to compete for the available funding. As a result, only $1.4 million of the $8.4 million available was obligated after 6 years.
KDOT decided to change from a site-specific-only approach to a systemic approach. Instead of focusing on locations that have multiple crashes, the systemic approach considers roadway features that correlate with severe crashes and then identifies other locations with those features.
The KDOT crash data showed that rural major collectors were overrepresented for severe crashes on the local system. This gave KDOT a network to focus on and they used some of the available funds to assist counties in developing safety action plans. 
Next KDOT provided funding for local agencies to install proven countermeasures systemically as identified in their plan. The countermeasures included striping, improved signing, high friction surface treatment, rumble strips, lighting and clear zones. They also purchased devices that agencies could use to install the SafetyEdge℠ when they were conducting paving projects.
The results were dramatic. Not only did local agencies start making safety improvements, reducing the backlog of safety funds, but the average of severe crashes on rural major collectors dropped from an average of 207 per year to 189.
Kansas DOT recognized the need to address safety on all public roads and then used the systemic approach and safety action plans to identify improvements that will reduce the risk of severe crashes on these roads.  They then deployed proven countermeasures and have seen a reduction in these crashes.  Kansas is driving FoRRRwD.
For more information on FoRRRwD or for technical assistance, contact Cathy Satterfield of the FHWA Office of Safety or Dick Albin of the FHWA Resource Center.
Rural Road Safety Awareness Week- Live, Work, and Explore on the Rural Road to Zero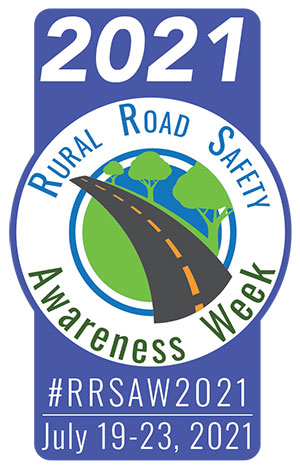 July 19-23, 2021 is Rural Road Safety Awareness Week. Join us as we promote rural road safety to the public, community leaders, and potential partners by telling the "rural story." This week is dedicated to highlighting actions to make a difference on the Rural Road to Zero fatalities and serious injuries. To get involved and discover tools to share, visit the Rural Road Safety Awareness Week homepage.
Additionally, the Rural Safety Center has put together a six-part webinar series on "Improving Rural Road Safety with the Safe System Approach." No doubt you have heard the terms Safe System Approach and Traffic Safety Culture over the past few years, but maybe you have been wondering how they apply to the work you do. This series will show you just that! Part two (Safe Road Users) will be held on Wed. July 28 and registration is now open. If you missed part one, it is available on-demand.
Strategic Workforce Development- "Plays" for a Successful Campaign
FHWA's Strategic Workforce Development's goal is to identify, train and place individuals into highway construction careers. A playbook to build tomorrow's highway construction workforce was developed by FHWA and includes eight plays that provide helpful tips and guiding principles to develop a Highway Construction Workforce Partnership.
The first play is to "Let Industry Quarterback Your Team." Successful workforce development partnerships put industry and trade groups in the lead as they know the job positions, required skills and core competencies needed in the highway construction industry. Their direct knowledge is critical to success in a workforce development effort. Check out all eight plays and success stories at "Identify, Train, Place," and stay tuned to EDC News for future stories on the other plays for a successful campaign!
To learn more about strategic workforce development, contact Karen Bobo, FHWA Office of Innovative Program Delivery Center for Transportation Workforce Development or Joe Conway, FHWA Office of Innovative Program Delivery Center for Local Aid Support, or visit FHWA's EDC website.
FY 2021 AID Demonstration Program Now Accepting Applications
The Federal Highway Administration has announced the availability of up to $10 million in grant funding from the Accelerated Innovative Deployment (AID) Demonstration Program , which provides incentive funding to eligible State DOTs, Federal Land Management Agencies, and tribal governments to accelerate the implementation of proven innovation in highway transportation. Eligible activities may involve any phase of a highway transportation project between project planning and project delivery.
The 2021 AID Demonstration Program Notice of Funding Opportunity (693JJ321NF-AIDDP) is currently open and will close at 11:59 pm (EST) on September 28, 2021. The notice is available now at grants.gov.
FHWA invites interested applicants to join the AID Demonstration Information Session on Tuesday, July 27, 2021 at 1:00 PM Eastern Time/10:00 AM Pacific Time. Click here to join the AID Demonstration Information Session. This will be a Teams Live event and will be recorded.
Stay Up to Date on the EDC Innovations That Interest You Most
EDC teams are always on the move! If you blink, you could miss out on important webinars, case studies, tools, videos, and more. To never miss information for the EDC innovations that interest you most, visit the subscription page and select the topics you'd like to receive updates on directly from the teams that coordinate them.
Recent bulletins:
NextGen TIM – 7/20/21
Value Capture – 7/15/21
Strategic Workforce Development – 7/15/21
Virtual Public Involvement – 7/13/21
A-GaME – 7/7/21
About EDC
Every Day Counts, a State-based program of the Federal Highway Administration's Center for Accelerating Innovation, works with State, local, and private sector partners to encourage the adoption of proven technologies and innovations to shorten and enhance project delivery.
Recommended Citation:
U.S Department of Transportation, Federal Highway Administration
EDC News; July 22, 2021
Washington, DC
https://doi.org/10.21949/1521799