September 2, 2021
EDC Synergy:
Unmanned Aerial Systems and 3D Modeling
Unmanned Aerial Systems (UAS) have gained significant use in supplying digital site information to highway agencies since FHWA began supporting deployment through EDC. Since 2016, Federal Lands Highway (FLH) has successfully used UAS to collect site information for 3D design modeling and other digital project delivery applications.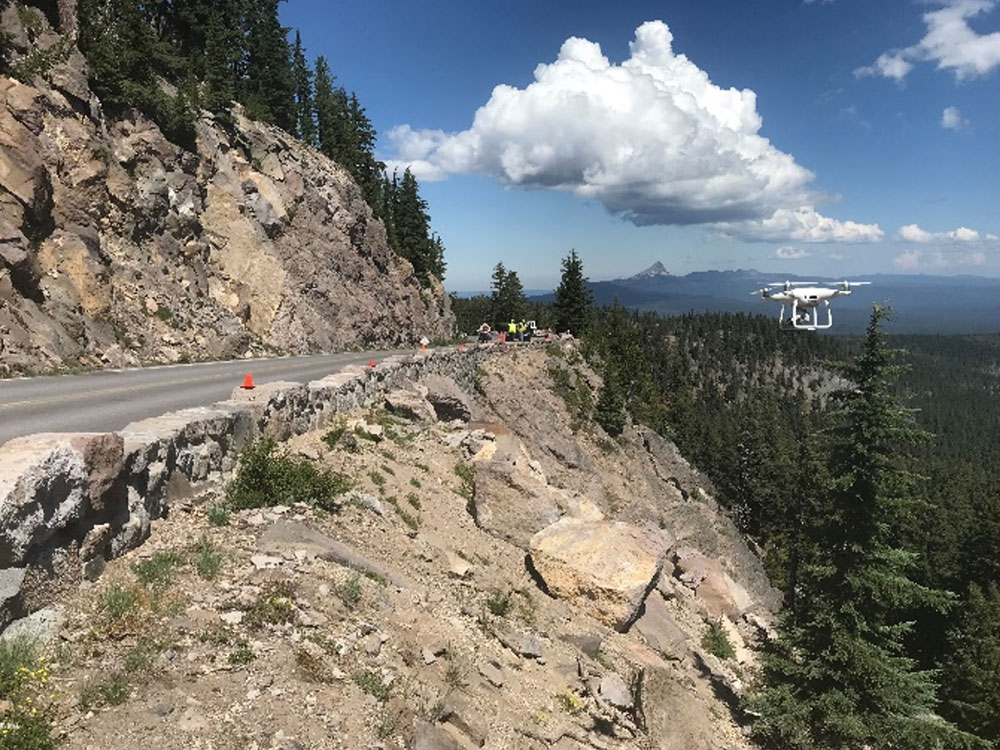 UAS can often collect data faster, more cost effectively, and in a safer manner, than if traditional survey crews were used. For example, UAS assist staff in gathering site information in difficult and nearly inaccessible places, such as narrow roads and steep terrains. This site information is essential for accurate 3D design modeling. FLH estimates UAS will save $45,000 in survey costs on just one project, the Dent Bridge Road Safety Improvement project in Idaho. UAS data also provides a complete map of existing conditions—also known as a 'digital terrain model'—for 3D design and other digital applications versus traditional surveying, which is less accurate.
UAS and other digital data gathering practices, such as mobile Light Detection and Ranging (LiDAR), provide orders of magnitude of more information to feed better 3D designs and visualization. These digital tools support design optimization and better communication across the various project delivery disciplines and to other stakeholders. 3D modeling allows the public to 'see' beyond what plan sheets can show, helping them understand alignment options and associated environmental impacts during public outreach, whether in-person or through Virtual Public Involvement.
Data supplied by UAS for 3D design models also provide the ability to calculate more accurate quantities automatically and to do project cut-fill balancing. The digital terrain model can provide full site coverage versus traditional survey, which generally provides ground elevation points at 50+ foot intervals and is more demanding on survey staff.
To learn more about UAS, please contact James Gray, FHWA Office of Infrastructure. To learn more about 3D modeling, contact David Unkefer, FHWA Resource Center.
Contractors who construct NJDOT projects have not reported constructability issues or complaints about the mix. NJDOT believes including performance requirements for the mixture, understanding treatment selection and application timing, and requiring project engineers to approve specifications are key factors in the success of HPTO as a pavement preservation tool.
Based on this research and evaluation of projects to date, NJDOT considers HPTO a cost-effective solution that provides a safe, smooth, crack and rut resistant surface that extends the life of the pavement and causes minimal impact on the road users and environment during construction.
To learn more about TOPS, contact Tim Aschenbrener (asphalt) and Sam Tyson (concrete), EDC-6 team co-leads. To stay connected with the TOPS team, join their mailing list to receive updates and new resources as they become available.
The City of Irving, Texas Uses Open-Source Code to Detect Congestion Quickly
Traffic Management Center operators in the City of Irving, Texas, routinely monitored their Waze Connected Cities Traffic View tool for potential incidents along key arterial roadways. By using the Waze Travel Times Poller code, a free open-source code, operators were able to forego monitoring this data feed because the code alerts them when and where unusual congestion occurs, thus saving resources and improving efficiency.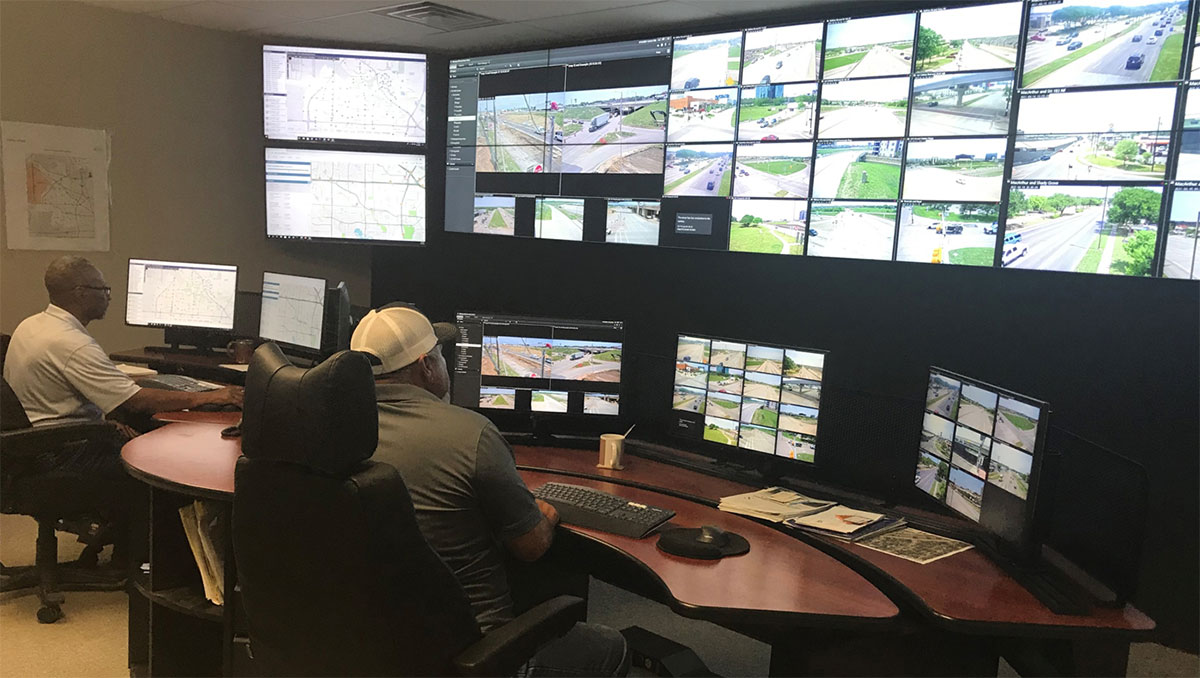 To learn how your agency can use the Waze Travel Times Poller code, register for the September 14, 2021 Adventures in Crowdsourcing webinar featuring Lake County, Illinois and the City of Irving. For other questions on Crowdsourcing, contact James Colyar, FHWA Office of Operations, Greg Jones, FHWA Resource Center, or Ralph Volpe, FHWA Resource Center.
UAS Aids Alaska in Design, Construction, and Monitoring of Large Projects
The Alaska Department of Transportation and Public Facilities (DOT&PF) has deployed Unmanned Aerial Systems (UAS) across the State to aid in design, construction and monitoring of large scale projects. The Sterling Highway is one of the first projects in the State to use data supplemented by UAS. By augmenting traditional survey acquisitions, DOT&PF is able to fill in the gaps with UAS data. ADOT&PF has used fixed wing and multirotor systems to collect Light Detection and Ranging (LiDAR), imagery, and environmental documentation since 2019. DOT&PF's ability to quickly acquire imagery and LiDAR and distribute to the project team not only saves time, but allows for the public to be kept updated on project development through an online web portal.
To learn more about UAS, please contact James Gray, FHWA Office of Infrastructure.
EDC Safety Summit Series Continues
Safety innovations have been a cornerstone of the EDC program since 2011, resulting in their rapid deployment and institutionalization, and the upcoming EDC Safety Summit Series will build on that momentum.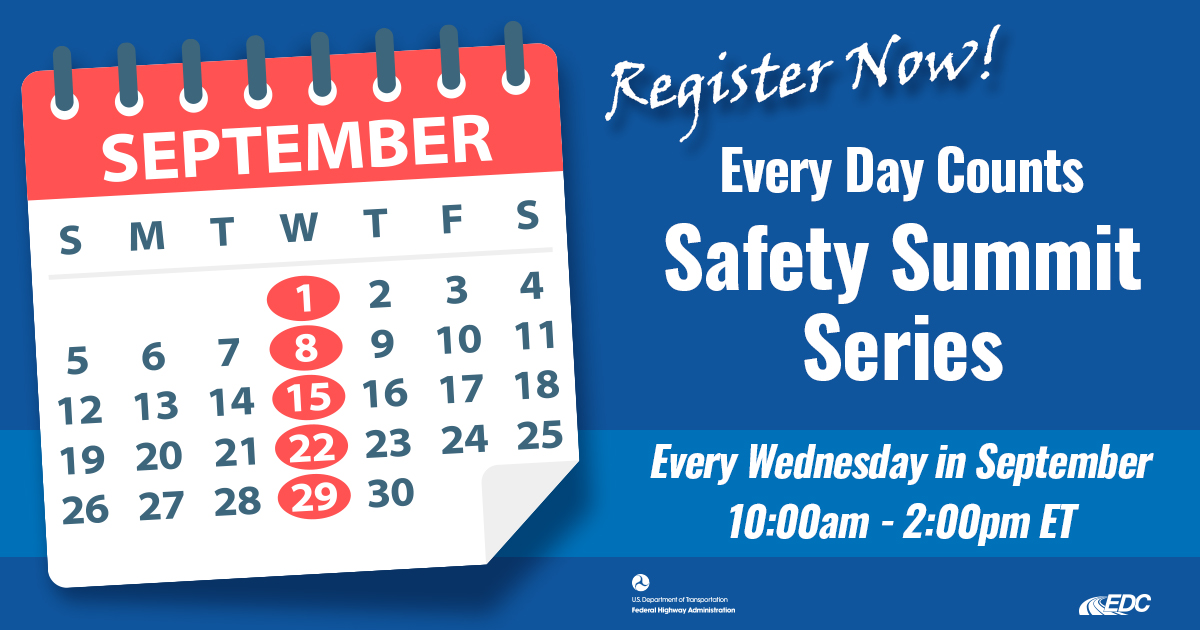 September 8 will focus on Data Driven Safety Analysis (DDSA) and will include opportunities to discuss this topic with peers and establish relationships that can boost success now and in the future.
Register here for the summit, which will take place from 10 am to 2 pm ET each day and is open to all State, local, and tribal stakeholders. Participants can join for one or all Wednesdays. Contact Karen King, FHWA Virginia Division, for additional information.
Stay Up to Date on the EDC Innovations That Interest You Most
EDC teams are always on the move! If you blink, you could miss out on important webinars, case studies, tools, videos, and more. To never miss information for the EDC innovations that interest you most, visit the subscription page and select the topics you'd like to receive updates on directly from the teams that coordinate them.
Recent bulletins:
Data Driven Safety Analysis – 8/30/21
STEP – 8/30/21
Crowdsourcing – 8/30/21
NextGen TIM – 8/23/21
FoRRRwD – 8/18/21
About EDC
Every Day Counts, a state-based initiative of the Federal Highway Administration's Center for Accelerating Innovation, works with state, local and private sector partners to encourage the adoption of proven technologies and innovations to shorten and enhance project delivery.
EDC News is published weekly by the FHWA Center for Accelerating Innovation.
Recommended Citation:
U.S. Department of Transportation, Federal Highway Administration Every Day Counts: Innovation for a Nation on the Move
EDC News: September 2, 2021 Washington, DC:
https://doi.org/10.21949/1521805