October 28, 2021
Innovation of the Month:
e-Ticketing
Electronic Ticketing (e-Ticketing) adoption is rapidly expanding among transportation agencies nationwide. This paperless process for creating, sharing, tracking, documenting, and storing materials provides agencies and contractors with an electronic means to verify materials deliveries while enhancing safety, streamlining inspections, and improving contract administration procedures. E-Ticketing also provides consistent and efficient project documentation and standardized data across projects.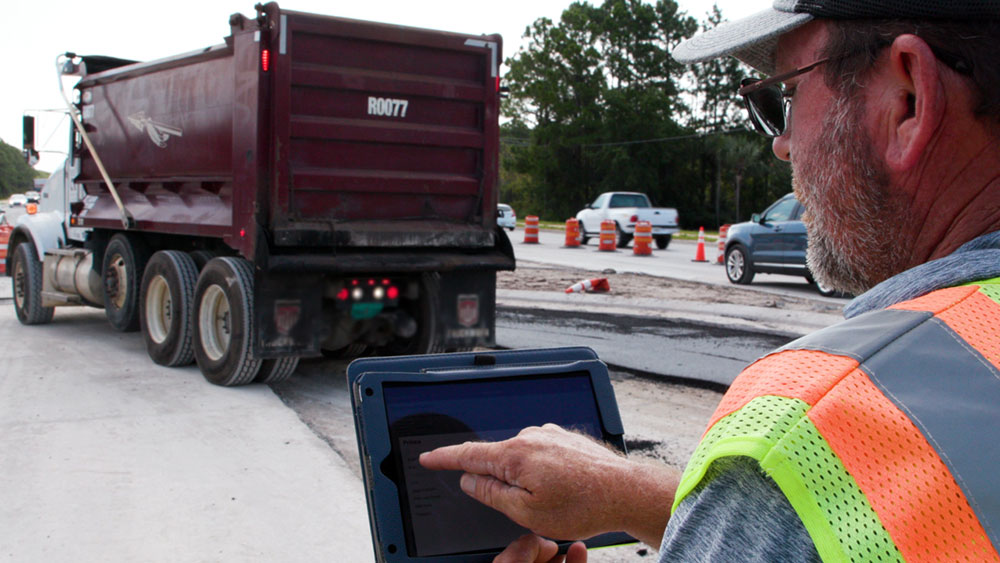 The Iowa Department of Transportation (IDOT) was one of the first DOTs to adopt e-Ticketing, conducting its first pilot in 2015. Since that initial pilot, the State's e-Ticketing use has grown significantly, including for multiple material types—asphalt, concrete, and aggregates. In 2020, IDOT used e-Ticketing on more than 80 projects.
Iowa's e-Ticketing program focuses on safer ticket collection, real-time materials auditing and testing, and electronic documentation of construction information. IDOT is also involved in several e-Ticketing initiatives including creating an agency view for e-Tickets using AASHTOWare Project and using license plate readers for materials delivery verification.
E-Ticketing makes it easier for the highway construction industry to switch from paper-based exchanges to a modern, 21st century digital workflow providing information that is "smarter" and more accessible. No matter where in the e-Ticketing journey your agency is, the EDC-6 e-Ticketing team can help you move your program to the next level.
Watch the e-Ticketing and Digital As-Builts EDC Spotlight video here. To learn more about e-Ticketing, please contact Kat Weisner, FHWA Resource Center.
The U.S. Government does not endorse products or manufacturers. Trademarks or manufacturers' names appear only because they are considered essential to the objective of the article. They are included for informational purposes only and are not intended to reflect a preference, approval, or endorsement of any one product or entity.
User-Generated Traffic Alerts Help Kentucky Understand Vehicle Shoulder Crashes
Vehicles remaining on shoulders increase crash risk, particularly when present for extended periods. The Kentucky Transportation Center used free data from a navigation app provider to confirm that more than 35 percent of vehicle-on-shoulder alerts stayed active for at least 30 minutes, and another 12 percent for at least one hour. The study also found a strong correlation between vehicles on the shoulder, congestion, and crashes.
The Kentucky Transportation Cabinet's traffic management center operators can use the same free data to view real-time heatmaps of vehicles on shoulder events, detect likely abandoned vehicles, and share this information with law enforcement patrols. This effort helps clear vehicles from the shoulder and improve travel safety.
To learn more about how Kentucky applied crowdsourced data to clear shoulder crashes and improve safety, contact James Colyar, Greg Jones, or Ralph Volpe, the FHWA EDC-6 Crowdsourcing co-leads.
High-Friction Surface Treatment EDC Storyboard- Helping Drivers Get a Grip
EDC storyboards share innovation deployment stories in an interactive digital slideshow that incorporates images, video, and graphics to create a highly visual experience for our readers.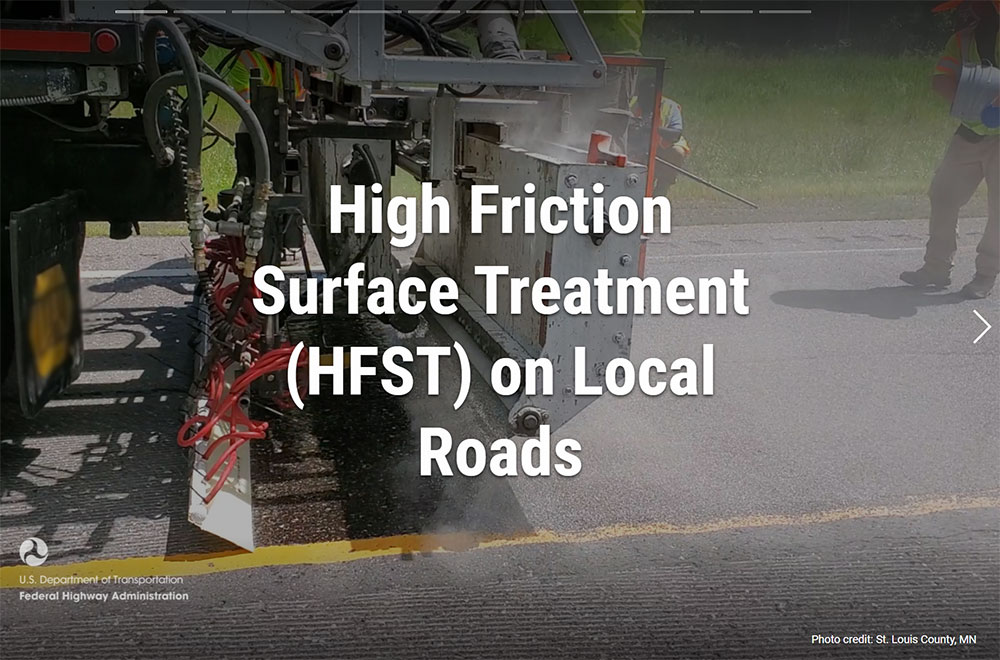 Our latest storyboard comes from the focus on reducing rural roadway departures (FoRRRwD) team and discusses benefits of high-friction surface treatment as a countermeasure for rural roadway crashes and gives some crash statistics that may surprise you. This relatively inexpensive treatment can reduce crashes on wet curves by over 80 percent!
For more information on using high-friction surface treatment on your roadways, contact Cate Satterfield, FHWA Office of Safety, or Dick Albin, FHWA Resource Center.
Texas Combats Cracks with Crack Attenuating Mixture
The Houston District of the Texas Department of Transportation has many lane miles of old jointed concrete pavement that are at or near the end of their designed service life with varying levels of surface distress. Many of these old pavements are heavily trafficked and unsuitable for reconstruction due to unacceptable amount of lane closures and high costs. In need of a robust solution to rehabilitate their pavement, the district worked with Texas A&M Transportation Institute to design a crack attenuating mixture (CAM) interlayer with a thin overlay mix (TOM) surface course. CAM is one of 12 products included in the EDC-6 Targeted Overlay Pavement Solutions (TOPS) innovation.
Properly designed crack attenuating interlayers can reduce the number of reflective cracks and slow the rate of reflective cracking by up to 50 percent. Houston's first overlay project with a CAM interlayer was in 2014 on a stretch of Interstate Highway 69. It has performed well making the CAM and TOM overlay system the district's new go-to rehabilitation solution.
To learn more about TOPS, contact Tim Aschenbrener (asphalt) or Sam Tyson (concrete), EDC-6 team co-leads. To stay connected with the TOPS team, join their mailing list to receive updates and new resources as they become available.
EDC Outtakes – e-Ticketing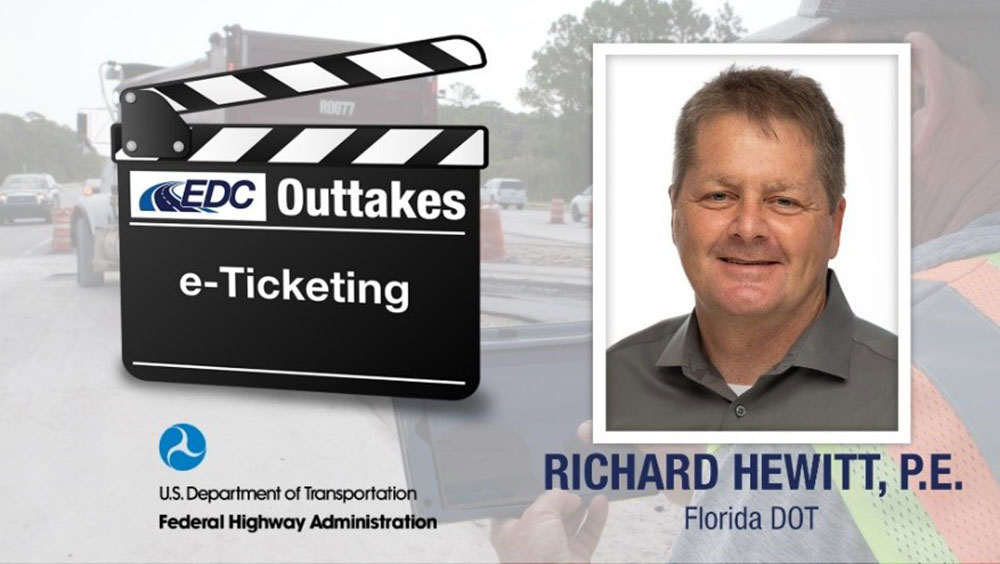 In EDC Outtakes–a series of short interview videos–State practitioners and FHWA personnel give insight into the current round of EDC innovations. In our latest edition, Richard Hewitt, State Construction Pavement Engineer, Florida DOT, explains how e-Ticketing improves safety.
Keep reading EDC News for future editions of EDC Outtakes!
Stay Up to Date on the EDC Innovations That Interest You Most
EDC teams are always on the move! If you blink, you could miss out on important webinars, case studies, tools, videos, and more. To never miss information for the EDC innovations that interest you most, visit the subscription page and select the topics you'd like to receive updates on directly from the teams that coordinate them.
Recent bulletins:
Strategic Workforce Development – 10/19/21
Project Bundling – 10/13/21
Local Aid Support – 10/12/21
TOPS – 10/12/21
Local Aid Support – 10/6/21
About EDC
Every Day Counts, a state-based initiative of the Federal Highway Administration's Center for Accelerating Innovation, works with state, local and private sector partners to encourage the adoption of proven technologies and innovations to shorten and enhance project delivery.
EDC News is published weekly by the FHWA Center for Accelerating Innovation.
Recommended Citation:
U.S. Department of Transportation, Federal Highway Administration Every Day Counts: Innovation for a Nation on the Move
EDC News: October 28, 2021
Washington, DC:
https://doi.org/10.21949/1521816