March 3, 2022
Innovation of the Month: Virtual Public Involvement
Because engaging youth in the transportation planning process is notoriously difficult, the North Jersey Transportation Planning Authority (NJTPA) used a broad range of engagement tools when developing its long-range transportation plan, Plan 2050. They held focus groups with traditionally underserved demographic groups, created a young adult advisory group, and held online meetings to engage broad audiences. NJTPA also held an innovative online contest for children ages 5 - 15, the OnAir Future of Transportation contest, which allowed children to be creative, while also participating in the planning process.
The NJTPA promoted the contest through its email and social media channels. It also partnered with the Rutgers University Public Outreach and Engagement Team to promote the contest with community-based organizations, elementary and middle school teachers, community websites that promote children's activities, and programs for youth with disabilities.

Left: One of the winning submissions from the OnAir Future of Transportation contest. Right: OnAir Future of Transportation honorable mention winner. (Credits: NJTPA)
Participants submitted drawings, animated videos, poems, short stories, and more, describing their visions for transportation in 2050. Responses were collected via email, physical mail, and voicemail. Entries were divided by age groups, with winners selected in each group.
Contest submissions included some highly futuristic visions of flying cars, hover chairs, and teleportation, which the NJTPA considered to be a bit out of reach for its 2050 planning timeframe. However, several themes emerged in the contest submissions that mirrored public input from adults. Contest submissions showed that kids have a desire for faster, more reliable transportation options that are comfortable and convenient, and a future that uses technology to make life easier, safer, more equitable, sustainable, and fun.
Recommendations for autonomous vehicles, micromobility, and sustainability were incorporated into Plan 2050 based on the adults' and children's input. The On Air Future of Transportation contest raised awareness of the NJTPA and their work, especially to parents, teachers, and other adults involved in outreach, and provides an innovative example of using virtual public involvement (VPI) techniques to engage a difficult-to-reach segment of the population.
To learn more about VPI and other innovative examples of its use, please contact Lana Lau, FHWA Office of Project Development & Environmental Review, or Jill Stark, FHWA Office of Planning, Stewardship & Oversight.
Indiana's Intelligent Snow Truck Enhances Winter Maintenance Operations
State DOTs experience many challenges in conducting winter maintenance operations. These include shortages of experienced operators, driver workload, driver distraction, safety, and efficient application of liquids and solids. In response to these challenges, Indiana DOT (INDOT) developed an intelligent snow truck. Beginning with anti-icing applications, Indiana and its partners successfully built a prototype vehicle based on spray technology used by the agriculture industry. After proving the feasibility of the technology, Indiana translated the solution into a larger scale application, equipping a brine tanker in Indianapolis. The tanker's spray channels are automated, with the system controlling the variable flow and application of materials while the driver is en route. This was able to greatly reduce driver distraction as the manual operation previously required the driver on that route to adjust the controller nearly 650 times per shift. Lastly, the application of granular or solid materials was automated in one of INDOT's newer plow trucks. The solution also includes modified automated vehicle location systems to enable two way-communication for feeding information directly to the spreader.
Based on the effectiveness of the pre-treatment conducted by the automated trucks, INDOT plans to roll out the automation across its entire truck fleet for a standardized approach to salt application rates. It is also looking into the use of these trucks during weather events using mobile sensor technology. The agency is currently working on a project to evaluate mobile sensor data to create an algorithm for application rates in real-time.
To learn more about Indiana's automated snow trucks, contact Jeremy McGuffey, INDOT Statewide Winter Operations Manager. For additional Weather-Responsive Management Strategies information and publications, contact David Johnson, FHWA Office of Operations.
Vermont Uses Ground Penetrating Radar to Identify Geotechnical Hazard
Ground Penetrating Radar (GPR) is a geophysical method that uses radar pulses to provide high-resolution images of the subsurface in a short amount of time. Though it is not one of the highlighted Advanced Geotechnical Methods in Exploration (A-GaME) techniques, GPR can be a valuable and versatile subsurface exploration tool.
Recently the Vermont Agency of Transportation (VTrans) used GPR to identify the size and extent of apparent voids caused by a failing metal pipe culvert located beneath the heavily travelled I-89 and an adjacent town road. Several voids had developed at the ground surface located within the medians and directly adjacent to the pavement and dipping and cracking of the pavement within the travel lane and shoulder of the roadway were noted, causing one travel lane to be closed.
VTrans identified the extent and depth of the voids and areas of disturbed soils between the pavement and the culvert structure within the travel lane and shoulder of I-89 using GPR subsurface information and confirmed the passing lane could remain open to traffic. A later GPR survey helped identify soil migration rates and other changes in the site. Both the GPR and the boring information helped to develop profiles of the soils and identify a ground improvement alternative that would work in conjunction with the lining of the large culvert, as well as to identify specific areas and depths to target in when filling the voids from the surface.
To learn more about using GPR or other proven geotechnical methods for identifying geotechnical hazards, contact Ben Rivers, FHWA Resource Center, or Silas Nichols, FHWA Office of Infrastructure.
Virtual Public Involvement EDC Storyboard- Engaging Audiences with New Tools
EDC storyboards share innovation deployment stories in an interactive digital slideshow that incorporates images, video, and graphics to create a highly visual experience for our readers.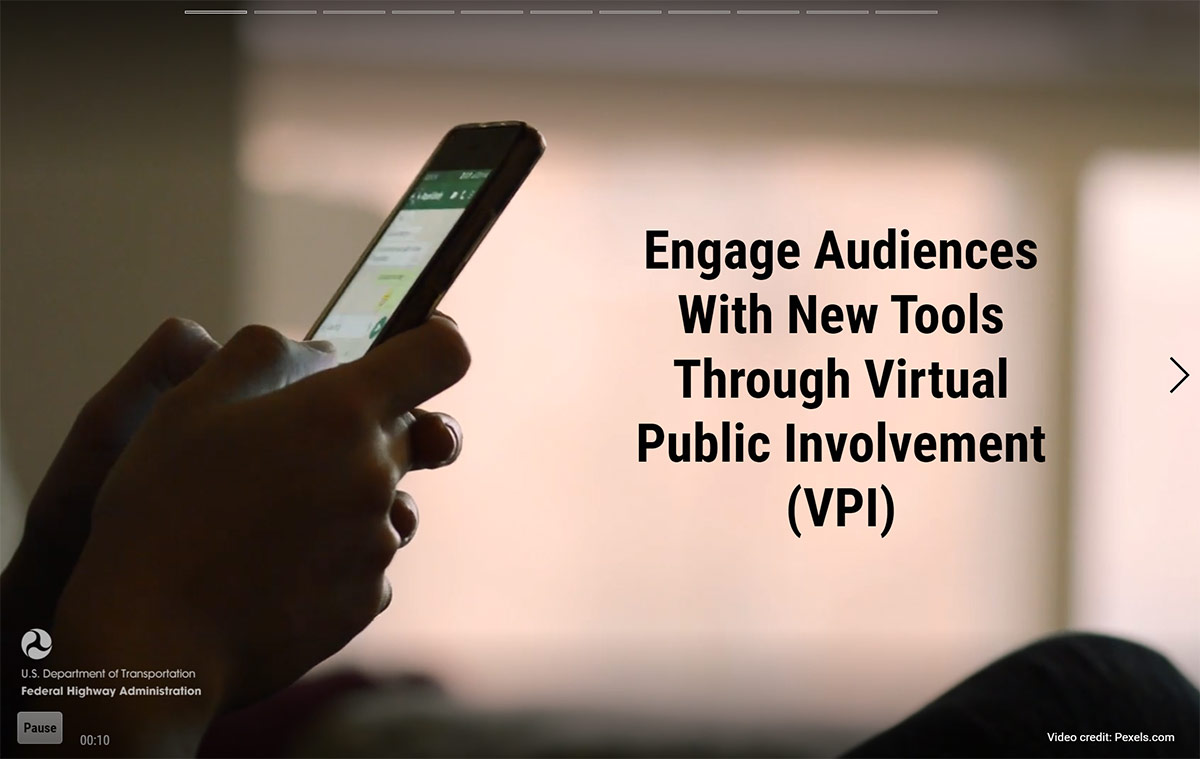 This storyboard comes from our innovation of the month, Virtual Public Involvement and discusses several tools and strategies used by transportation agencies in Iowa, Indiana, New Jersey, and Florida to reach their audiences in an effective and innovative way.
To learn more about Virtual Public Involvement, please contact Lana Lau, FHWA Office of Project Development & Environmental Review, or Jill Stark, FHWA Office of Planning, Stewardship & Oversight.
Stay Up to Date on the EDC Innovations That Interest You Most
EDC teams are always on the move! If you blink, you could miss out on important webinars, case studies, tools, videos, and more. To never miss information for the EDC innovations that interest you most, visit the subscription page and select the topics you'd like to receive updates on directly from the teams that coordinate them.
Recent bulletins:
Project Bundling – 2/28/22
A-GaME – 2/17/22
Strategic Workforce Development – 2/16/22
Local Aid Support – 2/16/22
NextGen TIM – 2/14/22
About EDC
Every Day Counts, a state-based initiative of the Federal Highway Administration's Center for Accelerating Innovation, works with state, local and private sector partners to encourage the adoption of proven technologies and innovations to shorten and enhance project delivery.
EDC News is published weekly by the FHWA Center for Accelerating Innovation.
Notice: The U.S. Government does not endorse products or manufacturers. Trademarks or manufacturers' names appear in this presentation only because they are considered essential to the objective of the presentation. They are included for informational purposes only and are not intended to reflect a preference, approval, or endorsement of any one product or entity.
Recommended Citation:
U.S. Department of Transportation, Federal Highway Administration
EDC News: March 3, 2022
Washington, DC:
https://doi.org/10.21949/1521833