March 31, 2022
Innovation of the Month: Virtual Public Involvement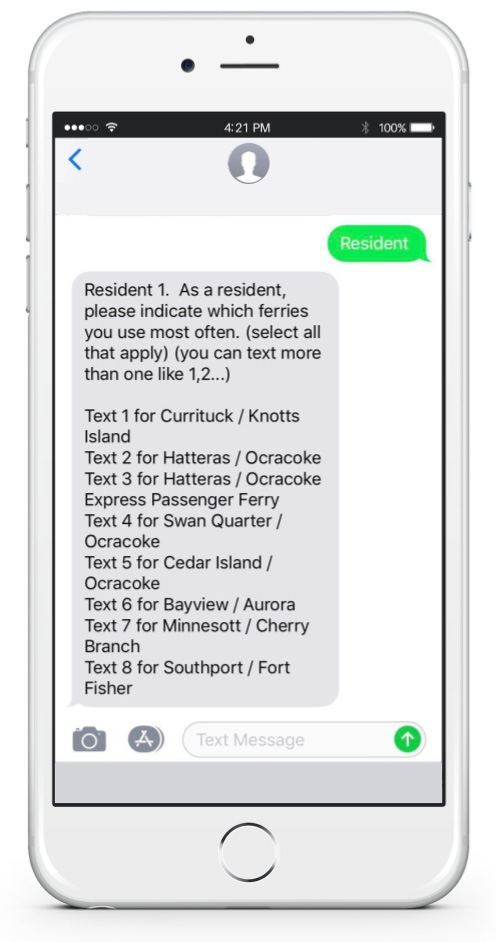 Virtual Public Involvement (VPI) strategies, such as online meetings and surveys, go a long way to providing convenient ways for community members to learn about proposed transportation plans and projects, and to provide feedback online. However, reaching everyone in a public involvement process can be challenging, as so much information and content competes for everyone's attention. Sometimes, more direct outreach is necessary or more convenient. Text messaging is an effective VPI technique that can help cut through the constant barrage of information that many of us face every day, while also providing more options for community members that may not have internet access at home, or who are more comfortable with a text messaging format.
The Georgia Department of Transportation (GDOT) uses text messaging as part of its outreach to communities with low broadband access, where residents may face barriers to participating in some VPI formats. These text messages provide information about upcoming meetings or other opportunities to engage in transportation planning and project development. GDOT pairs text messaging and other VPI techniques with in-person outreach and physical mailings to try to reach all members of the community.
The North Carolina Department of Transportation (NCDOT) has had success using text messaging in its public involvement program as well. NCDOT often conducts online surveys to engage the community and uses text messaging as part of a multifaceted outreach approach which includes social and traditional media promotion, email outreach, and in-person engagement. Texting surveys gives the public another convenient option to get engaged using the method of their choosing.
To learn more about Virtual Public Involvement and other innovative ways States are engaging with the public, please contact Lana Lau, FHWA Office of Project Development & Environmental Review, or Jill Stark, FHWA Office of Planning, Stewardship & Oversight.
Oklahoma DOT's Twist on Project Bundling Creates Bidding Options
Project bundling, awarding a single contract for several preservation, rehabilitation, or replacement projects, helps agencies reduce costs and achieve program goals. In 2021, the Oklahoma DOT advertised 6 sets of optionally bundled projects, saving an estimated $1.4 million. This unique approach to project bundling provides contractors options to address factors that may hinder some from bidding on typically bundled projects.
According to OK DOT, contractors most often prefer larger bundles of projects, but there are factors that may make smaller bundles, or even separate contracts more attractive at times. For example, bonding capacity may limit the contractor's ability to bid a large bundle of projects. Also, bidding smaller separate contracts can give the contractor more flexibility over the construction schedule. Optional ties provides contractors flexibility to bid on individual contracts or in bundles because one size doesn't fit all situations. This option also makes it easier for an agency to demonstrate the cost savings of project bundling by comparing the bids for separate projects to bids for combined projects, rather than comparing bids to engineer estimates.
To learn more about Project Bundling, please contact David Unkefer, FHWA Resource Center.
LADOTD Drives Materials Quality Assurance Innovation with e-Construction
Various methods were used across the Louisiana Department of Transportation and Development (LADOTD) construction units to create material sample plans, resulting in inconsistent collection activities and poor compliance with materials audit standards. In 2021, LADOTD launched an e-Construction Materials App and Sample Plan as the primary resource for materials quality assurance activities. Engineers use the Sample Plan tool to build a framework for all material sampling across the life of a project. Inspectors document sampling activities with cellular enabled tablets which save and synchronize the data in real time. Asphalt Roadway and Structural Concrete forms were digitized for paperless field use, and the ability to add supplemental images increases the integrity of quality assurance activities.
Implementing these tools greatly improved ease of use for field personnel and provided process alignment across the fifty engineering units comprising LADOTD. Upon full deployment, the department will see gains in inspector productivity, a decrease in errors and omissions in the Quality Assurance program, and an increase in compliance with the agency's Audit of Testing and Materials program.
To learn more about LADOTD's use of the platform for both project inspection and materials quality assurance please contact Matt Jones, Systems Engineer, LADOTD. For more information about e-Construction, please contact Kathryn Weisner, Construction and Contracts Engineer, FHWA.
Help Determine the Next Round of EDC Innovations
Do you have experience with a proven innovation that is currently underutilized but has game-changing potential for the highway community? If so, we want to know!
FHWA is seeking suggestions for market-ready innovations to deploy in 2023 in round seven of Every Day Counts (EDC-7). State, local, Tribal, and industry partners, as well as the public, are encouraged to submit innovative technologies or practices that can help provide safer roads for all users, address equity as part of project planning and delivery, and support sustainable and resilient infrastructure nationwide. The submission deadline is April 11, 2022. Visit the EDC website or watch the call for suggestions video to learn more.
Your ideas can help make every day count to ensure the Nation's infrastructure is built better, faster, and smarter.
Stay Up to Date on the EDC Innovations That Interest You Most
EDC teams are always on the move! If you blink, you could miss out on important webinars, case studies, tools, videos, and more. To never miss information for the EDC innovations that interest you most, visit the subscription page and select the topics you'd like to receive updates on directly from the teams that coordinate them.
Recent bulletins:
NextGen TIM 3/21/22
About EDC
Every Day Counts, a state-based initiative of the Federal Highway Administration's Center for Accelerating Innovation, works with state, local and private sector partners to encourage the adoption of proven technologies and innovations to shorten and enhance project delivery.
EDC News is published weekly by the FHWA Center for Accelerating Innovation.
Notice: The U.S. Government does not endorse products or manufacturers. Trademarks or manufacturers' names appear in this presentation only because they are considered essential to the objective of the presentation. They are included for informational purposes only and are not intended to reflect a preference, approval, or endorsement of any one product or entity.
Recommended Citation:
U.S. Department of Transportation, Federal Highway Administration
EDC News: March 31, 2022
Washington, DC:
https://doi.org/10.21949/1521835