April 28, 2022
Innovation of the Month: UHPC for Bridge Preservation & Repair
Wouldn't it be great to quickly test the performance of a UHPC bridge deck overlay? It can be challenging to test and evaluate the long-term performance of new bridge preservation innovations because it would normally take years of monitoring the in-service behavior of such a technology on actual bridge structures to make an adequate assessment. Alternatively, Rutgers University's state-of-the-art Bridge Evaluation and Accelerated Structural Testing (BEAST®) center provides a new opportunity to evaluate emerging preservation technologies. Built in 2015, the BEAST facility aims to develop high-quality data of bridge deterioration and to expand our knowledge of bridge performance through full-scale accelerated testing. The facility is capable of enclosing a 50-foot long bridge within an environmental chamber and subjecting the bridge to realistic rolling wheel loads, freeze-thaw cycles, and even the application of deicing chemicals. As a result, this facility can impose 10 to 20 years of ageing in less than 12 months.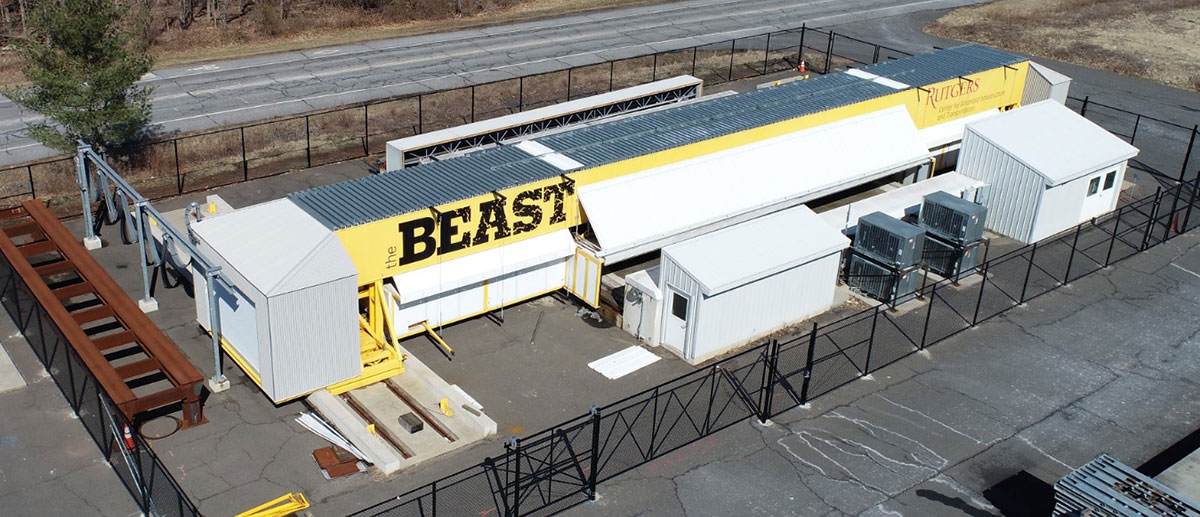 FHWA is sponsoring the first project to utilize the BEAST® facility, and seeks to establish the long-term performance of bare reinforced concrete bridge decks and overlay systems among other variables. A two lane, 50 foot simply-supported bridge built with steel girders was constructed and began accelerated testing in 2019. To date, it's been subjected to over 2-million passes of rolling load, 85 freeze-thaw cycles, and over 3000 gallons of salt brine. As a result, deck deterioration has reached a point where, in practice, an overlay would commonly be installed for rehabilitation and preservation purposes.

UHPC is one of the overlay systems that will be installed on this bridge specimen for evaluation. The UHPC overlay will be installed using materials and construction practices that are commonly deployed in the field. Once installed, accelerated testing will resume for at least 12 months, or until significant deterioration is again observed. Data will be collected, which will help establish quantitative measure of the overlays' ability to perform long-term and under realistic conditions. Data already shows that UHPC is long-lasting and resilient, but at the end of this research, researchers will be able to say with greater confidence how long UHPC overlays may last in service.
For more information on UHPC for Bridge Preservation & Repair, contact Zach Haber, FHWA Turner-Fairbank Highway Research Center, or Justin Ocel, FHWA Resource Center.
Texas ConnectU2Jobs Program Changes Lives Through Community Partnerships
For employers in the highway construction industry in Texas, a constant flow of skilled individuals is needed to sustain the workforce and keep roadways safe. The Texas Department of Transportation (TxDOT) collaborated to design the ConnectU2Jobs program to fulfill that demand and offer career opportunities to individuals who typically may not be provided access to such options. The Highway Construction Workforce Partnership (HCWP) included TxDOT, the Federal Highway Administration (FHWA), the Texas Workforce Commission, Dallas College, Workforce Solutions Greater Dallas, the Regional Black Contractors Association, the Regional Hispanic Contractors Association, Lone Star Justice Alliance, and the Associated General Contractors of Texas.
The 10-week pilot kicked off in September 2021, which removed youthful offenders arrested for felony crimes from the criminal justice system and prepared and trained them for careers in the heavy highway construction industry. The inaugural class was made up of 10 individuals, who received classroom instruction and hands-on training. Participants were able to earn wages through paid internships sponsored by potential employers. All graduates will continue to receive support from transition coaches for 180 days after program completion. The HCWP plans to focus on confirming work readiness during the recruitment process for future cohorts.
To learn more about the TxDOT ConnectU2Jobs program, contact Kim Hunziker. To learn about how you can expand your highway construction workforce, contact Clark Martin, HCWP Program Manager.
New Pavement Overlay Resources Available
The Targeted Overlay Pavement Solutions (TOPS) team has developed four case study brochures to highlight asphalt overlays. These new resources focus on the use of stone matrix asphalt in Georgia, crack attenuating mixture in Texas, high-performance thin overlays in New Jersey, and highly modified asphalt in Florida. Longer, more detailed case studies and how-to documents will be released later this year.

Additionally, an updated concrete overlay resource is also now available. The fourth edition of the Guide to Concrete Overlays presents the basic principles that a pavement engineer needs to design and construct concrete overlays on existing asphalt, composite, and concrete pavements. The guide is designed to increase the technical proficiency of experienced engineers in the use of concrete overlays, provide less experienced users with the essential knowledge to address the needs of various types of concrete overlay projects, and help all users recognize the versatility of concrete overlays.
This fourth edition of the guide was updated to include current information on continuously reinforced concrete pavement overlays, geotextile separation layers, fiber reinforcement, concrete overlay design procedures, and lessons learned from the experiences of numerous state highway agency engineers.
To learn more about TOPS, contact Tim Aschenbrener, FHWA Office of Preconstruction, Construction, and Pavements, or Bob Conway, FHWA Resource Center.
Stay Up to Date on the EDC Innovations That Interest You Most
EDC teams are always on the move! If you blink, you could miss out on important webinars, case studies, tools, videos, and more. To never miss information for the EDC innovations that interest you most, visit the subscription page and select the topics you'd like to receive updates on directly from the teams that coordinate them.

Recent bulletins:
Local Aid Support 4/18/22
FHWA Build a Better Mousetrap 4/14/22
About EDC
Every Day Counts, a state-based initiative of the Federal Highway Administration's Center for Accelerating Innovation, works with state, local and private sector partners to encourage the adoption of proven technologies and innovations to shorten and enhance project delivery.
EDC News is published weekly by the FHWA Center for Accelerating Innovation.
Notice: The U.S. Government does not endorse products or manufacturers. Trademarks or manufacturers' names appear in this presentation only because they are considered essential to the objective of the presentation. They are included for informational purposes only and are not intended to reflect a preference, approval, or endorsement of any one product or entity.
Recommended Citation:
U.S. Department of Transportation, Federal Highway Administration
EDC News; April 28, 2022
Washington, DC
https://doi.org/10.21949/1521837