May 26, 2022
Innovation of the Month: Targeted Overlay Pavement Solutions
Asphalt and concrete have been used as driving surfaces for more than a century, but continuous increases in traffic volume, axle loads, and tire pressures have led to greater demand for high-quality pavement mixtures that can resist distresses. When installed properly, overlays can maximize previous investments and effectively extend the service life of pavement structures.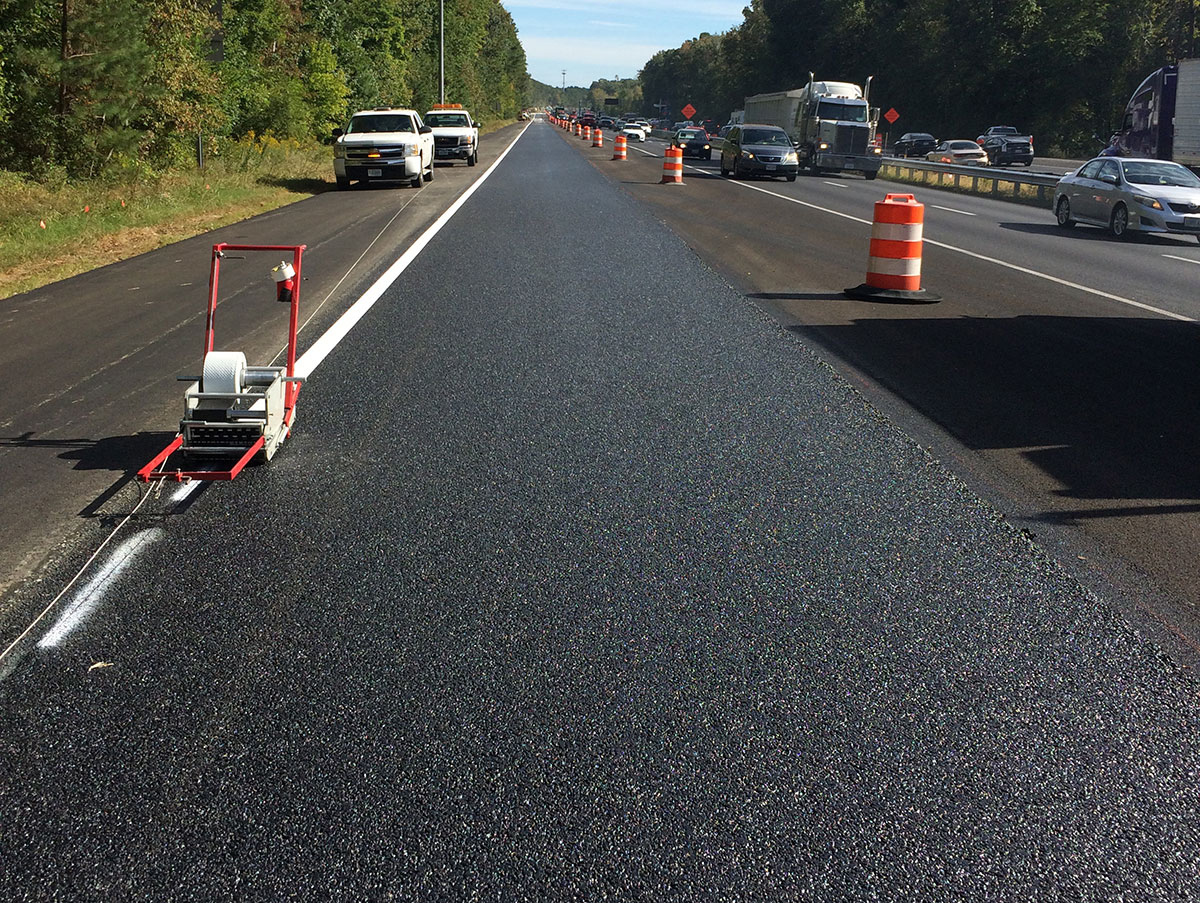 VDOT placed this HiMA lane (right) and kept the left lane as a control lane in 2014. (Source: VDOT)
That's why the Virginia Department of Transportation (VDOT) has experimented with targeted overlay pavement solutions (TOPS). The Virginia Transportation Research Council (VTRC) recently published a report with results from laboratory and field performance evaluations of highly modified asphalt (HiMA), one of several products featured in the Every Day Counts TOPS initiative. VTRC initiated the study in 2014 to evaluate HiMA constructability, laboratory performance, and initial field performance. As part of this effort, in 2015, VDOT placed dense-graded and stone-matrix asphalt HiMA overlays at several locations over existing jointed concrete pavement and cracked asphalt pavements to mitigate reflective cracking. The use of HiMA binder in a stone-matrix asphalt mix type was the first of its kind nationwide. The objective was to assess the viability of using HiMA mixtures in Virginia as a reflective crack mitigation technique or as a tool for increased crack resistance on high-volume facilities.
Researchers say the HiMA test sections showed the most promising performance 5 years after construction (2015-2020) regardless of traffic level and the pre-existing pavement conditions compared to conventional polymer-modified asphalt (PMA). They determined that HiMA extended the life of pavements 34 percent compared to PMA.
The FHWA TOPS team has created several HiMA resources, including a
webinar
(Passcode: qMe!4.3B), a case study
brochure
, and a one-page
fact sheet
. Contact Tim Aschenbrener (asphalt) and Robert Conway (concrete), EDC-6 team co-leads to learn more about TOPS.
Measuring the Way to a Safer Future
One of the Focus on Reducing Rural Roadway Departure's (FoRRRwD's) proven countermeasures is friction treatments in curves and other locations to help keep vehicles in their lane. Historically, pavement friction has been measured at sample locations with a locked wheel skid trailer, but these measurements are seldom gathered through curves or intersections, which are critical locations for friction. With roadway departures and intersections accounting for 75 percent of fatal traffic crashes, knowing the friction values of the entire road is key to achieving zero traffic deaths. This video highlights the benefits of using Continuous Pavement Friction Measurement (CPFM), which can help your agency identify where to make targeted investments to improve the safety performance of your roads.
To learn more about CPFM, please contact Joe Cheung or Jeff Shaw of the FHWA Office of Safety or Andy Mergenmeier of the FHWA Resource Center.
Iowa Extends Workforce Training Program to Launch Careers for Young Adults
To address a lack of diversity in its highway, street, and bridge construction workforce and provide career opportunities for under and unemployed individuals, the Iowa Department of Transportation (IDOT) offers training programs for non-traditional construction workers. The program prepares women, minority groups, and other disadvantaged persons for entry-level positions that can provide long-term career options. With the Highway Construction Workforce Partnership (HCWP) funding, IDOT is collaborating with industry representatives and community colleges to extend its training and placement services to young adults, ages 18‐24.
The expanded program highlights general construction knowledge like workplace safety, personal protective gear, equipment safety inspections, and safe operations. It prepares successful trainees to find jobs as construction laborers, heavy equipment operators, and highway maintenance workers. To increase career placement, Iowa also offers recruitment and networking services for program participants.
To learn more about Iowa's expanded workforce training and placement programs, contact Yareli Reeve-Mendoza. For more information on how you can increase diversity among your workforce, contact the FHWA HCWP Program Manager Clark Martin.
Stay Up to Date on the EDC Innovations That Interest You Most
EDC teams are always on the move! If you blink, you could miss out on important webinars, case studies, tools, videos, and more. To never miss information for the EDC innovations that interest you most, visit the subscription page and select the topics you'd like to receive updates on directly from the teams that coordinate them.
Recent bulletins:
Targeted Pavement Overlay Solutions (TOPS) 5/25/22
Reducing Rural Roadway Departures 5/23/22
e-Ticketing 5/20/22
Digital As-builts 5/18/22
Local Aid Support 5/17/22
About EDC
Every Day Counts, a state-based initiative of the Federal Highway Administration's Center for Accelerating Innovation, works with state, local and private sector partners to encourage the adoption of proven technologies and innovations to shorten and enhance project delivery.
EDC News is published weekly by the FHWA Center for Accelerating Innovation.
Notice: The U.S. Government does not endorse products or manufacturers. Trademarks or manufacturers' names appear in this presentation only because they are considered essential to the objective of the presentation. They are included for informational purposes only and are not intended to reflect a preference, approval, or endorsement of any one product or entity.
Recommended Citation:
U.S. Department of Transportation, Federal Highway Administration
EDC News; May 26, 2022
Washington, DC
https://doi.org/10.21949/1521841