October 27, 2022
Innovation of the Month: Digital As-Builts
Using digital data to build and maintain road projects is becoming an industry standard, but States like Minnesota that are currently using digital as-builts (DABs) didn't get to this point overnight. In fact, the Minnesota Department of Transportation's (MnDOT) journey began just over a decade ago, when maintenance staff in the Twin Cities Metro Area began to tackle an issue where as-built plans showing completed construction of important assets were not reaching the people who needed them. From 2011 until 2019, MnDOT accomplished several important steps that brought them to where they are today.
2011: MnDOT develops special provision requiring contractors deliver locations and other information for certain assets.
2014: MnDOT develops one of the nation's first Transportation Asset Management Plans (TAMPs).
2019: A second TAMP is developed, which helped identify assets suitable for DABs and how DAB data should be collected for various business needs and processes.
Screenshot of MnDOT's sign inventory system. (Credit: MnDOT)
MnDOT's TAMP establishes a cohesive vision and culture that unites MnDOT staff from the highest level of the agency down to the boots on the ground. This cohesion is important for a successful cross-functional and statewide implementation of DABs. During development of the TAMP, MnDOT learned many lessons on risk, asset investment strategies, and required data types. This shaped the subsequent development of DABs, which feed data to MnDOT's asset management and investment system. In addition to asset management applications, agencies use DABs and GIS information for digital project delivery and digital twins under the overarching and enhanced collaboration brought by building information modeling (BIM) for infrastructure. In fact, MnDOT plans to align their development of digital project delivery using BIM to service their asset management data needs.
What are some of the benefits being realized by this decade-long journey?
In a pilot project, MnDOT realized a 30 percent efficiency gain by utilizing an up-to-date GIS asset management sign inventory for design, as compared to the traditional methods where designers went into the field and logged each sign and attribution individually. In another cost saving effort, MnDOT has found that manual asset inventory field collection with an average cost of $15 per point can be collected for above ground assets using remote sensing technology (mobile lidar/imagery) at $3 per point. All DAB data being collected by MnDOT is being stored in enterprise asset management systems and interoperable data warehouses. Sharing asset data across the agency and utilizing the data for planning, scoping, and daily work planning is vital and is continually improving.
To learn more about MnDOT's evolution of DABs, please contact Michael Cremin, MnDOT. To learn more about digital as-builts, please contact David Unkefer, FHWA Resource Center.
2022 Build a Better Mousetrap Winners
Build a Better Mousetrap (BABM) celebrates innovative solutions for challenges that local and tribal transportation workers encounter. Each year, FHWA Local Aid Support and Local Technical Assistance Program Centers recognize government agencies that build a better mousetrap to creatively solve problems and improve transportation in their communities. These innovations can range from the development of tools and equipment modifications to the implementation of new processes that increase safety, reduce cost, and improve efficiency of our transportation system.
In 2022, FHWA awarded four innovations, including the Innovative Project Award, awarded to South Manheim Township, Pennsylvania, for the "sidewinder," a truck attachment tool used to improve water flow maintenance along roadways.
Watch the 2022 BABM showcase video to see additional 2022 awardees and visit the BABM website to read about current and past winners. To learn more about BABM, contact your local technical assistance program (LTAP).
Highly Modified Asphalt Inhibits Rutting in Oklahoma
It takes years to know if an overlay, specification, or technique will prove effective in the pavement world, but that wait is over in Oklahoma! A decade has passed since the Oklahoma Department of Transportation (ODOT) used mill and overlay with highly modified asphalt (HiMA) on a section of I-40, west of Oklahoma City.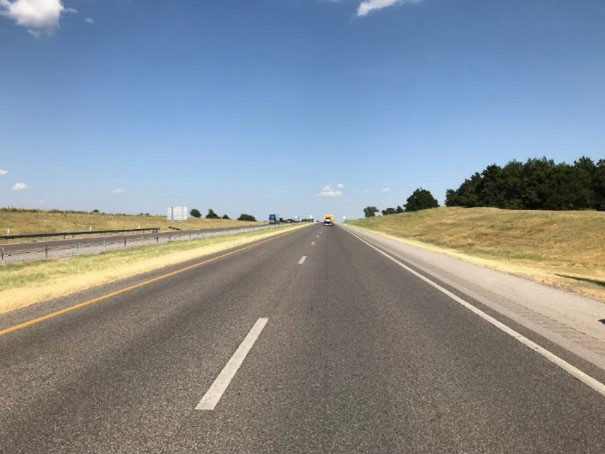 This stretch of I-40, west of Oklahoma City, received a
mill and overlay with HiMA in 2012. (Credit: ODOT)
In the first commercial application of this new technology, ODOT used a unique polymer, resulting in a more durable pavement that inhibits rutting and stands up to truck traffic while permitting thinner sections. While this mix is more expensive, reducing the required thickness can offset the cost and provide a longer-lasting pavement.
This roadway transports more than 25,000 vehicles daily, more than 35 percent of which are trucks. Ten years after receiving the new overlay, the span that received the HiMA treatment measures smooth enough on the International Roughness Index that it could result in ride quality bonuses for new construction in some states.
To learn more about HiMA overlays or other Targeted Overlay Pavement Solutions (TOPS), contact TOPS co-team leads Tim Aschenbrener (asphalt) or Robert Conway (concrete).
Stay Up to Date on the EDC Innovations That Interest You Most
EDC teams are always on the move! If you blink, you could miss out on important webinars, case studies, tools, videos, and more. To never miss information for the EDC innovations that interest you most, visit the subscription page and select the topics you'd like to receive updates on directly from the teams that coordinate them.
Recent bulletins:
Local Aid Support 10/3/2022
Strategic Workforce Development 10/5/2022
Local Aid Support 10/6/2022 TOPS 10/13/2022
Road Weather Management 10/18/2022
TOPS 10/19/2022
Next-Gen TIM 10/19/2022
Local Aid Support 10/20/2022
Strategic Workforce Development 10/21/2022
About EDC
Every Day Counts, a state-based initiative of the Federal Highway Administration's Center for Accelerating Innovation, works with state, local and private sector partners to encourage the adoption of proven technologies and innovations to shorten and enhance project delivery.
EDC News is published weekly by the FHWA Center for Accelerating Innovation.
Notice: The U.S. Government does not endorse products or manufacturers. Trademarks or manufacturers' names appear in this presentation only because they are considered essential to the objective of the presentation. They are included for informational purposes only and are not intended to reflect a preference, approval, or endorsement of any one product or entity.
Recommended Citation:
U.S. Department of Transportation, Federal Highway Administration
EDC News; October 27, 2022
Washington, DC
https://doi.org/10.21949/1521885