November 22, 2022
Innovation of the Month: Crowdsourcing for Advancing Operations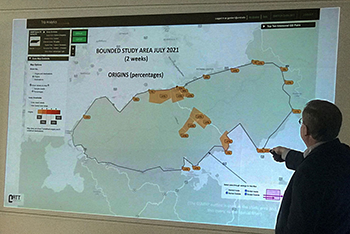 For gateways into our national parks, data on travel times, queues, parking usage, and trip patterns are critical to improving the visitor experience. However, for the Great Smoky Mountains National Park (GSMNP) and many other national parks, collecting these data using traditional methods such as temporary roadside sensors are often cost-prohibitive, with data spanning only a few days or weeks. Crowdsourced data offers new, low-cost opportunities to obtain more representative data. Many State DOTs now procure and can share crowdsourced data and performance analytics tools with public agencies, helping planners and operators better manage the transportation system in and around national parks, and other federal lands along with their local municipalities.
The Tennessee Department of Transportation hosted a mobility and crowdsourcing workshop in May 2022, in Gatlinburg, Tennessee, to help local, regional, and GSMNP stakeholders better understand opportunities and challenges to accessing varied crowdsourced data and the fidelity of these data. As a result of the workshop, GSMNP transportation specialists are poised to access historic and real-time vehicle probe data, as well as analytics tools training to quickly derive insights from these crowdsourced data. GSMNP intends to use these data and tools to help shape operational plans and provide better congestion information to visitors.
To learn more about how your public agency can access low-cost or free crowdsourced data through State or public-private partnerships, reach out to the Crowdsourcing Innovation co-leads, James Colyar, Ralph Volpe, or Greg Jones. To learn more about innovative applications of crowdsourced data, visit Adventures in Crowdsourcing, a series of over 20 recorded webinars featuring national experts and practitioners.

Register Now for Every Day Counts Round Seven Virtual Rollout!!!
For over 10 years the Federal Highway Administration's Every Day Counts (EDC) program has accelerated the adoption of proven, yet underutilized innovations. On December 2, FHWA will host an executive-level virtual rollout of the EDC round 7 innovations. Register here to reserve your "seat" at the virtual event!
These innovations will build upon the already significant legacy of EDC and support our efforts to drive innovation around three core priorities:
Improving safety for all road users
Building sustainable infrastructure for the future
Growing an inclusive workforce
Because the innovations to be promoted in EDC-7 can provide benefits that extend beyond the traditional surface transportation setting and reach into other transportation modes, FHWA is looking forward to working with our State transportation departments and industry organizations to help new audiences learn how the EDC-7 innovations may enhance other transportation programs and projects with other modes.
Please stay tuned for more information on upcoming activities to learn more about the EDC-7 innovations, including the virtual summit in mid-February.
MaineDOT Uses Seismic Refraction to Determine Bedrock Depth on Difficult Terrain
Before an agency can design and build a retaining structure, engineers need to understand what type of soil and material lies underneath the proposed location. In some locations, particularly those on a steep slope, this can be very difficult and impractical using traditional methods, such as borings alone. Advanced geotechnical methods, such as seismic refraction, can be used in situations like this to overcome access challenges while showing the varying subsurface conditions.
The Maine Department of Transportation (MaineDOT) completed a seismic refraction survey at such a site in Woodstock, Maine, to determine bedrock and overburden depths and variation prior to the construction of a retaining wall on a slope near the highway. Subsurface conditions at the site generally consisted of loose, rocky soil and test borings were not practical. The seismic refraction survey identified three soil layers including a dry, loose soil layer; a layer of dense soil; and bedrock of varying depths along the proposed site. These results were critical to the appropriate design and construction of the retaining wall.
Read more about the MaineDOT project in this bulletin. To learn more about how seismic refraction can be used in this way or to learn about other advanced geotechnical methods in exploration (A-GaME) methods, contact Ben Rivers, FHWA Resource Center, or Silas Nichols, FHWA Office of Infrastructure.
Stay Up to Date on the EDC Innovations That Interest You Most
EDC teams are always on the move! If you blink, you could miss out on important webinars, case studies, tools, videos, and more. To never miss information for the EDC innovations that interest you most, visit the subscription page and select the topics you'd like to receive updates on directly from the teams that coordinate them.
Recent bulletins:
Strategic Workforce Development 11/17/2022
TOPS 11/17/2022
Local Aid Support 11/17/2022
CHANGE 11/16/2022
WRMS 11/15/2022
Strategic Workforce Development 11/15/2022
UHPC 11/14/2022
About EDC
Every Day Counts, a state-based initiative of the Federal Highway Administration's Center for Accelerating Innovation, works with state, local and private sector partners to encourage the adoption of proven technologies and innovations to shorten and enhance project delivery.
EDC News is published weekly by the FHWA Center for Accelerating Innovation.
Notice: The U.S. Government does not endorse products or manufacturers. Trademarks or manufacturers' names appear in this presentation only because they are considered essential to the objective of the presentation. They are included for informational purposes only and are not intended to reflect a preference, approval, or endorsement of any one product or entity.
Recommended Citation:
U.S. Department of Transportation, Federal Highway Administration
EDC News; November 22, 2022
Washington, DC
https://doi.org/10.21949/1521888