May 18, 2023
EDC-7: EPDs for Sustainable Project Delivery
States across the country are adopting or considering adopting "Buy Clean" laws, which encourage using products and materials with smaller carbon footprints to reduce environmental impacts. Twelve States have committed to partner in the Federal-State Buy Clean Partnership to prioritize efforts that support the procurement of lower-carbon infrastructure materials and to send a harmonized demand signal to the marketplace. One way that States are complying with these laws or gearing up to properly implement them is through a State-level Environmental Product Declaration (EPD) program. As of March 2023, Buy Clean laws that use EPDs have been passed in California, Colorado, and Oregon for construction materials on transportation projects.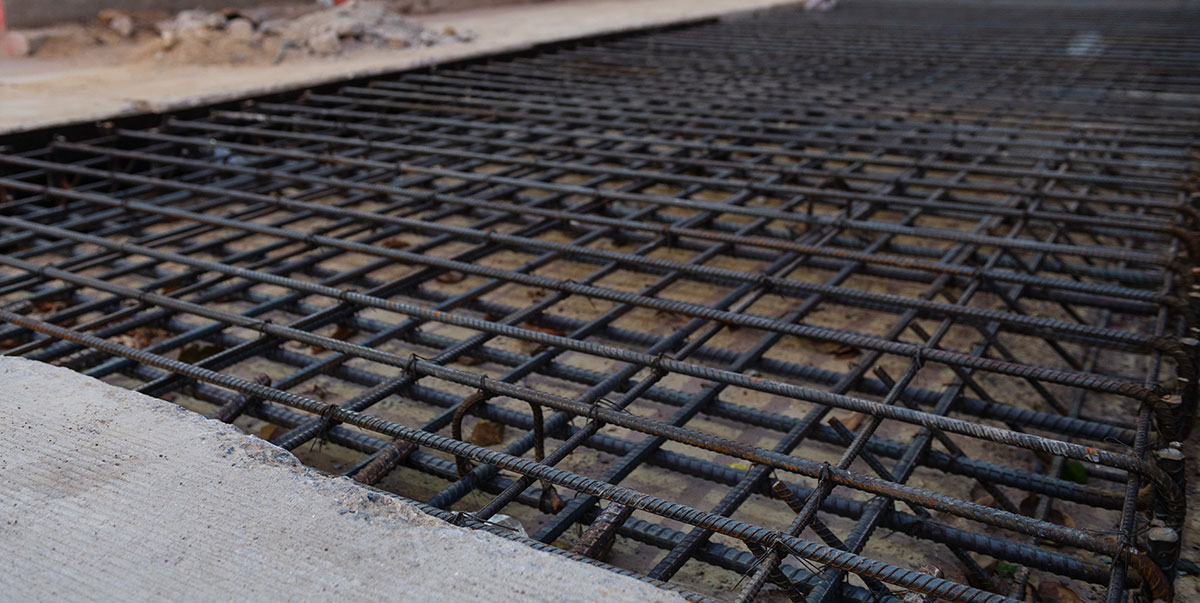 In California, the Buy Clean California Act (BCCA) mandates collecting EPDs for eligible materials including carbon steel rebar, structural steel, flat glass, and mineral wool board insulation. This prompted the California Department of Transportation (Caltrans) to create an EPD program to collect EPDs to quantify emissions for manufactured materials used in transportation projects. The program also helped establish baseline information for greenhouse gas emissions and supported the Department's goal of being a leader in climate action. To balance requirements with potential impacts on industry, Caltrans set minimum thresholds on projects to require EPDs. Projects must exceed $1 million and have 175 or more working days and exceed quantity minimums on eligible materials.
Caltrans adapted an existing internal database to include EPD data and started piloting projects in 2019. In addition to the four material categories listed above, Caltrans also began piloting EPDs on concrete, asphalt, and aggregates and plans to explore other materials.
During its pilot projects, Caltrans identified several lessons learned.
Data collection: All EPDs are not created equal. Caltrans's template for EPDs includes information that may not be present on all EPDs, so they needed to be flexible to make the process for inputting EPDs manageable.
Expiration of PCRs: The State is not involved in product category rule (PCR) development. When a PCR expires without replacement, what does this mean to the bidding process? Caltrans had to make some adjustments in specifications to allow for gap periods between expiration of a PCR and the beginning of a new one.
Roles and responsibilities: An agency must ensure contractors, subcontractors, and suppliers all know their roles. Communication is key and agencies must work with industry partners while implementing an EPD program.
Compliance: An agency must verify materials and quantities represented by the EPDs (matching mix designs, descriptions, bid items, etc.). Considering this in the development stages of your EPD program is important.
Constituent material: When EPDs are generated for mixes where additives make up a significant portion of the GWP, chemical additive manufacturers should provide GWP information for the material's EPD.
Learn more about the Caltrans EPD program on its webpage. Stay up-to-date on EPDs For Sustainable Project Delivery by subscribing to EPD e-News. To learn more about EPDs, please contact LaToya Johnson, or Migdalia Carrion, FHWA Office of Infrastructure.
Largest UHPC Installation in U.S. Now Underway
Using ultra-high performance concrete (UHPC) to preserve and repair our nation's infrastructure has reached a new milestone with the ongoing deck rehabilitation of the northbound span of the Delaware Memorial Bridge. This two-mile long, four lane wide suspension bridge has a reinforced concrete deck that was beginning to show its age. Instead of replacing the deck, the Delaware River and Bay Authority (DRBA) chose to install a UHPC overlay as a new, extremely durable wearing surface on top of the existing deck. The construction process includes using hydrodemolition to remove the existing cover concrete, installing a 2-inch thick UHPC overlay to replace the removed cover concrete, and grinding and grooving the placed UHPC to create the final driving surface.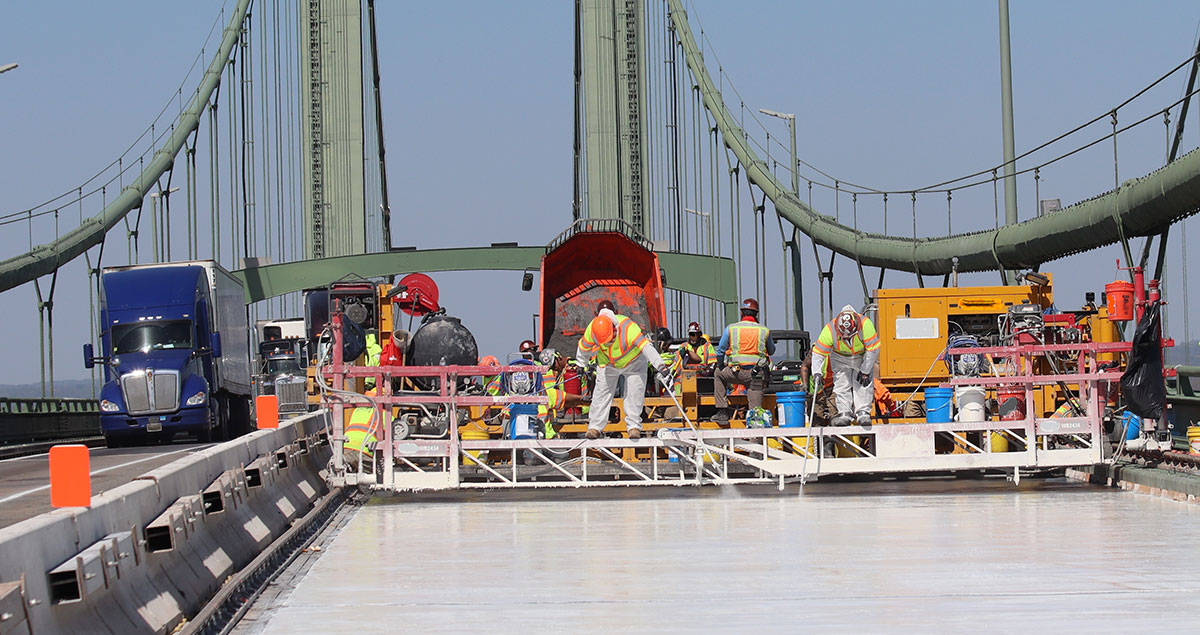 This $71 million project is the largest UHPC installation in the U.S. with more than 4,000 cubic yards being placed on the deck. A quarter of the rehabilitated bridge deck open to traffic and another half under active construction. As owners across the U.S. become more familiar with the potential advantages of using UHPC overlays to rehabilitate bridge decks that would otherwise need to be replaced, it is expected that use of this innovative FHWA Every Day Counts technology will continue to grow. For more information, contact Ben Graybeal, FHWA Structures and Foundations Team Leader.
To learn more about this and other Next-Gen TIM technologies, contact Paul Jodoin or James Austrich, FHWA Office of Operations.
2023 STIC Excellence Award Nominations
Nominations are open for the 2023 State Transportation Innovation Council (STIC) Excellence Award. FHWA and the American Association of State Highway and Transportation Officials (AASHTO) Innovation Initiative partner in sponsoring the award to promote innovation and recognize excellence within the STICs. Nominations may be submitted to FHWA through June 30, 2023. Visit the STIC Excellence Award webpage to read about past recipients.
Discover Home-Grown Innovations from Around the Country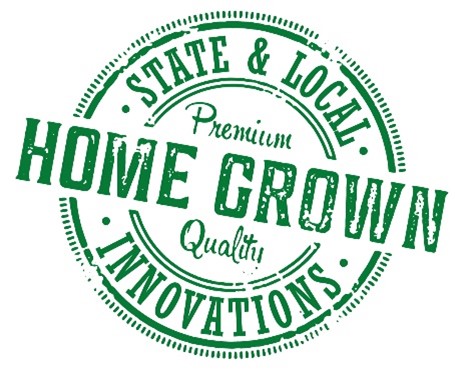 Are you interested in homegrown innovations being used by your peers in other parts of the country? Check out the National STIC Network Showcase, a component of the EDC-7 Virtual Summit. Registering for the event allows you to access all the content through February 2024.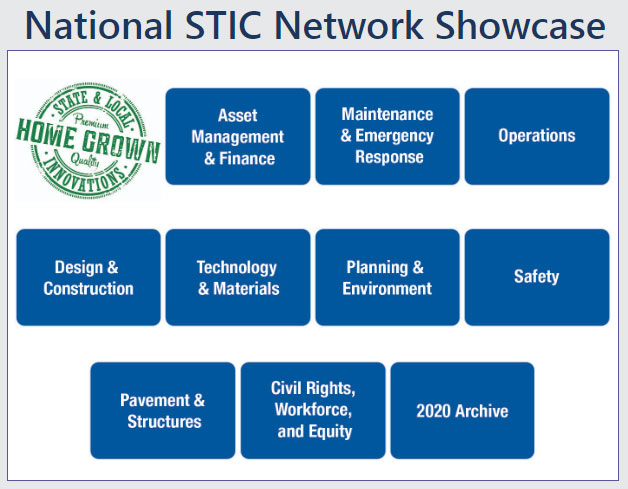 The showcase prominently features several innovations focused on the environment and planning. Learn about the California District 11 Transportation Management Center's Hydrogen Fuel Cell Alternative Emergency Power pilot, which uses hydrogen fuel cells to power traffic signals during a public safety power shutoff event. Traditionally, batteries and generators have been the popular choice for backup power for public service infrastructure, however batteries cannot provide long performance and require frequent replacement and generators are noisy, bulky, and do not use clean energy. Hydrogen fuel cells are the cleanest option compared to its counterparts, with water vapor as the only emission.
Celebrate the ingenuity of your peers and read about these innovations—developed and deployed in-house at transportation agencies nationwide. Additionally, we invite you to watch the one-hour presentations on-demand that feature many of these and other innovations.
New Innovator Now Available!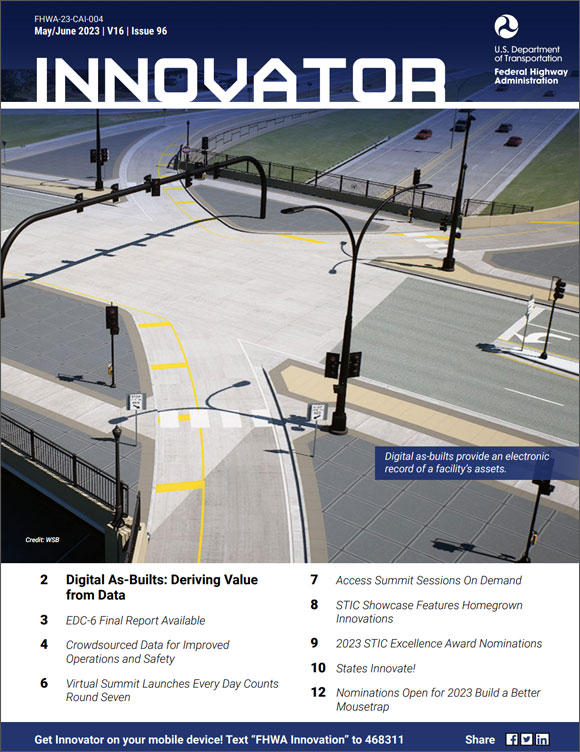 The May/June issue of Innovator is now available, accessible from your computer, tablet, or mobile phone to optimize your reading experience!
In this issue:
Comments? Questions? We'd love your feedback! Drop us a line and let us know what you think.
Read past issues and sign up to receive Innovator by email here, or text "FHWA Innovation" to 468311 to get Innovator on your smartphone.
Stay Up to Date on the EDC Innovations That Interest You Most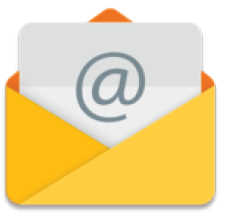 EDC teams are always on the move! If you blink, you could miss out on important webinars, case studies, tools, videos, and more. To never miss information for the EDC innovations that interest you most, visit the subscription page and select the topics you'd like to receive updates on directly from the teams that coordinate them.
Recent bulletins:
Nighttime Visibility 5/10/2023
Crowdsourcing 5/9/23
Build a Better Mousetrap 5/9/23
Identifying Discretionary Grant Opportunities (Local Aid Support) 5/9/23
TOPS 5/8/2023
About EDC
Every Day Counts, a state-based initiative of the Federal Highway Administration's Center for Accelerating Innovation, works with state, local and private sector partners to encourage the adoption of proven technologies and innovations to shorten and enhance project delivery.
EDC News is published weekly by the FHWA Center for Accelerating Innovation.
Notice: The U.S. Government does not endorse products or manufacturers. Trademarks or manufacturers' names appear in this presentation only because they are considered essential to the objective of the presentation. They are included for informational purposes only and are not intended to reflect a preference, approval, or endorsement of any one product or entity.
Recommended Citation:
U.S. Department of Transportation, Federal Highway Administration
EDC News; May 18, 2023
Washington, DC
https://doi.org/10.21949/1521749