The Essential Interstate - Ten Things You Should Know About the Interstate System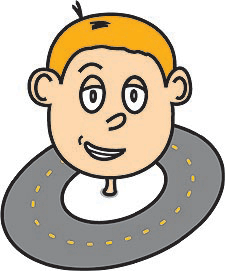 Ask your grandparents about road trips they took on the Interstate System when they were your age. Maybe they even have photographs they could show you.
Do the same with your parents.
Next time you are on an Interstate highway, look at the other vehicles around you. Count how many big trucks you see. Count how many cars and trucks are from other States.
If you have an Interstate highway in your city or county, compare it to the other roads you use. What are some of the differences you see that make the Interstates special?
Ask your parents if they have a road atlas that contains maps of all the States plus a map of the United States showing the Interstate System. If they do, turn to the Interstate map. Imagine where you would like to go this summer, and plan your trip by the Interstates. You can use the State maps too, because they will show places you would like to see between your home and your vacation. For example, if you live in the East and want to go to Los Angeles, why not stop at the Grand Canyon or enjoy country music at Branson, Missouri?
Using the Interstate map from the road atlas, see if you can figure out how to get from an East Coast city such as Boston, Massachusetts, to a West Coast city, such as Los Angeles only on even-numbered Interstates. It can be done, we promise, but now see if you can make the trip only on odd-numbered Interstates. We'll let you decide if it can be done.
Make a list of all the places you go on Interstate highways.