Value Capture: Joint Development & Case Studies
Value Capture Techniques Summary
Developer Contributions - One-time charges collected by local governments from developers to offset the cost of infrastructure and services necessitated by new development.
Special Assessments - An additional fee or tax assessed on businesses or residents in specified geographic areas benefiting proximity to a highway or other transportation facility or corridor.
Fees - Similar to a utility fee, transportation fees are assessed based on how individual businesses and households use transportation facilities.
Incremental Growth - A mechanism allocating back to infrastructure from some specified portion of increased property tax revenues fostered by new infrastructure - often for a specified period of time.
* Joint Development - Sale or lease of land or air rights on or adjacent to transportation facilities. This can include donations of land or other in-kind resources from the private sector in ongoing commercial operations.
Concessions - Sale or lease of government owned assets - such as toll roads or bridges - to private-sector investors/operators.
Advertising and Naming Rights - Sale of advertising space or naming rights on a transportation facility. Note: Commercial uses within Interstate Highway System right of way, including rest areas, is prohibited by law; however, they may be allowed on toll facilities and in transit stations.
*Topic of this webinar
Outline of Presentation
Joint Development Overview & Benefits
Why is Joint Development Needed?
Joint Development Types
The Federal Role
Selected Case Studies
Q&A
Joint Development Overview
Joint Development
Involves a partnership between a public entity and a private sector or other public entity to develop certain infrastructure assets
Generate revenue to reinvest in the transportation system or revitalize communities
Plays key role in some urban projects
Often practiced in transit agencies
Benefits
Generates long-term revenue streams to fund transportation improvements and/or reduces costs
Improve utilization of public assets (i.e. ROW)
Opportunities for public-private & Public-Public Partnerships
Economic development tool controlled by public sectors
Provide local benefits by increasing a jurisdiction's tax base and creating new jobs
Promote Economic/transportation-oriented development
Joint Development Types
At-Grade (solar energy in the highway right of way)
Below-Grade (fiber optic opportunities)
Above-Grade (cap parks or air right development)
Why is Joint Development?
Capacity & Conditions Challenges

Two out of every five miles of America's urban interstates are congested
Cost the country $160 billion in wasted time and fuel
One out of every five miles of highway pavement is in poor condition
$836 billion backlog of highway and bridge capital needs
47,000 bridges in poor condition and 43% (260,000 bridges) are over 50-year old
Pedestrian deaths on US roads increased 11% since 2015; (5,977 in 2017)
Mileage by Ownership & Federal-aid Highway System
45 % of America's major roads are in poor or mediocre condition.
15% of U.S. rural roads are rated in poor condition, while 21% are in mediocre condition
Local owns 79%, State 18%, & Federal 3%
| Ownership | Federal-Aid Highways | Non-Federal-Aid Highways | Total |
| --- | --- | --- | --- |
| Rural | 668,082 | 2,280,612 | 2,948,696 |
| Urban | 359,767 | 875,245 | 1,235,012 |
| Total Rural & Urban | 1,027,848 | 3,155,858 | 4,183,707 |
Highway Trust Fund is Unsustainable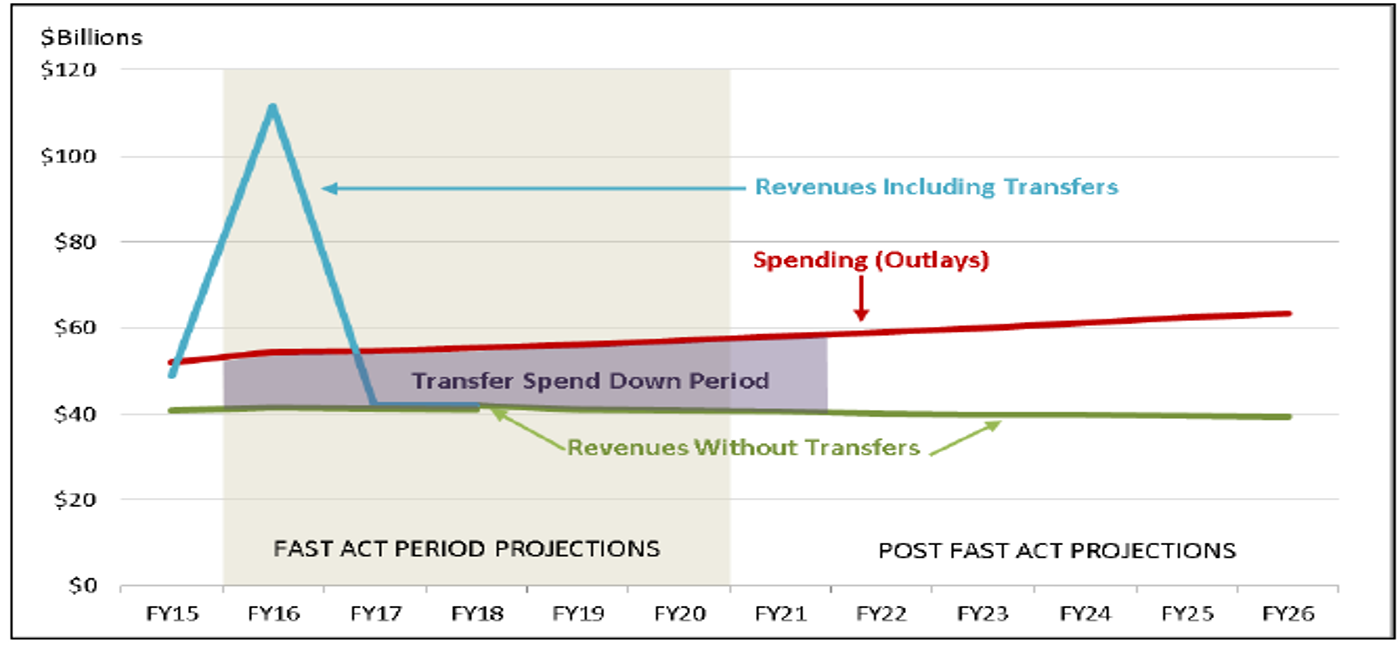 Joint Development at Grade
Solar energy in the highway right of way
Uses existing public right-of-way for solar energy generation
Adds value to public right-of-way asset and revenue to Department of Transportation
Public-private partnerships can use tax benefits to deliver solar power at costs no greater than paid for electricity from the grid
Leverage underutilized land
Solar Deal Structures: Direct Procurement & Ownerships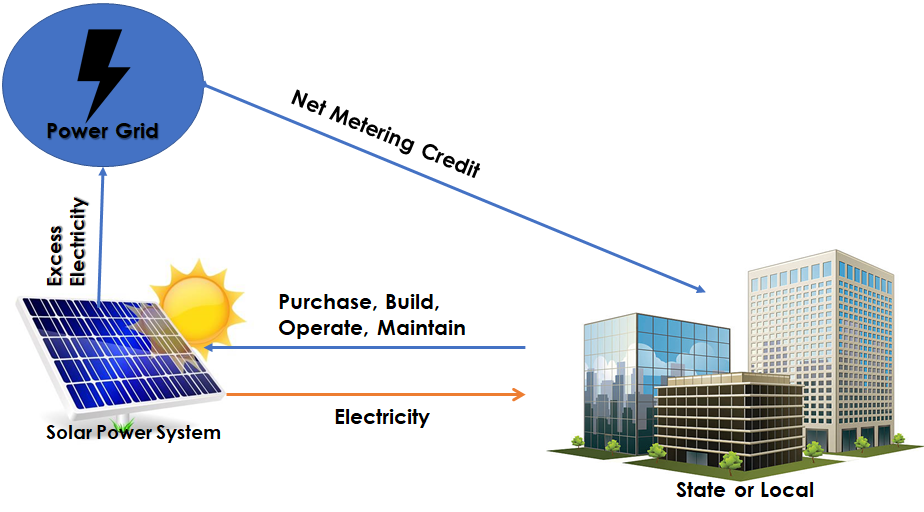 Solar Deal Structures: Public-Private Partnership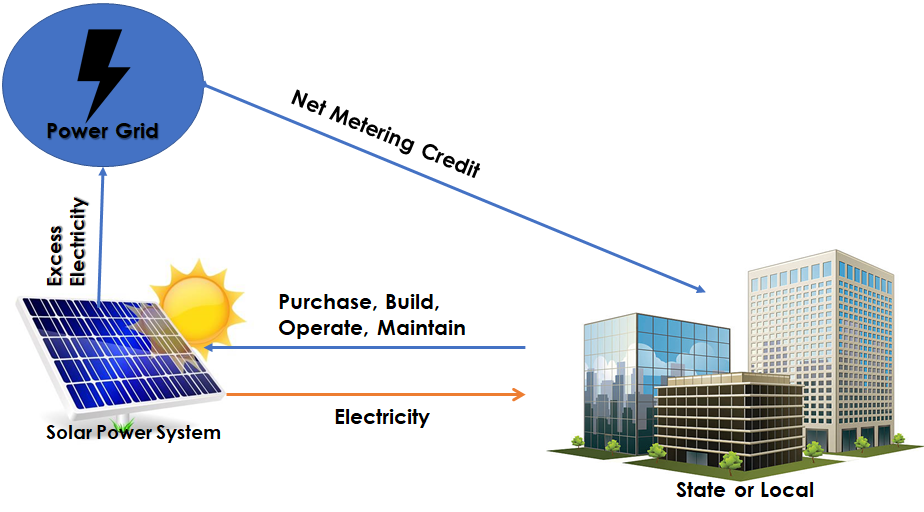 State & Federal Incentives
State Incentives:

Solar Renewable Energy Credit
Net Metering Policy
Solar Rebates & Grants

Federal Incentives

Federal Investment Tax Credit (30%)
Modified Accelerated Cost Recovery System (5-year property depreciation for TX base deduction)

Interconnection standards (grid-connected)
State of Practices
California Highway 50 Solar Project
Georgia Solar Road & Laboratory
Maryland: DOT-wide Solar Program
MassDOT Highway ROW Solar project
Oregon Solar Highway Program
Ohio, Along 1-280 in Toledo, Ohio
Wyoming, I-70 Rest Area Solar Flowers in Parachute
Nevada: Moapa Solar Energy Center, Moapa River Indian Reservation (Reservation), Clark County
Joint Development Below Grade
Fiber Broadband Deployment Approaches
One size does not fit all ...
Publicly-owned and operated network (i.e. Santa Monica, CA)
Privately-owned and operated network (i.e. Columbus, OH and City of Boston, MA)
Network via public private partnership (i.e. Utah and Maryland)
Smart Cities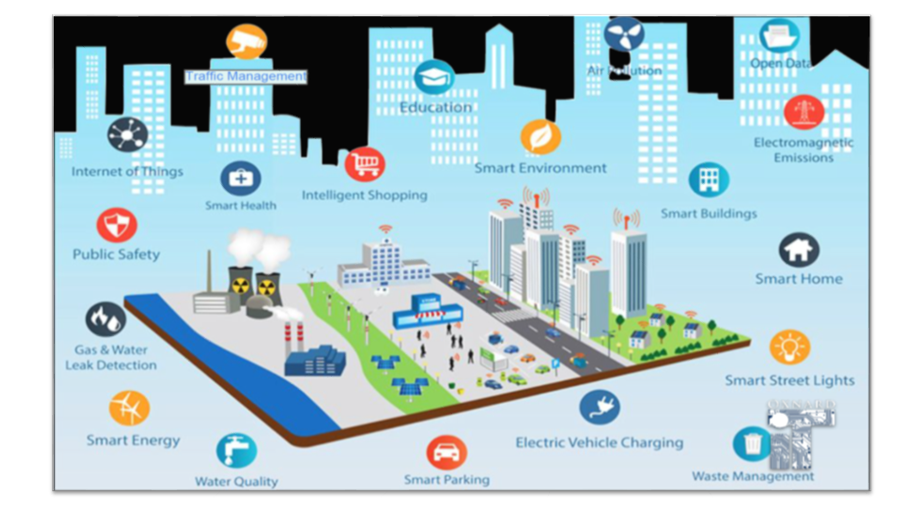 Benefits
Broadband encourages:
Economic Growth,
Better quality of life for the community,
More efficient, cost effective delivery of community services
Capitalize on fiber infrastructure investment
Note: It all runs on Fiber...
Funding
FCC Universal Service Fund (USF)
US Department of Agriculture (USDA): Rural Business Development Grants (RBEG), Rural Utilities Service (RUS), Community Connect Grant
US Department of Commerce

Economic Development Administration (EDA)
National Telecommunications and Information Administration

Local (Value Capture): Local Improvement Districts (LIDs), Local Utility Districts (LUDs), Community Development Block Grant (CDBG)
Financing
Pay-as-you go
US Department of Agriculture: Rural Utilities Service(RUS) Loan Programs

Broadband loan program
Electric loan program
Community Connect
Digital Learning and Telemedicine (DLT)

State Revolving Funds,
Capital Market
Private Equity
Joint Development Above Grade
Air Right Development
Sale or Lease of public land or the right to develop on the top of the highway or transit station
Provide ongoing income streams and opportunity to renegotiate terms at end of lease
Leasing retains public ownership
Sales provide upfront capital infusion
Income streams allow revenue sharing agreements between multiple agencies
Often practiced in transit agencies
Opportunities
Economic Vitality:

Increase tax revenues, create jobs for local and regional workers, attract development

Social Equity:

Reconnect neighborhoods & enhance quality with public amenities and activities

Environmental Integrity:

Directs development onto an existing transportation corridors, reducing trips and increasing viability of all mobility/public transportation options
Example: Copley Place, Boston, MA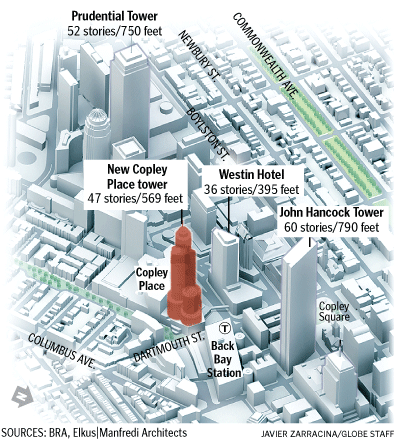 Value Capture: Air Rights Development Lease
Type: Mixed-use joint development on 9.5-acre site over the Turnpike
Lease Term: 99 years lease
Economic Benefit: Fund for capital, operating, & maintenance expenses of the turnpike
Social Benefit: Reconnected urban neighborhoods of city, which were divided by the turnpike
Example: I-395 Capitol Crossing, D.C.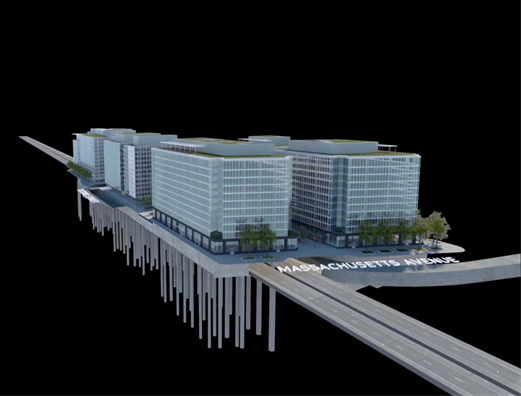 Value Capture: Above Grade - Air Right Development
Scope: 7-acre decked development site above I-395
Economic Benefit: Create 8,000 jobs & generate $40 million in annual tax revenues
Social Benefit: Reconnect Neighborhoods which were divided by the construction of I-395 in late 1960
The Freeway Deck Park
Arizona: Margaret T. Hance Park
California: 210 Freeway Cap Park, La Canada Flintridge, Enhanced Overpass, Park 101
Colorado: Central 70
Georgia: 5th Street Bridge, the Stitch
New Jersey: South River Walk Park,
Texas: Klyde Warren Park,
Washington: Freeway Park in Seattle, Mercer Island
Others
Federal Roles
Federal's Role in Value Capture Strategies
Federal Regulations
49 Code of Federal Regulations (CFR 18.31(b): Real Property
23 U.S.C 111: Use and Access to Right-of-Way
23CFR 645 Subpart B: Accommodation of Utilities
23 CFR 710: Right-of-Way and Real Estate
23CFR 752.5: safety rest Areas
Contact: Lindsey Svendsen, FHWA Office of Planning, Environment, and Realty; lindsey.s.svendsen@dot.gov
Value Capture Implementation Team
Co-Leads

Thay Bishop, FHWA Office of Innovative Program Delivery
Stefan Natzke, FHWA Office of Planning, Environment, and Realty

Members

Jennifer Ahlin, Virginia Department of Transportation
Janine Ashe, FHWA District of Columbia Division
David Cohen, FHWA Office of Project Development & Env. Review
John Duel, FHWA Office of Planning, Environment, and Realty
Kathleen Hulbert, FHWA Infrastructure Office
Chip Millard, FHWA Freight Management & Operation
Diane Mobley, FHWA Chief Counsel Office
Kevin Moody, FHWA Resource Center
Ben Orsbon, South Dakota Department of Transportation
Jill Stark, FHWA Office of Planning, Environment, and Realty
Lindsey Svendsen, FHWA Office of Planning, Environment, and Realty
Jim Thorne, FHWA Office of Planning, Environment, and Realty
Bingxin Yu, FHWA Transportation Policy Studies
VCIT Focus Areas
Communication - Developing the tools to help FHWA staff and others promote Value Capture to local public agencies (Value Capture Implementation Manual)
Technical assistance - Providing technical assistance to local public agencies interested in pursuing Value Capture (Peer Program)
Clearing House (Clearing House website) - Identification of best practices and lessons learned and promoting further discussion on innovative funding options for local public agencies, lessons learned from past and current efforts, etc.
Value Capture Implementation Manual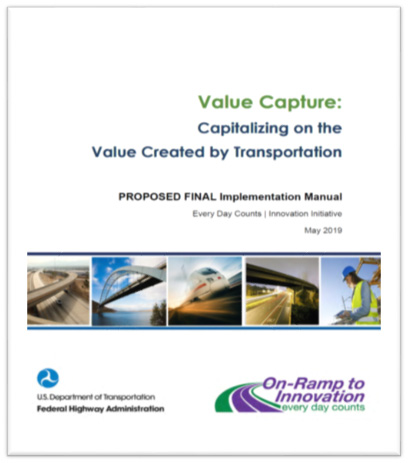 1. Introduction
2. Assess funding options and need for value capture
3-8. Select appropriate value capture technique
9. Develop business and economic case and for stakeholders
10. Address real estate risk
11. Establish regulatory framework
12. Implement funding and financing plan
Clearinghouse for best practices/lessons learned
EDC-5 Funding Opportunities