In June 2009, the U.S. Department of Housing and Urban Development, U.S. Department of Transportation, and the U.S. Environmental Protection Agency joined together to form the Partnership for Sustainable Communities, an unprecedented agreement to coordinate federal housing, transportation, and environmental investments, protect public health and the environment, promote equitable development, and help address the challenges of climate change.
The three agencies are working together more closely than ever before to meet President Obama's challenge to coordinate federal policies, programs, and resources to help urban, suburban, and rural areas and regions build more sustainable communities and make those communities the leading style of development in the United States.
The agencies are working together to identify opportunities to build more sustainable communities and to remove policy or other barriers that have kept Americans from doing so.
Livability Principles
Provide more transportation choices.
Promote equitable, affordable housing.
Increase economic competitiveness.
Support existing communities.
Leverage federal investment.
Value communities and neighborhoods.
"For too long, federal policy has actually encouraged sprawl and congestion and pollution, rather than quality public transportation and smart, sustainable development."
-President Barack Obama, July 13, 2009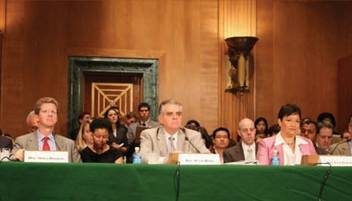 (Left to right) Secretary Donovan, US HUD; Secretary LaHood, US DOT; and Administrator Jackson, US EPA; appearing before the Senate Banking Committee, June 16, 2009, to launch the Partnership for Sustainable Communities.
On the Road: Learning from States, Regions, and Localities
In September 2009, Administrator Lisa Jackson, Secretary Ray LaHood, Secretary Shaun Donovan, and White House Urban Affairs Director Adolfo Carrion embarked on their first Sustainable Communities Tour, visiting Chicago, Dubuque, and Denver, to hear from leaders on the ground about ways the Partnership could support more sustainable communities. They talked with state, regional, and local officials and held community forums to hear from the public. The agency leaders visited several projects that exemplify the six Livability Principles that are at the heart of the Sustainable Communities Partnership:
Chicago's Bethel Center created new community services in a green building on a former brownfields site next to a transit station and built affordable homes nearby.
Dubuque, Iowa, is transforming its historic Millwork District into a sustainable neighborhood with mixes of uses, mixed-income housing, transportation options, and environmental improvements.
Denver has refurbished its historic Union Station as a premier transit hub, which has helped revitalize the surrounding area. Also in Denver, South Lincoln Park Homes created new affordable housing on a brownfields site near a transit station.
In October 2009, representatives from the three agencies spoke about the Partnership at the State Sustainability Summit, a forum that attracted more than 70 state government leaders responsible for public health, the environment, transportation, planning, and housing. Cabinet secretaries, deputy secretaries and policy directors from 34 states discussed opportunities for the agencies to work with their federal counterparts to better coordinate their policies and remove barriers to building sustainable communities.
The Partnership agencies continue to reach out to key stakeholders through meetings, speeches, and other means.
As a result of the Partnership, DOT, HUD and EPA have already increased interagency coordination and collaboration, while also developing a number of internal initiatives in support of the Partnership's work. Here are a few examples:
Executive Order on Federal Facilities (EO 13514)
The goal of President Obama's Executive Order is to improve the overall sustainability of federal government facilities. The EO includes requirements for setting greenhouse gas reduction targets, reducing waste, encouraging community planning, and creating high performance buildings, among other measures. DOT, with support from EPA, HUD and the General Services Administration, is leading the effort to create standards for locating new federal facilities in sustainable communities.
DOT Funds for Urban Circulator Projects
DOT has announced as a new Partnership activity the availability of $280 million for streetcars and other urban circulator projects, such as buses and bus facilities, to support communities, expand business opportunities and improve people's quality of life while also creating jobs. The grants will be announced in early 2010. More information: http://www.transportation.gov/affairs/2009/dot18509.htm.
Brownfields Policy Change
In a move designed to remove a barrier to the construction of multi-family infill development, HUD has revised its policies to make it easier for FHA-insured multifamily housing to be developed on formerly commercial and industrial sites while ensuring the health and safety of future residents. This will allow sites that are often well-located but underdeveloped to be reclaimed and revitalized to provide affordable housing near transit stations and other amenities. EPA, DOT, and HUD are working together to identify sites and ensure sustainable cleanup and redevelopment.
New EPA Pilots and Initiatives
Through new Clean Water State Revolving Fund Pilots, EPA will offer technical assistance to New York, Maryland and California – to use their clean water funding programs to support efforts to make communities more sustainable. The aim of this technical assistance is to promote more widespread adoption of practices that encourage states to reinvest in their existing infrastructure systems and in their existing communities. More information:
Together, EPA, HUD, and DOT have selected five EPA Partnership for Sustainable Communities Brownfields Pilots across the country where there is a convergence of public transit and the need for affordable housing. Cleaning and reusing this land and providing new housing choices will create jobs and new economic opportunities. The five sites are the Fairmount Line in Boston; the Smart Growth Redevelopment District in Indianapolis; the La Alma/South Lincoln Park neighborhood in Denver; the Riverfront Crossings District in Iowa City, Iowa; and the Westside Affordable Housing Transit- Oriented Development in National City, Calif.
Under the new Urban Waters Initiative, EPA will work with HUD and DOT to promote equitable redevelopment adjacent to urban waterways, re-invest in existing infrastructure, improve water quality, and revitalize waterfront neighborhoods – especially disadvantaged neighborhoods.
Grant Coordination
Partnership agencies are working together to review projects and programs of its partner agencies. For example:
EPA is collaborating with HUD and DOT in its review of applications for EPA's Brownfield pilots;
DOT is using the expertise of EPA and HUD in its review of applications for DOT's multi-modal transportation TIGER discretionary grant program, which is funded by the Recovery Act;
HUD has invited DOT and EPA to assist in developing its proposed program for regional planning grants and local challenge grants.
Smart Growth Implementation Assistance
For the first time, HUD and DOT will participate in EPA's annual technical assistance projects. In 2010, the Smart Growth Implementation Assistance program is helping communities find solutions to development-related challenges in the state of California; Louisville, Ky.; Las Cruces, N.M.; and Montgomery County, Md.
More information and updates on each agency's efforts: