Livability in Transportation Guidebook
1. Project Highlights
This chapter introduces the 15 primary case studies discussed in this Guidebook, organized by transportation project type. The purpose of this chapter is to help readers identify examples that are most applicable to their interests, based on project type, for promoting livability in project planning and development. (See the Appendix for more detailed information about each of the 15 primary case studies.)
1.1. Rail Transit and Transit-Oriented Development
This category integrates new fixed guideway transit systems, including new rail transit systems or new lines and capacity for additional travel demand that are integrated with land use and existing community resources in support of TOD. Fixed guideway transit projects designed around existing and planned centers, such as housing and jobs, establish a permanent anchor for complementary public and private infrastructure, and are particularly supportive of livability. Expanded public transit systems offer more choice to residents and workers in serving both commuting and nonwork social, recreational, and personal business mobility needs. Denver's FasTracks and the Maryland Department of Transportation's (MDOT) TOD offer examples of how a region or State can develop and promote plans for rail and transit investments while accommodating and marketing multi-use redevelopment.
Courtesy of RTD 1
FasTracks is a comprehensive, multibillion-dollar transit expansion plan that includes new capacity for rail, including development of 122 miles of new commuter rail and light rail and 18 miles of bus rapid transit (BRT). FasTracks grew out of Denver's regional plan, Metro Vision, to better link its transit and rail improvements with land development. The rail and transit capacity improvements offer additional commuting choices and improved mobility, and balance transit needs with future regional growth. With the Denver area's population expected to grow to 4.2 million people by 2035, there was a need to expand transportation infrastructure to accommodate it.
The program development was led largely by the Regional Transportation District (RTD), but was based on a series of public-private partnerships (PPPs). The program integrates additional services, including expanded bus service (FastConnnects), redevelopment of Denver Union Station, and new park-and-rides. The station will be redeveloped into a multimodal transportation hub with potential for up to 2 million square feet of multi-use development. The integration of mixed-use redevelopment with capacity improvements supports the goal of a comprehensive transit and TOD approach for the Denver region.
FasTracks is also significant because of its balanced funding approach. The project team successfully leveraged resources from a broad base of stakeholders, including a voter-approved sales tax increase of 0.4 percent-indicating widespread support for the program. Its multiple Federal, State, and local funding sources helped to build a group of stakeholders in support of the project. Projects like FasTracks will enhance connectivity in the Denver region and increase livability by offering a variety of commuter choices that will contribute to the long-term sustainability of the region.
MDOT's TOD initiative identified policy changes that facilitate and encourage TOD. MDOT, with support from municipalities, has been involved in planning, design, and implementation of TOD statewide. Its success has been attributed to joint ownership of the process and the commitment of municipalities. Through successful partnerships with municipalities, MDOT has facilitated multiple projects in support of integrated land use and transit planning. For instance, the State selected a master development team for the main State government complex in the heart of Baltimore. The team is assembling resources that can design, entitle, finance, and construct mixed-use, mixed-income, urban TOD to support surrounding neighborhood needs. MDOT's initiative to support TOD implementation has shown how a State DOT can take the lead role in land use and transit integration and be an active partner in land use development.
1.2. Corridor-Focused Bus Rapid Transit and Boulevard/Multiway
This category highlights multimodal streets that are designed to handle high levels of person-carrying capacity using a range of modes. Multiway boulevards manage both through and local traffic in the same right-of-way (ROW) with provision for BRT or enhanced bus, as well as TOD and pedestrian-scaled development. Effective multimodal planning can produce corridor and facility plans that simultaneously provide for BRT, improved vehicular operations, and pedestrian and bicycle facilities. Palm Canyon Drive and the EmX Green Line represent projects that have successfully utilized multimodal BRT and/or multiway boulevards to accommodate greater travel capacity while supporting development and growth along the corridors.
Oregon's EmX Green Line BRT 2 is constructed along a 4-mile stretch between two urban transportation hubs-Eugene, the second largest urban area in the State, and Springfield. Since 1996, the Lane Transit District (LTD) has been advocating for development of a BRT system. The EmX Green Line BRT became incorporated into the region's plans as a way to meet the State's transportation goals. The project cost about $25 million to build. Its funding sources were mostly Federal and included $13 million from FTA's New Starts program, which supports locally planned, implemented, and operated major transit capital investments. The project was one of the first BRT projects funded through New Starts.
The EmX Green Line BRT is designed to provide more ridership, convenient neighborhood connections, reliable service, and higher person-carrying capacity for the Franklin Corridor. Service began for the corridor in 2007. The project has cut the average travel time along the corridor and increased ridership by almost 50 percent. Development of the BRT lane in Eugene has successfully integrated increased transit capacity with improved connectivity to major transportation hubs in the region, offering more options to support travel demand.
Visualization was used extensively to develop an approach, create the chosen alternative, and communicate with the public. The community was actively involved in the design process through charrettes, workshops, and open houses. The system was designed to be built in stages to best meet funding availability and ridership demands. LTD embedded quality of life and other livability goals in the design approach, paying particular attention to the aesthetic of the buses, stations, and streetscape to enhance rider experience. The popularity of the line has led to plans for an additional line, the Gateway EmX Extension, which will connect Eugene and Springfield with the University of Oregon (UO) and commercial Gateway area.
In California, the city of Cathedral City improved capacity for Palm Canyon Drive, its main corridor, to better redevelop its historic downtown. The plan partly resulted from the California Department of Transportation's (Caltrans) interest in expanding the congested route from five to seven lanes. However, since this ran through the downtown-which included street-fronting historic homes-the city sought instead to design a multiway boulevard to improve the image of the area while addressing congestion. A quarter-mile segment of the current route was particularly dilapidated. The city sought to improve the corridor to accommodate growing traffic needs and draw businesses and residential investments back downtown. Developers also helped motivate the implementation of a boulevard.
Palm Canyon Drive Before and After
Source: Freedman Tung and Sasaki Urban Design, 2006. 3
Palm Canyon was very project-oriented in its visioning approach, with a series of design charrettes guiding its development. The City Council established the Downtown Revitalization Steering Committee to guide the visioning process. The group sought out business and community input to develop a plan. The group ultimately decided on a design for a multiway boulevard, which allows through-traffic lanes to run parallel to separate local-traffic lanes that are accompanied by parking and sidewalks. This approach could better accommodate traffic and improve the appearance of the street. In addition, the multiway boulevard design offered better access to businesses and pedestrians along the corridor. The corridor was designed for future transit applicability as well, with potential for express bus lane service and bike lanes. The project demonstrates an effective implementation approach, moving from planning concepts into a funded programmed project.
1.3. Regional Transportation and Land Use Planning
Charlotte, NC Centers, Corridors, and Wedges
Growth Framework
Source: Charlotte-Mecklenburg Planning, 2010. 4
MPOs are required to develop Metropolitan Transportation Plans (MTPs) every 4-5 years for at least a 20-year planning horizon. Many MPOs use different titles to refer to these required plans, such as long-range transportation plan (LRTP) or just long-range plan (throughout the guidebook, the planning documents are generally referred to by the name used by the agency sponsor, rather than consistent Federal Planning Rule terminology). In addition, MPOs and cities also conduct a variety of vision plans, regional transit plans, and plans that link land use planning with transportation planning. Regional transportation planning agencies and MPOs in Charlotte, NC; Albany, NY; and Atlanta, GA, have successfully used visioning and regional planning to integrate land use and transportation planning to support livability at the State, regional, and local levels.
Charlotte's Integrated Land Use and Transit Plan offers examples of how to integrate land use and transportation planning to foster livability. The city's strategy of land development and transportation was fully integrated across the region and within the city government. From the 1970s to the 1990s, Charlotte experienced tremendous population growth as it rose to become one of the Nation's banking and financial centers. The city knew it needed a strategy to ensure this growth occurred in a way that enhanced the livability of the city and the greater Charlotte region. The Centers, Corridors, and Wedges visioning effort was undertaken to map out how Charlotte should grow over time and understand what infrastructure investments would be needed to support this growth.
The Integrated Land Use and Transit Plan developed in 1998 built on the vision from the Centers, Corridors, and Wedges planning process. Over an intensive 9-month period, a series of transit/land use alternatives were tested for each of the five corridors identified in the CCW vision. An extensive public outreach process fostered community understanding and consensus around the recommended plan, which called for phased implementation of various transit technologies along the five corridors. Partnerships, such as those with the Charlotte Area Transit System (CATS) and other municipal government agencies, and initiatives, such as the South Corridor Infrastructure Program (SCIP), helped encourage ownership across departments. These efforts helped broaden the perspective of each department's role and involvement in integrated transportation and land use projects.
Source: Capital District
Transportation Committee,
2007. 5
Charlotte's deliberate and forward-thinking visioning has led to development of multicorridor transit systems along the five corridors, including the South Corridor's Blue Line Light Rail Transit system. In support of its larger regional vision, the city set aside $50 million in investments for streets, sidewalks, and intersection improvements to support the Blue Line system through SCIP. The target investment is aimed at optimizing the TOD potential around each transit station. Charlotte also offers examples of successful implementation practices that demonstrate how to move from planning concepts into funded, programmed projects.
Similar to Charlotte, the Albany-Schenectady-Troy region MPO, the Capital District Transportation Committee (CDTC), developed the New Visions Plan, which included an extensive 3-year public involvement process. The New Visions Plan represents a regional, community-based approach to visioning. The plan functions as the region's long-range transportation plan, but is also used as a broad foundation for how transportation planning and project delivery should occur in the region. The plan is based on a broad set of community objectives, which allows for a stronger collaboration between transportation, land use, and other specialized areas of planning. In a region that is not experiencing significant growth yet is till spreading outwards, Albany's planners and elected officials have focused on planning proactively for the region's future. New Visions demonstrates a planning and process approach that uses scenarios for a limited-growth community.
In 2000, while the first New Visions was in effect, CDTC launched the Linkage program, which offers local assistance to carry out specific plans to reflect and implement the New Visions philosophy. Planning studies through the Linkage program have taken the form of corridor studies, transit feasibility studies, and small-area sector studies. The Linkage program is one of the keys to success of the visioning process because it emphasizes implementation through collaborative and coordinated planning. CDTC has funded more than 65 collaborative, jointly funded Linkage studies in support of transportation-land use coordination providing ongoing public comment on the New Visions goals, and facilitating the update processes that have occurred since their adoption.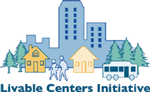 The Atlanta Regional Commission (ARC) 6 supports livability in design and implementation, incorporating lessons learned from projects into policies. Like many metropolitan regions, the Atlanta region is dealing with population growth and traffic congestion. ARC's member governments are making decisions about how to develop and grow in a sustainable way that will encourage livable communities. The Atlanta Livable Centers Initiative (LCI) was developed by ARC in 1999 and designed to encourage jurisdictions to more closely link transportation and land use decisions when determining development strategies. LCI offers grants to local jurisdictions to study ways to implement strategies that support sustainable growth. One strength of the program is that ARC, like many MPOs, has extensive experience in partnering with localities to promote livability.
To date, LCI has resulted in more than 1,100 new and refurbished developments in 100-plus communities across the region. LCI offers a unique case study in terms of its multiple funding sources. ARC has reserved $1 million annually in 2000-2012 for LCI grants for studies. Grant recipient communities surveyed by ARC have adopted the LCI study into their comprehensive plans, designated special LCI zoning districts, and developed policies that will focus on housing for seniors and people with special needs. An additional $500 million has been allocated for transportation projects that result from LCI studies. LCI study grants have proven to be innovative ways to generate private investment to develop creative solutions in support of regional visioning that links land use and transportation.
1.4. Statewide Policy Approach
Source: Pennsylvania DOT,
2008. 7
A statewide policy approach represents an effort by State government to institutionalize livability into decisionmaking through policy changes. The Pennsylvania Department of Transportation's (PennDOT) Smart Transportation Guidebook and Implementation offers a project-based vision approach, uses public involvement to support livability concepts, uses an ongoing planning process to develop new approaches, incorporates innovative project concepts into new plans, and supports livability in design and implementation. Pennsylvania has a unique statewide policy approach toward linking land use and transportation in support of livable communities. PennDOT successfully developed the guiding principles in its Smart Transportation Guidebook and Implementation to direct its resources for growth. The Guidebook was developed in partnership with NJDOT and the Delaware Valley Regional Planning Commission. The flexible guidebook led to development of a forthcoming project delivery process that will link to livability. Under Governor Rendell's lead, an interagency group, including PennDOT, the Department of Environmental Protection (DEP), Department of Community and Economic Development (DCED), and several MPOs, has pursued State-level policy support for efficient growth matched with livability. Activities that led to the statewide policy approach include a series of conferences and interagency work groups convened to discuss a vision for the State, starting with the 2003 Conference on Land Use and Transportation for Economic Development.
Governor Rendell also reactivated an interagency land use team consisting of 23 agencies that had been created under a previous executive order. The group met over the course of 2 years to develop a vision and accompanying targeted investments for sound land use planning. PennDOT adopted the vision, which led to a new initiative called Smart Transportation. One main part of the initiative is to build projects based on existing resources, such as prioritizing traffic calming measures on a parkway to reduce noise rather than building a sound wall, which would also increase mobility for pedestrians and bicyclists.
1.5. Statewide Corridor Approach
A statewide corridor approach incorporates an initiative for a specific transportation corridor that often spans several regions across a State. It meets both local and interstate needs, such as statewide transportation goals linked to safety or mobility, or goods movement. The approach integrates roadway components that highlight multiways and networks, and can include higher capacity roads as a larger part of the network.
Gateway Route 1 8 represents a statewide corridor approach, led by the Maine Department of Transportation (MaineDOT). The project included an extensive scenario planning component to create a vision, using Federal surface transportation funding for corridor planning. Gateway Route 1 also shows an effective public involvement process to promote livability and the benefits of multiple funding sources. Further, the project shows how to move from planning concepts into funded, programmed projects. The process involved a comprehensive approach to significantly change the dynamic between MaineDOT and the public across a 110-mile rural corridor. The memoranda of understanding (MOUs) that were created resulted in a formal implementation structure-a unique element of the partnerships that developed. While MaineDOT did not refer specifically to Gateway Route 1 as a CSS project, the project generally followed CSS principles.
Route 1, as a regional arterial and economic lifeline for the Midcoast Maine area, was reaching capacity as the population grew and development accelerated. While MaineDOT wanted to address the transportation issue through traditional widening of the arterial, Midcoast residents wanted a more collaborative approach that would focus planning along the corridor as a whole. MaineDOT worked together with Midcoast Maine residents in a collaborative corridor planning process that integrated community involvement with proactive land use and transportation planning. Partnership became an important element of the approach, leading to development of the official implementation organization, the Corridor Coalition.
In the first phase of the project, MaineDOT concentrated on establishing trust with the communities along the corridor to generate support during the planning process. In the second phase, an action plan of scenarios and strategies was developed that MaineDOT and the communities could use to achieve the goals of Gateway 1. The implementation phase is currently underway and MaineDOT is helping communities adopt the Gateway 1 plan into local plans and policies.
1.6. Rural Roadways
Rural roadways are found in between rural communities and in small towns where the main street is often a State highway. Measures such as traffic calming can be used to make such main streets more conducive to a livable community. A coalition was developed to do just that for a 20-mile stretch of Route 50 in Loudoun County, Virginia. The project is recognized as a leading example of context-sensitive design of a highway that also functions as a main street for rural villages. Route 50 is very project-oriented in its vision-based approach. This effort demonstrates successful partnership approaches and illustrates how livability goals can be embedded in design.
Route 50 Corridor Coalition: Preserving the Past to Protect the Future
The project grew out of a coalition 9 comprised of local citizens concerned about a widening and bypass project scheduled for the portion of Route 50 that runs through Loudoun and Fauquier Counties. The coalition aimed to develop a corridor-wide vision for Route 50 that would consider a long-range view of transportation and land use, and provide alternatives to the State's widening and bypass solution for the route's traffic issues.
In 1995-1996, the coalition led community workshops that resulted in a final vision statement and community goal to move forward with traffic calming and roundabouts at key intersections. The goal of the traffic calming was not to impede traffic but to help self-enforce desired speeds and accommodate pedestrians, cyclists, and other nonmotorized users, while maintaining through traffic and rural character. The coalition's plan was adopted by the counties and its elements were subsequently incorporated into local comprehensive plans, representing another example of effective implementation.
1.7. Redevelopment
Redevelopment and brownfield projects often offer opportunities for inclusion of a transportation component. Incorporating transportation plans in brownfield and other infill redevelopment strengthens the link between land use and mobility. Downtown Fargo, ND, and Chattanooga, TN's Riverfront Parkway offer examples of cities that were able to revitalize downtown and attract businesses and housing through brownfield redevelopment.
2009 Renaissance Zone, Fargo, ND Map
Source: City of Fargo, 2009. 10
The Downtown Fargo Redevelopment Initiative is a combination of multiple projects laid out in the City's redevelopment framework plan. Fargo's redevelopment, which grew out of this framework plan, demonstrates how to move from planning concepts into funded projects. Covering roughly 100 blocks, the Downtown Fargo initiative includes over $100 million in public and private investments in the area since 1999 to improve livability. The plan includes collaboration with neighboring Moorhead, MN, to maximize the potential for complimentary growth and to help identify strategic areas of growth for both cities. One major part of the redevelopment was the Renaissance Zone, a 39-block zone that has benefited from infill and adaptive reuse to expand housing and retail in the area. Fargo's success demonstrated that involving a mix of public and private sector funds can afford greater stakeholder buy-in and push a project along more quickly. As part of this, the city also completed a full streetscape reconstruction on Broadway, which supported this redevelopment through more pedestrian and bicycle facilities, and leveraged its partnership with North Dakota State University to support the redevelopment and transit operations.
Chattanooga Riverfront Parkway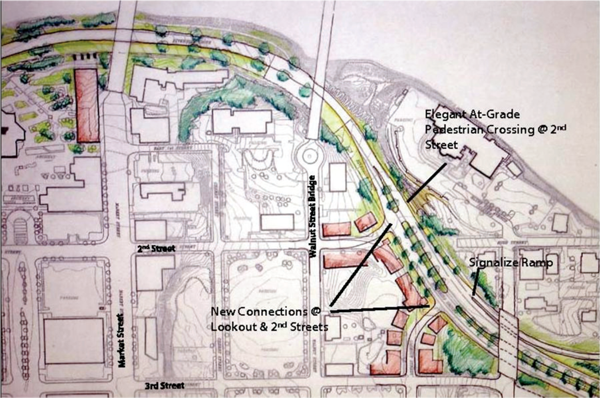 Source: Glatting Jackson Kercher Anglin Lopez Rinehart, Inc., 2001. 11
For decades, Chattanooga's Riverfront Parkway provided a mobility corridor through the center of the city, primarily used for freight traffic. While this limited access highway responded to needs of the 1960s and 1970s, Chattanooga had changed as a community by 2000. An overall decline in industrial output and activity in the city had led to decreasing truck traffic volumes along Riverfront Parkway. In addition, several properties along the Parkway were beginning to redevelop into commercial uses and civic destinations, adding population and visitors to parts of central Chattanooga that had previously been occupied by industrial land uses. This shift in the city's economic geography meant that Riverfront Parkway was now the central spine of the city's waterfront, serving multiple visitor destinations and suggesting a need to reconsider the road's balance of access and mobility highway functions.
1.8. Right-Sizing/Road Diet
Right-sizing, or road diets, refers to projects aimed at matching land use and transportation contexts appropriately on existing streets. Road diets can help with improving transportation choices, particularly for non-motorized travel, through increased pedestrian and biking facilities.
The Hillsborough Street Improvement Project in Raleigh, NC, offers an example of a road diet that improves pedestrian access and vehicular safety. Hillsborough represents a very project-focused visioning approach. The Hillsborough Street Improvement Project focuses on improvements to the city's downtown that will improve pedestrian and vehicular safety along Hillsborough Street from Method Road to West Morgan Street. Among these improvements are rightsizing and implementing a road diet (reducing the number of lanes and adding a bike lane). Initial motivation for the project came from community residents who brought their project idea to the attention of City Council to gain funding and begin the project development process by creating a Municipal Service District along Hillsborough Street. Groundbreaking began on May 20, 2009, and is scheduled to be completed in September 2010. While the project was being developed, the surrounding community's focus for Hillsborough Street was directed toward transforming the area into a great street and public realm, enhancing the street's retail appeal, and improving vehicular and pedestrian safety.
Hillsborough Street Roundabout
Source: City of Raleigh, 2007. 12
1.9. Multimodal Bridges
An increasing number of new and rebuilt bridges are incorporating transit, pedestrian, and biking facilities. One such project is the Woodrow Wilson Bridge 13, a 12-lane bridge carrying traffic over the Potomac River between Maryland and Virginia. The bridge was originally a six-lane drawbridge, but traffic congestion and deteriorating structural conditions required planning for a bridge replacement. The bridge design involved MDOT, the Virginia Department of Transportation (VDOT), the City of Alexandria, Prince George's County, and FHWA. Despite years of controversy over the alternatives and lengthy NEPA and Section 404 permitting processes, the project delivered on community goals that supported livability efforts. The design improved the safety of the structure, accommodated additional projected traffic demand, included high-occupancy vehicle (HOV) lanes, and construction that would allow for potential future rail transit. It includes pedestrian and biking facilities, which allow bicycle commuters to travel between Alexandria and Prince George's County, major housing hubs in metro Washington, DC.
1.10. Transportation and Housing Affordability
With the advent of the new livability principles, transportation agencies are paying greater attention to the connection between transportation and housing, particularly in terms of affordability. The Center for Neighborhood Technology's (CNT) Housing + Transportation Affordability Index 14 can inform decisionmakers about the true costs of development and transportation investments.
These projects address concerns related to affordability that occurs with TOD and increased density. CNT, along with the Center for Transit Oriented Development (CTOD), developed the Housing + Transportation Affordability Index in 2006. The project offers lessons on utilizing public involvement and partnership development to promote livability as well as taking innovative project concepts and incorporating them into new plans. The first phase of the index analyzed characteristics from the St. Paul/Minneapolis, MN, area to incorporate transportation cost into overall housing and location affordability. Since 2006, the index has been expanded to analyze data from more than 330 metropolitan areas throughout the United States, making this a useful tool to local government and other planning decisionmakers when assessing community development goals.
The index considers neighborhood variables and location, as well as the transportation variables that play a role in determining the overall cost and affordability of a location. Variables examined in the index analysis include households per residential area, average block size in acres, transit connectivity index, job density, average time of journey to work, household income, household size, and workers per household. Based on these variables, the index creates maps of U.S. cities that display housing plus transportation costs for localities in the region.
Based on the findings from various city analyses, CNT has developed certain targets that can be used when implementing community development. They suggest considering housing and transportation together during neighborhood planning and encouraging redevelopment of inner city and older suburban neighborhoods. They also promote reducing the costs of commuting by car, preserving transportation choices within the community, and revisiting current policies and incentives to make them more responsive to current needs and trends in a given area. Greater focus on these policies combined with the realization that transportation plays a large role in location affordability will help local governments implement effective community planning strategies.
---
1. Project Highlights-Endnotes