FEDERAL HIGHWAY ADMINISTRATION · OFFICE OF HIGHWAY INFORMATION MANAGEMENT
WASHINGTON, D.C. · (202) 366-0180

Highway Trust Fund Expenditures Outpace Income
The Federal-aid Highway Program is "spending down" the Highway Account of the Federal Highway Trust Fund. During Fiscal Year 1994, outlays from the Fund were 18 percent higher than income. The balance in the Highway Account dropped $1.8 billion in the first 10 months of the fiscal year. This drawing down of the balance is consistent with the objectives of the Intermodal Surface Transportation Efficiency Act of 1991. For more information, contact Carolyn Edwards at (202) 366-5022.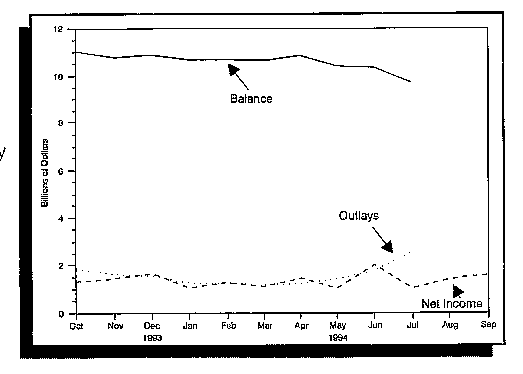 Roadway Project Obligations

Obligations for roadway projects totaled $68.6 billion for the 5-year period ending in 1993. Since 1989, there has been a shift toward system preservation. Obligations for system preservation have increased by 38 percent. Obligations for new routes have fallen by 15 percent. Although obligations for capacity additions have increased by 10 percent, its relative share of total roadway project obligations has fallen by 2 percent over the 5-year period. For more information, contact Janet Tierney at (202) 366-5021.

---
The 1995 American Travel Survey
The Bureau of Transportation Statistics (BTS) will sponsor and implement the 1995 American Travel Survey (ATS), based on the requirement for passenger flow data as expressed in the Transportation Research Board' s "Data for Decisions (Special Report 234),' and in the Intermodal Surface Transportation Efficiency Act (ISTEA). The survey will comprise approxi-mately 93,000 households nationwide. Each sample household will receive a prenotice letter. followed by a survey package and telephone call in early January 1995. The survey package will contain explanatory information about the survey, plans for using the results, and motivational materials such as a map and a travel diary for respondents to record their 1995 travel. The survey will gather demographic characteristics of the sample households and information about their trips of 100 miles or more. Trip characteristics will include such items as origin and destination, intermediate stops, the primary mode of transportation, as well as intermodal and intramodal connections, the access and egress modes to airports and train stations, travel distances, and information about the travel party. The results of the 1995 ATS will provide information on State-to-State passenger travel as well as travel between selected metropolitan areas. The BTS expects to release data sets after each quarter of the survey, then a final series of products based on calendar year 1995, before the end of 1996. For more information, contact BTS at (202) 366-3282.

---
Highway Statistics Steering Committee
The first meeting of FHWA's Highway Statistics Steering Committee was held in Washington, D.C., on November 2 and 3, 1994. The Committee is chartered to provide guidance to the FHWA on highway statistics information needs and the means to ensure that those needs are met. The Committee includes a number of FHWA field and headquarters representatives, and representatives from the Federal Transit Administration, the Bureau of Transportation Statistics, the Department of Commerce, and the States of California, Kansas, Maryland, New York, and Washington. The Committee adopted four issue areas of investigation over the next 6 months. The four include State-To-State Uniformity in Data Reporting, Reporting of Local Government Highway Finance Data. Data Resource Requirements and Cost Effectiveness, and Improving Outreach and Communications. The next meeting of the Committee will be scheduled in May or June, 1995. For addi-tional information, contact Teia McGee at (202) 366-5137.

---
NPTS Pretest Started November 1
The pretest for the 1995 NPTS started November 1 and will be conducted through mid-December. Approximately 2,500 households will be interviewed by Research Triangle Institute to collect information on household demographics. vehicle ownership and use, and daily travel. One of the reasons for the relatively large number of households is that several methodological experiments are being incorporated into the pretest design. The primary test is to determine the relative merits of three methods of collecting daily trips: retrospective (i.e., pure recall), activity diary, or memory jog card. Another pretest ele-ment involves collecting trip origins and destinations in preparation for the State and MPO-funded interviews. Analysis of the pretest will emphasize response rates and trip rates, and the tradeoffs between them. For more information, contact Susan Liss at (202) 366-5060.

---
New Nationwide Personal Transportation Survey (NPTS) Reports
1990 NPTS Databook Volume II
The 1990 NPTS Databook, Volume H (FHWA-PL-94-010b), is now available. Vol-ume II completes the basic tabulations from the 1990 NPTS and includes chapters on "Vehicle Trips and Vehicle Miles of Travel," "Journey to Work and Work-Related Trips," "Ride Sharing and Vehicle Occupancy," "Characteristics of Longer Trips," "Commercial Travel," and "Highway Accidents." The tabulations include such items as the amount of time the average driver spends behind the wheel, how vehicle occupancy changes by trip purpose, and how much intercity travel is by private vehicle. Volume II contains about 200 tables generated from the 1990 NPTS dataset. The 1990 NPTS Databook Volume I (FHWA-PL-94-010a), is also available, and includes an introduction which discusses the history of the NPTS, data terms, data comparability, and data limitations. Volume I also includes estimates of total travel, households, vehicles, drivers, person trips, and person miles of travel.

NPTS Urban Travel Patterns
The NPTS Urbcm Travel Patterlls (FHWA-PL-94-018), has recently been released. This report focuses on urban transportation and the needs of the urban transportation planners and metropolitan planning officials using the data from NPTS. This report contains analyses of: urbanized areas under 1 million population, urbanized areas with 1 million or more population without rail, urbanized areas with 1 million or more population with rail, and nonurbanized areas. Topics include person and vehicle trip rates, vehicle occupancy rates, trip length in time and distance, and mode choice and commuting trip patterns. The report includes comparisons between the 1983 and 1990 NPTS datasets.

Implications of Emerging Travel Trends--
Conference Proceedings
The Federal Highway Administration, through the Office of Highway Information Management, commissioned 12 papers focusing on specific topics to help explain important emerging travel trends and to identify key public policy issues, planning implications, and research needs. The FHWA conference, "Implications of Emerging Travel Trends--What Does NPTS Tell Us?," held in April 1994, brought authors together to share their results and interpretations with the NPTS sponsors, and other users of the data. Discussions of the implications of changes and suggestions for policy review, planning methods, and revisions to the NPTS data collection were included in the conference. This new 45-page document provides great detail about the conference. A smaller brochure entitled Emerging Travel Trends (FHWA-PL-94-028) covering the conference was issued in the summer of 1994 for a general public audience.


To order copies of these reports, please FAX your request to the FHWA R&T Report Center at (703) 285-2919, or write to FHWA R&T Report Center, HRD-11 Room A-200, 6300 Georgetown Pike, McLean, VA 22101-2296, or call (703) 285-2144. Please include the report title and publication number, the quantity desired, your name, phone number, and mailing address.

---
Vehicle Miles of Travel Data Sources
Vehicle Miles of Travel (VMT) represents actual travel on the various highway systems by the total vehicle fleet. FHWA's basic VMT estimates are derived from data annually reported by the States to the FHWA through the Highway Performance Monitoring System (HPMS). The HPMS includes traffic counts expressed as Annual Average Daily Traffic (AADT) for each section in the National Highway System, and for a statistical sample of sections on lower functional systems. The daily VMT is the product of a section' s AADT and length. Areawide estimates of annual travel on these systems are also provided by the States through the HPMS.
FHWA's monthly Traffic Volume Trends (TVT) report provides an estimate of monthly VMT. This estimate is derived from traffic counts from nearly 4,000 continuous traffic counting sites operated by the States. The site counts are compared with previous year counts at the same sites to provide a measure of change. This change is applied to the previous year' s travel, reported through the HPMS, to obtain a current estimate of travel.


Other sources of VMT estimates are the Nationwide Personal Transportation Survey (NPTS) and the Truck Inventory Use Survey (TIUS). Estimates of VMT from these surveys are based on respondeat estimates. In 1995, an update of the NPTS will also include odometer readings as a basis for VMT estimates in addition to respondeats' estimates of travel. For more information contact Bill Grush at (202) 366-5052.

---
The 74th Annual Transportation Research Board (TRB) Meeting
The 1995 Transportation Research Board meeting will be held January 22-28, 1995 at the Sheraton Washington and Omni Shoreham Hotels in Washington, D.C. The meeting will commence on Sunday afternoon and end the following Saturday. A host of topics will be presented such as design, construction, operation, and maintenance of our Nation' s highways and bridges; research activities; congestion and parking management; and a host of other transportation-related topics in administration, law, transit and aviation, and the technological advances in the transportation area. Preregistration fees are $205 for general registration ($280 on-site registration). Registration fees are available for full-time students and affiliates of TRB at a substantial discount price. The registration deadline for reduced registration fee is December 22, 1994. For more information, contact:
Transportation Research Board
National Research Council
Box 289
Washington, D.C. 20055


Voice: (202) 334-2933/2934
Reggie Gillum or Artira Brown)


Fax: (202) 334-2299
For special accessibility or accommodations at the meeting, contact Angelia Summons at (202) 334-2362.

---
Back to Reports