From 1975 until 1984, the average annual travel-per-vehicle changed very little except for minor decreases related to economic conditions. This stable annual travel-per-vehicle, coupled with progressively improving fuel efficiency of the U.S. vehicle fleet, resulted in significantly lower annual fuel usage for the average vehicle during this time period.

The post-1984 period showed steady increases in the average vehicle travel each year; in the same period, average total fuel use per year for the average vehicle changed only slightly. In fact, over the last 20 years, the average annual travel has increased by 19.6%, while the associated fuel usage has declined by 3.2%.

For more information, contact Teia McGee at (202) 366-5137.

For technical support related to the NPTS CD-ROM or on-disc software, contact Kevin Cross of BTS at (202) 366-DATA. For inquiries related to the NPTS subject content or survey methodology, contact Susan Liss of FHWA at (202) 366-5060.

International. For more information, contact the Office of Highway Information Management at (202) 366-0180.

---
Interstate System Traffic Lane Density Increases
Annual average daily traffic per lane on the Interstate System continues to increase. As shown in the chart entitled "Average Daily Traffic-per-Lane," urban lane density averaged 9,990 daily vehicles in 1984 and steadily increased to 12,808 in 1994. A similar trend exists for rural lane density on the Interstate System: lane density ranged from 3,112 daily vehicles in 1984 to 4,506 in 1994.
The Interstate System had carried nearly 20.5 % of the Nation's vehicle-miles traveled in 1984. In 1994, this share had reached 23.2 %.
For more information, call Mr. Paul Svercl at (202) 366-5036.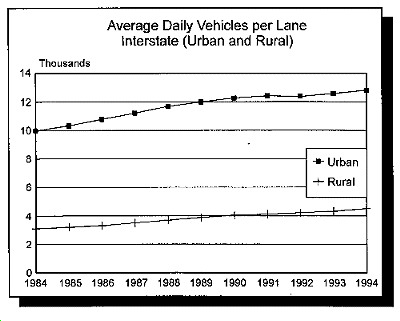 ---
Accuracy of Traffic Monitoring Equipment
The Office of Highway Information Manage-ment sponsored testing of automatic vehicle clas-sifters by the Georgia Tech Research Institute. A total of 13 sensor and classifier configurations from 10 equipment vendors was installed and tested on 1-20 near Covington, Georgia. Two 48-hour tests compared the classifiers with "ground truth" based observations by two video cameras. A 7-day test was also conducted. The ability of the equipment to properly relate a vehicle to an FHWA vehicle class ranged from 63.5% to 79.1%. The most common error came from confusing Class 2 (passenger vehicles) and Class 3 (other two-axle, four-tire vehicles). If Classes 2 and 3 are combined, then 78.8% to 96.2% of all vehicles are correctly clas-sified. The final report "Accuracy of Traffic Moni-toring Equipment" has been distributed to the FHWA field offices and the States.


For further information, contact Ralph Gillmann at (202) 366-5042.

---
Improved Vehicle Occupancy Data Collection Procedures
The Office of Highway Information Manage-ment is sponsoring a project to ascertain the state-of-the-practice and assess the utility and cost-effectiveness of various methodologies for collect-ing vehicle occupancy data. Guidelines from this project will be used to collect such data in several metropolitan areas. The five Metropolitan Planning Organizations (MPOs) that have been selected for the field tests are Albany, NY; Baltimore, MD; Chicago, IL; Louisville, KY; and Spokane, WA. The initial tests that led to development of the guidelines were conducted during the summer and fall of 1995. A final report is expected in late spring of 1996.


For further information, contact Ralph Gillmann at (202) 366-5042.

---
Advanced Information Technology Applications for Planning and System Performance Monitoring
The research project "A Global Positioning Satellite for Personal Travel Surveys" seeks to improve data collection efforts. This project will improve the information typically collected in household travel surveys by combining machine-recorded information on place (location) and time, with information provided by a human respondent (trip purpose, vehicle occupants). The results of the machine-recorded information will be compared to traditional self-reported travel such as surveys using telephone interviews. This technology has two potential benefits:


(1) improving the accuracy of the data used in travel demand modeling, and (2) reducing respondent burden for reporting trips. If the results show the new approach is effective, it will be tested in one metropolitan area.


This project was designed in three phases. Phases 1 and 2, which examine the hardware and software requirements and develop potential config-urations to meet those requirements, are expected to be completed by January 1996. Phase 3, where actual travel is measured and compared to self-reported travel, is the field test.


For more information, contact Elaine Murakami at (202) 366-6971.

---
Highway Travel Up 2.8 Percent in 1994
Based on data supplied by the States, the High-way Performance Monitoring System (HPMS) estimates that highway travel increased to 2,360 billion vehicle-miles in 1994, an increase of 2.8% from 1993. This compares with an estimated in-crease of 2.2 percent from the "Traffic Volume Trends" report, which is based on monthly reports from about 3,000 automatic traffic recorders.


In 1970, highway travel was estimated at 1,110 billion vehicle-miles, and has increased yearly except for 1974, 1979, and 1980 (see chart entitled "Highway Travel in the United States"). At the same time, the 1994 increase is up from the 5-year period average annual compounded rate of 2.4 per-cent. The 10- and 20-year growth rates are 3.2 percent and 3.1 percent, respectively.


The share of highway travel in urban areas (5,000 or more persons) continues to increase as a proportion of total travel (51.4 % in 1970 to 61.4% in 1994). This growth is due to an increase in travel by vehicle and in number of places that are defined as urban.


For more information, call Mr. Paul Svercl at (202) 366-5036.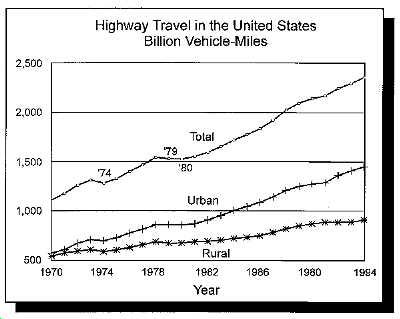 ---
1995 Nationwide Personal Transportation Survey
Data from the pretest for the 1995 Nationwide Personal Transportation Survey (NPTS) are now becoming available. While the pretest was con-ducted to investigate and confirm the validity of survey procedures and specific questions, the data are also providing a valuable first glimpse of current travel trends.


The data that are now arriving will be compared to similar data from the 1990 survey. Initial tabula-tions indicate that patterns in vehicle ownership may be relatively steady with the number of vehicles per household and per driver about the same as in 1990. Also, person-miles traveled per person may be up somewhat for most age groups. These trends, as well as others, will be further investigated as all of the pretest data becomes available.


Included in the pretest were approximately 50 customer service questions that were designed to elicit the views of the respondents on a number of transportation services, such as evaluation of road-way condition, transit, safety of various systems, and reasons for preferring a particular mode. Be-cause of survey length considerations, most of these questions were eliminated from the full NPTS. A complete evaluation of these questions will be undertaken, including how views of respondents may be related to patterns of trip-making.


The NPTS pretest consisted of a national, randomly selected sampling of 4,600 persons in 2,500 households. The NPTS pretest was conducted from November 1994 through January 1995. The full survey began in May 1995 and will continue for a year. Research Triangle Institute in North Carolina is conducting all phases of the survey. As the full NPTS progresses, we plan to provide travel trend analysis on the data as it becomes available.


For more information on the NPTS pretest, contact Carol Harbaugh at (202) 366-0076.
---
A Truck by Any Other Name
Readers of the 1995 Highway Statistics will notice changes to various vehicle registration and highway performance tables. The tables have been redesigned to allow a clearer representation of light, two-axle, four-tire vehicles. In addition to auto-mobiles, there will also be estimates of pickup trucks, vans, utility vehicles, and other light trucks. Analysis suggests that these four truck types have been previously aggregated with automobile regis-trations because of variations in vehicle definitions within each of the States. In order to meet the demand for information about the growth in popularity of these light truck types, the Office of High-way Information Management (OHIM) staff has estimated the degree of this practice in each State using information from the 1992 Truck Inventory and Use Survey. The registration figures provided annually by each State have been modified using these OHIM estimates in order to calculate the number of these vehicles in each State.


For further information, contact OHIM at (202) 366-0160.

---
Conferences/Meetings/Workshops
Conference on Decennial Census for Transportation Planning
When: April 28-May 1, 1996

Where: Irvine, California Beckman Center

Subject: The Transportation Research Board (TRB) Conference on Decennial Census Data for Transpor-tation Planning will address data needs for improved transportation planning, policy, and administration using Census data. During the conference, participants will review and evaluate their use of 1990 Census and Census Transportation Planning Package (CTPP) data products. It is not expected that the Census Bureau, under congressional direction, will have decided by the conference date on whether or not there will a "sample" form (traditionally called the "long form") as part of the year 2000 census. Because of this, the conference will address both direc-tions to pursue if journey-to-work questions remain in the census "sample" form and directions to pursue if there is no "sample" form but only a headcount in the decennial census.


Under the assumptions that a "sample" form will be included, data product priorities, delivery schedules, and the role of local governments will be evaluated. Under the assumption that there is no "sample" form, participants will address preferences for other data collection to replace census data.


For more information on this conference, contact Elaine Murakami of FHWA at (202) 366-6971, or Jim Scott or Freda Morgan of TRB at (202) 334-2965. Chuck Purvis of the Metropolitan Transportation Commission is the conference chair. He can be reached at (510) 464-7731 (email: cpurvi@mtc.dst.ca.us).

National Traffic Data Acquisition Conference
When: May 5-9, 1996

Where: Albuquerque, New Mexico

Subject: The FHWA and the New Mexico State Highway and Transportation Department are presenting the next National Traffic Data Acquisition Conference (NATDAC '96) in Albuquerque, New Mexico, on May 5-9, 1996. The American Association of State Highway Transportation Officials (AASHTO), Institute of Transportation Engineers (ITE), and the Transportation Research Board (TRB) are cosponsors. The conference provides an exciting opportunity to examine and share state-of-the-art technology, knowledge, and progress in the field of traffic data collection and utilization. A comprehensive program will include informative discussions on traffic counting, congestion, vehicle classification, management systems, and weigh-in-motion. There will also be technology demonstrations and workshops on current issues involv-ing traffic data. To receive a registration packet, contact the conference coordinator, Nancy Whalen at (505) 246-6424.

75th Transportation Research Board Annual Meeting
When: January 7-11, 1996

Where: Omni Shoreham Hotel Washington, D.C.

Subject: The 75th annual meeting of the Transportation Research Board will host more than 7,000 transportation planners, researchers, journalists, educators, and others to discuss and exchange transportation research findings and information. There will be approximately 250 sessions covering all aspects of transportation research, planning, and practice.


For more information, call TRB at (202) 334-3472.

---
Back to Reports