Highway Information Quarterly Newsletter
April 2003
Office of Highway Policy Information - Federal Highway Administration

Contents
Attributes of the U.S. Vehicle Fleet | Highway Finance "Smart Input Tool" | National Motor Fuel Meetings | Process Improvement Model for HPMS
This edition is in electronic (web) only format.
---
Attributes of the U.S. Vehicle Fleet
Vehicle Trips in the U.S.
According the 2001 National Household Travel Survey (NHTS), automobile trips are a shrinking proportion of trips within the vehicle fleet. Increasing numbers trips are being taken by SUVs, vans, and pickup trucks. Auto trips went from 67.5% in 1995 down to 60.5% by 2001. Sports Utility Vehicles saw the largest vehicle trip increase (7% in 1995 to 12.5% by 2001).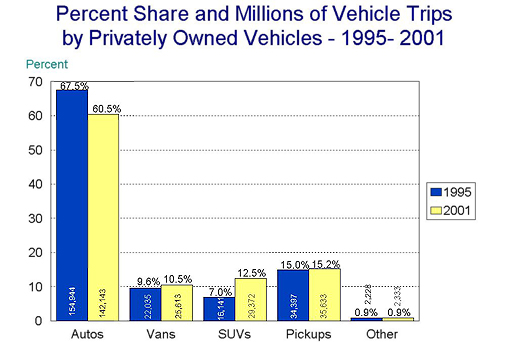 Of all vehicle trips taken in 2001, SURs, Pickup trucks and vans accounted for 39%, and automobiles were used for 61%.
Aging of the Vehicle Fleet
The average age of vehicles in the nation is almost 9 years (8.9 years), compared with 8.3 in 1995, 7.6 in 1977, and 6.6 in 1969. Older vehicle are also being driven more miles than before, because of their continued presence in the vehicle fleet.
Average Vehicle Age 1969- 2001
| Vehicle Type | 1969 | 1977 | 1990 | 1995 | 2001 |
| --- | --- | --- | --- | --- | --- |
| All | 6.6 | 7.6 | 7.7 | 8.3 | 8.9 |
| Auto | 6.4 | 7.2 | 7.6 | 8.2 | 9 |
| Van | 5.5 | 8.5 | 5.9 | 6.7 | 7.6 |
| Pickup | 7.3 | 8.5 | 8.4 | 9.7 | 10.1 |
| SUV | N/A | N/A | N/A | 6.7 | 6.5 |
NOTE: SUVs not reported separately in 1969-1990 Surveys.
Vehicles Per Household
Households in the United States are getting smaller, but have more vehicles. By 2001, vehicles per household jumped to 1.90 (compared to 1.16 in 1969), whereas persons per household declined to 2.58 (compared to 3.16 in 1969). Part of the changes related to this trend are more workers (both male and female), family lifestyle changes, more active senior citizens and active school age population, as well as a changing economy and workforce. This would suggest the great mobility needs of the American public.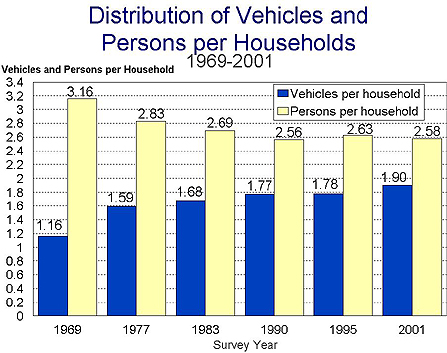 For more information, visit the 2001 National Household Travel Survey website at: http://nhts.ornl.gov. If you have questions, contact Bryant.Gross@fhwa.dot.gov or call 202-366-5026.
---
Highway Finance "Smart Input Tool"
In a major step toward improving Highway finance data quality, the Office of Highway Policy Information (HPPI) of the Federal Highway Administration (FHWA) has recently introduced a "Smart Input Tool" to collect data currently reported by the States on FHWA Forms 531 and 532. The "Smart Input Tool", which has been successfully piloted in several States in 2002, is the first step in a "Highway Finance Smart System". The system will incorporate data quality principles and technology through the entire data process. States are expected to submit their Forms 531 and 532 for Highway Statistics 2002 using this new tool. HPPI is providing training for States to make a smooth transition to the "Smart Input Tool". The following is also noted:
January Workshop - A meeting was held January 28-29 in Arlington, Virginia for FHWA field and State transportation and revenue staff to discuss the "Highway Finance Reporting - "Smart Input Tool". More than 25 State data providers were in attendance, and re-action was favorable.
Video slides - You may contact Carla Mauney at carla.mauney@fhwa.dot.gov for the video slides, which were used at the training sessions. While these slides do not substitute for the training, they give an outline and "flavor".
Community of Practice - HPPI has established a "Community of Practice" (CoP) to support learning in the Highway Finance area. When complete, the "CoP" will include the names and e-mail addresses of State Highway Finance data providers as well as FHWA contacts. It will also include the key source Highway Finance documents and support a "chat" room where practitioners can share ideas, ask questions, note best practices, etc.
Contact Carla Mauney at Carla.Mauney@fhwa.dot.gov or Ralph Erickson at Ralph.Erickson@fhwa.dot.gov if you have questions.
---
National Motor Fuel Meetings Focus on Data Quality and Oversight
The Office of Highway Policy Information of the Federal Highway Administration (FHWA) hosted two national meetings for FHWA field and State transportation and revenue staff to discuss current issues in Motor Fuel reporting, and Highway Trust Fund distribution. The meetings were held follows:
Eastern States: Atlanta, Georgia on February 5/6, 2003 and Western States: Sacramento, California on February 18/19, 2003
The meetings, which covered a wide range of topics, focused particularly on improving Motor Fuel data quality through the following efforts:
FHWA Oversight of State-reported data - FHWA staff from the Motor Fuel Oversight Team made presentations on the status of FHWA oversight. During FY 2003, FHWA's goal is to increase both quality of the reviews (using principally the Continuous Process Improvement approach) and the quantity (all States will have done a baseline report by 9/30/03);
Smart Tool/Smart System - There was discussion on what has been learned in the first year (2002) of using the "Smart Tool" as well as discussion of recommended improvements. With one exception, all States are using the tool. A preview of the other element of the "Smart System" (i.e. the Headquarters element) was provided;
Technical Changes - A number of technical changes will be implemented in 2003 for the processing of the data in 2003 for 2002 data. These changes were presented and discussed;
At the Atlanta meeting, a representative from the American Association of State Highway and Transportation Officials (AASHTO) gave the attendees a briefing on Federal re-authorization.
If you need further assistance please contact Ralph Erickson at Ralph.Erickson@fhwa.dot.gov or Marsha.Reynolds@fhwa.dot.gov.
---
A Continuous Process Improvement Model for HPMS
A report that describes how the Federal Highway Administration's (FHWA) Continuous Process Improvement (CPI) model can be used as a tool for the effective management of the HPMS data program was transmitted to the FHWA Divisions and Resource Centers on February 24, 2003.
Program quality assurance is an oversight responsibility that is included in most Division Office annual performance plans. The Deputy Administrator's memorandum of January 8, 2003, "Stewardship and Federal Highway Programs", emphasizes the need to go beyond oversight to address continuous process improvement initiatives, technical assistance, performance measurement, and sharing best practices. This policy applies to all organizational elements of the FHWA and all FHWA programs, including HPMS. It makes a statement that the FHWA is ultimately accountable for ensuring that the Federal highway program is delivered consistent with established requirements.
FHWA needs to assure that timely, complete, high quality HPMS data to meet the Agency's critical business needs are being collected and reported. The business needs for HPMS include the Vital Few, Federal-aid highway program authorizations, FHWA performance plans, Federal-aid fund apportionments to the States, and the maintenance of a credible national database that directly supports a number of high impact reports to Congress. Review and acceptance of State data programs by Division Offices is a prerequisite for approval of the Statewide Planning and Research (SPR) Work Program and the planning finding required before approval of the Statewide Transportation Improvement Program (STIP).
The application of a continuous process improvement approach to program management is a more structured way to frame the Division's work with the State to improve processes. The CPI model is a systematic and documented approach that involves documenting the process to be followed, documenting the approach actually being used, identifying deficiencies in the process, developing an implementation plan to correct any efficiencies, providing financial and management support, and implementation monitoring. As a tool to making HPMS review efforts more productive and quality enhancing, the CPI model should be used for future HPMS review activities. The report describes how the CPI model can be used for HPMS reviews using a ten-step approach. Reviews can commence at any point in the ten-step process depending on past review efforts, the magnitude of the problem, and the level of documentation. It includes flowcharts that show how HPMS data supports the business needs of FHWA, how it can become an integral part of Division Office Performance Plans, and the source of HPMS data as a product of State data collection programs.
FHWA Division Offices are encouraged to use this approach for future reviews of HPMS data and State databases that support HPMS. Since CPI is a new tool for reviewing data programs, we anticipate that its implementation will require additional Headquarters support. It is the Office of Highway Policy Information's goal to provide additional information and to discuss CPI implementation activities at workshops tentatively scheduled for summer 2003. First hand information will be available from those Divisions using this approach for HPMS program management and to share the results at the planned workshops. Technical assistance to prepare, conduct, and follow the process is available. If you have questions or wish to discuss this further, please contact Fred.Orloski@fhwa.dot.gov or call 517-702-1840.
---
Office of Highway Policy Information
Director: Barna Juhasz
Newsletter Editors: Bryant Gross and Sharon Smith
Division Chiefs: Ed Kashuba, Travel Monitoring & Surveys | Jim Getzewich, Highway System Performance
(202) 366-0160 | 400 7th Street, SW | Washington, DC 20590
OHPI Home | Highway Information Newsletters
---

United States Department of Transportation - Federal Highway Administration