Highway Information Quarterly Newsletter
July 2003
Office of Highway Policy Information - Federal Highway Administration

Table of Contents
This edition is in electronic (web) only format.
---
The Office of Highway Policy Information is Promoting the use of Distance Learning
David Jones of the Office's Travel Monitoring Division conducted a workshop during May on the use of the Vehicle Travel Information System (VTRIS) using a new communication tool that allows participants to be trained remotely. This remote training introduced State personnel to VTRIS, which is used by many States and FHWA to process vehicle classification and truck weight data. The States that participated in the training were Florida, Kentucky and members of the FHWA staff. The new tool is called Net Meeting, and uses the Internet to access an interactive live connection from a designated site. This tool allows an instructor to conduct live interactive presentations, demonstrations, meetings, classes or training sessions via the Internet while simultaneously communicating through an audio conference bridge. The effectiveness of this initial distance learning effort by the Office is being evaluated for application to other subject areas.
If you are interested in VTRIS training, contact David L. Jones Sr. at 202-366-5053 or David.Jones@fhwa.dot.gov.
---
SAFETEA Would Improve Surface Transportation and Data Quality
On May 17, 2003, the U.S. Department of Transportation unveiled the Administration's six-year $247 billion surface transportation reauthorization proposal. The Safe, Accountable, Flexible and Efficient Transportation Equity Act of 2003 (SAFETEA) is the largest surface and public transportation investment in U.S. history.
The Administration's proposal more than doubles funding for highway safety over levels provided by the Transportation Equity Act for the 21st Century (TEA-21) and serves as a framework for investments needed to maintain and grow the nation's vital transportation infrastructure. SAFETEA, once enacted, would help modernize federal safety programs, create jobs and sustain economic growth, reduce congestion and minimize project delays, increase funding flexibility for states and localities, improve public transit efficiency and help protect the environment.
Data Provisions
SAFETEA provides funding to the States to carry out transportation planning, research, development & technology transfer, and data collection. The proposal recognizes the need for quality data in transportation decision-making and increases the Statewide Planning & Research (SPR) aside by 0.5% for data programs in support of strategic data at all levels of government.
Funding/Formula
Funds for this program are derived by set-asides for Statewide Planning and Research from sums apportioned to the States under 23 USC 104 (except Metropolitan Planning and Recreational Trails), as well as Minimum Guarantee (previously set aside by administrative determination) and Highway Bridge program funds.
The exisitng set-aside is increased from 2 percent to 2 1/2 percent.
The portion of SPR funds to be used only for RD&T activities is decreased from a minimum of 25 percent to a minimum of 20 percent of the SPR set-aside; however, since this reduction is offset by the increase in the set-aside percentage, the net effect on the level of SPR funds for RD&T is zero.
Program Requirements
The proposal includes a requirement for minimum expenditures by each State to improve the quality of collection and reporting of strategic surface transportation data.
Not less than 20 percent of the set-aside shall be spent to improve the collection and reporting of transportation data each fiscal year.
The 20 percent requirement may be waived for a fiscal year if a State certifies that their strategic data collecting and reporting activities meet quality assurance guidelines.
If the requirement is waived, the funds may be used for other eligible SPR activities.
Eligibility
The provision also clarifies activities within the metropolitan and statewide planning processes that are eligible for funding including:
Freight and safety planning.
Transportation systems management and operations-related planning.
Transportation-related land use planning.
Transportation-related growth management activities.
The provision also specifies that the following activitietes are eligible for SPR funding:
Planning capacity building activities.
Asset management activities.
Federal Share
The Federal share payable will be as provided for in section 120(b) of 23 USC (sliding scale) instead of a set 80 percent.
A copy of the Administration's proposal is available at https://www.fhwa.dot.gov/reauthorization/safetea.htm
---
Improved Gasohol Model Will Improve Data Quality
Introduction
Gasohol blends used as motor fuel currently produce about $1.5 billion in Federal excise tax payments that are placed in the Highway Account (HA) Highway Trust Fund (HTF). In addition to their contribution to revenue collections, the gasohol data is used, in conjunction with other fuel data, to determine the distribution of substantial amounts of Federal-aid for highway funds.
The rapid growth in the use of gasohol as a motor fuel has created several contentious issues in highway funding. Gasohol tax rates are set such that the HA of the HTF receives approximately half the revenue that would have been received if the fuel had been conventional gasoline. Since gasohol pays a smaller proportion of the per gallon Federal excise tax on motor fuel, States using significant amounts of gasohol contribute less to the HTF than non gasohol States, and therefore may receive a lesser share of highway funds.
Background
Prior to 1993, FHWA collected and published gasohol data as reported by the States. This data was provided using each State's definition of gasohol, which led to inconsistent results since there was no one definition of gasohol. With the passage of the Energy Act of 1992, the Federal government established it's own definition of gasohol, providing for three levels of gasohol, each taxed at a different rate. The inconsistencies created by this mix of definitions, and the lack of interest by several States in tracking gasohol, led FHWA to develop a method to estimate gasohol usage by State.
The methodology of the model used from 1994 to 2000 was based on dividing States into one of three categories, based on information from several sources:
States that have no gasohol sold within the State (about thirteen States),
States that reported gasohol data that was substantially accurate (about twenty-eight States), and
States that had gasohol sold within the State, but the State did not track the gasohol as a distinct fuel type (about ten States).
Since FHWA received data from the Department of the Treasury that indicated how much gasohol revenue the Internal Revenue Service collected, FHWA could derive how many gallons of gasohol were taxed at the Federal level. This information was used as the control total of gasohol gallons that were to be distributed among the States. States in the first category were allocated no gasohol gallons, the States in the second category were allocated the same amount of gasohol gallons as they reported, and States in the third category were allocated the remaining gallons based on a regression equation that used proximity to the point of production of gasohol as a primary variable. Since the upper Midwest was generally the center of production and use of gasohol, this assumption was reasonably accurate for the time period in which it was used.
Changing Circumstances
However, the realization that Methyl Tertiary Butyl Ether (MTBE, one of the gasoline additives that is used as an air quality enhancer and is a primary competitor to gasohol) was causing additional environmental concerns has created action in about seventeen States to phase-out the use of MTBE. There is also the possibility of a Federal MTBE ban. Furthermore, the MTBE bans, and the subsequent substitution of ethanol as the air quality enhancer, render invalid the assumption that gasohol is found primarily in the upper Midwest. For example, California is in the process of banning MTBE. It appears that California alone will account for about one-fourth of the total nationwide consumption of gasohol once this ban is in place.
FHWA Response
FHWA, therefore, has developed a model that is more sensitive to today's gasohol environment, that uses a series of decision rules to categorize States, and that uses additional data to make estimates within these categories. After administering each of the decision rules, there are still some States at the end of the process that are then allocated the leftover gallons of gasohol. The basic rule steps are:
Determine whether gasohol is used by a State (i.e., "zero State").
Determine if the State has reformulated gasoline (RFG) or oxygenated-fuel areas and, if so, estimate the amount of gasohol use in these areas using Energy Information Administration (EIA)/Environmental Protection Agency (EPA) data.
Compare State-reported gasohol gallons to EIA/EPA-based estimates.
Determine if gasohol is used outside the RFG/oxygenated-fuel areas.
Determine if tax incentives are provided by a State or whether the State has well-documented records. If the answer is "yes", use the State's data.
Determine total "not-accounted-for" gallons.
Compute State shares for distributing the "not-accounted-for" gallons.
In those States that have legislatively banned the use of MTBE, the estimated gallons of MTBE-ban-induced gasohol will be added to the State gasohol estimates obtained from the preceding steps. No changes will be made to States that do not ban MTBE. New totals and revised State shares will then be calculated. These revised State shares are then used to attribute federal tax collections by State for the year following the analysis-year.
Closing
The reporting of gasohol and how it is used in the distribution of funds is a highly significant issue in highway re-authorization. The proposed SAFETEA legislation continues to use motor fuel, including gasohol, as a factor in highway funding apportionment. Since the gasohol issue is so significant, FHWA will proceed to disseminate information about the refined procedures to interested parties, and, at an appropriate time, will begin to use the refined procedures in providing technical assistance for highway re-authorization and in actual future apportionments. Meanwhile, FHWA is proceeding with its annual data verification process and thus has provided motor fuel data (gallons of fuel by type consumed on the highways within each State) that includes the results from the refined gasohol model to its Division offices and the States.
For more information contact Ralph Erickson at (202) 366-9235 or via email Ralph.Erickson@fhwa.dot.gov.
---
Changes in the Purpose of Travel Over Time: A snapshot analysis of the National Household Travel Survey 2001
Over the last 30 years, travel has increased dramatically but the increase in work trips has not kept pace with the increase in trips for recreation, errands, or shopping. Many people are surprised to learn that the vehicles on the roadway during the afternoon rush hour are not just taking commuters home. Work as a proportion of all person trips ( person movement from one location to another) has been steadily declining since 1969, when work trips were about 25 percent of all person trips and nearly a third of all vehicle trips. In 2001, work trips are about 15 percent of all person trips. The reason is the significant growth in the number of added trips that Americans are making for other purposes.
The new data come from the 2001 National Household Travel Survey (NHTS). The NHTS obtains information about travel on one assigned day for all purposes and by all modes. Travel information is collected from all members of a sampled household, and all days of the week, including holidays and weekends, are included.
Trends in Proportion to Work Trips
1969-2001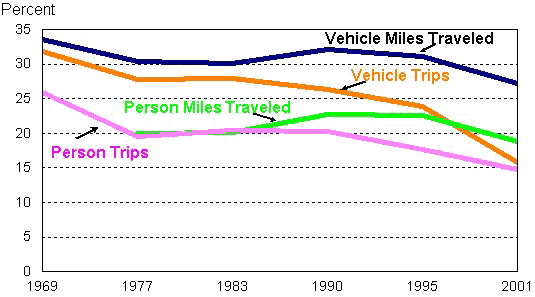 In the space of one year, average American adults (16 years and older) are making 28 more work trips than they made a decade ago. However, this increase is dwarfed by the increased travel for other purposes-on average, Americans added 87 trips for recreation, 86 for family and personal errands, and 69 trips for shopping. Overall, the average American adult is making more than 300 per year than a decade ago. Of that total, only 9 percent are for commuting to and from work.
Added Annual Trips per Person by
Purpose 1990-2001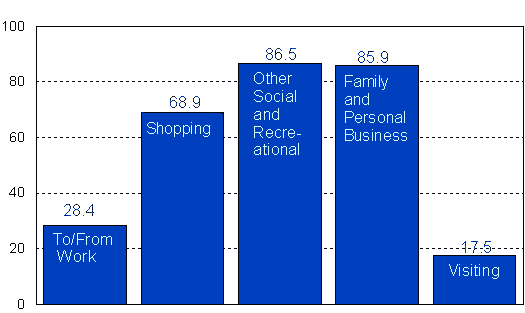 The commuting pattern of workers continues to determine the location and time of other activities-the location of work anchors some trips and the location of home anchors others. People commonly make stops on their way to and from work-earlier research on trip chaining shows that on an average workday one out of four men and one out of three women make stops during their commute.
Note:
Visiting friends and relatives accounted for about 6 percent of all trips in 2001.

"Other Social/Recreational" was 18 percent of all travel and included:
Go to the Gym/Play Sports/Exercise
Rest or Relaxation/Take a Vacation
Entertainment/Theater/Sports Event
Go Out/Hang Out/Go to a Bar
Visit Public Place/Historical Site
Go to a Museum/Park/Library
"Family and Personal" trips accounted for 23 percent of all trips and includes:
Any unspecified personal obligations
Professional Services, such as attorney, accountant
Funeral or wedding
Personal Services, such as getting a haircut
Pet care, such as vet visits and walking the dog
For more information, visit our website at: http://nhts.ornl.gov/2001
Or contact: Susan Liss at Susan.Liss@fhwa.dot.gov, Nancy McGuckin at Nancy.McGuckin@fhwa.dot.gov, or Bryant Gross at Bryant.Gross@fhwa.dot.gov
---
Slow Travel Growth
The Federal Highway Administration has been providing estimates of monthly highway travel for over 60 years. This reporting is based on continuous traffic counter data provide by the various State highway agencies. The chart at left shows that travel growth has leveled off when compared to the recent past. At the time of this article, travel through the first four months of 2003 showed a travel decline of three-tenths of one percent compared to the same period in 2002. Overall travel in 2002 is estimated to have grown by 1.7 percent over 2001. The detailed monthly reports can be found at the Traffic Volume Trends web page https://www.fhwa.dot.gov/policyinformation/travel_monitoring/tvt.cfm
Moving 12-Month Total Highway Travel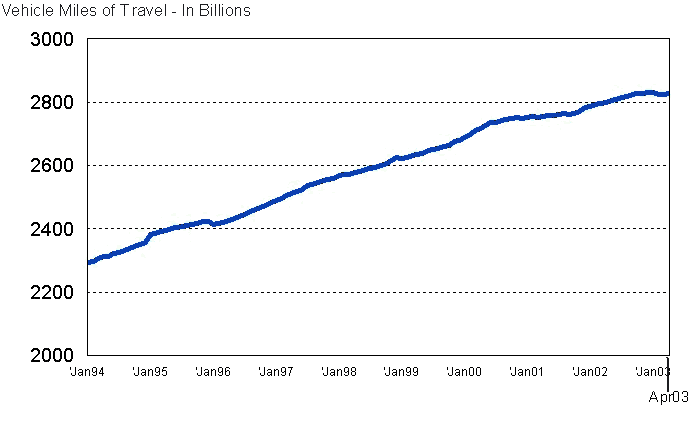 ---
Office of Highway Policy Information / Federal Highway Administration
Director: Barna Juhasz
Newsletter Editors: Bryant Gross and Sharon Smith
Division Chiefs: Ed Kashuba, Travel Monitoring & Surveys | Jim Getzewich, Highway System Performance
(202) 366-0160 | 400 7th Street, SW | Washington, DC 20590
---

United States Department of Transportation - Federal Highway Administration