Highway Information Quarterly Newsletter
December 2000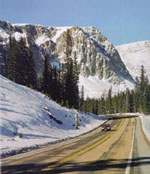 Office of Highway Policy Information
---
Highway Statistics 1999
The 1999 edition of the Highway Statistics series has been released. This annual report contains analyzed statistical data on motor fuel; motor vehicles, driver licensing; highway-user taxation; State highway finance; highway mileage; Federal aid for highways; highway finance data for municipalities; counties; townships; and other units of local government, as well as selected information from the Nationwide Personal Transportation Survey, and comparative international data.

This report, as well as Highway Statistics back to 1992 can be found online at: https://www.fhwa.dot.gov/policy/ohpi/hss/index.htm
If you are currently not on the Highway Statistics mailing list to receive a copy each year, and wish to receive a copy, email to: Millie.Wilson@fhwa.dot.gov or call (202) 366-0160.
---
Toll Highway Facilities in the United States
In 1999, 30 States and the Commonwealth of Puerto Rico reported 4,761 miles of highway toll facilities. These facilities account for about 0.1 percent of the 3.96 million total public roads miles in the United States and its Territories. About 2,867 miles of these facilities are Interstate System, another 1,804 miles are other principal arterials, another 53 miles are minor arterials, and the rest are collectors and locals. And, over 73 miles of these facilities are on structures (bridges, tunnels, or causeways). On the average, toll traffic has 4 or more lanes available on 95 percent of these facilities whereas most non-toll public roads generally have only 2 lanes.
Table -- HIGHWAY FACILITIES WITH TOLLS IN THE UNITED STATES
State
Miles*
Lane-Miles*
Daily Travel*
State
Miles*
Lane-Miles*
Daily Travel*
AL
13.2
49
45,785
MO
1.2
2
15,857
CA
63.8
354
4,681,271
NE
0.6
1
1,054
CO
39.5
158
1,801,556
NV
0.0
0
0
DE
46.3
254
2,632,049
NH
72.3
338
3,067,311
FL
607.7
2,518
18,292,963
NJ
377.0
2,283
32,840,164
GA
8.6
42
630,741
NY
537.0
2,287
20,216,323
IL
280.7
1,415
19,719,110
OH
241.2
1,139
7,235,662
IN
163.7
641
4,489,310
OK
552.2
2,174
4,992,040
IA
1.7
4
9,344
PA
514.3
2,134
15,420,248
KS
228.6
914
3,441,315
RI
1.8
4
31,839
KY
242.9
855
1,830,791
SC
5.4
22
95,327
LA
15.5
62
94,839
TX
115.3
610
7,000,947
ME
110.0
458
3,451,572
VA
62.1
302
2,542,336
MD
44.5
200
2,049,906
WV
87.4
347
2,449,925
MA
141.9
693
7,920,429
PR
151.7
681
7,572,682
MI
5.4
20
71,197
Total
4,733.5
20,961
174,643,893
* About 27.5 miles of toll facilities are missing from the table totals: IL 1.4 miles, LA 1.6 miles, MA 0.5 miles, NV 6.4 miles, NY 13.9 miles, PA 1.6 miles, TX 0.1 miles, VA 1.3 miles, and WV 0.7 miles.
'Source -- 1999 Highway Performance Monitoring System
Traffic on toll facilities accumulated nearly 0.17 billion vehicle miles per day compared to 7.37 billion vehicle miles per day on all public roads or 2.3 percent of total national travel. For more information, contact Paul Svercl at 202-366-5036 or e-mail at paul.svercl@fhwa.dot.gov.
---
Highway Finance Re-assessment News Briefs
In July 1999, FHWA's Office of Highway Policy Information began a comprehensive reassessment of its highway finance reporting series, including both State and local finance and Federal highway finance reporting (FA-series, SF-series, and LF-series). These data are published annually in the Federal Highway Administration's (FHWA's) Highway Statistics publication and have a number of key uses. Current items include:
Task Force meeting: A Task Force to support FHWA in its re-assessment was scheduled to meet November 29 and November 30, 2000 in Washington ,D.C. Representatives from the State data providers as well as data users were scheduled to share perspectives. Revisions in the Highway Finance data series are expected to result in a data program that better meets customer needs and is less burdensome to State data providers. The Task Force is being chaired by an FHWA's Idaho Division Administrator, Mr. Steve Moreno. It is composed of State representatives who serve on various AASHTO Committees, NARC representation, and FHWA staff.


Improved Finance Reporting Format: OHPI is also advancing soft-ware that will improve its own analyses of the State-reported highway finance data and ultimately help States report higher quality data. An improved soft-ware tool for input of Highway finance data was displayed to the States attending the Highway Information Seminar. This tool will be piloted in 2001 for data year 2000.
For more information, contact Tom.Howard@fhwa.dot.gov or call (202) 366-0170.
---
Travel Patterns of People of Color
FHWA-PL-00-24
The report "Travel Patterns of People of Color" has just been released by the Office of Highway Policy Information. The report is the first compendium on travel in the United States that directly examines race and ethnicity. The primary sources of data, are from various papers using the 1995 Nationwide Personal Transportation Survey (NPTS) and the 1990 Census Public Use Microdata Sample (PUMS). (In this report, People of Color refers to Hispanic, Asian, and African American.)
Interesting Facts: In 1990, 24 percent of the U.S. Population was composed of people of color (Hispanic, Asian, and African American), with this segment of the population projected to grow to 43 percent of the population by 2050. (26 percent of the population will be Hispanic).
This report can be found online at: https://www.fhwa.dot.gov/ohim/trvpatns.pdf under "Products and Publications".
---
Motor-Fuel/Attribution Changes Proposed in Policy Announcement and Discussed at Public Workshop
At an October 5 public workshop in Washington, D.C., FHWA presented a number of proposed policy changes regarding the methodology it would use for estimating Highway Trust Fund receipts attributable to the States. This motor-fuel attribution is used as a factor in determining the distribution of Federal-aid highway funds in three large program categories and minimum guarantee funds.
These policy changes and other business-type to FHWA motor-fuel attribution process were announced in the August 17, 2000 Federal Register ( Docket Number 2000-7635). The one day October workshop was held to assist individuals who wished to learn more about the procedures and to discuss them further. In all, about 25 individuals attended the workshop.
The Federal Register Notice and the October 5 public workshop marked important milestones in FHWA's re-assessment of its motor-fuel/HTF attribution process. Recognizing the increasing importance of accurate, timely reporting of motor-fuel data, FHWA, with expert support from the American Association of State Highway and Transportation Officials (AASHTO) and the Federation of Tax Administrators initiated a review of the motor-fuel reporting system. In addition to panel meeting with experts in December 1998 and September 1999, FHWA helped three public workshops in association with the re-assessment process in December 1999, January 1999, and February 2000. The attribution process was one of the subjects of a review in a June 2000 General Accounting Office study "Highway Funding: Problems with Highway Trust Fund Data Can Affect State Highway Funds" (Report No. RCED/AIMD-00-141).
The one day workshop concentrated on presenting and discussing the six major policy changes proposed in the Federal Register Notice. These are
Reporting Public Use of Diesel Fuel;
Accounting for Motor-Fuel Losses;
Oversight of State-reported data;
Special fuel versus diesel fuel as an attribution issue
Reporting of Alternative Fuels;
Accounting for International Fuel Tax Agreement Procedures.
Each of these six policy changes were explained in detail by Mr. Ralph Erickson, who gave the background on the issue, the current situation, the improvement proposed, and FHWA's prosed implementation plans. A discussion of these changes was then led by Mr. Tom Howard. Background on each of these changes can be obtained from the Federal Register Notice (http://dmses.dot.gov). Interested parties have until October 30, 2000 to make written comments.
In addition to the six policy changed, there were presentations on other various aspects of the motor-fuel/HTF attribution work. Mr. Erickson and Ms. Marsha Reynolds gave a brief summary of current attribution, motor-fuel reports, and modeling. Mr. Barna Juhasz welcomed the participants and outlined FHWA's efforts to improve its data programs.
A motor-fuel action plan is a significant part of this quality improvement effort. This action plan, developed as a results of issues raised during the re-assessment process includes the following:
Full documentation of FHWA's motor-fuel data analyses and attribution process;
Detailed independent review of State's motor-fuel data;
Improved FHWA written instructions and training;
Development of "smart forms" to support more efficient data submissions, editing, and processing;
Review of FHWA's statistical models used in the motor-fuel process;
An outside review of FHWA's motor-fuel/HTF attribution process.
During year 2001, FHWA will advance this action plan and consider the comments it receives in the Federal Register process.
A summary of the October 5 meeting is available on the FHWA OHPI website at https://www.fhwa.dot.gov/policyinformation/.
---
2000 NPTS Add-on Program
| | |
| --- | --- |
| | The Federal Highway Administration is gearing up for the 2000/2001 Nationwide Personal Transportation Survey (NPTS). The survey offers a unique opportunity to State and metropolitan planning areas to purchase samples for use as a household travel survey for their respective areas. The add-on program allows local jurisdictions to purchase additional samples of the NPTS in their locality to use as a basis for trip generation and other travel demand forecasting model inputs or for other transportation planning applications. In addition to the national sample of 25,000 households, three States and eight MPOs have expressed serious interest in purchasing add-on samples-together adding almost 60,000 households to the sample. |
Locally collected data is always the best, but many States and MPOs do not have the time and resources to develop, contract, and manage a household travel survey. The add-on project also allows the state or MPO to 'waive the match' and to use SP&R or PL funds. The additional samples, along with the national samples randomly selected from the local area, are compiled, geocoded, edited and weighted to represent the participating region. Local data from the add-on samples can be compared to national data, or other regions of the country. An area can participate in the program with each round of NPTS to update their local data.
Two of the areas purchasing add-ons have been looking at concurrently measuring travel directly using a global positioning system (GPS) unit installed in the sampled household's vehicle. The GPS would directly record the location of the vehicle when the engine was running. The GPS remains in the vehicle over a week, overlapping the one-day of travel collected by use of a travel diary. Such concurrent data collection allows us to measure the number of trips taken versus the number reported, and to calculate the VMT for the travel day and analyze the relation to reported VMT. We should also gain some insight into the daily variation in travel, and better recording of travel times and distances.
For more information on the 2000 NPTS Add-on Survey Program, contact Nancy.McGuckin@fhwa.dot.gov or call 202-366-0160.
---
Summary of Travel Trends
1995 Nationwide Personal Transportation Survey
The 1995 Nationwide Personal Transportation Survey (NPTS) report entitled Summary of Travel Trends has just been released in hard copy. This report highlights important travel trends from the NPTS in tabular and graphic format, from 1995 back to the first NPTS in 1969. This report provides important information on personal travel of U.S. households with respect to why, how, when, where, and where to, as well as how long, and with whom.
The report begins with a summary of travel and demographic changes from the earlier NPTSs (1969, 1977, 1983, and 1990). Travel change are examined from a household perspective, then from an individual perspective. This report concludes with trip-making statistics of special populations such as women, zero vehicle households, low income households, and the elderly.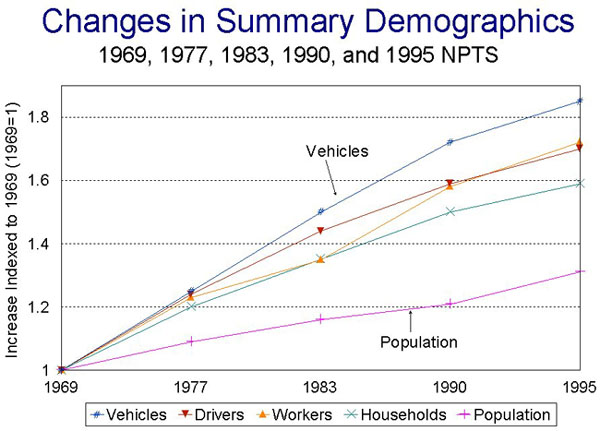 Specific information found in this report includes: persons per household, vehicle per household, drivers per household, workers per household, average trip length, vehicle trips per household, and the relationship of travel indicators to demographic factors such as household income, race, gender, and educational attainment.
Interesting Facts: The report shows that during the past two decades, the number of vehicles increased at a steeper rate than any other demographic indicators. In fact, the number of vehicles has increased at an annual rate of almost one and one-half time that of the total population.
For hard copies of the report, contact Millie.Wilson@fhwa.dot.gov, or call (202) 366-0160.
The report can also be found on the web at: http://www-cta.ornl.gov/npts/1995/DOC/trends_report.pdf
---
Census of Governments' 1992 and 1997 Data on Local Highway Finance Expenditures
The Bureau of the Census has completed its 1997 Census of governments. Part of this report covers highway finances, at the State and local government levels. The Census Bureau sends out people to collect data from all "places" in the United States.
From 1992 to 1997, total highway expenditures increased by 32.0% and total highway capital outlay increased by 34.0% for the top twenty spending counties. For the top twenty spending cities for that same period, total highway expenditures increased by 25.0% and total highway capital outlay increased by 34.5%.
During the same time period, 1992 to 1997, highway capital inflation increased by 24.2% according to the FHWA Bid Price Index. The two separate volumes for sub-State local government highway finances are found on the Census' website at:
www.census.gov/govs/www/cog.html.


Volume 4, No.3 is Finances of County Governments and Volume 4, No.4 is Finances of Municipal and Township Governments. Attached is a summary of the top twenty counties, and top twenty municipal and township governments for total highway expenditures and highway capital outlay from these 1997 Census of Governments' reports. A separate set of figures shows the same array of data from the 1992 Census of Governments' reports.


If you would like more information on this sub-State highway finance data, contact the website address above or call Lenny Goldberg at (202)-366-5024.
City Government Rankings for Highway Expenditure, 1992 (Thousands of dollars)
Fiscal
year
Name
State
Population
1990
Highways:
total expenditure
Highways:
total capital outlay
1992
NEW YORK
New York
7,322,564
795,275
403,888
1992
CHICAGO
Illinois
2,783,726
364,677
221,576
1992
LOS ANGELES
California
3,485,398
153,393
65,688
1992
BALTIMORE
Maryland
736,014
144,406
92,036
1992
HOUSTON
Texas
1,630,553
128,175
59,210
1992
WASHINGTON, D. C.
N/A
606,900
121,644
108,802
1992
DETROIT
Michigan
1,027,974
100,167
12,339
1992
PHILADELPHIA
Pennsylvania
1,585,577
95,194
38,264
1992
MESA
Arizona
288,091
81,442
70,776
1992
SAN DIEGO
California
1,110,549
76,374
34,879
1992
WICHITA
Kansas
304,011
69,207
54,225
1992
PHOENIX
Arizona
983,403
67,605
41,330
1992
DENVER
Colorado
467,610
64,943
43,519
1992
NAPERVILLE
California
85,351
64,362
57,121
1992
PORTLAND
Oregon
437,319
64,135
1,661
1992
SAN JOSE
California
782,248
63,949
42,361
1992
DALLAS
Texas
1,006,877
63,404
28,360
1992
VIRGINIA BEACH
Virginia
393,069
55,843
34,288
1992
LAS VEGAS
Nevada
258,295
54,261
39,305
1992
COLORADO SPRINGS
Colorado
281,140
53,747
37,903
Total for top twenty cities
2,682,203
1,487,531
County Government Rankings for Highway Expenditure, 1992 (Thousands of dollars)
Fiscal
year
Name
State
Population
1990
Highways:
total direct expenditures
Highways:
total capital outlay
1992
LOS ANGELES COUNTY
California
8,863,164
182,625
68,721
1992
HARRIS COUNTY
Texas
2,818,199
126,272
47,880
1992
SACRAMENTO COUNTY
California
1,041,219
90,415
54,246
1992
ORANGE COUNTY
California
2,410,556
84,630
50,132
1992
COOK COUNTY
Illinois
5,105,067
85,821
53,976
1992
PALM BEACH COUNTY
Florida
863,518
83,553
62,627
1992
WAYNE COUNTY
Michigan
2,111,687
76,463
1,486
1992
HILLSBOROUGH COUNTY
Florida
834,054
73,920
44,446
1992
ORANGE COUNTY
Florida
677,491
69,171
41,828
1992
KING COUNTY
Washington
1,507,319
65,192
35,309
1992
MARICOPA COUNTY
Arizona
2,122,101
66,998
32,252
1992
METROPOLITAN DADE COUNTY
Florida
1,937,094
66,223
31,862
1992
GWINNETT COUNTY
Georgia
352,910
65,136
56,445
1992
DALLAS COUNTY
Texas
1,852,810
61,889
53,690
1992
FAIRFAX COUNTY
Virginia
818,584
29,890
29,093
1992
NASSAU COUNTY
New York
1,287,348
60,704
20,982
1992
BROWARD COUNTY
Florida
1,255,488
57,378
35,345
1992
OAKLAND COUNTY
Michigan
1,083,592
58,828
17,405
1992
ST LOUIS COUNTY
Missouri
993,529
53,035
23,973
1992
SAN DIEGO COUNTY
California
2,498,016
52,366
24,122
Total of top twenty counties
1,510,509
785,820
City Government Rankings for Highway Expenditure, 1997 (Thousands of dollars)
Fiscal
year
Name
State
Population
1996

Highways:
total expenditure

Highways:
total capital outlay

1997
NEW YORK CITY
New York
7,380,906
1,205,840
865,022
1997
CHICAGO
Illinois
2,721,547
424,694
278,285
1997
HOUSTON
Texas
1,744,058
165,274
75,492
1997
DETROIT
Michigan
1,000,272
153,992
46,564
1997
LOS ANGELES
California
3,553,638
152,118
70,658
1997
BALTIMORE
Maryland
675,401
138,523
58,383
1997
WASHINGTON, D. C.
N/A
543,213
117,916
110,621
1997
SEATTLE
Washington
524,704
104,665
46,772
1997
PHILADELPHIA
Pennsylvania
1,478,002
101,100
34,685
1997
SAN DIEGO
California
1,171,121
98,858
59,808
1997
DALLAS
Texas
1,053,292
80,163
37,635
1997
SAN ANTONIO
Texas
1,067,816
78,404
50,983
1997
PHOENIX
Arizona
1,159,014
75,210
45,028
1997
PORTLAND
Oregon
480,824
68,548
5,364
1997
COLUMBUS
Ohio
657,053
67,442
43,040
1997
WICHITA
Kansas
320,395
67,196
49,166
1997
INDIANAPOLIS
Indiana
746,737
63,819
30,453
1997
BOSTON
Massachusetts
558,394
63,519
21,063
1997
ST PAUL
Minnesota
259,606
63,200
35,347
1997
CINCINNATI
Ohio
345,818
61,975
36,579
Total of top twenty cities
3,352,456
2,000,948
County Government Rankings for Highway Expenditure, 1997 (Thousands of dollars)
Fiscal
year
Name
State
Population
1996
Highways:
total direct expenditures
Highways:
total capital outlay
1997
CLARK COUNTY
Nevada
1,048,717
203,298
151,095
1997
LOS ANGELES COUNTY
California
9,127,751
164,126
42,927
1997
HARRIS COUNTY
Texas
3,126,966
136,565
44,022
1997
COBB COUNTY
Georgia
538,832
113,018
87,651
1997
SACRAMENTO COUNTY
California
1,117,275
109,813
52,963
1997
LEE COUNTY
Florida
380,001
107,909
82,302
1997
METROPOLITAN DADE COUNTY
Florida
2,076,175
105,294
46,939
1997
KING COUNTY
Washington
1,619,411
94,398
54,538
1997
OAKLAND COUNTY
Michigan
1,162,098
96,444
41,605
1997
WAYNE COUNTY
Michigan
2,137,302
96,436
4,658
1997
MONTGOMERY COUNTY
Maryland
802,729
92,800
46,175
1997
COOK COUNTY
Illinois
5,096,540
89,438
63,645
1997
ORANGE COUNTY
Florida
758,980
87,000
45,665
1997
PALM BEACH COUNTY
Florida
992,840
81,022
56,545
1997
NASSAU COUNTY
New York
1,303,389
76,190
40,570
1997
GWINNETT COUNTY
Georgia
478,001
75,987
63,367
1997
MARICOPA COUNTY
Arizona
2,611,327
70,403
28,213
1997
HILLSBOROUGH COUNTY
Florida
897,522
67,540
32,499
1997
ORANGE COUNTY
California
2,636,888
63,164
34,910
1997
SAN DIEGO COUNTY
California
2,655,463
62,560
33,003
Total for top twenty counties
1,993,405
1,053,292
---
Highway Performance Monitoring System (HPMS) News Briefs
HPMS SOFTWARE TRAINING
Mark your calendar! Save your travel funds! The Office of Highway Policy Information (OHPI) is developing plans to conduct two hands-on Software Training Workshops in Washington DC for users of the HPMS software package. Workshops are targeted for March, 2001. Contact beverly.harrison@fhwa.dot.gov for information if you are interested in attending. Preference for slots will be given to new users.
HPMS ISSUES WORKSHOPS
In response to recommendations from participants attending the 1998 HPMS reassessment workshops, the OHPI is also making plans to conduct two HPMS Issues Workshops in 2001. The workshops will provide an opportunity for HPMS data providers to discuss problems and shared solutions to some of the HPMS reporting issues they are facing. Two workshops in field locations are targeted for the April/May 2001 time frame. Contact russell.robertson@fhwa.dot.gov with suggested topics for discussion and expressions of interest.
HPMS FIELD MANUAL
The HPMS Field Manual will be republished on the FHWA Internet site at https://www.fhwa.dot.gov/ohim/hpmspage.htm in December. The republished Manual includes only minor changes in content; it has been reformatted into Word 2000 with improved layout and graphics and (hopefully) a reduced file size. The republished Manual will carry a December 2000 date.
---
Mideast Size & Weight Workshop
A Truck Size & Weight Workshop was conducted on October 4-6, 2000 in Columbus, OH. The workshop coordination was a combined effort of the FHWA and the Ohio State Police Academy. The workshop was an attempt to open dialog between players in the enforcement of Size & Weight regulations, as well as to provide a mix of formal presentations, interactive, and roundtable discussions on topics of interest to the States. Ten States (Iowa, Illinois, Indiana Kansas Michigan Minnesota, Missouri, Ohio, Pennsylvania West Virginia), five Division offices, (Michigan, Kansas, West Virginia, Minnesota, Missouri ) and the Federal Highway Administration participated in the discussions. For additional information on this conference contact Joseph Glinski, 614-280-6844 email Joseph.Glinski@fhwa.dot.gov, Fred Orloski, 517-377-1880x34, email Fred.Orloski@fhwa.dot.gov, or Byron Low 708-283-3536, email Byron.Low@fhwa.dot.gov.
---
Technical Assistance for North Dakota
One of the functions of FHWA's Office of Highway Policy Information (OHPI) is to provide technical assistance to State Departments of Transportation and Metropolitan Planning Organizations (MPOs). OHPI recently provided technical assistance to the North Dakota Department of Transportation (NDDOT) for the support of their new Traffic Data Editing and Analysis Software. Although the software was developed in house by NDDOT, OHPI provided expertise in the use of relational tables, and how it is tied to the State's GIS. It allows the user to apply edit rules and correction factors, and to manually edit the data. A major advantage of the system is that the traffic data summary tables are in one place and other users can have easy access to the data. OHPI provided details on how the new Traffic Data Editing and Analysis Software functions, how the relational databases work together, and how to process traffic data.
A State or MPO may receive technical assistance for creating new traffic processing software, as well as information about the Traffic Monitoring Guide, including general questions about traffic monitoring.
If you would like more information, contact Jeff Patten at (202) 366-0175, or email Jeff.Patten@fhwa.dot.gov.
OHPI Home | Highway Information Newsletters
---
FHWA Home | Feedback

United States Department of Transportation -Federal Highway Administration