HIGHWAY INFORMATION QUARTERLY
VOL. 5, NO. 2
JUNE 1998

OFFICE OF HIGHWAY INFORMATION MANAGEMENT
WASHINGTON, D.C.
(202) 366-0180

Daily Delay Due to Congestion and Traffic Control Devices
The Federal Highway Administration's (FHWA's) new strategic plan includes a measure of delay among the indicators for the mobility and productivity goals. The effect of congestion and traffic control devices is analyzed in terms of the delays that they produce, where delay is additional travel time beyond that which would result if all vehicles could traverse the highway segment at the free-flow speed. Delay includes not only the time spent sitting at red lights, but also the time lost while decelerating to a stop and then accelerating back to the free-flow speed. Hence, total travel time includes travel time at the free-flow speed plus delays due to congestion and traffic control devices. The delay does not include the effect of non-recurring incidents (crashes, weather conditions, and breakdowns). Daily delay represents weekday and weekend delay combined. The following table illustrates the effect of congestion and traffic control devices on speed.
For additional information, please contact Beverly Harrison, HPM-20, at 202-366-4048 or E-mail beverly.harrison@fhwa.dot.gov.

Daily Delay 1/
Hours per Thousand Vehicle Miles Traveled
1993 - 1996



| | 1993 | 1994 | 1995 | 1996 |
| --- | --- | --- | --- | --- |
| Rural | 2.07 | 2.19 | 2.20 | 2.25 |
| Small Urban | 10.27 | 10.16 | 11.02 | 11.32 |
| Urbanized < 200K Population | 11.89 | 12.06 | 13.72 | 13.61 |
| Urbanized > 200K Population | 11.59 | 11.69 | 12.94 | 12.33 |



1\ Delay is the difference between actual travel and free flow travel. Daily delay represents weekday and weekend delay combined. Delay is a modeled, not a measured, value.


North American Travel Monitoring Exhibition and Conference
(NATMEC '98)
The Federal Highway Administration (FHWA), Transport Canada, the North Carolina DOT, and the Charlotte DOT presented NATMEC '98 during May 11-15, 1998, in Charlotte, North Carolina. This was a continuation and expansion of the National Traffic Data Acquisition Conference (NATDAC) series. The co-sponsors were the American Association of State Highway and Transportation Officials (AASHTO), Transportation Research Board (TRB), and the North Carolina State University.
Opening remarks were presented by Norris Tolson, the North Carolina Secretary of Transportation. A keynote luncheon address was made by Tony Kane, FHWA Executive Director.
There were 350 attendees from local, State, and Federal agencies, plus industry and academia. In addition to 30 exhibits and 90 presentations, field demonstrations of traffic monitoring equipment were also featured.
The conference provided an opportunity to examine and share state-of-the-art technology, knowledge, and progress in traffic data collection, analysis, and use. The comprehensive program included informative presentations on traffic counting, vehicle classification, weigh-in-motion, vehicle occupancy, freight movement, and travel time. Opportunities for data collection from intelligent transportation systems (ITS) were also highlighted.
Look for the conference proceedings to appear on the OHIM website. For additional information, contact Ralph Gillmann, HPM-30, at 202-366-5042 or E-mail ralph.gillmann@fhwa.dot.gov.

Strategic Reassessment of the Highway Performance Monitoring System (HPMS)
In accordance with recommendations of the Phase 1 Final Report and the HPMS national workshop, FHWA has completed an HPMS data item review. Criteria for data item evaluation were developed by FHWA and the Steering Committee. Data items were evaluated against the criteria and a preliminary decision to keep, modify, or delete each item was based upon the degree to which the item fit the criteria. A proposal to cut 13 HPMS data items, a change of approximately 16 percent, is under consideration. Another 57 subitems may be deleted as a result of reducing the detail of 10 data items. An additional 17 data items are under study to see if they can be simplified or significantly changed to make the data reporting less complex and burdensome. The study may result in further deletions or more general response categories for those data items that are retained. Changes to meet anticipated reauthorization requirements are also being considered.
The HPMS Steering Committee is to meet in June to debate and endorse a final set of recommendations. The recommendations will be integrated into an FHWA proposal to be sent to the FHWA field, States, the Association of Metropolitan Planning Organizations (AMPO) members, and interest groups for comments to the docket over the summer. The proposal will be posted on the Internet with an invitation for public comment; a 60-day review period is planned.
Upon review of, and considering public, State, and AMPO comments, FHWA expects to make final decision on the proposal by the end of calendar year 1998. FHWA expects to hold four regional workshops in first quarter 1999 and apply the new requirements to 1999 data reported in June, 2000.
For additional information, contact Jim Getzewich at 202-366-0175, or E-mail jim.getzewich@fhwa.dot.gov.


Using GPS for Personal Travel Surveys
The FHWA Office of Highway Information Management (OHIM) and Office of Technology Applications conducted a "proof-of-concept" project to see if Global Positioning Satellite (GPS) systems, combined with small, hand-held computers, could be used in place of traditional household travel surveys conducted using paper diaries. The hardware developed weighed about 1 kg (2 pounds), so a decision to limit the survey to private vehicle trips was made. The Lexington, Kentucky metropolitan planning organization (MPO) was selected as the test site, with staff assistance provided by the MPO. One hundred drivers were surveyed in this test.
The data collection phase of the Lexington, Kentucky, project was completed in early 1997. For this project, 15 SONY MagicLinks® and 15 Garmin GPS units were purchased. The original GPS units were upgraded from 8-channel receivers to 12-channel receivers in December 1997. Nine of the units are now being used in a heavy-duty truck activity survey in California, and five of the units have been shared by MPOs and universities on a rotating basis. The OHIM keeps one for demonstrations.
The FHWA wanted to offer users a risk-free opportunity to use GPS equipment to encourage new thinking about GPS for various transportation applications. So far, we have loaned the equipment to the following MPO's and universities:
MPOs: Chicago Area Transportation Study (CATS), Chicago, Illinois;
Pima Association of Governments (PAG), Tucson, Arizona;
NorthCentral Texas Council of Governments (CTCOG), Dallas/Ft. Worth, Texas;
Central Transportation Planning Staff (CTPS), Boston, Massachusetts.
Universities: Louisiana State University (LSU) (Peter Stopher);
University of California (UC), Davis (Deb Niemeier);
Georgia Tech (Wayne Sarasua/Randy Guensler);
Texas Transportation Institute (David Pearson);
Rennsalear Polytechnic Institute (Jeff Adler).
What have they done with them?
Travel speed studies (CATS, CTPS, NCTCOG)

MPO staff have examined the viability of using GPS for travel speed studies. They have looked at the quality of data using non-differential GPS, as well as problems encountered in urban canyons. CATS and the Delaware Valley Regional Planning Commission (DVRPC) used the Lexington study (and equipment) to enable them to purchase GPS equipment and include GPS related tasks to their work program.

Household travel surveys (TTI, PAG, LSU)

Texas Transportation Institute (TTI) is working with the Austin, Texas, household travel survey to include approximately 200 households where all household vehicles are equipped with a GPS recording device. This equipment differs from the Lexington, Kentucky, project because there is no user interface required, and because the equipment is attached through the fuse box, allowing automatic on/off capability. A traditional paper diary is used in combination with the automatic vehicle location recording (GPS) equipment to be installed in each vehicle. The Lexington equipment was used as a model for development of their equipment.

Similarly, Louisiana State University is working on enhancements to the hardware to improve the power requirements so that the GPS unit is "on" all the time. This would improve the positional accuracy at the start of each trip by eliminating the search time. The goal is to include a subset of households in a Baton Rouge, Louisiana survey with GPS units.
Vehicle emissions studies (UC Davis, Georgia Tech) At UC Davis, the GPS equipment is being combined with real-time tail-pipe emissions measurement. Thus, location and speed can be examined in combination with emissions. This information can be used to improve vehicle emissions models.
At Georgia Tech, new equipment is being developed that combines engine operation, travel diary (trip purpose, etc) and location (GPS) data. The Lexington equipment is being used to advance the development of their equipment. This work is coordinated with EPA Office of Mobile Sources.
For a copy of the final report from the Lexington, Kentucky study, please visit our website:
https://www.fhwa.dot.gov/ohim/lextrav.pdf
We have a limited number of printed copies available. To request a copy, please call Millie Wilson at 202-366-0160.

Women's Travel Issues: Proceedings from the Second National Conference
Publication No: FHWA-PL-97-024
Sandra Rosenbloom, Director, Drachman Institute, University of Arizona, with the assistance of Shirl Byron, Morgan State University, chaired a conference on Women's Travel Issues, which was held in October 1996.
This conference has resulted in an 800+ page volume, including nearly all of the papers presented at the conference. The multidisciplinary scope of the conference added a dimension not typical at transportation conferences. Authors included: Susan Hanson, Clark University; Martin Wachs, University of California, Berkeley; Patricia Waller, University of Michigan; Hank Dittmar, Surface Transportation Policy Project; and Ibipo Johnston, SUNY Cortland. Among the topics were: women's travel patterns; gender, race, and ethnicity; safety and security; and women in the transit industry. The document concludes with a research agenda developed by the steering committee and conference participants.
We expect printed reports by the mid July. To obtain a copy, please contact:
FHWA R & T Report Center
Phone 301-577-0906
FAX 301-577-1421
E-mail: report.center@fhwa.dot.gov
The Proceedings will also be available on the OHIM Website https://www.fhwa.dot.gov/ohim/ under "Products and Publications." Each chapter (paper) is in a separate .pdf file, so that you do not have to download an 800-page document.
Please direct your questions to Elaine Murakami at 202-366-6971 or E-mail elaine.murakami@fhwa.dot.gov.

OHIM Addresses Key Motor-Fuel Issues
Using the latest in video conference technology, OHIM, in cooperation with FHWA's Office of Policy Development, sponsored a series of Motor-Fuel Training Seminars on February 17, 18, 19, and 24. These Seminars were sponsored to assist State data preparers who furnish motor-fuel information for use in FHWA's Highway Statistics publication. This effort is considered particularly important as Congress is considering making more extensive use of motor fuel and Highway Trust Fund receipts which rely on motor fuel as apportionment factors. About 100 staffers in 30 FHWA regional and State locations participated in these four sessions. For information on motor-fuel training, please contact either Ralph Erickson at 202-366-0170, or Marsha Reynolds at 202-366-5029.
In light of many of the issues raised during the training session and based on other information, OHIM is seriously considering a formal reassessment of the motor-fuel data later this year. One possibility for the reassessment is through a Federal-State partnership of data experts. A scaled-down effort patterned on the very successful HPMS work might serve as a model. Data providers interested in this effort are encouraged to call Ralph Erickson at 202-366-9235, with their suggestions.

Coordinated Analysis of Daily and Intercity Travel
The Office of Highway Information Management is working closely with the Bureau of Transportation Statistics (BTS) to coordinate the analysis of results from the Nationwide Personal Transportation Survey (NPTS) with the American Travel Survey (ATS). The NPTS has long been used as a source of daily trips and travel, but it contains less detail on longer, intercity trips. The ATS was conducted in 1995 to provide data on trips of 100 miles or more by the American public.
The purpose of the coordinated approach is to cover the full spectrum of travel, with particular emphasis on the characteristics of the travelers (e.g., age, sex, household income, household location) and of the trips (e.g., means of transport used, purpose of the trip). Of course, there are numerous technical considerations in analyzing and presenting the coordinated data results. Assuming we are successful, a summary publication may be available this autumn.
Future plans include a Transportation Research Board (TRB) Conference in the summer of 1999 to present and discuss current transportation issues, using coordinated data from both surveys as well as data from each one. A Call for Papers for this conference has been issued and is available on the NPTS Web Site: http://www-cta.ornl.gov/npts or from Nancy McGuckin at 202-366-0160.
Consideration is being given to ideas for conducting these two surveys in a more coordinated manner in the future.
Questions or requests for additional information should be directed to Susan Liss,
HPM-40, at 202-366-5060 or E-mail susan.liss@fhwa.dot.gov.

Release of Highway Funding Bulletin 1995-1998
In March 1998, the Office of Highway Information Management (OHIM) released the annual Highway Funding Bulletin 1995-1998. This publication gives a clear picture of highway revenues and disbursements by all levels of government. Based on the bulletin's forecast, highway disbursements are expected to exceed $106 billion in 1998, or about 3.7 percent more than 1997. Capital outlays are expected to rise to $51.3 billion in 1998, accounting for over 48 percent of highway expenditures. This is the first time that the $50 billion threshold has been exceeded for capital spending. Total revenues used for highways or placed in reserve for highways are expected to reach $109.6 billion in 1998. Revenues to the Highway Account of the Federal Highway Trust Fund (HTF) should total $22.5 billion in FY 1998, or $2 billion more than in FY 1997. Effective October 1, 1997, as a result of the Taxpayer Relief Act of 1997, the Highway Account of the HTF began receiving the proceeds from the 3.45 of the 4.3 cents per gallon of motor fuel tax that had been previously dedicated to deficit reduction. Bulletin projections for 1998 are shown on the preceding chart:
REVENUES AND DISBURSEMENTS USED FOR HIGHWAYS - 1998
(BILLIONS OF DOLLARS)
FORECAST
HIGHWAY FUNDING BULLETIN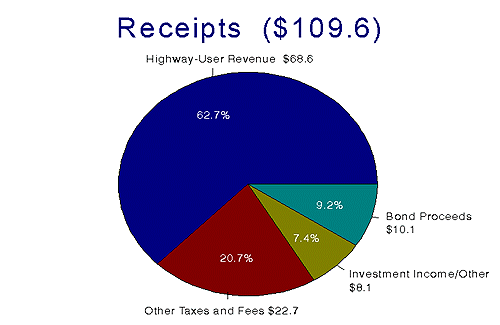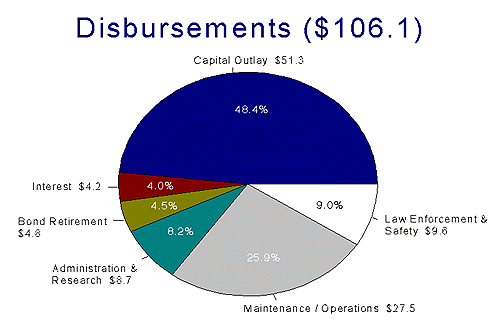 (may not add exactly due to rounding)
The Highway Funding Bulletin is available on OHIM's home page, https://www.fhwa.dot.gov/ohim/newtab.pdf, or may be obtained by calling (202) 366-0170.
Questions can be directed to Ralph Erickson at (202) 366-9235 or E-mail Ralph.Erickson@fhwa.dot.gov.

Highest Traveled Principal Arterial Highways
In 1996, 41 States, the District of Columbia, and the Commonwealth of Puerto Rico had principal arterial highways that operated at a level in excess of 100,000 vehicles a day. The table below shows the mileage of Interstate and non-Interstate principal arterial highways with average daily traffic volumes of 100,000 to 199,999 and 200,000 or more. These 4,387 miles of highways account for 2.1 percent of the Nation's total principal arterial mileage and carry 17.3 percent of the total principal arterial travel. For more information, contact Paul Svercl at 202-366-5036 or E-mail paul.svercl@fhwa.dot.gov.
Table 2. Mileage of Principal Arterial Highway Facilities by Average Daily Traffic Volume
State

Interstate System
100,000 to 199,999

Interstate System
200,000 or more

Non-Interstate
100,000 to 199,999

Non-Interstate
200,000 or more

Total

AL

18

-

-

-

18

AZ

37

8

25

-

70

AR

5

-

-

-

5

CA

538

238

316

119

1,211

CO

38

5

7

-

50

CT

76

-

-

-

76

DE

16

-

-

-

16

DC

3

1

3

-

7

FL

141

20

38

-

199

GA

111

40

10

-

161

HI

18

2

-

-

20

IL

176

29

16

-

221

IN

57

-

-

-

57

IA

2

-

-

-

2

KS

11

-

-

-

11

KY

37

-

-

-

37

LA

22

-

4

-

26

MD

124

20

5

-

149

MA

99

2

15

-

116

MI

117

2

29

-

148

MN

62

-

3

-

65

MS

3

-

-

-

3

MO

114

-

3

-

117

NE

6

-

-

-

6

NV

25

-

5

-

30

NH

1

-

-

-

1

NJ

108

6

74

12

200

NM

14

-

-

-

14

NY

114

1

109

1

225

NC

26

-

-

-

26

OH

135

-

7

-

142

OK

17

-

-

-

17

OR

46

-

12

-

58

PA

37

-

3

-

40

RI

21

-

-

-

21

SC

3

-

-

-

3

TN

48

-

-

-

48

TX

291

30

121

8

450

UT

29

-

-

-

29

VA

86

12

12

-

110

WA

101

12

1

-

114

WI

41

-

7

-

48

PR

17

2

1

-

20

USA

2,991

430

826

140

4,387

Highway Taxes and Fees Publication Released
The Office of Highway Information Management (OHIM) has recently completed the 1998 edition of Highways Taxes and Fees, How They Are Collected and Distributed. This publication, which is based on State-furnished information, is a very useful booklet that provides analyzed information on State and Federal laws on the taxation of motor fuel, motor vehicles, motor carriers, and licenced drivers. It also shows how taxes and fees are distributed, and provides information on the use of other State taxes. Federal funds and other Federal activities in highway activities are also covered.
Interested users can obtain this publication on OHIM's home page at https://www.fhwa.dot.gov/ohim/hwytaxes/taxpage.htm under "Products and Publications", or by calling 202-366-0170.

OHIM Compiles Cumulative Highway Trust Fund (HTF) Table
Recently, FHWA compiled a cumulative Table FE-221 showing annual donor-donee ratios of each State for fiscal years 1974-1997 (FY 1997 payment data is preliminary and will change), and cumulatives through 1973 and 1997. The tables reflects a very careful analyses of published FHWA Highway Statistics data and other source materials. However, a number of points and cautions should be made in comparing and analyzing the data.
Beginning in the early 1970's, FHWA initiated the preparation of Table FE-221--Comparison of Federal Highway Trust Fund Receipts Attributable to the States and Federal-Aid Apportionments and Allocations from the Fund ( more commonly known the donor-donee table) based on apportionments from the HTF. Prior to that time, the table reflected expenditures (cash paid to the States) rather than apportionments. A special one-time effort was made to collect, re-construct, analyze, and develop that data; the result was the first "modern" FE-221 which was published as an FHWA notice on February 23, 1973 and updated for the 1974 Highway Statistics publication. The FE-221 published in that Highway Statistics is the "point of departure" for current FE-221's. Most significant in the development and use of the Table was the passage of the Surface Transportation Assistance Act (STAA) of 1982. As a result of the minimum apportionments provision (Section 157) of the STAA, the "payments into the fund" feature of the FE-221 has direct bearing on the apportionment of Federal-aid Highway Funds; ISTEA legislation added to the significance of this feature by increasing minimum allocation from 85 percent to 90 percent and adding several other "equity accounts" which also rely on the table. All reauthorization proposals and much of the analyses also make very extensive use of the FE-221 and "quasi" FE-221 tables.
The methodology used in attributing payments to the fund to the various States has not always been the same and has been revised over the years. The current methodology which was put in place by Federal Register Notice Volume 50, No. 120, June 21,1985, is described in a Highway Information Update, Vol. 1, No.2 (July 29, 1996). With respect to payments to the HTF, the current procedure uses State-reported highway use of total motor-fuel and highway use of diesel fuel to attribute Highway Account receipts. Prior to that time, attribution for Federal taxes on tires, truck and truck sales, and heavy vehicle use was done on a different basis. Thus, the pre-1985 attributions are not directly comparable to those after 1985.
With respect to "apportionments and allocations," this current process also has evolved over time. Until the early 1980's, very few allocations were included in the FE-221. However, in 1983, a major special effort was made to include the allocations that may have been excluded from 1957 until that time. This resulted in identification and attribution of more than $6.2 billion in allocations.
These data are available on OHIM's home page under https://www.fhwa.dot.gov/ohim/donor.pdf. Questions may be directed to Ralph Erickson at 202-366-0170.

Upcoming Events
Highway Information Seminar/VTRIS Workshop
The Office of Highway Information Management's annual Highway Information Seminar will be held November 17-19, 1998, at the Holiday Inn Capitol, in Washington, D.C. This 3-day seminar, targeted at State planning officials who are involved in key data programs such as the Highway Performance Monitoring System (HPMS), fuels and finance, driver licenses and vehicle registrations, traffic monitoring, etc., provides an opportunity for participants to interact with key FHWA staff, discuss individual problem areas, and share experiences. On November 16, another Vehicle Travel Information System (VTRIS) workshop is planned. VTRIS is a database management system for processing vehicle classification and truck weight data prior to submittal to FHWA. This workshop has been well received by the participants, and for the past 2 years, has been held 1 day prior to the seminar.
A request for nominees will be sent to FHWA field offices by July 1. Please direct questions concerning the seminar to Juanita Proctor, Course Coordinator, at 202-366-5047, or E-mail juanita.proctor@fhwa.dot.gov. Information on the VTRIS workshop can be obtained by contacting David Jones at 202-366-5053, or E-mail david.jones@fhwa.dot.gov.
This page last modified on June 13, 2000
---
Highway Information Newsletters | OHPI Home | FHWA Home

United States Department of Transportation - Federal Highway Administration