---
FEDERAL HIGHWAY ADMINISTRATION OFFICE OF HIGHWAY INFORMATION MANAGEMENT

WASHINGTON, D.C. (202) 366-0180
OHIM Releases Highway Funding Bulletin
The Office of Highway Information Management (OHIM) recently released an FHWA bulletin, Highway Funding 1994-1997. This bulletin portrays a clear "snapshot" of highway revenues and disbursement by all units of government. Total disbursements for highways are expected to exceed $100 billion in 1997, an increase of $10 billion or 11 percent over 1994. This is the first time that the $100 billion threshold has been reached and represents a doubling in highway spending in only 13 years. In 1984, total highway spending first reached $50 billion a year. It should be noted, however, that in constant dollars, spending has increased only 36 percent during this period. Total revenues used for highways or placed in reserves for highways are expected to reach $101.8 billion in 1997. While reserves at the Federal level are expected to increase by $2.7 billion, the States are expected to draw some $1.1 billion from reserves in 1997. Projected highway expenditures are summarized in Figure 1.
Copies or other information on the bulletin may be obtained by contacting Ralph Erickson, HPM-10, on (202) 366-9235.
Figure 1
Title
Dollars

(In Millions)

Percent
Highway Capital Outlay
$ 46,597
46.5
Highway Maintenance/Operation
26,720
26.7
Administration and Research
8,790
8.7
Law Enforcement and Safety
8,604
8.6
Interest
4,434
4.4
Bond Retirements
5,114
5.1
Total
$100,259
100.0
---
Highway Funding Formulas and Highway Information
Future Federal highway funding formulas may be revised to rely more on highway information furnished by the States to FHWA's Office of Highway Information Management (OHIM). With the expiration of the current Federal Intermodal Surface Transportation Efficiency Act (ISTEA) at the end of Federal Fiscal Year 1997 (September 30, 1997), Congress and transportation officials at Federal, State, and local levels have begun to focus their attention on future Federal apportionment formulas. These formulas are the basis for distributing most Federal program funds to the States.
The ISTEA relied on States' percent shares of the 1987-1991 funds of certain Federal funds as the basis for distributing a large percentage of Federal ISTEA program funds to the States. Critics of these formulas point out that this "look-back" approach used factors that were out-of-date and inconsistent with current program objectives. For reauthorization, several proposals would use highway formulas based directly on highway information furnished by the States.
For example, the Administration's reauthorization of National Economic Crossroads Transportation Efficiency Act of 1997 would significantly revise highway funding formulas, basing the new formulas on highway information factors. Some examples in the Administration's proposal include:
For the National Highway System, 75 percent of the funds would be based on States' relative shares contributed to the Highway Account of the Highway Trust Fund; 15 percent would be based on States' relative shares of States' Commercial Vehicle Contributions; and 10 percent based on States' relative share of public road miles (1/2 percent minimum would be retained).
For the Surface Transportation Program, 70 percent of the funds would be based on States' relative shares of contributions to Highway Account of the Highway Trust Fund, 30 percent according to States' relative share of total population (1/2 percent minimum).
For the Interstate Maintenance and Highway Bridge Replacement and Rehabilitation (HBRR) Programs, the current formulas would be retained. Interstate Maintenance uses 55 percent Interstate lane miles and 45 percent Interstate vehicle miles of travel (VMT); the HBRR Program uses relative shares of costs to repair deficient bridges. (Current law minimums of 1/2 percent for Interstate Maintenance program and 1/4 percent, with a 10 percent maximum, for HBRR would be maintained.)
It is important to note that both total Highway Trust Fund receipts and Commercial Motor Vehicle Contributions are attributed to the States based on highway use of gasoline and highway use of diesel fuel respectively. (See "Highway Information Update," Volume 1, No. 2, dated July 29, 1996, for the article on Estimation of Highway Trust Fund Tax Receipts Attributable to Highway Users in Each State.) A number of other reauthorization bills are being introduced. These bills also rely on highway information factors, such as system extent, lane miles, vehicle miles of travel (VMT), fuel consumption, highway needs, etc., as a means of reflecting more closely extent and use of highway system.
For information on Highway Trust Fund attributions and estimates, contact Ross Crichton, HPM-10, at (202) 366-5027; for information on motor fuel usage and consumption, contact Marsha Reynolds, HPM-10, (202) 366-5029.
---
Level of Effort Study Relies on State-Provided Data
In an April 1994 Level of Effort Study required by the Intermodal Surface Transportation Efficiency Act (ISTEA), Section 6013(c). and in a January 1997 table update, four individual measures and an overall measure of "level of effort" (LOE) were presented for each State. These analyses of LOE, which rely primarily on State-provided motor-fuel and State/local highway finance data, provide some quantitative input about State transportation- effort patterns for highways and transit combined and for highways only spending.
LOE is defined as the proportion of available financial resources a State, its local governments, and individual transportation users within a State devote to funding highway and mass transit programs. Four measures of LOE include (1) equivalent motor-fuel tax rates for transportation-user revenues distributed for highways and mass transit; (2) transportation disbursements compared to total State and local disbursements; (3) State and local disbursements compared to total surface transportation disbursements; and (4) total State and local highway and mass transit disbursements as a percentage of total taxable resources.
The four measures were designed to reflect: (1) the cost borne by highway users to support the highway system; (2) the priority States place on highway users to support the highway system; (3) the total share of highway spending that is independent of Federal programs; and (4) the portion of funding capacity that States devote to highways. States were ranked on these four criteria. The LOE Study found wide variation in the LOE for highways demonstrated by the different States, both within the individual LOE measures and between different measures.
The updated LOE study used 1994 data; while the initial 1994 study relied on 1991 data. In addition, important methodology improvements were included in the updated LOE study including the use of total taxable resources in place of per capita income to take into account States' wealth in the fourth factor. Of the four measures analyzed, only equivalent motor-fuel taxes rates increased. The other three measures all experienced relative declines from 1991 to 1994. Although no Federal reauthorization proposal introduced to date has included LOE as a formula factor, there has been considerable interest in LOE.
To obtain a copy of the original LOE study, please call (202)366-0170. Questions on the LOE may be addressed to Ross Crichton, HPM-10, on (202) 366-5027.
---
Highway Safety Performance
Improvements to highway facilities, vehicles, and occupant safety in the United States have resulted in a gradual reduction in the number of persons killed in highway vehicular crashes until 1993 in spite of the tremendous growth in highway travel. Initially, based on reported crash data in 1967, the numbers totaled 43,747 fatal crashes and 51,559 fatalities. By 1972, the reported totals peaked at 48,056 fatal crashes and 55,600 fatalities. Since 1972, these numbers have dropped to a level of 35,055 fatal crashes and 39,327 fatalities in 1992. Alarmingly since 1992, these numbers have increased to a level of 37,221 crashes and 41,767 fatalities in 1995. The number of pedestrians killed peaked at 8,096 persons in 1979 and has continued to decline to the current level of 5,597 persons in 1995.
During the period 1967 to 1994, the number of nonfatal injury vehicular crashes reported on highways rose from about 1.57 million to a peak of 2.5 million. Likewise, the number of nonfatally injured persons has increased from about 2.8 million in 1967, to a peak of over 3.6 million in 1989, then dropped off to about 3.3 million in 1994. The number of pedestrians identified as nonfatally injured was 126,499 persons in 1980, reaching a high of 135,167 persons in 1990, and dropping to a low of 122,156 persons in 1995.
Highway travel during the period 1967 to 1992 has grown significantly from 964 billion vehicle-miles to 2,247 billion (an average growth of 3.44 percent annually). Despite the huge growth in travel, the fatality rate per 100 million vehicle-miles of travel has steadily dropped from 5.26 in 1967 to 1.75 in 1992. But after 1992, the rate flattens out. Since 1992, annual travel growth slowed to 2.54 percent and the fatality rate has been relatively stable at 1.75, 1.73, and 1.73 for the years 1993-1995, respectively. Preliminary indications are that it has dropped to 1.68 in 1996. Similarly, the rate of nonfatally injured persons per 100 million vehicle-miles of travel has declined from 257 in 1967 to 135 in 1995.
Figure 2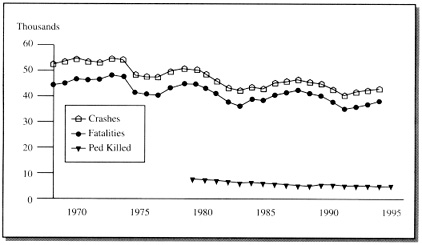 Figure 3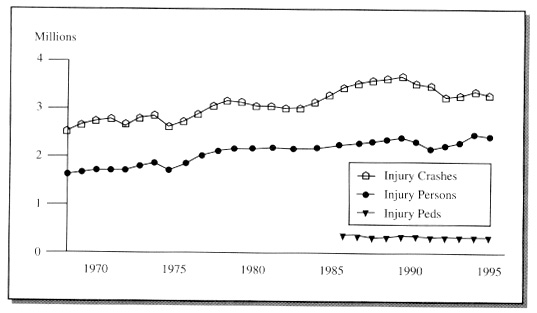 This information was obtained from submittals and updates of the Highway Performance Monitoring System and the earlier TA-I reports. For more information, please contact Paul Svercl at (202) 366-5036.
---
Vehicle Detector Clearinghouse
Various types of vehicle detectors are used for counting, classifying, weighing, and measuring the speed of vehicles. Testing vehicle detectors is an expensive and time-consuming task that is necessary in order to make wise purchasing decisions. As part of a pooled-fund project with 15 States, a Vehicle Detector Clearinghouse (VDC) has been established to provide up-to-date information on vehicle detectors--especially product test results from State transportation agencies.
The VDC has set up an Internet home page at "http://www.nmsu.edu/~traffic/". There you will find information on vehicle detection devices, who has what equipment, contacts for further information, questions and answers, and links to other sites. For additional information about the VDC, contact Carol Fischer at (505) 646-1846 (e-mail cfischer@nmsu.edu), John Hamrick at (208) 342-2983 (e-mail jhamrick@micron-net), or Perry Kent at (803) 215-0502 (e-mail pkentl995@aol.com). For further information about the pooled-fund project of which this is a part, contact Ralph Gillmann, HPM-30, at (202) 366-5042.
---
OHIM Uses Video-Conference Technology to Train States
Using FHWA's video-conference technology, FHWA's Office of Highway Information Management (OHIM) sponsored three State/Local Highway Finance Training Seminars in the month of February. These seminars were provided for the benefit of State data preparers who furnish financial and other information to FHWA for use in our annual Highway Statistics publication. These Seminars were video-conferenced to FHWA Region and Division offices in Albany, New York, Olympia Fields, Illinois, Fort Worth, Texas, Denver, Colorado, Portland, Oregon, and Cambridge, Massachusetts.
Conducted by FHWA staff, the sessions gave the States a better understanding of the why, what, and when of FHWA's financial information programs as well as providing the State data preparers and analysts specific technical training in financial reporting.
About 30 staffers in 10 States participated in the three sessions. These sessions were lively with active discussion and the exchange of important information and ideas in the field of State/local highway finance. Significantly, the use of the FHWA video-conference technology saved FHWA and States travel expenses and staff travel time.
For additional information, contact Ralph Erickson, HPM-10, at (202) 366-9235.
---
HPMS Reassessment Workshop
The FHWA has undertaken a project to reassess the scope, purpose, and need for the Highway Performance Monitoring System (HPMS). A major purpose of the HPMS was, and remains, to provide data that reflects the extent, condition, performance, use, and operating characteristics of the Nation's highways. The reassessment, which is currently underway, includes an outreach program intended to engage both the providers and users of HPMS data in a dialogue that will provide guidance to the FHWA as it charts a course for the HPMS in the 21st century.
As part of the outreach program, FHWA will convene a national workshop in Minneapolis, Minnesota on June 30 and July 1, with registration and an Opening Reception on the evening of Sunday, June 29. The workshop will extend an additional day, through July 2, for members of the HPMS Steering Committee.
The workshop will give participants an opportunity to (1) reaffirm or suggest changes to the purposes and objectives of the HPMS; (2) identify shortcomings of the existing HPMS; (3) suggest approaches and technologies for improving the current HPMS; and (4) identify issues needing further consideration and exploration. The workshop will focus extensively on the results of a consultant study of critical issues, a study undertaken for FHWA by Henry L. Peyrebrune, which includes significant input from the States and metropolitan planning organizations (MPOs). The study is designed to provide FHWA with an assessment of the critical issues related to the current HPMS and to provide guideposts for its future form and direction. A copy of the study will be provided to all participants in advance of the workshop.
The workshop is intended to engage the participants in discussions of HPMS reassessment issues arising from the consultant study and other sources, to determine which of these can be considered consensus issues among the workshop participants and the organizations they represent, and to surface the issue areas in which there are still points of difference. The workshop will serve as a significant source of input to the FHWA in determining the "next steps" that need to be taken in the HPMS strategic reassessment. For more information, please contact James Getzewich, HPM-20, at (202) 366-0175.
---
Update of Highway Statistics Summary to 1995
The updating of Highway Statistics, Summary to 1995 publication is well underway. This edition provides a general historical summary of information dealing with highways, their use, and their financing, thus bringing under one cover a comprehensive statistical review of highway development in the United States through 1995. Printed copies should be distributed in July and the electronic version (with ability to download to spreadsheets) will be available soon thereafter.
The printed version will contain mostly national data. The electronic version at the Office of Highway Information Management (OHIM) Home Site will have these national tables in portable document format (.pdf) and will have hot-links to the State-by-State or extensive archival data for downloading.
If you need further information on this publication, please contact Mary K. Teets, HPM-40, at (202) 366-9211.
---
Revised Guide to Reporting Highway Statistics Issued
In March 21, 1997, the Office of Highway Information Management issued a revised Guide to Reporting Highway Statistics. This publication serves as a reference to the reporting system that the Federal Highway Administration (FHWA) desires that the States use in reporting State and local highway statistical data. The Guide also fosters a better understanding of the concepts behind FHWA's national statistical reporting system.
Included in the Guide are procedures for the compilation, analysis, and reporting of State motor-fuel, motor-vehicle, and driver-license data as well as highway finance data of State and local governments.
Among the more noteworthy revisions to the Guide is the elimination of the local government version of FHWA form 534, Highway Capital and Outlay Maintenance Expenditures. This revision significantly reduces the reporting burden on State and local data providers.
Questions on the Guide may be addressed to Marsha Reynolds, HPM-10, at (202) 366-5029.
---
Upcoming Highway Information Seminar
The annual Highway Information Seminar, sponsored by the Office of Highway Information Management, is scheduled for November 5-7, 1997. As in the past few years, it will be held at the Holiday Inn Capital, 550 C Street, SW., in Washington, D.C.
The purpose of the seminar is to provide an opportunity for State data analysts to discuss latest data collection procedures and interact with Office of Highway Information Management (OHIM) staff regarding specific data issues. In addition, speakers from other offices will present topics of interest regarding current data information activities.
The office will also sponsor a Vehicle Travel Information System (VTRIS) Workshop which will be held on November 4, a day prior to the seminar. The VTRIS software replaces the Truck Weight Software (TWS) and is governed by standards, sampling methods, and data formats specified in the Traffic Monitoring Guide, 1995 edition. This workshop will provide an opportunity for hands-on training regarding the use of the VTRIS software.
Details on both the Highway Information Seminar and the VTRIS Workshop will be forthcoming. For in-formation on the Highway Information Seminar, contact this year's course coordinator, Juanita Proctor, HPM-30, on (202) 366-5047. Information on the VTRIS Workshop can be obtained by contacting David Jones, HPM-30, on (202) 366-5053.
---
Travel Time as a Measure of Customer Mobility and System Performance--Preliminary Results from NPTS
Travel time is an important measure of mobility for both personal and commercial travelers. States and metropolitan areas frequently measure vehicle travel time on links within their systems to assess effectiveness of congestion management strategies.
National-level travel surveys, such as the Nationwide Personal Transportation Survey (NPTS) and the Census Journey-to-Work, provide the additional opportunity to directly ask users about their travel patterns, including the total travel time experienced for each of their trips.
Preliminary 1995 NPTS results give an up-to-date glimpse of travel on our Nation's transportation system. Initial analysis of 1995 NPTS work-trip data allows comparison with the 1980-1990 Census data results. Alan Pisarski reported last year in his publication, Commuting in America, that the Census Journey-to-Work data show average reported commute times across all modes from 1980 to 1990 increased only slightly from 21.7 minutes to 22.4 minutes. Preliminary NPTS data show that from 1990 to 1995, average work trip times remained relatively stable showing 19.6 minutes in 1990 to 19.9 minutes in 1995. (Note: The NPTS shows slightly lower averages because of some differences in survey methodology.) Despite continuing increases in intensity of use and peak congestion on the urban Interstate and other National Highway System (NHS) routes over time, it appears that workers have, on the average, experienced relatively constant travel time to work over the last 15 years or more. Three factors help explain this trend:
(1) The continuing shifts from carpool and transit to single-occupant personal-vehicle travel to work,
(2) Shifts in commute times out of the traditional peak period, or peak direction is another factor (Travel intensity as reported from HPMS on Urban Interstates over the entire day has shown a steady increase while reported mileage with congested peak-hour travel has been more stable in recent years), (3) The third and very important factor is land use changes and the resulting large increase in suburb-to-suburb work-travel which, on the average, is faster than suburb-to-downtown travel. However, there are likely limits to the ability of travelers to make these shifts in the future. As demand on the system continues to increase, will transportation agencies be able to sustain this travel-time performance into the future? Intelligent Transportation System (ITS) technologies and services are expanding the set of strategies to help achieve that goal.
The full data set for the 1995 NPTS will be available soon and will provide a rich opportunity to provide up-to-date analyses of personal travel patterns for all modes and purposes. For further information on the NPTS, contact Bryant Gross, HPM-40, at
(202) 366-5026.
US Department of Transportation
400 Seventh St., S.W.
Washington, D.C. 20590
Official Business
Penalty for Private Use $300
Publication No. FHWA-PL-97-021
HPM-30/6-97