FEDERAL HIGHWAY ADMINISTRATION · OFFICE OF HIGHWAY INFORMATION MANAGEMENT
WASHINGTON, D.C. · (202) 366-0180

Highway Performance Oil Dependency--

Outlook to 2010
According to the Energy Information Administation's (EIA) "Annual energy Outlook 1994--With Projections to 2010", increased energy savings are anticipated--mostly due to improvements in appliances and increased efficiencies in technology. Adversely, it is anticiapated that use of foreign oil is expected to rise to 60 percent of comsumption, from 38 percent in 1992. More driving by the american public is also anticipated Other projections include increased production of natural gas, increased coal electricity generation, and increased carbon emissions fro fossil fuel combustions. (EIA Press Release EIA-94-02, January 28, 1994) Form more information, call (202) 586-8800.

---
Highway Performance Monitoring System (HPMS) Software
The HPMS software system consisting of the submittal software (edit, update, summarize), the Data Review Package software (compare, show trends) and other related modules was released on April 6, 1994. The software system will execute on an IBM compatible mainframe or microcomputer system. The microcomputer version is executed through a menu system. Drafts of the software user documentation that were released on the same date, will become part of the HPMS Field Manual as an update to the August 30, 1993 version. Several pages of the Field Manual will also be updated. The whole Field Manual update will be dated April 22, 1994. For more information, contact Don Kestyn at (202) 366-5035.

---
Retail Prices of Unleaded Gasoline
The Computer Petroleum Corporation reports that the average price of unleaded regular gasoline rose slightly over the course of the first quarter of 1994 from $1.057 in January to $1.092 in March. Midgrade and premium gasoline also saw increases with midgrade increasing from $1.166 in January, to $1.200 in March. Premium rose in 0.2 the same period from $1256 in January to $1.292 in March. A 10-year series of gasoline prices is in Figure 1. For more information, contact Carolyn Edwards at (202) 366-5022.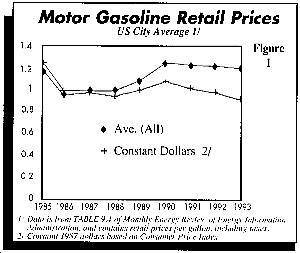 ---
FHWA Symposium "Implications Of Emerging Travel Trends"
The symposium on "Implications of Emerging Travel Trends--What Does NPTS Tell Us?' was held on April 20-21, in Crystal City, Virginia. A host of papers were presented on various topics related to the 1990 Nationwide Personal Transportation Survey (NPTS). Results of new research using NPTS data, and discussion on the implications of these results on transportation were included. A limited number of draft papers are currently available. For more information, contact Elaine Murakami, at (202) 366-6971.

---
State & MPO Component of the 1995 NPTS
State and MPO's may purchase additional 1995 NPTS samples for their respective areas. The State and MPO component of the NPTS is an effective approach for those areas that have not updated their travel surveys recently. FHWA has recently executed a contract with Research Triangle Institute (RTI) for the national component of the NPTS, which will be a survey of 25,000 households. Information for States and MPO's on suggested sample sizes and survey costs per household should be available from RTI by mid-May. For more information, contact Susan Liss at (202) 366-5060.

---
Commuting Patterns (1990 NPTS)
The use of the privately-owned vehicles leads in mode to work travel. The average length of journeys-to-work was 10.7 miles. Public transit has the longest journey in miles and minutes, when compared to other modes of transportation. In addition, improved speed has contributed to a slightly shorter commute time, due in part to mode shifts from carpooling and public transit to single-occupant vehicles. For more information, contact Bryant Gross at (202) 366-5026.

---
Travel Behavior In The United States (1990 NPTS)
The amount of annual travel in the United States is continuing to grow. From 1983 to 1990, travel by women has increased greatly, from 6,382 annual miles per female driver in 1983 to 9,528 miles in 1990, a 49 percent change. This increase can be explained partially by the increases in both female drivers and female workers during the same period. Male drivers also increased their driving, but not as dramatically as female drivers. Total travel by males still accounts for a majority of total travel at 16,536 miles in 1990, up from 13,962 miles in 1983. Annual travel increased for age groups, with the largest increase being for drivers between 16 and 19 years old. For more information, contact Elaine Murakami at (202) 366-6971.

---
Traffic Monitoring Guide (TMG) Revised Edition
The Traffic Monitoring Guide (TMG) is being revised because of the conversion to the metric system. New data formats for vehicle classifica-tion and track weight data were announced in a February 7, 1994 memorandum. These formats will be incorporated in a revised edition of the TMG. The new formats are required for all data submitted to FHWA beginning with data collected in 1995. The VTRIS (Vehicle Travel Information System) will incorporate metric data and will replace the Truck Weight Software (TWS). Release of VTRIS is scheduled before the end of 1994. For more information. contact Ralph Gillman, at (202) 366-5042.

---
Highway Mileage and Travel
Arterial roads in the United States comprise only about 10% of total highway mileage. but carry approximately 70% of all highway travel. Most of this travel is in urban areas of the country, in which most of the arterial roads are located. Local roads in comparison make up almost 70% of all mileage, but carry only about 15% of highway travel. In addition, the rate of highway vehicle travel has grown more than 3% annually in every five-year period since 1960. Figure 2 illustrates the annual vehicle-miles of travel (billions).
For more information, contact Don Kestyn at (202) 366-5035.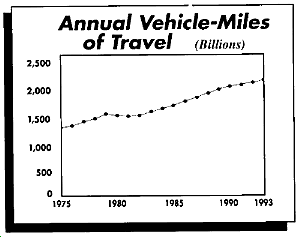 ---
Traffic Fatalities and Fatality Rates
The fatality rate of 1992 reveals the lowest traffic fatality rate of 1.75 per 100 million vehicle-miles of travel in the United States since inception of traffic fatality rate statistics. This can be attributed in part to enhanced safety features in automobile manufacturing, stricter drinking requirement laws, mandatory safety belt compliance, and increased awareness of the general public through drinking and driving advertisements. The National Highway Traffic Safety Administration has released preliminary data for 1993, indicating an even lower rate of 1.70 per 100 million vehicle-miles of travel.
For more information, contact Thomas Bridgeforth at (202) 366-5054.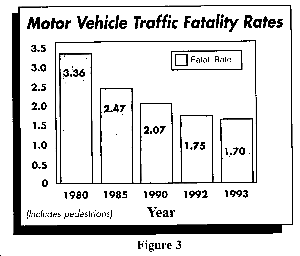 ---
Federal Highway Trust Fund Receipts - FY 94
First quarter fiscal year 1994 receipts deposited in the Highway Account of the Federal Highway Trust Fund totaled $4.1 billion, an increase of $0.24 billion or 5.8 percent from Fiscal 1993. Expenditures for the same period were $5.5 billion, an increase of 16.1 percent from Fiscal 1993. The balance in the Highway Account dropped $0.6 billion from the end of the previous quarter. For more information, contact Carolyn Edwards at (202) 366-5022.

---
1994 Highway Statistics Seminar
The "1994 Highway Statistics Seminar" is scheduled for October 18-20, 1994. Topics include Highway Performance Monitoring System data collection efforts, State and local Highway finance, traffic volume trends, policy implications of data collec-tion efforts, and other topical areas. Guest speakers will present policy implications of data collection efforts, developments in transporta-tion technologies, and provide group sessions on each area of data collection. The Seminar will be held at the Capitol Holiday Inn in Washington, D.C. For more information, contact Ross Crichton, Federal Highway Administration, Office of Highway Information Management, 400 7th Street, S.W., Washington, D.C. 20590. (202) 366-5027.

---
National Traffic Data Acquisition Conference 1994
The Connecticut Department of Transportation, and the Federal Highway Administra-tion are sponsoring the 1994 National Traffic Data Acquisition Conference in September 18-22, 1994 at the Hartford Marriott in Rocky Hill, Connecticut. This conference provides an opportunity to examine and share state-of-the-art technology, knowledge, and progress in the field of traffic data collection and utilization. A compre-hensive four-day program will include informative discussions and demonstra-tions on current issues involving traffic data information. For further information contact Tony Esteve at (202) 366-0175.

---
Road Profiler Users Group-- Sixth Annual Meeting
The Annual Road Profiler User Group is scheduled for October 4-6, 1994 in Lake Tahoe, Nevada, at Harrah's Lake Tahoe Resort Casino. Fees are $120.00 per person. The meeting is targeted for users of road profilets of any type. The program will include valuable information for managers, technicians. and road profiler operators. For more information, contact Sohila Bemanian. Nevada Department of Transportation, 1263 S. Stewart Street, Carson City, NV 89712. (702) 687-5520.

---
1994 Association Of Public Data User (APDU) Annual Conference
The 1994 Association of Public Data Users will be holding the 1994 APDU Annual Conference on October 24-26 at the Sheraton City Centre in Washington, D.C. Precon-ference workshops are sched-uled for Sunday, October 23. Topics include: data from surveys, economic censuses, procedures, migration data, and Census 2000 plans. For more information, call APDU at (202) 962-3293.

---
Year 2000 Census Advisory Commmittee Quarterly Meetings
On June 3, September 9. And December 9, 1994, the Advisory Committee for the Year 2000 Census will be holding its quarterly meetings. The June 3 meeting will be held at the DuPont Plaza Hotel in Washington. D.C. The site of the other meetings has not yet been determined. For more informa-tion. call the 2000 Advisory Committee at (301) 763-7298. or Elaine Murakami of the Federal Highway Administration at (202) 366-6971.

---
Back to Reports