---
Public Release of the 1995 Nationwide Personal Transportation Survey in September
The 1995 Nationwide Personal Transportation Survey (NPTS) provides data on daily personal travel generated by households in the United States. The data were collected between March 1995 through June 1996. Initiated in 1969, the NPTS is the only authoritative source of national data on the amount and nature of daily personal travel in the United States. Included in the survey are data on all trips, by all modes for all purposes.
Enhancements to the 1995 data set include :
More data on the land-use patterns at the residence end. For example, we are obtaining the household address, the type of structure, and whether owned or rented.
Driver information and worker information for all household members 16 years or older.
Customer service questions have been added to determine the public=s perception of the transportation system.
To further the objectives of promoting safety, questions were added on the incidence of seat belt use and the situations in which people tend not to wear seat belts.
To obtain better estimates of vehicle use, odometer readings for each household vehicle are collected at two points in time (approximately 2 months apart). These will be annualized by taking into account seasonal and geographical variations, household demographics, and vehicle characteristics. In addition to odometer readings, the primary driver of a vehicle is asked to report the estimate of annual mileage of that vehicle.
Various topics of employment and work place addressing worker status, e.g., full-time, part-time, unemployed, or retired, does respondent have more than one job, work place location, wait time and sit or stand if respondent commutes using transit, reasons for not car-pooling or using transit (asked of those who drive alone), and incidence of working at home in place of going to the usual place of work.
The preliminary findings from the 1995 NPTS document the changing nature of our economy and the way we conduct our daily affairs. The 26 years (1969-1995) of the NPTS saw the following increases: population (32%), households (58%), and workers (74%). During the same period, the changing nature of the role of women in the economy is reflected in the fact that women drivers per women 16 years and older grew from 61% to 85%, while men drivers per men 16 years and older grew from 87% to 93%. Our Nation=s increasing auto dependence is reflected in vehicle ownership patterns, showing zero-vehicle households decrease from 13 million to 8 million; one-vehicle households remain steady at 30 million; two-vehicle households increase from 17 million to 40 million; and three-or-more-vehicle households increase from 3 million to 19 million.
In 1995, travel by trip purpose was led by family and personal business which accounted for 46% of trips; social and recreational activities for 25% of trips; and travel to and from work for only 18% of trips. Person-trips by mode showed 86% for private vehicle, walking for 5.4%, and transit for 1.8% of all trips. The occupancy rate for all travel was 1.59 person-miles per vehicle mile, ranging from a low of 1.14 for work to 2.17 for other social and recreational purposes.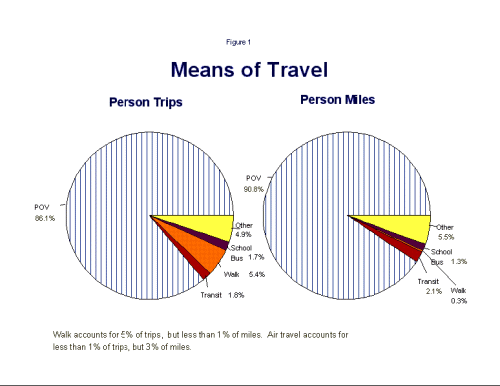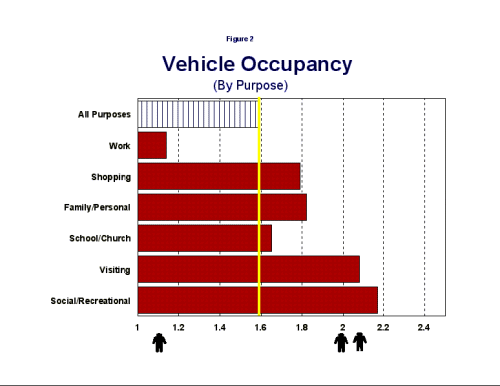 After the mid-September release, the 1995 Nationwide Personal Transportation Survey CD-ROM and the 1995 NPTS Public-Use Guide may be obtained from the FHWA Research and Technology Reports Center at (301) 577-0818, or FAX (301) 577-1421. Further information is available from Bryant Gross, HPM-40, at (202) 366-5026; (e-mail address: Bryant.Gross@fhwa.dot.gov).
---
Strategic Reassessment of the Highway Performance
Monitoring System (HPMS)
A national workshop on the Strategic Reassessment of the HPMS was held in Minneapolis, Minnesota, on June 30 - July 1, 1997. The workshop was intended to engage both the providers and users of HPMS data in a dialogue that will provide guidance to FHWA as it charts a course for HPMS in the 21st century. The workshop drew over 95 participants, including representatives from 35 States, MPOs, contractors, TRB committee members, interest groups, academia, and the Federal government. The workshop was followed on July 2 by a meeting of the HPMS Steering Committee.
In a series of three break-out sessions over 2 days, the participants reviewed and validated a statement of HPMS mission and objectives, and, consistent with the stated objectives, were able to reach agreement on a recommendation to continue the HPMS as a database covering all of the Nation's highways. Within the existing framework, however, FHWA was encouraged to assess the need for individual data items and the appropriateness of national versus State- level sampling of these data. Other topics addressed at the workshop included improving Federal, State, and local data sharing and partnerships, improving data quality, fostering applications of new technology in the collection of HPMS data, and the appropriate role of HPMS in the collection of data on pavement condition and from ITS deployments.
At its meeting on July 2, the Steering Committee ratified the workshop recommendations and suggested action steps for FHWA to take in moving forward with the HPMS reassessment process. The Committee provided input to FHWA on a proposed decision process and evaluation criteria for completion of the data item review recommended by the workshop participants.
In the next step of the strategic reassessment process, the consultant will develop a set of recommendations based upon earlier study findings and the results of the national workshop. This phase of the project is expected to be completed by September 30, 1997. Shortly thereafter, the final report will be made widely available for review and comment. In parallel, FHWA and the consultant will begin the data item review recommended by the workshop participants and the Steering Committee in accordance with the decision process and evaluation criteria suggested by the Committee.
At the completion of the data item review, FHWA will assemble a prototype replacement to the existing HPMS. The prototype will be evaluated internally for consistency with the expected Federal-aid Highway Program reauthorization legislation. At that time, the technical aspects of the prototype will be subjected to extensive review and comment before any final decision is made by the FHWA.
For additional information, contact Jim Getzewich, HPM-20, on (202) 366-0175.
---
OHIM's Highway Information Update Highlights Key Data Issue
On May 23, 1997, the Office of Highway Information Management (OHIM) issued a Highway Information Update titled Perspective on Comparisons of Administrative Expenditures from Highway Statistics. This Update provides background on the use of State-reported administrative expenditures.
Information on general administrative and miscellaneous expenditures for Highway Statistics has recently been used in direct comparisons of State transportation agencies. The Update cautioned the users that the comparisons may not be valid because of the differences in State accounting and State data collection and reporting practices, and because of significant differences that exist among the States. Factors such as climate, terrain, population size, land area, tax structures, degree of urbanization, financial resources, governmental structure, highway programs, highway needs, and highway mileage differ greatly among the States and affect the validity of State comparisons.
The Update also provided background on FHWA's Guide to Reporting Highway Statistics, which is the reference manual for State finance data reporting, and a special section in FHWA's Highway Statistics publication titled "Important Information for Users of Highway Statistics," which assists users in making appropriate uses of the data.
The OHIM periodically issues Highway Information Updates to share with interested parties and the data community, through FHWA field offices, emerging information results or issues. For further information on this topic, call Tom Benedict, HPM-10, on (202) 3266-5025.
---
OHIM Issues Advance FA-series Data
On June 6, 1997, OHIM issued most of the FA-series tables that will appear in Highway Statistics 1996 when that publication is printed in the Fall of 1997. This early issuance was made to assist data users in analyses related to Federal reauthorization.
The issued tables include:
Table FA-3: Expenditure of Federal Funds Administered by the Federal Highway Administration
Table FA-4: Apportionment of Federal Funds Administered by the Federal Highway Administration (FY 1997)
Table FA-4B: Obligation of Federal Funds Administered by the Federal Highway Administration
Table FA-4C: Obligation of Federal Funds by Functional Class
Table FA-4D: Allocation of Federal Funds Administered by the Federal Highway Administration
Table FA-6: Obligation of National Highway System and Surface Transportation Program Funds by Improvement Type
The tables listed above can be assessed via internet at http://cti1.volpe.dot.gov/ohim. They can be found under "What's New" and the title will be FY 1996 FA-series tables. For more information on this subject, contact Leonard Goldberg, HPM-10, on (202) 366-5024.
---
Highway Statistics Steering Committee Meets
The Highway Statistics Steering Committee met in Washington, D.C. on June 3 - 4, 1997. The committee, which provides suggestions and feedback to FHWA's Office of Highway Information Management (OHIM) on its general highway information programs and policies, is comprised of transportation officials from State transportation agencies, FHWA and other U.S. Department of Transportation (DOT) staff, and other Federal agencies.
Presentations
Mike Weiss and Tom Weeks discussed aspects of Reauthorization. Mike Weiss outlined the various proposals for Reauthorization, while Tom Weeks spoke about the important data issues involved in the Reauthorization formula factors. Gloria Jeff, FHWA Associate Administrator for Policy, discussed strategic planning and the mission, vision, and goals of FHWA. She related this to the current changes being experienced by FHWA due to Reauthorization. The committee also heard presentations on a wide range of other transportation issues, including SCOP, Internet Issues, Highway Performance Monitoring System (HPMS) Reassessment, and State and local data needs.
Committee Work
The committee identified several areas for further improvement of FHWA's statistical programs for both data providers and data users:
Developing State profiles to be distributed in conjunction with Highway Statistics to help users accurately interpret the data provided;
Completing the Descriptive Data Narratives, which will provide more "user-friendly" descriptions of data elements to accompany the State Profiles;
Exploring the issue of performance measurement and addressing how it may be useful to OHIM.
The committee also agreed to monitor several other ongoing data issues.

Next Meeting

While no specific date was set for a meeting, the committee asked FHWA to consider late Spring 1998 for its next meeting.

The committee is chaired by Susan Binder, FHWA Maryland Division Administrator. For additional information call Ralph Erickson, HPM-10, at (202) 366-9235.
---
North American Travel Monitoring Exhibition and Conference
(NATMEC '98)
FHWA's Office of Highway Information Management and the North Carolina Department of Transportation (NCDOT) are presenting NATMEC >98 during May 11-15, 1998, in Charlotte, North Carolina. This is a continuation and expansion of the National Traffic Data Acquisition Conference (NATDAC) series. The conference will provide an opportunity to examine and share state-of-the-art technology, knowledge, and progress in traffic data collection, analysis, and use. A comprehensive program will include informative presentations on traffic counting, vehicle classification, weighing-in-motion, vehicle occupancy, freight movement, travel time, etc. Opportunities for data collection from intelligent transportation systems (ITS) and the impact of the North American Free Trade Agreement (NAFTA) will be covered. There will also be an exhibition by equipment vendors and technology demonstrations on current issues involving traffic data. The contact for FHWA is Ralph Gillmann, HPM-30, at (202) 366-5042, and for NCDOT is Pat Strong, (919) 715-0137.
---
Decennial Census Data for Transportation Planning:
Case Studies and Strategies for 2000--
Conference Proceedings 13
The Transportation Research Board (TRB) has recently released the two-volume set of proceedings from the conference held in April 1996. The goals of the conference were to (1) assess the uses of the 1990 census data, including case studies by large and small metropolitan planning organizations (MPOs), State departments of transportation, transit operators and the private sector; (2) review plans for Census 2000 and assess the impacts on the transportation program; (3) recommend methods and products to improve Census 2000; and (4) develop an action agenda for Federal, State, and regional agencies.
The findings included:
-- Strong support for continuation of the "long form" component of the decennial Census in year 2000.

-- Reiteration of the benefits of small area, e.g., traffic analysis zones and census block group, data for local and regional transportation planning and policy.

-- Support for technological and statistical methods to ensure a reliable, rapid, cost -effective census.

-- Support for the continuous measurement alternative to the long form as an experimental, pilot program, and not a replacement of the Census 2000 long form.

-- Need for clarification on PL-103-430 and the implications for sharing address and other geographic information between the Census Bureau and local agencies.
Specific recommendations for the Bureau of the Census, the U.S. Department of Transportation, States, MPOs, and the private sector were also made.

Volume 2, which includes the case studies, is an excellent compilation of how census data products, including Census Transportation Planning Package (CTPP), Public-Use Microdata Sample (PUMS) and TIGER/Line files, have been used. The case studies document the value of the data products as well as provide recommendations for improvements.

The Office of Highway Information Management (HPM-40) has a limited number of copies. Until this supply is depleted, you may request a copy from our office at (202) 366-0160. Afterwards, please purchase copies from Transportation Research Board at (202) 334-3214.
---
Heaviest Traveled Interstate System Routes
In 1995, 300 Interstate System segments operated at a level of 220,000 or more annual average daily traffic (AADT). These segments are located in or near the 13 cities shown in the table below. The table shows the highest traffic volume and the number of through traffic lanes at these locations for Interstate routes in these cities. For more information, contact Paul Svercl at (202) 366-5036.
Figure 3

Urbanized Area/State
Route
AADT
Lanes
Atlanta
GA
GA
GA

75

85

285

334,700

243,900

239,200

13

8

11

Los Angeles
CA
CA
CA
CA
CA
CA
CA
CA

405

10

5

10

80

210

605

110

327,700

317,900

301,000

283,000

275,000

251,300

245,900

241,300

14

10

12

10

10

10

8

8

Chicago
IL
IL
IL

90

94

290

287,995

239,535

226,827

8

8

8

San Francisco
CA
CA

580

80

283,600

270,100

8

10

New York
NJ
NY

95

95

272,630

262,900

11

14

Seattle
WA

5

270,020

13

Urbanized Area/State
Route
AADT
Lanes
Fort Lauderdale-
Hollywood-Pompano Beach
FL

95

269,000

8

Washington
VA
DC
MD

95

395

495

259,000

250,000

245,675

10

8

8

San Diego
CA
CA

15

8

245,300

236,700

12

12

Houston
TX
TX

610

45

242,380

238,120

10

11

Detroit
MI

75

238,751

8

Dallas-Ft. Worth
TX
TX

635

35E

227,094

222,510

8

8

Denver
CO

25

220,400

9
---
Non-Intrusive Data Collection Technology Research Completed
The final report for the "Field Test of Monitoring of Urban Vehicle Operations Using Non-Intrusive Technologies" research project has been issued. The objective of this project was to find new solutions to the difficult problem of collecting traffic data on high-volume urban roads. The traditional practice of installing detection devices in the pavement or placing road tubes across the highway presents a significant safety hazard and aggravates congestion. The project's goal was to provide traffic engineers with information about the performance of non-intrusive traffic data collection devices that can be safely installed above or adjacent to the highway and cause minimal disruption to normal traffic operations. The results indicate the types of technology which are better suited to particular data collection needs. The report will assist State and local traffic engineers in determining appropriate technologies to deploy for traffic data collection efforts.
Copies of the report will be available on CD-ROM and through the OHIM website at http://cti1.volpe.dot.gov/ohim. For additional information, contact William Grush on (202) 366-5052, or e-mail william.grush@fhwa.dot.gov.
---
Distribution of Vehicles by Vehicle Type
The VM-4 table, which is actually a series of seven tables, first appeared in print in the 1993 edition of Highway Statistics. Each table is a matrix depicting the distribution of vehicle distance traveled by State for seven vehicle types and each represents a different roadway functional classification. It is possible to derive vehicle miles of travel (VMT) by reconciling the distributions in table VM-4 with the VMT by State shown in table VM-2.
The Federal Highway Administration (FHWA) segregates the highway system into six rural and six urban categories. These categories are derived based on roadway characteristics. The six rural categories are: Interstate, Other Principal Arterial, Minor Arterial, Major Collector, Minor Collector, and Local roads. The six urban categories are: Interstate, Other Freeways and Expressways, Other Principal Arterial, Minor Arterial, Collector, and Local roads.
The VM-4 series only shows the high-order, or arterial, systems. They are Rural Interstate, Rural Other Principal Arterial, Rural Minor Arterial, Urban Interstate, Urban Other Freeways and Expressways, Urban Other Principal Arterial, and Urban Minor Arterial. Many States submit data for all 12 functional classifications; however, collector and local system data submission is an optional requirement.
The vehicle distributions used in Table VM-4 are: passenger cars, motorcycles, buses, other two-axle, four-tire vehicles, single-unit trucks, single-trailer combination trucks, and multiple trailer combination trucks. Passenger cars are all sedans, coupes, and station wagons. Motorcycles include all two- or three-wheeled motorized vehicles that are typically steered by handlebars rather than a steering wheel. Other two-axle, four-tire vehicles are vehicles other than passenger cars that have two axles and four tires. They include pick-up trucks, panel trucks, vans, sport-utility vehicles, and minivans. Buses are those vehicles manufactured for the purpose of carrying passengers. The typical bus configuration has two axles and six tires, or three or more axles. Single-unit trucks are all trucks on a single frame having a minimum of two axles and six tires. Single-trailer combination trucks are the typical tractor-trailer combination--that is, a tractor pulling one trailer. Multiple trailer combinations are those tractor-trailer combinations where the tractor is pulling more than one trailer. This classification scheme is based on vehicle body type, axle configuration, and number of tires, and does not account for vehicle weight.
The information shown in Table VM-4 is obtained directly from each State and is intended to be aggregated upward to define national travel characteristics. In this function, it provides an accurate estimate of national travel by vehicle type and roadway functional class. This information and other related data can be found in Table VM-1 of Highway Statistics. The VM-4 series is included in Highway Statistics due to customer demand and can aid in providing generalized travel distributions by vehicle type; however, it is not accurate at the cell level. In other words, VM-4 is not appropriate for State-by-State estimation of VMT by vehicle type. The reason for this necessitates a discussion of how the data are collected.
Each State has developed a vehicle classification data collection program. Ideally, this program is based on guidelines in the FHWA publications Highway Performance Monitoring System (HPMS) Field Manual and the Traffic Monitoring Guide (TMG); however, these documents provide guidance rather than regulation. States are free to use alternative methods of data collection and many do. Inconsistency among data collection methodologies often leads to results that are not directly comparable among States.
There are a number of ways to collect vehicle classification data; manual counting, road tubes, and loops are the most common methods. Manual counting involves an individual monitoring traffic from the roadside. The individual counts and classifies vehicles as they pass a specific point on the road. Environmental factors, night, safety, and fatigue make this a less desirable means of data collection; however, many States still use manual counting methods.
Road tubes are hollow rubber tubes placed across the road. As vehicles run over the tubes, air is forced through a diaphragm at one end, and an electronic counter then tallies a "hit." Vehicle classification using road tubes requires two tubes placed in parallel, a specific distance apart. This configuration allows the automatic vehicle classifier (AVC) to calculate the vehicle type based on axle spacing. Loops collect data though magnetic inductance. A loop is a coiled wire permanently embedded in the pavement. Vehicles passing over the loop cause a change in the magnetic field, thereby registering a "hit." As with road tubes, two loops are required per lane to determine vehicle type. There are many variations of these methods and several new technologies on the horizon. Weather, calibration, vehicle speed, pavement flexing, and electronic "bugs" make vehicle classifying an inexact science. Obviously, a smaller sample will be less accurate given these parameters.
Few States have many permanent vehicle classification sites. A sampling procedure based on short counts is used in most cases. Short counts may or may not be factored by the States; therefore, the data shown in the VM-4 series represent raw, unadjusted data in many, if not most, States. The FHWA adjusts VM-4 data to account for missing hours of day, days of week, and months of year when making national level travel estimates. The adjustments are made using factor tables based on a national average and specific temporal information supplied by the States. Individual State classification data are then aggregated to the national level and applied to Statewide VMT to distribute travel among vehicle types.
The temptation to use Table VM-4 on the micro level is strong because no other source exists for this type of data. However, studies have demonstrated that travel by vehicle type is extremely variable. This fact, coupled with inconsistent data collection methodologies, equipment limitations, and incomplete data, makes VM-4 inappropriate for determining VMT by vehicle type by State.
Highway Statistics Tables VM-4, VM-2, and VM-1 can be found on the Office of Highway Information Management (OHIM) web site at http://cti1.volpe.dot.gov/ohim. For additional information, contact William Grush on (202) 366-5052 or e-mail william.grush@fhwa.dot.gov.
---