NPTS data confirm that continued reliance on private vehicle travel reflects the need to make stops on the way to and from work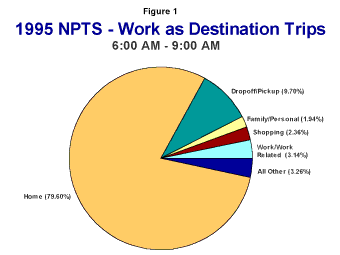 The practice of making incidental stops on the way to or from a major destination (such as home or work), continues to be a significant feature of personal travel. This practice, commonly referred to as trip chaining, greatly influences the choice of transportation mode for commuting. The 1995 Nationwide Personal Transportation Survey (NPTS) shows that the twenty percent of all trips to work between 6-9 AM originate from a place other than home, e.g. a school, a store, another person's house. (Figure 1)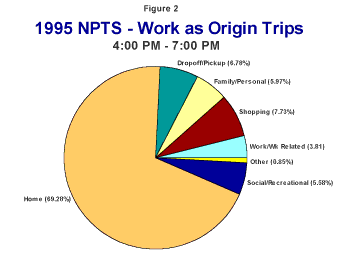 For those who leave work between 4-7 PM, approximately thirty percent go from work to someplace other than home. These destinations include dropping off or picking up someone, errand-running, shopping, and going to another job or a stop related to work, as shown in (Figure 2).


Most trip chaining is conducted in privately operated vehicles (POV's) because that mode lends itself to the flexibility needed to make stops en route to work or home. The need to drop off a child at day care or school, to stop at a store for a quick purchase, to pick up dry cleaning, and a host of other errands, discourages people from carpooling and using transit to get to work.


The commute to work continues to decline as a share of all travel. It should be noted that, in 1995 less than ten percent of all person trips were trips to and from work starting in the traditional peak periods of 6-9 AM and 4-7 PM. However, the work trip often determines how and when other daily travel is conducted.
The pie charts above represent a basic look at the 1995 NPTS data. The only trips considered were the one directly before the trip to work or first one after leaving work. Traditional trip chaining analyses will be conducted in the future to obtain a more comprehensive picture of why people stop en route to or returning from work. These will include examining:


- who is trip chaining (e.g., characteristics of the driver and passenger)
- when these incidental trips take place and how long is spent at each stop
- impacts on vehicle occupancy,


and other characteristics of the people involved, the vehicle and the trip.


Trip chaining is one of many travel behavior topics that can be examined using the 1995 NPTS, which released at a press conference on September 15, 1997. The press conference discussed the report "Our Nation's Travel." The report is the first in a planned series based on the 1995 Nationwide Personal Transportation Survey (NPTS). Deputy Administrator Gloria J. Jeff discussed the initial findings and implications of the Survey including the impact of trip chaining and the continued growth of suburban employment as strong factors in the growth of private vehicle use.


The 1995 NPTS data and reports are available from the NPTS Website--
http://www-cta.ornl.gov/npts. Website support is available from Rick Goeltz, Oak Ridge National Laboratory, Phone 423-574-5958, e-mail rtg@ornl.gov.


A CD-ROM containing the NPTS Public Use data in SAS, ASCII and DBF formats, and the User's Guide for the 1995 NPTS will be distributed to FHWA field offices shortly. Future reports will be distributed as they become available.


To obtain additional copies of the CD-ROM or reports, contact the:
Federal Highway Administration Research & Technical Reports Center 9701 Philadelphia Court, Unit Q Lanham, MD 20706
301-577-0818 --301-577-1421 (fax)


For general information about the NPTS, contact NPTS staff at 202-366-0160, 202-366- 7742 (fax), or FHWA, HPM-40, Washington, DC 20590.