Bridge Named for Oklahoma Disaster Victim
by Ken Seiler, Ron Carricker, and Kitty Bowman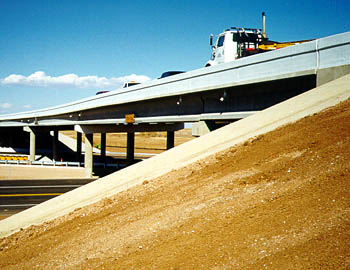 The Mark Bolte Bridge
In a very fitting tribute to one of their deceased coworkers, representatives of the Oklahoma, Texas, and Arkansas Divisions gathered together at the interchange of U.S. highways 385 and 87 to dedicate a new interchange bridge to Mark Bolte, one of the victims of the Oklahoma City bombing. Coincidently, before he was killed, Mark had approved the design schematics for this bridge.
It happened on November 9, as the Texas Department of Transportation (TxDOT) dedicated the US 385 and US 87 Interchange Bridge in Hartley County, Texas as the Mark Bolte Bridge. Mark was an FHWA engineer in the Texas Division Office from 1991 to 1995. His life was cut tragically short in the bombing of the Oklahoma City Federal Building on April 19, 1995. Mark had just begun his newest assignment there.
The ceremony was attended by State and local officials, TxDOT employees, FHWA staff from the Arkansas, Oklahoma, and the Texas Division Offices, contractors, local residents of the panhandle, Mark's parents Joyce and Don Bolte and his brother Matt.
Mark Tomlinson, TxDOT Amarillo District Engineer, led the event, saying that it was Mark's people skills that contributed to the smooth progress and approval of the project. Tom Rains, FHWA Arkansas Division Office, who recruited Mark, spoke about how he kept up with Mark during his training program and further assignments, and read a poem relating to the significance of Mark's accomplishments during his short career. Lubin Quinones, FHWA Oklahoma Division Office who was accompanied by two of the survivors from the tragedy, thanked the TxDOT for the extra effort in dedicating the bridge to Mark. Ken Seiler, FHWA Texas Division Office, in his remarks, stated that TxDOT could have continued on with their business after the pain of the tragedy, but instead decided to make an extra effort in honoring Mark.
Mark's family was presented letters from Governor George W. Bush, Secretary of Transportation Rodney Slater, and FHWA Administrator Ken Wykle, expressing the high esteem in which Mark was held by his friends and co-workers.
In addition to the bridge, a plaque located in a roadside picnic area along US 87, north of Hartley, will serve as lasting memorial to Mark.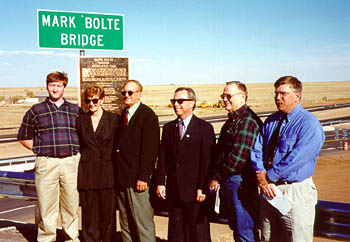 Shown standing on the bridge, in front of the dedication plaque are (l. to r.): Matt Bolte, Mark's brother; Joyce and Don Bolte, Mark's parents; Mark Tomlinson, Amarillo District Engineer, TxDOT; David Swinford, state representative; and Ronnie Gordon, Hartley County Judge. Mark Tomlinson gave the opening remarks at the dedication ceremony.
The inscription on the plaque reads:

MARK BOLTE BRIDGE DEDICATED 1999
The following Poem was written by his
mother, Joyce Bolte, while awaiting word on his status.
It has been incorporated into the bronze
plaque mounted permanently on the bridge.
Our Common Bond
By Joyce Bolte
Our hearts share the same loss,
Our hurt feels the same as yours.
We know you wonder when peace will come
And will we ever be carefree again.
The one thing you can be assured of
Is that we all have one strong common bond.
The day that our loved ones left us
They did not go alone.
They were called by God for a reason
One that He alone knows.
He must have needed some good engineers
To build new "streets of gold."
God chose us all for a reason,
He knows we trust Him so.
He knew they would do their heavenly work
And still keep watch over us below
Back to Oklahoma City Memorial Page
The above article appeared in the January 2000 edition of "FHWA News", a publication produced by and for FHWA Employees.
Page last modified on April 16, 2013