Microwave Oven Water Content Test
AASHTO TP 23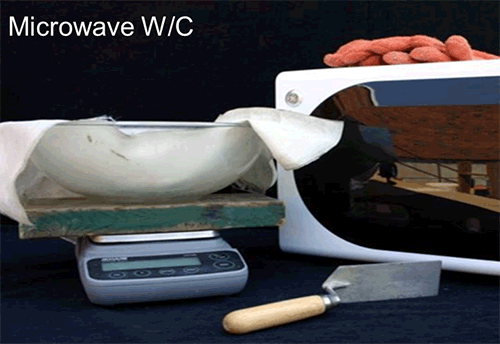 Download Original
What is the Microwave Oven Water Content Test?
The microwave oven water content test was developed in SHRP as a method for measuring total water content of fresh concrete delivered to the construction site. The test was adopted by AASHTO as AASHTO TP23, "Standard Test Method for Water Content of Freshly Mixed Concrete Using Microwave Oven Drying." Test results have been shown to correlate with the actual water content in freshly mixed concrete.
Background
Water content of as-delivered concrete has always been a source of speculation and uncertainty. Unaccounted for water in a ready-mixed concrete truck drum, variable aggregate moisture, and addition of water at a job site have been major sources of uncertainty. Water in excess of the mix design amount can have a direct, negative impact on the strength, quality, and durability of concrete. As better quality control, optimization of materials in the mix design, and high-performance concrete are specified for construction projects, it has become critical that accurate control of the water content of a concrete mix be enforced. Development of the microwave oven method is an attempt to provide a simple, effective way of monitoring water content of concrete at a construction site.
Equipment
The microwave oven test requires the following equipment: Microwave oven (min 900 watts)
Heat-resistant glass tray (9x9x2-in)
Sensitive scale with 0.1 gram resolution
Metal scraper
Grinding pestle
Fiberglass cloth
Procedure
A 1500 ±100-g test specimen of freshly mixed concrete is wrapped in a fiberglass cloth placed in a heat-resistant glass tray (Pyrex), and dried in a microwave oven using a minimum of three drying intervals. The test specimen is broken up, separating the coarse aggregate from the mortar, and the mortar is ground with a pestle after the first drying interval. The test specimen is stirred and its mass is determined after each drying interval until constant weight is achieved. The water content of the test specimen is calculated based on loss in mass of the test specimen.
Comments
The test is fast and simple. The water content can be determined in less than 15 minutes.