Reactive Solutions - An FHWA Technical Update on Alkali-Silica Reactivity
Winter 2008 - Volume 1, Issue 1
Inside this Issue:
Welcome to the First Issue of Reactive Solutions
King W. Gee, Associate Administrator, Office of Infrastructure, Federal Highway Administration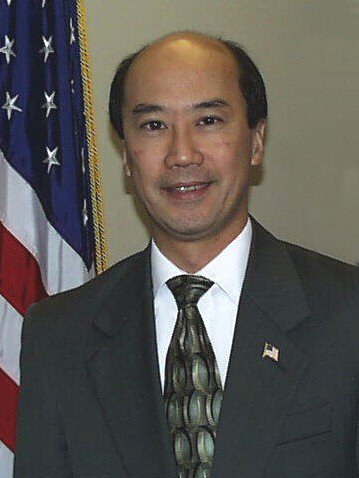 Welcome to the first edition of "Reactive Solutions"! This newsletter was developed as a communication tool for FHWA's Alkali-Silica Reactivity (ASR) Development and Deployment Program. The program's goal is to more effectively deploy methods and techniques to prevent and mitigate ASR. This goal will be achieved through technology transfer, including deployment of technologies through field trials, sharing methods of mitigation and prevention through demonstration projects, and providing engineering practitioners with the tools necessary to addresses ASR in their state.
Through the "Reactive Solutions" newsletter, you will be able to learn of developments in FHWA's ASR Development and Deployment Program, as well as other news related to ASR. The most important goal is providing our readers with the tools and information needed to address this complex concrete distress problem. This newsletter will highlight what other states and engineers are doing to address ASR. If you have questions to ask and experiences in dealing with ASR to share, this communications tool will fill that need.
"Reactive Solutions" will be distributed quarterly for the duration of the program. We welcome input and contributions from state DOT's, academia, industry, and other federal agencies.
Again, welcome to the first issue of "Reactive Solutions"! We look forward to educating and informing you about the world of ASR as we strive to address and manage this challenge to our highway system.
What is ASR?
Alkali-silica reaction (ASR) is a form of deterioration that occurs in hydraulic cement concrete resulting from an internal expansion of a concrete member that manifests itself as random cracking after the concrete has been in service for a few years. The necessary conditions for deleterious expansion and cracking related to ASR are:
Reactive forms of silica minerals that are present in some aggregate sources,
A sufficiently high concentration of soluble alkalis, sodium and potassium, and
Exposure of the concrete member to moisture.
Some references that provide additional information on why it occurs and how it can be controlled are:
ACI 221.1R, State-of-the-Art Report on Alkali- Aggregate Reactivity, American Concrete Institute (www.concrete.org)
IS413, Diagnosis and Control of Alkali-Aggregate Reactions in Concrete, Portland Cement Association (www.cement.org)
IS415, Guide Specification for Concrete Subject to Alkali-Silica Reactions, Portland Cement Association (www.cement.org)
Editors' Corner
Welcome to the first issue of Reactive Solutions. This quarterly newsletter is being developed under the new FHWA ASR Development and Deployment Program to provide you with information pertaining to the Program and to educate and inform you about the issues surrounding ASR in the world today. This publication will also serve as a platform for you to interact on the issues related to ASR. We hope that this newsletter will be helpful to you.
Sincerely,
Mike Thomas and Bebe Resendez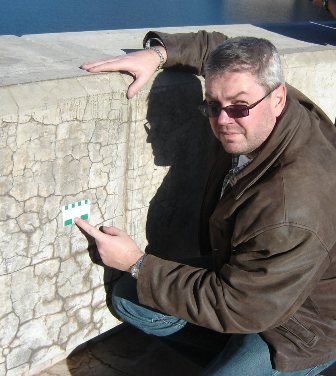 Dr. Michael Thomas,
University of New Brunswick.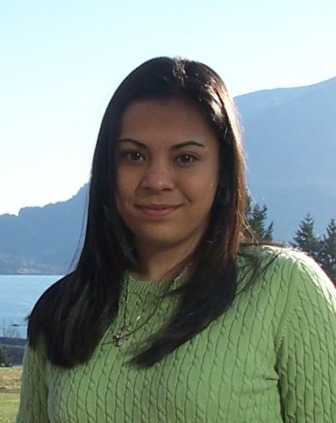 Bebe Resendez,
The Transtec Group.
ASR - Where It All Began
It seems appropriate in the first issue of Reactive Solutions to provide a brief summary of the beginnings of alkali-silica reaction in the United States.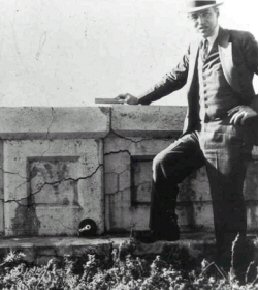 Thomas Stanton.
The discovery of ASR is generally attributed to Thomas Edison Stanton of the California State Highway Division who published a paper in November 1940 in the proceedings of the American Society of Civil Engineers (ASCE) implicating the alkalis in cement and hydrous silica in aggregates as participants in a chemical reaction that appeared to have caused expansion and cracking of a number of concrete structures in Monterey County.
In this same paper, Stanton also described an expansion test which later became the ASTM C227 Mortar Bar Test, proposed a limit on the alkalis in cement for use with reactive aggregates (= 0.60% Na2Oe) and suggested that pozzolans might provide protection from deleterious expansion. Shortly after publication of this paper ASR was diagnosed as being the cause of expansion and cracking in a number of structures including the Parker Dam and Stewart Mountain Dan in Arizona, and numerous pavements in the Midwest, particularly Kansas.
Today, few states can claim that they are "ASR-free" and many states have imposed specifications to minimize the risk of damage due to ASR. The approaches of different states vary from prohibiting the use of reactive aggregates to permitting their use provided appropriate preventive measures are adopted.
Today, few states can claim that they are 'ASR' Free...
13th ICAAR in Trondheim
The 13th International Conference of Alkali-Aggregate Reaction (ICAAR) will take place in Trondheim, Norway, in June of this year. The first ICAAR took place in Copenhagen in 1974 and included delegates from just five countries (Denmark, U.K., USA, Iceland and Germany). Since then, meetings have been held approximately every three or four years and have been hosted by Denmark (for a second time), the United States, Canada (twice), the United Kingdom (twice), China, Japan, Australia, Iceland, and South Africa. Abstracts for the 2008 conference have been received from authors representing 31 different countries and promises to be a truly international affair.
The city of Trondheim was founded in 997 and was the capital of Norway until 1217. It is home to the oldest theatre in Northern Europe still in use, the Trøndelag Teater, and is also known for its active winter sports scene.
ICAAR is one of the most important conferences in the world on AAR. To find out more about the conference and the host city visit www.icaar2008.org. The University of Texas at Austin will make a bid for the 14th ICAAR scheduled to take place in 2012.
Introducting "Stump The Experts"
Got a question? Finding it difficult to get a clear-cut answer?
This section of the newsletter is dedicated to answering your ASR-related questions. In each issue, our editorial committee selects and answers one question submitted by you, the reader. Ask one of our experts-we're here to listen.
An example question would be "Why do some fly ashes prevent ASR but others don't?" By the way, you can find the answer to this question on Page 3.
Email your question to asrnewsletter@transtec.us.
Why Do Some Fly Ashes Prevent ASR But Others Do Not?
Almost all fly ashes can be used to prevent damaging expansion due to alkali-silica reaction provided they are used in sufficient quantity. So it's not really correct to say that some fly ashes do not work - they just don't work when an insufficient quantity is used.
The amount of fly ash required depends on the reactivity of the aggregate, the quantity of alkalis contributed by the portland cement and the composition of the fly ash. Low-calcium Class F fly ashes with low-alkali contents tend to work the best and replacement levels of between 20 to 30% are effective with most alkali-silica reactive aggregates. High-calcium Class C fly ashes are less efficient and have to be used at significantly higher levels of replacement than low-calcium fly ashes. Fly ashes with high alkali contents are generally not suitable for controlling expansion due to ASR.
More than 50% Class C fly ash may be required with some aggregates. The pozzolanic reaction that occurs when fly ash is used with portland cement produces a calcium silicate hydrate (C-S-H) that has a lower Ca/Si ratio than the C-S-H produced by the hydration of portland cement. C-S-H with a low Ca/Si ratio has a greater capacity to bind alkalis thereby reducing the alkalis available for reaction with the aggregate. Low-calcium Class F fly ash produces C-S-H with a lower Ca/Si ratio than high-calcium fly ash and consequently more alkalis are bound when Class F fly ash is used.
The amount of fly ash required to control ASR expansion with a particular aggregate can be determined using either a modified version of the accelerated mortar bar test, ASTM C1567, or preferably the concrete prism test, ASTM C1293.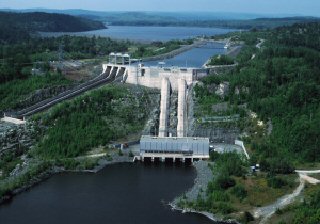 Class F fly ash was used at a replacement level of 20 to 30% together with high-alkali cement and a highly-reactive aggregate for the construction of Lower Notch Dam in Ontario. Construction was completed in 1969 and the dam is in excellent condition with no signs of ASR damage after almost 40 years.
An Update on Federal Highway's ASR Development and Deployment Program
The ASR Development and Deployment Program TWG (technical working group) met in Sacramento on November 14th and 15th to discuss the progress of the program. Two important products of this program are mentioned below.
Field Trials
A portion of the ASR Development and Deployment Program has been designated for field trials. FWHA will make funding available to States for the implementation of technologies and techniques to prevent and mitigate ASR. Currently, it is anticipated that field trials can be implemented by the end of 2008. Stay tuned for more information in the next issue of Reactive Solutions.
Protocols
The ASR Development and Deployment Program TWG (technical working group) met in Sacramento on November 14th and 15th to discuss the progress of three ASR protocols and the ongoing activities of the program.
One of the tasks under this program is the development of three ASR protocols, targeted to assist State Highway Agencies with their ASR problems. The three protocols are as follows:
Protocol A: Determining the Reactivity of Concrete Aggregates and Selecting Appropriate Measures for Preventing Deleterious Expansion in Concrete
Protocol B: Diagnosis and Prognosis of Alkali-Aggregate Reaction (AAR) in Transportation Structures
Protocol C: Selection of Mitigation Measures for Alkali-Aggregate Reactive Affected Structures
Group members reviewed the content of the protocols, given by team members of The Transtec Group. The protocols are expected to be completed in May of this year. Gina Ahlstrom, with FHWA, is the Contracting Officer's Technical Representative (COTR). The next TWG meeting is anticipated to take place during March 25-26, 2008 in Austin, Texas.
For more information about the progress of this program, visit www.fhwa.dot.gov/pavement/concrete/asr.cfm or contact Gina Ahlstron at Gina.Ahlstrom@dot.gov.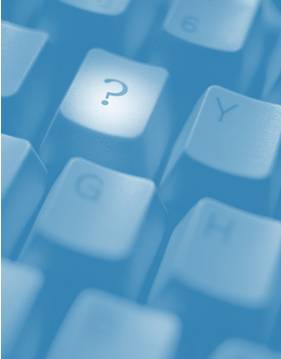 A.S.R. - Ask.Send.Receive.
This Issue's Question
What strategies does your state use to treat ASR-affected structures or to prevent ASR in new structures?
Submit your answers to asrnewsletter@transtec.us.
Feature Photo Section
Have a picture you'd like to send us of an ASR-affected structure in your state? Send us what you like - a bridge, a core, a snapshot of your lab, etc. - our editorial committee will select one picture and post it here for all to see.
Email your pictures at asrnewsletter@transtec.us.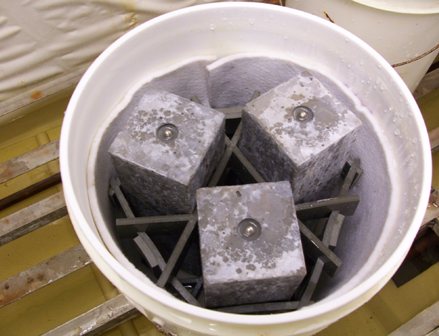 ASTM C1293 samples. (CANMET Laboratory, Canada) (Image submitted by Bebe Resendez, Transtec Group)
Schedule of Events
February
21-25 MCPX: The Manufactured Concrete Products Expo, Anaheim CA
March
8-10 NRMCA Annual Convention, Las Vegas
11-15 CONEXPO - CON/AGG, Las Vegas
25-26 ASR Development and Deployment TWG Meeting, Austin, Texas
30-April 3 ACI Spring Convention, Century City, CA
April
24-26 First International Symposium on Transportation and Development Innovative Practices, Beijing, China
---
Editors: Dr. Michael Thomas (Univeristy of New Brunswick, mdat@unb.ca) and Bebe Resendez (The Transtec Group, bebe@thetranstecgroup.com).
Editorial Committee: Gina Ahlstrom (FHWA), Lizanne Davis (FMC Corporation), Steve Lane (Virginia DOT), Colin Lobo (NRMCA), Brian Merrill (TxDOT), Peter Taylor (CP Tech Center), Paul Tennis (PCA), Leif Wathne (ACPA).
Contact Information
Gina Ahlstrom, Concrete Pavement Engineer (Gina.Ahlstrom@dot.gov.) FHWA-Office of Pavement Technology
Get On the Reactive Solutions Mailing List
Are you reading a pass-along copy of Reactive Solutions? Want to make sure you don't miss a future issue? Would you prefer to receive only an electronic issue, print issue, or would you like to receive both? Email us at asrnewsletter@transtec.us. - Subscriptions are free.