Surface Resistivity Test
(AASHTO TP 95)
The Surface Resistivity Test can be used to evaluate the electrical resistivity of water-saturated concrete to provide a rapid indication of the concrete's resistance to chloride ion penetration. Based on several published research studies, measurements from this test have shown excellent correlations with other electrical indication tests, such as the Rapid Chloride Permeability Test (RCPT) (AASHTO T 277 /ASTM C 1202).
The primary advantage of the Surface Resistivity Test is it takes less than 5 minutes to take readings. The more widely used RCPT test (including the sample preparation) takes more than 2 days to perform. This is a significant time saving. The Louisiana Transportation Research Center performed a cost-benefit analysis that showed that implementation of the device will save the Department approximately $101,000 in personnel costs in the first year. It is estimated that contractors will save about $1.5 million in quality control costs. Also, the Surface Resistivity equipment itself is cheaper than the RCPT equipment.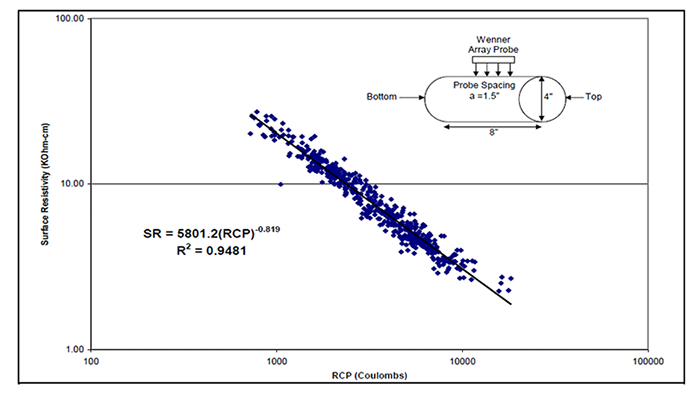 States such as Florida and Louisiana have already realized the significant cost savings associated with the Surface Resistivity Test and have started incorporating it in their specifications. AASHTO recently published a provisional test method for this test: Surface Resistivity Indication of Concrete's Ability to Resist Chloride Ions Penetration (AASHTO TP 95). The Florida DOT has recently completed a round robin study for this test method.
Checking concrete for its permeability is a very important agency activity both during mixture design phase as well as during construction of highways and bridges. This technology has the potential to save significant costs associated with testing time for both agencies as well as contractors.
The Bulk Resistivity Test also works on the same principle as the Surface Resistivity Test, except it measures the resistivity of the whole cylinder instead of just the surface.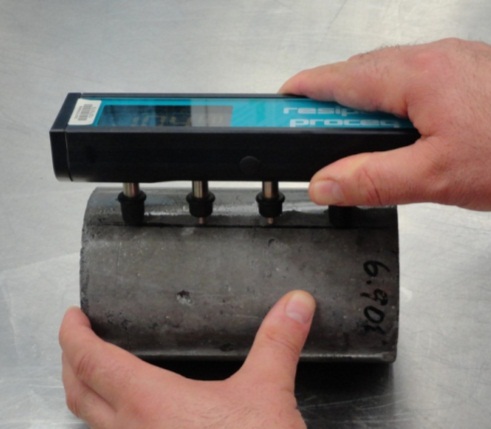 Surface Resistivity Test Equipment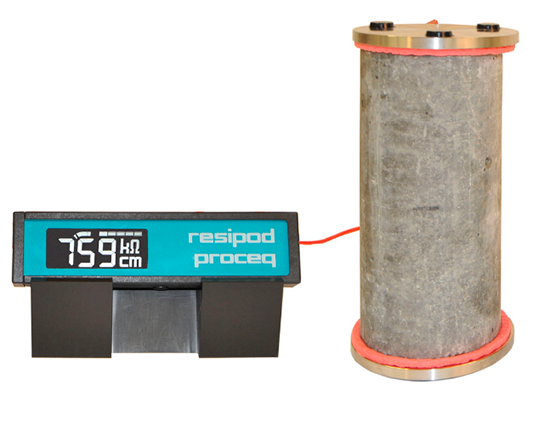 Bulk Resistivity Test Equipment