Tensile Bond Tester
ACI 503.1R, ASTM C1583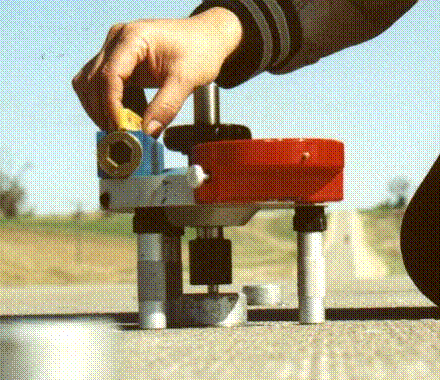 What is the Tensile Bond Tester?
The tensile bond strength (pull-off) test is a quick, and simple method for determining how well repair material or an overlay is bonded to underlying concrete. This tester can be used to determine the need for surface preparation, detect relative differences in potential surface strength over an area to be repaired, and determine the adequacy of surface preparation. Also, the pull-off tester can be used to measure the surface strength of concrete and the adhesive strength of all kinds of applied coatings (mortars, plasters, and plastic coatings), flexible and thermoplastic coatings, paint finishes, and coatings on metal and concrete.
Background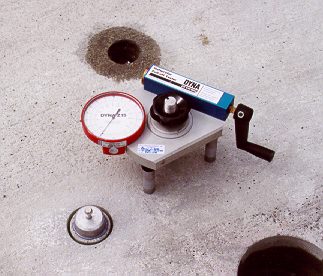 The rehabilitation of concrete commonly requires the removal of deteriorated concrete and repair with a patching material and/or an overlay. To ensure a long service life of the rehabilitated concrete, it is necessary that the repair material be well bonded to the underlying concrete. Proper surface preparation of the substrate is an important factor for the success of any repair.
Equipment
Test equipment for evaluating the pull-off strength of a patch or overlay consists of the following:
A load indicator to measure the tensile load applied to a disc bonded with epoxy to the repaired surface.
A metal disc (typically 2 – 4 inch diameter) with threaded pull bolt.
A diamond core drill capable of producing a 2- to 4-in. diameter core.
Procedure
Drill a partial-depth 2 – 4 inch diameter core through the repair or overlay material and approximately 1 - 2 inches into the substrate concrete.
Bond a 2- to 4-inch diameter metal disc to the top of the unbroken core with rapid-set epoxy.
After the epoxy has cured, use the pull-off device to apply a tensile force sufficient to pull the core out in tension.
Record the load at which failure occurs and calculate unit stress.
Note where failure occurs (e.g., in epoxy, in repair/overlay material, at the interface between old and new material, or in old concrete).
Comments
The test is simple and can be performed in-situ as a quality control tool and to determine the tensile strength or the bond strength. The test also has been used to estimate the expected service life of overlays by measuring the degradation of bond strength with time. Prior to conducting the field tests, several laboratory tests should be conducted to determine the acceptable minimum value of the tensile strength.