Economically Distressed Counties, Parishes and Burroughs in the United States and the NHS Routes Serving Them
Iowa Percent Population Loss 1970 - 2000 Showing National Highway System Routes
This information is archived data thru 2001. For current data, visit the Demographic Information tab on http://hepgis.fhwa.dot.gov
---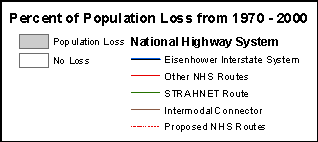 Click the image for a larger version.
Counties with more than 5% loss: Adair, Adams, Appanoose, Audbon, Butler, Calhoun, Carroll, Cass, Cerro Gordo, Cherokee, Chickasaw, Clay, Clayton, Clinton, Crawford, Decatur, Des Moines, Emmet, Fayette, Floyd, Franklin, Fremont, Greene, Grundy, Guthrie, Hamilton, Hancock, Hardin, Howard, Humboldt, Ida, Keokuk, Kossuth, Lee, Lucas, Lyon, Mitchell, Monona, Monroe, Montgomery, O'Brien, Osceola, Page Palo Alto, Pocahontas, Ringgold, Sac, Shelby, Tama, Taylor Union, Van Buren, Wapello, Wayne, Webster, Winnebago, Worth, and Wright.

Counties with less than 5% loss: Allamakee, Black Hawk, Boone, Buchanan, Buena Vista, Delaware, Dubuque, Harrison, Jackson, Marshall, and Winneshiek.
Other Iowa State Maps:
Percent Unemployment from 1992 - 2001 Showing National Highway System Routes
Percent Unemployment from 1992 - 2001 by County
Percent Population Loss 1970 - 2000 by County
State maps are not scaled. FHWA does not recommend adoption of these maps as a state policy without appropriate consultation and consideration of state issues.