Economically Distressed Counties, Parishes and Burroughs in the United States and the NHS Routes Serving Them
Illinois Percent Population Loss 1970 - 2000 Showing National Highway System Routes
This information is archived data thru 2001. For current data, visit the Demographic Information tab on http://hepgis.fhwa.dot.gov
---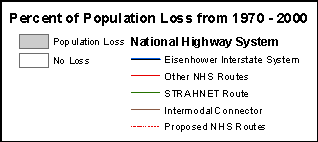 Click the image for a larger version.
Counties with more than 5% loss: Alexander, Bureau, Calhoun, Carroll, Edgar, Ford, Fulton, Gallatin, Greene, Hancock, Iroquois, Jasper, Knox, Lawrence, Logan, McDonough, Macon, Peoria, Pike, Pulaski, Rock Island, St. Clair, Schuyler, Scott, Stark, Vermilion, Warren, and White.

Counties with less than 5% loss: Adams, Cass, Christian, Clay, Cook, De Witt, Edwards, Hamilton, Hardin, Henderson, Henry, Lee, Livingston, Marshall, Mason, Mercer, Richland and Whiteside.
Other Illinois State Maps:
Percent Unemployment from 1992 - 2001 Showing National Highway System Routes
Percent Unemployment from 1992 - 2001 by County
Percent Population Loss 1970 - 2000 by County
State maps are not scaled. FHWA does not recommend adoption of these maps as a state policy without appropriate consultation and consideration of state issues.