Economically Distressed Counties, Parishes and Burroughs in the United States and the NHS Routes Serving Them
Kansas Percent Population Loss 1970 - 2000 Showing National Highway System Routes
This information is archived data thru 2001. For current data, visit the Demographic Information tab on http://hepgis.fhwa.dot.gov
---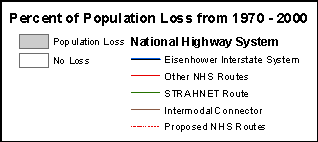 Click the image for a larger version.
Counties with more than 5% loss: Atchison, Barber, Barton, Brown, Chase, Chautauqua, Cheyenne, Clark, Clay, Cloud, Comanche, Decatur, Doniphan, Edwards, Elk, Gove, Graham, Greeley, Greenwood, Harper, Hodgeman, Jewell, Kiowa, Labette, Lane, Lincoln, Logan, Marshall, Meade, Mitchell, Montgomery, Nemaha, Neosho, Ness, Norton, Osborne, Pawnee, Phillips, Rawlins, Republic, Rice, Rooks, Rush, Russell. Scott, Sheridan, Sherman, Smith, Stafford, Tergo, Wallace, Washington, Wichita, Wilson, Woodson, and Wyandotte.

Counties with less than 5% loss: Allen, Anderson, Dickinson, Geary, Hamilton, Kingman, Marion, Morton, Ottawa and Pratt.
Other Kansas State Maps:
Percent Unemployment from 1992 - 2001 Showing National Highway System Routes
Percent Unemployment from 1992 - 2001 by County
Percent Population Loss 1970 - 2000 by County
State maps are not scaled. FHWA does not recommend adoption of these maps as a state policy without appropriate consultation and consideration of state issues.