Economically Distressed Counties, Parishes and Burroughs in the United States and the NHS Routes Serving Them
Texas Percent Population Loss 1970 - 2000 Showing National Highway System Routes
This information is archived data thru 2001. For current data, visit the Demographic Information tab on http://hepgis.fhwa.dot.gov
---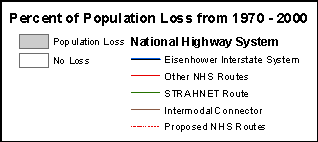 Click the image for a larger version.
Counties with more than 5% loss: Bailey, Baylor, Borden, Briscoe, Castro, Cochran, Coleman, Collingsworth, Cottle, Crosby, Culberson, Dawson, Dickens, Fisher, Floyd, Foard, Garza, Gray, Hall, Hansford, Hardeman, Haskell, Howard, Kenedy, Kent, King, Knox, Lamb, Lipscomb, Lynn, McMullen, Menard, Motley, Ochiltree, Palo Pinto, Reeves, Refugio, Roberts, Runnels, Sherman, Stonewall, Swisher, Terrell, Terry, Throckmorton, Upton, Ward, Wheeler, and Winkler.

Counties with less than 5% loss: Brooks, Crane, Deaf Smith, Hutchinson, Kleberg, McCulloch, Martin, Nolan, Oldham, Parmer, Shackelford, Wilbarger and Yoakum.
Other Texas State Maps:
Percent Unemployment from 1992 - 2001 Showing National Highway System Routes
Percent Unemployment from 1992 - 2001 by County
Percent Population Loss 1970 - 2000 by County
State maps are not scaled. FHWA does not recommend adoption of these maps as a state policy without appropriate consultation and consideration of state issues.