FHWA Highway Corridors Workshop
RSA Plaza Terrace
Montgomery, AL
August 18 - 19, 2003
From Left to Right: Miguel Conchas, Henri Headdress, Martin Weiss, Bernadette Chapple, Velma Blackwell, James Perkins, Artur Davis, Phillis Belcher, Dave Harris, Thad McClammy, Ellen McNair, Raymond Ogle, Don Arkle, Mike Whitt, Mike Mitchem, Rick Biery, and Gordon Gaste
Day 1 - August 18, 2003
Bernadette Chapple of Alabama State University gave a brief welcome.
Martin Weiss of the Federal Highway Administration (FHWA) gave a brief workshop introduction and the attendees each briefly described who they were and why they were attending the workshop.
Attendees:
Martin Weiss (FHWA Headquarters)
Keivan Deravi (Auburn University)
Velma Blackwell (Tuskegee University, Kellogg Center - Office of Continuing Education)
Rep. Thad McClammy (Alabama House of Representatives, 76th District)
Gordon Gaste (City of Brawley, CA)
James Perkins (Mayor of Selma, AL)
Peter O'Neal (Alabama State Docks)
Don Arkle (AL Department of Transportation)
Dave Harris (FHWA - AL Division)
Austin Caldwell (Mayor of Demopolis, AL)
Raymond Ogle (Fort Peck Tribes, MT)
Rick Biery (Northern Tier Regional Planning and Development Commission, PA)
Mike Mitchem (King Coal Highway Authority, WV)
Henri Headdress (Fort Peck Tribes, MT)
Miguel Conchas (Laredo Chamber of Commerce, TX)
Phillis Belcher (Green County Industrial Board, AL)
Mike Whitt (Mingo County Redevelopment Authority, WV)
Ellen McNair (Montgomery Chamber of Commerce, AL)
Bernadette Chapple (Alabama State University)
Roger Figura (AECOM Consult)
Sara Carini (AECOM Consult)
Special Guest Speaker - Congressman Artur Davis (7th Congressional District, AL)
Martin Weiss of FHWA briefly discussed the legislative basis of the Economic Development Highways Initiative and explained the administrative response covering: what has been done so far, what needs yet to be done, the bounds of the initiative and what might realistically be done in the future. A summary of these remarks is in Appendix A. The power point presentation used to give these remarks (about a 10 megabyte file) is available from Mr. Weiss (202-366-5010).
Keivan Deravi of Auburn University briefly discussed various aspects of the economic development impacts of widening US 80 to 4 lanes through Alabama (some of this route is already 4 lanes). He covered the general demographics and economic status of the corridor (poverty is present in much of the corridor), the types of industries now in the corridor (e.g., timber, paper, catfish with under development in retail and services in general) and the results of interviews he conducted with numerous employers concerning the impact of widening US 80. Some employers indicated that widening would lead to substantial increase in business activity; others said that virtually no increase would result; still others were in-between. These interviews reinforced the idea that most new economic activity would either be in existing industries or industries logistically related to existing industries. He then classified these results and used them along with standard economic modeling practice to estimate that widening US 80 would increase net employment by over 2000 (much of it in 3 counties) and result in a net increase of personal income by about cumulative $300 million in constant 2003 dollars in the two decades after completion of the widening. A copy of the power point presentation used to give these remarks is in Appendix B.
Mr. Deravi answered a number of questions about his study. For example, the estimated completion date for widening would be 2010 and with 22 miles not yet being 4 lanes. Commentators indicated that maybe new industries, such as tourism could be important in the future. Mr. Deravi indicated that there was potential for tourism but it was uncertain how much of this potential could be realized. A commentator asked if the premise and methodology of the study (expansion of existing industry is most important source of new employment) could be applied elsewhere. Mr. Deravi indicated that generally this was so but that specific incentives for a specific employer are typically outside of analytical models.
Roger Figura of AECOM made a presentation summarizing the corridors that were not represented at the workshop (one in California, two in Louisiana, one in North Carolina and one in South Dakota) and discussed the various types of projects, the potential measures of successes. A copy of the power point presentation used to give these remarks is in Appendix C. Much of the information about types of projects and potential measures of success is available from a paper, jointly authored by Mr. Figura and Mr. Weiss, and given at the national meeting of the Transportation Research Board and available at: https://www.fhwa.dot.gov/planning/economic_development/technical_and_analytical/typology.cfm
Presentations of the Corridors that participated in the Workshop
Rick Biery of the Northern Tier Regional Planning and Development Commission, of Pennsylvania, spoke about the I-99 Corridor in Pennsylvania. This is a corridor where the southern portion is completed to an Interstate design level, much of the central portion is under construction to that design and some portions of the northern portion are still 2 lanes (some are 4 lane). In the southern section warehousing, trucking and high tech businesses have been established. The area around Centre County and Pennsylvania State University (PSU) has always had a good economy. Elsewhere, however, economic distress exists and safety and operational problems exist on the remaining 2 lane sections. There is a state of the art iron foundry in the northern section and the area hopes that the completion of the section to Interstate standards will foster spin-off industries.
There is high expectation that the completion of the Interstate in the northern section will assist industries such as lumber, food processing, trucking and to an even higher degree travel and tourism to locate or expand.
More speculative, but possible, are businesses in biotech and plastics manufacturing. Some activity already exists in these areas and the Interstate gives the corridor a much better chance to secure some of them.
In response to a comment, Mr. Biery indicated that he expects more thought into looking at ways for the corridor to better utilize the presence of PSU and Mansfield University. In response to another comment, he indicated that the Interstate access issue has been very important in the development of the corridor. Some areas have less Interstate access and consequently, more congestion. Some communities have chosen not to have direct Interstate access and, if they change their mind it will be difficult.
Miguel Conchas of the Laredo Texas Chamber of Commerce spoke about the US 83 Corridor in Texas. There are three counties in the corridor: Webb (which includes Laredo), Dimmit, and Zavala all of which historically have been economically depressed. However, recently with increasing Mexican trade at the border crossings in Laredo and the opening of the World Trade Bridge, Laredo has improved its economy.
There is hope this improvement can be extended north and west along US 83. The forces that could do this are: diversion of the I-35 traffic (particularly that traffic that is traveling to I-10), tourism, northerners who reside in the US 83 corridor in the winter, increasing opportunities in local health care and freight related businesses which would follow an expansion of traffic if US 83 is widened to 4 lanes (uncontrolled access).
In response to a comment, Mr. Conchas stated that he basically agreed with Keivan Devari's hypothesis that most new businesses would be in the same or related industries to existing businesses but that with new businesses would come more dynamic businesses using industrial parks and other modern practices. In response to another comment, he indicated that the tourism now is partly Mexico based and partly hunting related. In response to another comment, he indicated that the Chamber of Commerce favors widening US 83 to 4 lanes as well as widening other roads and does not see spot widening of US 83 as a desirable solution. Finally, in response to other questions, he indicated that the new bridge had helped the financial services industry in the Laredo area, that there were hopes that it would also help the logistics industry in the more rural parts of the corridor and that the area was a participant in the Ports to Plains corridor (which extends to Denver) development activities.
Gordon Gaste of the City of Brawley, CA spoke about the Imperial County, California I-8 and Brawley Corridors. Mr. Gaste noted that the county contains a number of small and medium sized cities, the most populous of which is El Centro with 43,000 (total Imperial County population exceeds 150,000), while on the Mexico side of the border, there is a mostly urban population approaching one million. Both sides of the border have high unemployment rates. There are not many high level north-south roads nor 4 lane bypasses but one important one, California 111, which serves Brawley, is being widened to 4 lanes and extended. Important new developments include a 4-year branch of San Diego State University and the new Brawley Beef plant. Later, Mr. Gaste expanded on the Brawley Beef plant noting that the plant will eventually employ more people and that spin off businesses are expected to locate in the vicinity but that this requires more progress on completing the bypass. Brawley has annexed land around the plant and other value added agriculture based businesses may also be enticed into locating nearby when the bypass is complete. There is also a spring/fall/winter recreation business based on all terrain vehicle sports that may be helped by completing the bypass. In response to a question, Mr. Gaste affirmed the situation supports the Keivan Deravi hypothesis (new businesses are likely to be in similar industries as current businesses) previously discussed.
In response to a question, Mr. Gaste detailed some of the University based economic development programs. He also noted that the area has developed good relations with the state transportation agency and with the Congressman who represents the area and both these relationships have been helpful.
Henri Headdress and Raymond Ogle both of the Fort Peck Tribe, Montana spoke about the US Route 2 Corridor in Eastern Montana. Mr. Headdress noted that much of the population of the Fort Peck Tribe area, which includes elements of the Assiniboin and Sioux tribes, lies near US Route 2 but that this area is, in general, very sparsely populated. Economic development initiatives ongoing or planned include wind energy, irrigation (which would allow higher value cash crops to be grown and would include about 10 years of construction jobs) as well as tourism.
The area has oil and gas and other natural resources but few jobs in these industries. Education and government (including the Bureau of Indian Affairs) are big employers and the road network is as sparse as the population. Even participation in Montana related meetings is a problem because the distance to the State capital is much greater than the distance to North Dakota or Canada.
Mr. Ogle then spoke about the 4 for 2 initiative (widening US Route 2 to 4 lanes). He noted that the State legislature has not yet funded this initiative. With respect to tourism, the challenge is creating the mix of natural and cultural sites that would be attractive. Based on what other areas are doing, it seems there is some potential for better marketing of our cultural resources.
Mr. Ogle noted that the success of the manufacturing we have has varied over the past decades, based on success in winning contracts. In response to a question Mr. Headdress indicated that the 4 for 2 coalition cause was not helped by the report done for FHWA but that tribal elders would not be in favor of widening partly because of the potential loss of some historical sites. There was then some discussion of the possibility of building a 2-lane road with full width (12 ft. lanes) and shoulders (8 ft.) with quarter mile sections that are 4 lanes wide separated by 5-10 miles of 2 lanes sections (a.k.a., super 2 plus or super duper 2.). Mr. Ogle indicated that some might welcome this but others would still want widening to 4 lanes throughout Montana (a distance of over 600 miles).
Representative Thad McClammy provided some closing thoughts for Day 1 of the workshop noting that there are similar problems being experienced in various parts of the country. He suggested that rather than a "Misery loves company" attitude, the various highway corridors in economic distress could form a coalition to pool resources, coordinate a policy response and otherwise increase its collective influence.
Day 2 - August 19, 2003
From Left to Right: Bernadette Chapple (ASU), Velma Blackwell (Tuskegee University), James Perkins (Mayor of Selma), Congressman Artur Davis, Phillis Belcher (Greene County Industrial Board), Representative Thad McClammy (Alabama House of Representatives, 76th District), Don Arkle (ALDOT), and Dave Harris (FHWA AL Division)
At the beginning of Day 2 of the Workshop, Representative Thad McClammy introduced Congressman Artur Davis of the 7th District of Alabama.
Congressman Artur Davis noted that Alabama has pockets of economic progress near good highways in the vicinity of the bigger cities, near Auburn University and nearest Atlanta. On the other hand, his district is the 6th poorest in the United States with high poverty rates and five of the 12 counties in the district are in the poorest 100 counties in the United States. He stated that if his district had better highways we could have lessened this poverty. He had recently participated with his colleague, Congressman Jo Bonner, from the 1st District in a meeting attended by over 100 local officials. The idea of widening US 80 to 4 lanes came up and one of the local officials there noted that this idea had been on the table for at least 50 years. Congressman Davis did not see anything in the administration's transportation proposal that would accelerate the widening of US 80 or other highway improvement in his district.
The Congressman pointed out that Alabama's most recent success into automobile manufacturing has been because of its good Interstates but that most of this success will be in areas other than the most economically distressed parts of the State. He noted the need for highway construction jobs and the problems that come with physical isolation caused, in part, by lack of highway access (illustrating points by reference to the 7th district). He noted that factors that could lift the economic distress include education, health care and job training as well as transportation. However, he said,
All these will need to be improved some day, but highway improvement is one thing we can do in our generation - we should make it our job."
(This would be so because technological barriers and institutional questions are less a factor in highways than in education, health care and job training). He added,
"If we do this [increase highway improvement in economically distressed areas] we can open new markets, which historically have been the key to success of the economy; these new markets, now largely untapped, can make the US economy stronger as well as revitalize both the communities themselves and the sense of community in areas like the blackbelt."
In response to questions, Congressman Davis noted the difficulty of raising the gas tax to pay for things like the widening of US 80 but said there would be a time to get this done. He also suggested more regional and strategic thinking in order to have some successful economic development projects and create momentum toward such projects. He suggested that other U.S. Representatives who have districts that economically look like his probably have opinions like his. He added that because of this he thought that within a generation it would be possible, with some hard work and some organization, to move the budget priorities enough to get more highways built and bring employers and opportunities to districts like his.
Mike Mitchem of the King Coal Highway Authority and Mike Whitt of the Mingo County Redevelopment Authority both spoke about the West Virginia corridors in the study. Mr. Mitchem noted that five southern counties in West Virginia are working hard to improve their economic situation and are relying on highway improvements to make their efforts successful. Mr. Whitt noted that Congressman Davis's comments about the economic distress in his district could be correlated to Mingo County except for two things: first, the topography in Mingo County is very steep and construction is expensive; secondly, some of our neighboring counties have experienced an increase of jobs, income, and tax base due to the construction of highways. He stated that Mingo County must create flat developable sites with utilities for economic diversification in the process of constructing 4 lane highways. This process was not followed nearly 30 years ago when the Appalachian Highway was constructed; therefore, no developable sites exist along that highway today. Mingo County is working very closely with state and federal agencies, and the mining industry to construct sections of I-73/74 (the King Coal Highway.) Success can already be seen where a local mining company is working to complete a 5-mile section of the King Coal Highway to rough grade, during their mining process as a permitted post mine land use.
Phase I of the Mingo County Wood Products Industrial Park includes leases from Appalachian Custom Dry Kilns, LLC (ACDK) and Appalachian Precision Hardwood Flooring Facilities, LLC. These modern facilities are owned by a partnership consisting of International Industries of Gilbert, WV, and Columbia Forest Products of Oregon. The Park is another example of the county's commitment to meeting the enormous job shortage, in the Mingo County, southern West Virginia area. The $28 million dollar park project, located in southern West Virginia on the border of Mingo and Logan Counties adjacent to Route 119, the Robert C. Byrd Freeway, is being funded through more than $6 million in state and federal grants, $8.6 million in conventional financing and $13.4 million in private investments. Federal, State and County leaders have worked cooperatively to secure funding for the upgrade of the access road and the construction of the water and wastewater treatment systems. The first phase of the project includes a centralized lumber storage area, lumber processing facility, lumber pre-drier, and a battery of dry kilns, boiler and silo. The first shell building (82,000 sq. ft.) houses a hardwood flooring manufacturing facility. The second shell building (approx. 25,000 sq. ft.), serves as a warehouse for kiln dried lumber. This phase of the project has created approximately 200 new jobs.
Mr. Whitt estimated that, within the next 10 years, Mingo County will become a model county for providing faster, safer transportation, and acres of land readily available with utilities for economic diversification through the process of coal mining. He stated that the highway improvements would act as an engine that moves our efforts in diversification, tourism and other sectors of economic development into a productive future.
In response to questions, Mr. Whitt noted that the highways built in the 70s in West Virginia frequently did not have developable land at intersections and interchanges. He noted the tourism efforts, which include the improvement of access to skiing, whitewater rafting, mine tours and development of areas for all-terrain vehicle sports. The latter effort requires complex coordination work involving, among other things, liability issues. The newly opened Hatfield McCoy Trails System is utilizing logging roads to some extent, with new sections of trails being added each year. The Redevelopment Authority has just begun marketing the Hatfield McCoy Trails System on a broader scale to include extending $300/weekend visits to $600/weekday visits to southern West Virginia. The success of this tourism project will greatly depend on further highway improvements allowing access to all-terrain vehicles to and from the trailheads and southern West Virginia communities.
James Perkins, the Mayor of Selma spoke next about the US 80 Corridor in Alabama. He began by stating that the first two economic development projects that he supported as Mayor, completion of the improvement of US 80 west of Selma, between Demopolis and Cuba, and the location of the Hyundai plant in the vicinity of Montgomery well east of Selma, were not popular with his constituents. This is because his constituents only considered the primary local impacts of these projects, which would not benefit them.
They did not consider the secondary regional impacts of these projects that would benefit them. He has hope that when the public begins to see these regional benefits they will change their mind. Mayor Perkins indicated also that the location of the Hyundai plant and the improvement to US 80 were linked because the Governor made a written commitment to complete US 80 in the process of getting the Hyundai plant. The mayor did not know if the commitment was legally binding since the Governor who signed it is no longer in office and he was wary of such promises since, as the Congressman said, the completion of US 80 has been a blackbelt priority since before the moon landing [in 1969]. He noted that other projects also need to be accelerated including US 43 from Mobile to Demopolis, a better linkage between southwest Alabama and I-20 at Meridian, Mississippi and a way to have a tourism friendly scenic and historic road that follows the Civil Rights march from Selma to Montgomery. This would allow the area to market its history. Mayor Perkins noted that this history includes an overlay of Civil War and Civil Rights.
He illustrated this by describing the intersection of Martin Luther King Street and Jefferson Davis Avenue in Selma and the intersection of Rosa L. Parks and Jefferson Davis Streets in Montgomery (the latter was also alluded to by Congressman Davis).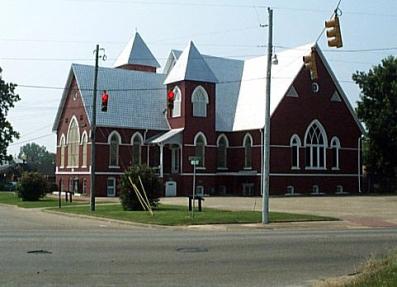 Thad McClammy, Representative of Alabama House District 76 (Montgomery County) noted that there were a number of similarities between corridors. He noted that one similarity was the lack of long distance access. In the case of Montgomery County (which is a Black Belt county served by US 80) a great disadvantage is the lack of east-west access. He pointed out that US 80 generally stretches from San Diego, CA to Savannah, GA, but has a poor connection to Meridian, MS and to Georgia. In 2000, he had started working on this general. As Representative McClammy saw it, the letter from the governor is not a legal contract. It was part of the Hyundai package. He indicated that he recognized that the construction of 4 lanes does not always bring prosperity and that contemporaneously with highway improvement should be the identification of regional, large industrial sites and parks that we can develop to attract new industries and businesses. He noted three such sites: Selma - most advantageous because was an Air Force base and is 2,000 acres; Montgomery - the Hyundai location is 1,700 acres and Macon County on vacant property owned by Tuskegee University.
Representative McClammy noted that other things went into the Hyundai victory (the location of a Hyundai plant in the Montgomery, Alabama area as opposed to another State or elsewhere in Alabama) and that this would eventually bring in about $1 billion. He credited in part the work done by and in conjunction with the FHWA economic development highways initiative as well as the Alabama incentives and new considerations, e.g., security.
Representative McClammy reemphasized the desirability of a rural coalition. He noted that such a coalition could share information and coordinate advocacy. There is a continuous need to move products. We need to develop a marketing strategy - roads in our corridors are important to the regional and national economy. He pointed out the common problems of the corridors discussed in the two days. In response to a question, he indicated that he thought that the value of small (i.e., 20-50 acre) development sites was overestimated.
Phillis Belcher of the Greene County Industrial Board spoke briefly. She indicated that she understood and mostly agreed with comments voiced previously. She emphasized that Greene County believes strongly in partnerships and will work with any reputable group. She considered that highway improvement and improvement of development sites was one type of partnership and that she considered improvement of US 80 and improvement of US 43 to be another legitimate type of partnership. This type of development fosters economic growth and development for the immediate area and region and that is vital to improving the quality of life for so many people.
Velma Blackwell of Tuskegee University, Kellogg Center, the Office of Continuing Education spoke briefly. She first discussed that Booker T. Washington, the founder and first president of Tuskegee University, in reference to the black, rich soil, coined the term "Blackbelt" not to the ethnicity of the area. She also mentioned that the concept of university cooperative extension was born in Tuskegee, Alabama and that she hoped that continuing education could play a positive role in the future of the development of US 80 and other issues. She thanked FHWA, Alabama State University and AECOM for the invitation and organization of the conference. Other attendees echoed this.
Martin Weiss, FHWA responded to the comments about the similarity between corridors, the value of coalitions and the national interest. He noted that FHWA does not have authority to establish coalitions, but that he would, if time and funding permitted, keep in touch with people in the various corridors to follow the development of studies done within the economic development highway initiative. He noted that a recent issue of the Transportation Research Record at https://www.fhwa.dot.gov/planning/economic_development/technical_and_analytical/typology.cfm has an article by Roger Figura of AECOM Consult and Martin Weiss, which outlines the national interest argument in favor of highway economic development in economically distressed areas.
James Perkins, Mayor of Selma, then asked if the economically distressed areas were mostly majority non-white. Martin Weiss indicated that he didn't have exact demographic breakdowns but that the population of the West Virginia and Pennsylvania corridors were almost entirely white, non-Hispanic; the corridors in California and Texas had many Hispanics; the corridors in Alabama, Louisiana and North Carolina had many blacks; and the corridors in South Dakota and Montana had many native Americans so, in short, poverty comes in many colors.
James Perkins, Mayor of Selma, then speculated on finance mechanisms to fund highway improvements in economically distressed areas.
The Workshop concluded with Representative Thad McClammy reiterating the advantages that a corridor coalition has over "each Corridor going it alone" and indicated that Montgomery, Alabama would be happy to host meetings of such a coalition. He indicated he might discuss the coalition idea with others.
Appendix A: Presentation by Martin Weiss
Martin Weiss of the FHWA briefly discussed the legislative basis of the Economic Development Highways Initiative and the FHWA administrative response to the legislative direction to date. He noted that the FHWA had funded few economic development studies nor completed any in-house analyses in the decade and a half before 1995 but that year published information looking at rural highway improvements that correlated with substantial and otherwise unexplained increases in employment in the lower Mississippi delta region (which is comprised of portions of 7 States). In 1998, FHWA and over a dozen States combined funds and began a looking at the possible transportation improvement response to greater trade between Latin America and the southeast United States and what the economic development implications would be of various alternative transportation improvement responses.
In 2000 (In Senate Report 106-55 and House of Representatives Report 106-355, Congress directed the FHWA to carry out an economic development highways initiative. In response, the FHWA signed a contract with KPMG Transportation Group (now part of AECOM Consulting) to conduct and manage 15 studies involving 12 corridors in 9 States. The FHWA also has developed a website https://www.fhwa.dot.gov/planning/economic_development/econdevini.cfm that includes summary reports, images, quotes and links related to the initiative. This website is part of an overall FHWA economic development website https://www.fhwa.dot.gov/planning/economic_development/ .
In 2003, Martin Weiss of FHWA and Roger Figura of AECOM Consulting made a presentation at the Annual January meetings of the Transportation Research Board about some of the results of the initiative as well as results from other research.
Among the subjects was a depiction of the areas of the country that exhibit economic distress as measured by unemployment and population loss https://www.fhwa.dot.gov/planning/economic_development/technical_and_analytical/typology.cfm. Mr. Weiss reviewed specifics of the efforts in process. He noted that a summary of August Alabama workshop would be placed on the public access website. He indicated that presentations discussing the initiative would be given at the Southern Association of State Highway and Transportation Officials workshop (in Sept 2003) and that there were plans for a session at the TRB January 2004 annual meetings to focus on rural highway economic development [ultimately Panel Session 580 during these meetings was on this topic], potentially followed by technical workshop sometime subsequent to the TRB session. Mr. Weiss then discussed things that would not be done in the near future. He explained that no highway economic development related legislation, policy on economic development, nor development of a highway economic development construction program would be done in the near future by the USDOT or the FHWA. However, he stated that there was a reasonable possibility that FHWA would issue technical guidance to States on highway economic development at some future date, probably not until 2004 or 2005. He also indicated that the FHWA might continue to monitor the corridors studied under the economic development highways initiative to follow the impact of the studies. The FHWA would also continue to discuss the initiative at various forums, including perhaps, non-transportation forums. He also noted that the Transportation Research Board is seeking new members on the Economic Development Committee and he discussed the roles and responsibilities of members.
Finally, Mr. Weiss discussed the areas where the FHWA intended to focus its effort after the conclusion of the workshop. These areas were completing the remaining studies (some had not reached the final report stage at the time of the workshop); and continuing general research on economic development. Also, the FHWA would always carry out any follow on Congressional direction regarding this or any other subject.
A copy of the power point file used for the above presentation is available from Martin Weiss, HEPI, FHWA, 400 7th St. SW, Washington, D.C. 20590 (202 366 5010).
Appendix B: Presentation by Keivan Deravi
U.S. 80 Expansion and its Impact on Central Alabama
The primary objective of the project was to determine the extent to which the development of US 80 can promote additional commercial development and tourism activities within the seven county study region. Counties included in this study were Dallas, Hale, Lowndes, Macon, Marengo, Perry, and Sumter Counties.
The U.S. 80 corridor is two lane from Cuba to Demopolis (Marengo County) and four lanes from Demopolis to Selma and Montgomery (with exception to cities of Demopolis and Uniontown). From Montgomery, U.S. 80 continues as a two-lane highway to the Phenix City-Columbus metro area. Upgrades to US 80 between Cuba and Montgomery are already planned, namely, Demopolis and Uniontown bypasses.
Construction of the Demopolis bypass is currently scheduled for completion by 2012. The construction completion for the Uniontown bypass is scheduled for 2006. Current plans do not call for expansion of the remaining sections of US 80 in Alabama.
The seven county study region is located in the south central part of the state. The region is known as the rural Black-Belt, a name that originated due to the area's richly swampy lowland soil. The name also reflects the region's predominantly African-American population.
All the counties in our area of study are located on East Gulf Coastal Plain. As a part of the Southern Coastal Plain, this area is about 69 percent woodland, 17 percent cropland, and 11 percent pastureland.
The woodland is about 65 to 75 percent privately owned and 25 to 35 percent industry owned. Given the vast area of woodland, timber production is an important economic resource. Cash crops include soybeans, peanuts, and cotton.
Socioeconomic characteristics of the region:
From 1990 to 2000, five of the seven counties experienced population losses when the State of Alabama and the U.S. posted population gains. In terms of population growth, six of the seven counties are ranked in the bottom third in Alabama. While non-good producing service industries are the main source of earning for the U.S. and Alabama, we find that manufacturing, specifically non-durable manufacturing, to be the major income originator in five of the seven counties under consideration.
This does not suggest a relatively strong presence of industrial base in the region but rather, relative underdevelopment in other business sectors such as services, finance, and wholesale and retail trade. For example, analysis of 1997 per capita retail sales in this region shows a comparative lack of development in all of the seven counties relative to the U.S. and Alabama. More specifically, data shows retail sales per capita in the seven county regions to be equal to 27 to 78% of the U.S. and 30 to 85% of Alabama figures. The numbers are significantly lower in Hale, Lowndes, Macon, Perry, and Sumter counties. Furthermore, we find wholesale trade, construction, and finance sectors' contribution to the regions earning to be significantly less in the seven counties as compared to those of the U.S. and Alabama.
In terms of employment growth over the 1990 to 2000 period the data points to economic stagnation. During 1990 to 2000 time period, there is a net positive employment growth for the U.S. and Alabama. However, except for Dallas, Hale, and Marengo the remaining counties show a negative growth in employee numbers, ranging from -0.1 % in Lowndes County to -1.2% in Sumter County.
In terms of number of employees some of these counties (Lowndes and Perry) are ranked among the lowest in the state. Our analysis suggests that in all seven counties, persons below the poverty line are significantly higher than the Alabama average. While for Alabama the 1997 poverty rate is registered to be 16.2%, the seven counties report poverty rates ranging from 26.6 % for Hale County up to 36.6% for Perry County.
Industrial Profile:
There appears to be a greater concentration of industrial firms in Dallas, Marengo, and Sumter Counties. Indeed nearly 95% of all the businesses in the counties under consideration are located in these three counties. There are very little industrial facilities along U.S. 80 in Hale and Lowndes Counties. We compared the industrial profile of the region's firms in terms of the percentage of businesses along U.S. 80 involved in the production of Hi-Tech, import and export products to that of Alabama. We find that from the seven counties under consideration only the industrial profile of Dallas County to closely resemble that of the state, namely, 11% Hi-Tech, 13% import, 26% export oriented production facilities.
Marengo and Sumter county have a somewhat comparable percentage of their production facilities in export-import operation. However, these two counties along with the remaining counties report little (4% for Marengo County) to no high technology oriented production facilities.
Corridor Expansion and Economic Development Opportunities:
In order to estimate the likelihood of formation of cluster industries in the region and its connection to the improvement or expansion of U.S. 80, we collected information (primary data) through interviewing a sample of existing industries in the region.
The region was defined to include Montgomery County along with the seven county study region. Montgomery County was added to our seven county regions in order to capture a contiguous economic region. According to the Alabama Development Office (ADO), Directory of Alabama Manufacturing and Mining, as of June of 2002, there are approximately 400 manufacturing firms in the expanded region of this study.
The reported sales and employment of these industries indicate $2.2 billion in sales and total employment of approximately 28,000 individuals. An attempt was made to collect information from a random sample of 230 existing industrial firms in the expanded region. Information was successfully collected from a total of 64 establishments, of which 60 were industrial establishments. Given the region's industrial establishment population of approximately 400, we were able to collect information from 15% of the total industrial establishment base.
The analysis of the information collection phase of this report showed that:
Currently, on average, 41% of the existing sales of the industrial firms in the region are transported over U.S. 80.
37% of the respondents reported that more than 50% of their raw materials are shipped on U.S. 80.
The expected average increase in sales due to improvement and expansion of U.S. 80 is estimated to be 8 percent. The numbers vary from a high of 17% for SIC 24 (lumber and wood) to a low figure of 3% for SIC 28, 37, and 39.
27% of the respondents expect that the expansion of U.S. 80 will lead to an influx of new businesses in the region. SIC sectors 24, 28, 32, and 39 expect the largest number of new firms to locate in the region.
Only 17% of the respondents perceive that expansion of U.S. 80 may result in any cost efficiency gains in terms of lower cost of transporting the raw materials. Furthermore, when we tried to quantify the possible gain in transportation cost, we found that 81% of the respondents perceive a gain of less than 10% in the transportation cost.
21% of the respondents perceived the likelihood for future business expansion of their current operation to be excellent or good.
Strikingly, 79% of the respondents believed the improvement of U.S. 80 may not result in any future expansion of their current operation.
Indeed, only one industry sector, SIC 26, paper and allied products, ranked the likelihood for future expansion at 50% range. The remainder of the respondents, with exception to SIC 35, attached a considerably lower likelihood for their own expansion.
An analysis of expected increase in gross industrial sales showed that, the greatest relative sales impact of the expansion of U.S. 80 will be felt in SIC-Sectors 20, 24, and 26. All these industries are resource-based intensive industries. Furthermore, they represent three of the existing six employment clusters in the region. Our analysis showed that the expected increase in employment attributable to expansion of U.S. 80 to be 2,176 individuals (expanded region). This represents a 7.7% increase in the employment base of the expanded region. The largest employment gain is perceived to occur in SIC-Sectors 20, 24, 34, 35, 26, and 27, respectively. These are the same industries that currently represent the employment clusters in the expanded region.
In terms of relative employment gains, we believe industries 20 and 24 will lead the pack.
Economic Impact of Corridor Expansion and Economic Development Opportunities:
The economic multipliers for the region, based on RIMS II, were purchased from the U.S. Department of Commerce, Economic and Statistic Administration, Bureau of Economic Analysis, Regional Economic Analysis Division. We applied the above multipliers to the estimated direct earning and employment figures for seven county region. This exercise yielded a total earning and employment impact of $66 million and 2,842. The average multipliers were estimated to be 2.21 for earning and 2.65 for the employment.
Economic Projection of Expected Development without and with Corridor Improvement:
Systems of recursive equations were estimated for Dallas, Hale, Lowndes, Macon, Marengo, Perry, and Sumter County. The purpose of the estimation was to provide economic projections for the referenced counties without and with U.S. 80 corridor improvements for the period of 2001 to 2025. In terms of the forecasted economic variables, we concentrated on population, per capita income, personal income, wage and salary income, average wage and salary, wage and salary employment, manufacturing earning, average manufacturing earning, and manufacturing employment. After the model estimation phase, we estimated without and with corridor expansion forecasts for the region.
Our analysis shows that with the corridor expansion, the region will experience an additional average annual compound growth rate of 0.3% in personal income. Based on our analysis, by 2025, the expansion of U.S. 80 will likely lead to approximately $750 million increase in the 7-counties' personal income. In terms of 2002 dollars, using 4 % as the discount rate, this amounts to approximately $300 million for the entire region.
According to our analysis, approximately 56% of the total employment growth will occur in Dallas County. Marengo County will claim 21% of the total, followed by the Hale County's 12% share of the total employment growth. These three counties account for 89% of the employment growth, leaving a total employment growth of approximately 600 for the remaining four counties.
Wage & Salary Employment Trend, 1990-2000 versus 2001-2025
| County | Average Annual Rateof Change-Compound- 1990 to 2000 | Average Annual Rate of Change-Compound- 2001 to 2025 WITHOUT PROJECT | Average Annual Rate of Change-Compound- 2001 to 2025WITH PROJECT |
| --- | --- | --- | --- |
| Dallas | 0.5% | 0.9% | 1.4% |
| Hale | 1.2% | 1.8% | 2.2% |
| Lowndes | -0.1% | 0.8% | 1.0% |
| Macon | -0.7% | 0.0% | NA |
| Marengo | 1.4% | 1.4% | 1.7% |
| Perry | -0.7% | 0.5% | 0.7% |
| Sumter | -1.4% | -0.5% | -0.3% |
Projected Total Employment Impact of U.S. 80 Expansion, Seven County Region, 2025
| County | Average Gain in Wage & Salary Employment | Additional Gain in Manufacturing Employment |
| --- | --- | --- |
| Dallas | 3,201 | 671 |
| Hale | 662 | 236 |
| Lowndes | 252 | 71 |
| Macon | NA | NA |
| Marengo | 1,183 | 320 |
| Perry | 167 | 34 |
| Sumter | 216 | 48 |
| TOTAL | 5,681 | 1,380 |
Appendix C: Presentation by Roger Figura
Summary of Highway Corridors
Maps
Corridor Definition
Project Descriptions
Project Types
Project Objectives
Potential Economic Impacts
Corridors in the Study
US 80 corridor within the State of Alabama
US 43 corridor within the State of Alabama.
Corridors in and near Imperial County, California
Corridors in the city of Orange Cove in Fresno County, California
US 165 Corridor in Morehouse Parish, Louisiana including the vicinity of Bastrop
Corridors in Lincoln Parish, Louisiana in the vicinity of Ruston and Grambling
US 2 Corridor in Roosevelt County, Montana
Corridors in Edgecombe County, North Carolina in the vicinity of Princeville
Corridors in counties in Pennsylvania that are in the Appalachian Region
Corridors in Shannon and Jackson Counties, South Dakota
Corridors in Texas counties that border Mexico
Counties in West Virginia that include Appalachian Regional Corridor G as well as the TOLISA, Coalfields Expressway and King Coal Corridors.
Typology of Projects, Economic Development Objectives and Ex-ante Analysis Considerations
| Project Type | Primary Objectives | Ex-Ante Analysis Considerations |
| --- | --- | --- |
| Better access to employment or production or distribution centers within a generally rural area. | Serve specific existing employers or centers and encourage new compatible employers or centers | Jobs maintained/generated, Plant investment, tax base effects. |
| Connectivity and/or circulation improvements to service roads access roads and relief roads that supplement a major highway through a generally rural area. | Promote/Accommodate commercial development along major highway. | Revitalization Potential Jobs potentially generated, Tax base effects, new businesses created. |
| Connectivity improvements between cities or between a city and a production area through a generally rural area. | Promote/Accommodate commercial development within a major corridor and at both ends of the corridor. | Potential Developable Sites, Interest in Existing Employers to expand capacity, Investment leveraging considerations, Tax base effects. |
Typology of Projects, Economic Development Objectives and Ex-ante Analysis Considerations
| Project Type | Primary Objectives | Ex-Ante Analysis Considerations |
| --- | --- | --- |
| Better access between a workforce and a production center within a generally urban area. | Serve existing employers or centers and encourage new compatible employers in existing centers. | Workforce availability to employers, Jobs maintained and/or generated, Business investment likely, Tax base effects, Diversification of employers. |
| Better connectivity between one production/distribution center and another production/distribution center within a generally urban area. | Serve existing employers or centers, encourage new compatible employers in existing centers and create potential for more high prestige businesses. | Workforce availability to employers, Jobs maintained and/or generated, Business investment likely, Tax base effects. Possible new industries, including high wage or high potential growth employers. Diversification of employers. |
| Access/circulation changes to support changing land use in either a rural or urban area. | Quality of Life retention or improvement. Facilitate changing character of employers. | Business investment likely, Tax base effects. Higher wage employment. Diversification of employers. |
Alabama, US 80 Corridor
Alabama, US 43 Corridor
California, Imperial County Project Cities
Imperial County I-8 Corridor

Imperial County, Brawley Corridors
California, Fresno County Project Location
Fresno County, Orange Cove Corridors
Louisiana, Morehouse Parish Project Location

Louisiana, Morehouse Parish US 165 Corridor
Louisiana, Lincoln Parish Project Location
Louisiana, Lincoln Parish Corridors
Montana, Roosevelt County Project Location
Montana, Roosevelt County US 2 Corridor
Pennsylvania, Appalachian Region Counties Corridors
South Dakota, Shannon and Jackson Counties
South Dakota, Shannon and Jackson Counties Corridors
Texas-Mexico Border Counties Project Location
Texas-Mexico Border Counties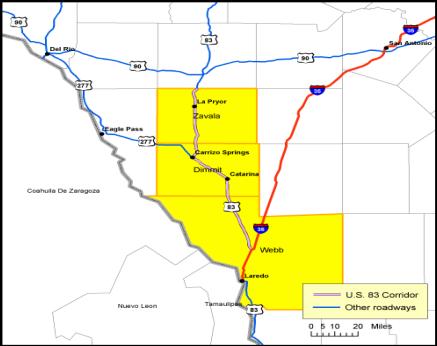 West Virginia, Appalachian Regional Project Location
West Virginia, Appalachian Regional Corridors