Tools and Practices for Land Use Integration
Public Involvement
Transportation and land use planning decisions are complex and typically involve balancing the interests of multiple constituencies, while supporting underlying goals such as safety, mobility and environmental conservation. Public involvement techniques can help the public and elected officials understand implications of planning decisions and make informed choices. Public involvement tools can also allow planners to more accurately understand community preferences. Planning agencies can use public involvement techniques specifically focused on land use and transportation linkages, such as scenario development games, interactive maps, and animation visualizations.
Community Outreach Toolkits and Facilitation Tools

Mobile GIS for Built Environment Audits
Virginia Transportation and Housing Alliance Toolkit
Brainstorm Anywhere Tool
Creating Quality Places Guidebook
"How to Link Land Use and Transportation Planning" Publication

Community Visioning Workshops and Charrettes

Charlottesville Area UnJAM 2025 and KidJAM Public Workshops
Treasure Coast Planning Charrette for a Regional Master Plan
Honolulu Livable Communities Visioning Project

Visualization and Simulation Techniques

Visualization of the Cuba Le Cueva Project in New Mexico
Still and Animated Visualization of Light Rail in Lakewood, Colorado
Casewise Visual Evaluation for Transit Oriented Development
Information on public involvement in scenario planning exercises can be found in the Visioning and Scenario Planning section of this Toolkit. In addition to this Toolkit, the FHWA has a website focused on public involvement for planners.

Community Workshop in Burtonville, CA | Flickr user Thisisbossi
Community Outreach Toolkits and Facilitation Tools
Planning agencies can develop and distribute toolkits and other information packages to provide information regarding integrating land use and transportation to elected officials, partners, businesses, and community members. These resources raise the awareness of the connections between and decisions regarding land use and transportation planning.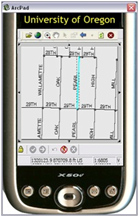 Mobile GIS | University of Oregon
Examples in Practice
Mobile GIS for Built Environment Audits
Oregon Transportation Research and Education Consortium
The Oregon Transportation Research and Education Consortium (OTREC) and the National Center for Biking and Walking (NCBW), and a team of faculty, students and associates developed GIS based software for handheld devices including smart phones, to be used by the general public to assist with mapping the characteristics of a neighborhood's streets, sidewalks, and intersections. Community groups, neighborhood residents, planning teams, or other interested community members enter observed characteristics into their program, which is linked to a central mapping file. The central file collects all the audit notes by participants to show neighborhood assessments. By enabling citizens to participate in collecting data directly from the field, the "participatory GIS" method engages community members and raises awareness of conditions in the built environment that contribute to biking and walking safety. While the software is an excellent tool to encourage community participation and data collection, it is most useful when used in conjunction with facilitated discussions with community members about their findings. Middle school students in Oregon used the tool in collaboration with University of Oregon faculty to test the tool and to map barriers to walking to school to better understand why many students chose not to walk to school. The research team is also working to update the software to be compatible with smart phones. A report on the tool can be found here:http://pages.uoregon.edu/schlossb/articles/schlossberg_GIS_audits.pdf.
Contact: Marc Schlossberg, PhD, Professor, University of Oregon. (541) 346-2046.
Virginia Transportation and Housing Alliance Toolkit
Thomas Jefferson Planning District Commission (Charlottesville, VA MPO)
The Thomas Jefferson Planning District Commission (TJPDC) developed a Toolkit for planners, which includes information and a checklist to assess housing and transportation needs, project future needs, and identify overlapping issues and opportunities. It is meant to support planning for a variety of community needs, including those of people who face barriers to attending public meetings, including disability and age. The checklist is an Excel tool which helps planners assess the study area through multiple criteria to evaluate the transportation systems and housing stock. One example is a series of questions with a scoring range regarding accessibility for people with disabilities. It includes detailed questions about sidewalk widths and availability of curb cuts, with photo examples and points to be awarded based on the quality of the facilities.
Contact: TJPDC (434) 979-7310
Brainstorm Anywhere Tool
PlaceMatters
Brainstorm Anywhere is a public participation tool developed by PlaceMatters. It is a cloud-based polling tool that facilitators can use to gather and organize public opinions, poll their constituents, and prioritize ideas. An important feature of the tool is that public brainstorming can be conducted and recorded by multiple groups in different locations, allowing real time sharing of ideas. The application can be used with other scenario planning tools as a first step to identify transportation and land use needs and priorities. The City of Albany used this tool in a scenario planning exercise for the 2030 Comprehensive Plan. The tool was used for collecting ideas in small breakout groups during a public charrette, and subsequently used by the entire meeting to prioritize the ideas that came out of the small groups.
Contact: PlaceMatters (303) 964-0903
Creating Quality Places Guidebook
Mid America Regional Council (Kansas City area, MO MPO)
The Mid-America Regional Council's (MARC) Creating Quality Places online guidebook includes case studies and tools illustrating development practices that support improved livability and reduced vehicle-travel. Over 1,900 CDs containing the guidebook were distributed to local government officials, developers and builders, engineers and architects, civic leaders and others in the Kansas City region. The second phases identified tools to facilitate implementation of the twenty principles. Other efforts include a Small Cities Toolkit to help smaller communities manage development issues, and a First Suburbs Coalition, involving 19 post-World War II cities, to focus on residential reinvestment, commercial development, and infrastructure maintenance and improvement. MARC has worked with homebuilders and remodeling industry associations in these efforts and notes that its outreach work has influenced redevelopment projects in several suburbs close to the central city, including Raytown and Gladstone.
Contact: Marlene Nagel, MARC (816)474-424) or Dean Katerndahl, MARC (816)474-4240.

"How to Link Land Use and Transportation Planning" Publication
Stratford Regional Planning Commission (Dover area, NH RPC)
The Strafford Regional Planning Commission in Dover, NH published a briefing titled "How to Link Land Use and Transportation Planning." The briefing provides an overview of land use-transportation relationships and describes basic techniques such as nodal development, walkable communities, access management, master planning, site/subdivision review, and driveway placement. The briefing has been distributed to over 2,000 elected officials, planning board members, conservation commissions, and other interested persons in the region. The SRPC reports receiving considerable positive feedback on the briefing and that it is serving as a background for local governments to address issues such as access management along State Route 11.
Contact: Cynthia Copeland, SRPC (603) 742-2523.
Visioning Workshops and Charrettes

Charrette in Biloxi, MS | Knight Foundation.
Transportation agencies frequently host interactive public workshops, in which community members collaboratively identify community objectives, desired outcomes, specific problem areas and solutions.
More intensive than a workshop, a charrette is a concentrated, multi-day series of creative sessions in which a team of planners focuses on specific design problems with citizens and presents plans and design ideas to the group. These more specific ideas can help planners focus on priority projects in the planning process. While workshops tend to focus more on smaller scale projects with general ideas and recommendations, longer charrettes allow planners and community members to look at bigger picture items or look more closely at planning details.
Workshops and charrettes have been successfully applied to develop plans covering transportation, land use, and other issues for communities, specific neighborhoods, transportation corridors, and transit-oriented development sites.
Examples in Practice
Charlottesville Area UnJAM 2025 and KidJAM Workshops
Thomas Jefferson Planning District Commission (Charlottesville MPO)

Children participating in KidJam | Thomas Jefferson Planning District Commission
The Thomas Jefferson Planning District Commission (TJPDC) conducted a public involvement campaign as part of its planning process to develop UnJAM, the area's long range transportation plan. UnJAM, the United Jefferson Area Mobility Plan, is the long range transportation plan for the Charlottesville-Albemarle Metropolitan Planning Area (MPO). In 2004, the Thomas Jefferson Planning District Commission and the MPO Policy Board adopted UnJAM 2025. The Plan captured local visions for land use and transportation growth and development, while achieving a regional consensus on priority projects and strategies. The public involvement exercises used blueprint sized paper workbooks, which small groups used to record ideas and feedback. The workbooks contained maps, data, and questions about land use and transportation, and are available on pages 15 and 16 of the Planning and Processes section of the 2025 plan. Additionally, TJPDC developed KidJAM, a facilitated workshop for children, serving the dual purpose of providing care for the children of those attending the public workshops and identifying specific land use and transportation needs of children. In May of 2009, the MPO Policy Board approved the UnJAM 2035 plan. UnJAM 2035 will continue as the guiding document for transportation planning throughout the MPO.
Contact: TJPDC (434) 979-7310
Treasure Coast Planning Charrette for a Regional Master Plan
Treasure Coast Regional Planning Council (FL)
The Treasure Coast Regional Planning Council (TCRPC)'s Urban Design Studio provides assistance to its member communities to address land use and transportation planning issues. The studio has sponsored a series of planning charrettes for the communities of Indian River, St. Lucie, Martin, and Palm Beach. More recently, TCRPC has worked with other regional planning councils to host charrettes in Dade, Broward, Flagler and Polk counties. Each charrette lasts seven to ten days, during which residents, landowners, staff, elected officials, and other participating agencies work with a team of designers to produce a master plan for the revitalization and growth of their community. A steering committee is created by the local government in advance of the charrette.
Contact: Dana Little, TCRPC Urban Design Studio, (772) 221-4060.
Honolulu Livable Communities Visioning Project
City and County of Honolulu (Hawaii)
The City and County of Honolulu's Waikiki Livable Community Project was a livability and mobility study that examined the relationship of the Waikiki's street network and transportation environment to Waikiki's residents, stakeholders, businesses, tourists and employees. The project emphasized an extensive public involvement and outreach effort that led to the formulation of a "Pedestrian First" policy to enhance and improve the pedestrian environment while maintaining essential transportation access and services in Waikiki. A unique aspect of the study was the development of "street visions" for the three main arterial street corridors and connecting local street network that traverse Waikiki. The "visions" for the street network revolve around "vision statements" that articulate the desirable character, enhancements and improvements for the street system in Waikiki. See also: "Waikiki Livable Community Project: Livability and Mobility Report" (City and County of Honolulu, 2003).
Contact: Brian Suzuki, City and County of Honolulu (808) 527-6880.
Resources
Ames, Steven C., ed. (2001). Guide to Community Visioning. American Planning Association Planners Press: Chicago, IL.
The National Charrette Institute is a nonprofit educational institution that helps communities develop new plans through collaborative planning processes. NCI offers a "Charrette Start-Up Kit" that provides an introduction to charrette techniques.
Visualization and Simulation Techniques
Visualizations can help decision makers and communities understand how proposed land use and transportation projects would look, and how they could affect their communities. Animations can be particularly useful in depicting transportation projects and changes to traffic flow. Agencies can also incorporate more advanced modeling tools, such as Casewise Visual Evaluation, which can predict public preferences based on sample visual preferences for different types of land use and transportation designs.

Cuba La Cueva Road Realignment Visualization | Central Federal Lands Highway
Examples in Practice
Visualization of the Cuba Le Cueva Project in New Mexico
Central Federal lands Highway Division
The Cuba La Cueva project involved a road re-alignment and a proposed bridge through a scenic valley. The Central Federal Lands Highways (CFLH) Division used a series of design programs (Microstation, 3D Studio Max and Photoshop) to render a proposed bridge and context sensitive solutions for the project. The simulated photos allowed FLH officials to accept a design concept that would be minimally intrusive to the surrounding scenic area.
Contact: Tom Puto, CFLH (720) 963-3728.
Still and Animated Visualization of Light Rail in Lakewood, Colorado
City of Lakewood, CO
The City of Lakewood used 3-D visualization tools to illustrate two future transportation-oriented developments planned in conjunction with the Denver Regional Transit District's proposed West Corridor light rail transit project. The visualization includes movies as well as still images illustrating proposed station designs, alternatives for the build-out of surrounding neighborhoods, and design treatments for adjacent roadways. The visualization was used to support neighborhood-based station area planning activities and the evaluation of alternative build-out scenarios. This outreach process led to station area plans and the designation of a transit mixed use district around four stations with park and ride facilities.
Contact: Roger Wadnal, City of Lakewood (303) 987-7519.
Casewise Visual Evaluation for Transit Oriented Development
University of Kentucky
The Kentucky Transportation Center at the University of Kentucky used Casewise Visual Evaluation (CAVE) to capture design preferences regarding a roadway or transportation-oriented development as part of a public participation program. CAVE can record and model preferences for various combinations of design features in a standard public meeting. It has been applied to multiple projects, including a rural highway corridor design in central Kentucky, an urban light rail transit system in Louisville, and a bridge design project in Ohio.
Contact: Ted Grossardt, University of Kentucky Transportation Center; (859) 257-7522.
Resources
Note: The following list of resources is not a comprehensive list and individual resources not directly affiliated with FHWA are not endorsed by FHWA.