Scenario Planning Peer Workshop Report - El Paso, Texas
III. Peer Practices and Observations
A. Planning in the San Diego Region: Integrating Land Use and Transportation
Coleen Clementson, San Diego Association of Governments, San Diego, CA
Overview
Ms. Clementson began by introducing SANDAG, the San Diego region's regional planning agency and designated MPO. The region includes 18 cities and the unincorporated areas of San Diego County, an area of 4,230 square miles. The region is bordered to the south by Mexico and includes Camp Pendleton, a U.S. Marines Corps Base, and 18 tribal nations.
Today the region's population is approximately 2.8 million. Population projections forecast another million residents by 2030, along with 450,000 jobs and 300,000 housing units. Many residents already feel that the region is fairly well built out. When the population projections were received, SANDAG created a trend scenario forecasting growth patterns under existing plans and policies. There is significant interest in habitat planning in the region, so the sprawling development seen under the trend scenario was unpopular with many. Growth patterns under a "smart growth" scenario were selected.
Regional Comprehensive Plan
The Regional Comprehensive Plan (RCP) was identified as a way to bring together all of the local plans and create a way to get to the preferred alternative. Three key principles guided the planning process: connect transportation and land use plans; provide incentives and collaboration; and guide infrastructure investments. There was general agreement on protecting open space and concentrating development in the areas where transportation investments have already occurred. These investments include light rail and commuter rail service, as well as the development of a new BRT system, now in progress. The general approach was to connect the "smart growth areas" (those deemed appropriate for development) with regional transit investments..
The RCP defined smart growth place types that were appropriate to the local context, each with density and transit service levels, ranging from metropolitan center to rural village. Special use centers include major employment centers, such as universities and military bases, where there may be an opportunity to provide more housing. Rural village areas have no minimum transit service. Rather, the focus in these areas is to appropriately provide goods and services nearby to reduce VMT.
Table 1: Smart Growth place types from SANDAG's RCP
Smart Growth
Place Type
Minimum Residential and Employment Targets
Minimum Transit Service Characteristics
Metropolitan Center
75+ du/ac; 80+ emp/ac
Regional
Urban Center
40+ du/ac; 50+ emp/ac
Corridor
Town Center
20+ du/ac; 30+ emp/ac
Corridor/ Community
Community Center
20+ du/ac
High Frequency Local
Rural Village
10.9+ du/ac
N/A
Mixed Use
Transit Corridor
25+ du/ac
High Frequency Local
Special Use Center
Opt. res; 50+ emp./ac
High Frequency Local
SANDAG worked with the local jurisdictions to jointly identify smart growth opportunity areas over a period of 6 to 8 months. The local jurisdictions proposed the opportunity areas, which were reviewed by SANDAG for compatibility with the place type and transit criteria. Those that met the criteria were defined as "existing / planned" areas. If not, they were identified as "potential areas", which may need local land use or zoning changes or regional transportation plan changes before compatible development could occur.
Implementation
Information on all of the identified smart growth areas was compiled on a Smart Growth Concept Map which is available on the SANDAG website.. The data provided on the website is intended to bring together information for community members, developers and other interested parties to easily understand the opportunities available today and in the future.
SANDAG has also developed a smart growth tool box, which includes both planning and financing tools. Examples include smart growth design guidelines, which help local officials incorporate the concepts in their plans and codes. Another example is use of theI-PLACE3S, a scenario planning software application which allows communities to create alternative land use scenarios by applying new land uses to parcels, blocks, or other geographic units. I-PLACE3S is internet-based and hosted in Davis, California. After the initial work to assemble the data and conduct internal staff training, which took about a year, SANDAG has started making the software available to local jurisdictions. A pilot program has recently been completed with three jurisdictions at different stages in the planning process. The pilot projects used I-PLACE3S for public meetings, environmental analysis, and in generating new ideas. While they found that the software was somewhat labor intensive to use at a community meeting, they decided it was a worthwhile endeavor. Community members were given the opportunity to try changing land uses around a transit station. As a result, they saw modeled changes in housing units and jobs. SANDAG made the decision not to directly integrate I-PLACE3S with their transportation modeling, as they determined it may be inappropriate to provide VMT estimates based on sketch planning. Rather, they are using a "red light / green light" approach, asking, "Is the area becoming more or less transit friendly?
Figure 1: An I-PLACE3S exercise at the Melrose Sprinter station in Oceanside, replacing single-family low density, regional retail, and light industrial with multi-family high density, high-rise mixed use, and high-rise office.
As I-PLACE3S does not have a graphic component, SANDAG hired consultants Urban Advantage to create visual simulations to help residents conceptualize what smart growth would look like in the San Diego region. To create the visual simulation, existing conditions images are layered with potential new changes based on the long-range plan and inputs from local planners, at a cost of approximately $6,000 per visual simulation.
Smart Growth Incentive Program
Key toward implementing the RCP and its smart growth policies is the SANDAG Smart Growth Incentive Program which provides incentive for local jurisdictions to identify smart growth opportunity areas is the Smart Growth Incentive Program. Areas which are "on the map" are eligible for planning funding (up to $200,000) or capital improvements (up to $2 million) grants. The former may be used by local jurisdictions to update comprehensive plans or zoning and the latter for projects such as streetscape improvements and transit amenities. Funding for this program comes from a half-cent sales tax dedicated to transportation, approved in 2004. Two percent (approximately $7 million annually) of those funds are for the Smart Growth Incentive Program. Once the program formally begins, there will be a call for projects every two years with evaluation criteria including housing and transit considerations; the SANDAG board will make the project selections.
Discussion
What has the trolley done for economic development?

We have not done that analysis. We have had light rail for some time, but it has taken place at the same time that there is interest in downtown redevelopment, making it hard to determine the impacts. On an anecdotal basis, SANDAG staff often meet with developers interested in making transit connections to their development.

What's the air quality status? Did you look at air quality impacts in creating the regional comprehensive plan?

The San Diego area is in attainment for air quality. While the regional transportation plan includes significant consideration of air quality impacts, the comprehensive plan focused on land preservation and increasing transit ridership.

How long did the public involvement process take?

It took about two years and SANDAG received a $1 million grant from Caltrans, which was very helpful. Public involvement was structured differently in different jurisdictions. The City of San Diego and San Diego County were also both updating their comprehensive plans while the Regional Comprehensive Plan was under development. The planning directors of the cities in the region, who meet monthly, were viewed as key stakeholders. SANDAG also worked at the policy level with the city councils to enable them to perform outreach. Chapter 1 of the RCP provides an overview of the public involvement process and is available at: http://www.sandag.org/index.asp?projectid=1&fuseaction=projects.detail

Do forest fires have an impact on the planning process?

The two major fires in 2007 happened after the RCP was complete, but forest fires are a big factor in refining the open space network. Land uses do not appear to be changing in response to the fires, but there are building code changes.

How do you integrate the military into regional planning?

We have a military representative as an advisory member on the SANDAG board, as well as representatives from the State of Baja California, Mexico, and the chair of the coalition of tribal governments.
B. Fort Worth's Near Southside: Promoting Revitalization with Form-Based Development Standards
Mike Brennan, Fort Worth South, Inc., Fort Worth, TX
Fort Worth South, Inc. is a non-profit group that has an advocacy function and also administers the tax-increment financing for Fort Worth's Near Southside neighborhood. They have a close working relationship with the City and also with local businesses, many of whom also contribute to the agency's work.
Citywide comprehensive planning efforts began in 1999. Pedestrian-friendly mixed-use development was determined to be appropriate policy direction for the Near Southside. However, there was a mismatch between that policy, which called for complete streets, on-street parking, comfortable and attractive streetscape, mixed uses, and pedestrian-oriented design, and the existing zoning. A set of goals for the district was developed, with residential density as the major goal. Street standards were also inconsistent with goals, as the standards were characterized by oversized travel lanes, no pedestrian amenities or streetscaping, and applied throughout the city without respect for context.
Fort Worth South, Inc. had established a precedent by petitioning for mixed-use zoning in individual sections of the district. Projects were developed under the mixed-use zoning, both demonstrating market viability and establishing a consensus that the zoning changes were heading in the right direction. To update the zoning more efficiently district-wide, Fort Worth South, Inc. requested the City Council to initiate development of a form-based zoning code. The result, the Near Southside Development Standards and Guidelines, is available at Fort Worth South Inc's website, as well as that of the Form-Based Codes Institute.
The standards are based on a set of general development principles. The transect, an urban planning model which creates a range of place types from rural to urban, was used as the basis for the classification system. The streets were classified based on context, as well as capacity and function. There are height bonuses for mixed-use or public space projects.
Lessons learned
Prioritize great customer service; be inclusive and respond to all stakeholder concerns. There were more than 2,000 owners in the district and no opposition at final hearing.
There were tough compromises. For example, one of the five hospitals did not want to be included in the new code and the property was left zoned as-is; there was no multi-story requirement on "Main" Streets; there was no frontage percentage requirement; and there were fewer neighborhood zones than Fort Worth South, Inc. would have liked.
Having code in place completely changes the tone of discussions with developers and architects, and in a great way. Now Fort Worth South, Inc. can help developers navigate the process, instead of just asking them to do something different.
Discussion
How did you address objections throughout the process? There is concern locally about putting parking in the back, for example.

We gave examples of successful existing developments that meet the standards. For example, Magnolia Avenue had enough examples of the desired development types and was drawing people in. Allowing suburban development types would dilute that success. Also, it takes a while for businesses to realize that existing uses will not be affected. To reassure existing owners and tenants, a long list of permitted uses was created, to avoid making existing businesses nonconforming.

Who sits on the design review committee?

As Fort Worth South, Inc. is very familiar with the standards, they provide informal project review as assistance to the City. The City's urban design commission reviews projects that do not clearly conform to the standards and either does or does not issue a certificate of appropriateness. The urban design commission members are appointed by the City Council. Six of the nine members must be design professionals, developers, real estate, or have a law background.
C. Euclid Corridor: Context Sensitive Design
Maribeth Feke, Greater Cleveland Regional Transit Authority, Cleveland, OH
The Euclid Corridor bus rapid transit (BRT) project is one of the premier BRT projects in the country. Construction is two-thirds complete and opening day is scheduled for October 26, 2008. The Euclid Corridor has been one of the longest running projects in Federal Transit Administration history at over 22 years, much of which was taken up by the environmental process. The corridor includes 6.7 miles on Euclid Avenue, which is one of Cleveland's main streets and includes five distinct neighborhoods. Along about one-third of the corridor, service operates in an exclusive lane; fare collection is off-vehicle. Bus route#6 on Euclid Avenue carries 27% of ridership on the entire system. One of the project goals is to attract development along the corridor instead of the more typical urban sprawl.
Figure 2: One of the new Euclid corridor stations.
There have been curb-to-curb streetscape improvements along the corridor and a strong focus on public art and signage. Both functional and standalone public art elements were key to emphasizing the identity of the corridor and of the neighborhoods through which it passes. Functional art elements include paving treatments, trash receptacles, and tree grates. Consequently, a cohesive graphic identity was created. For development, there are form-based standards for the corridor, with decreasing densities as you move away from the corridor.
While the regional economy is struggling, approximately $2.5 billion in development has occurred in the corridor, achieving half of the housing and two-thirds of the development square footage goals originally set forth, and the project is not yet even open. GCRTA intends to study the economic development impacts as the project progresses.
Discussion
How did you select the corridor?

It represented more than 20% of entire system ridership plus the largest employment centers, including two medical centers.

Were there art incentives?

A consultant did a comprehensive public art program and put out a call for projects.

How was the level of service (LOS) for automobile traffic impacted?

The LOS did not degrade although two travel lanes were removed. However, a new north-south street was added to mitigate construction impacts. (fewer vehicles on Euclid; construction impacts; no accidents)

What has been the response to the facilities?

They have been very well received. Riders love the facilities as they are brightly lit, visible, easy to get on and off (level boarding), and that the buses are faster and more reliable.

What are the headways?

Every 12 minutes, coordinated with feeder bus service
D. Scenario Planning: Lessons from Local History
Dr. Robert Czerniak, New Mexico State University, Las Cruces, New Mexico
Dr. Czerniak began by stating that scenario planning can be difficult to implement since results are unknown and can take 20 years to materialize. When making growth projections, rates of growth are more important than the end results, as they dictate what capital improvements are needed. Expansion of infrastructure capacity occurs in a step function rather than a straight line as does population increase. Funding rarely comes at the right time or in the right amount. The further into the future one forecasts, the more important multiple scenarios are because a single projection rarely is accurate. We have tools today that did not exist in the past, such as GIS, so scenario planning can be done more effectively and in greater detail.
Dr. Czerniak reviewed the Las Cruces, NM planning documents and discovered scenario plans from 1981, when the area was designated an standard metropolitan statistical area (SMSA) by the 1980 Census. White Sands Missile Range had just received significant Federal funding and growth was expected. The City of Las Cruces wanted to do a major comprehensive plan revision. A 100-person citizens' advisory committee (CAC) was created and a consultant, EDAW, was hired. The plan, adopted unanimously by the CAC, developed a set of conceptual scenarios. There was strong support in the CAC for infill development and a clear rejection of growth along the lines projected in the trend scenario. However, the plan was confusing for the elected officials, who wanted to see a single future and ultimately rejected it. The City developed a new comprehensive plan along more conventional lines; a byproduct of which was a growth scenario different than that being used by the County government, a situation only rectified within the last two years.
E. Evaluating the Future: Forecasting Urban Development Using the UrbanSim Land Use Model in El Paso, TX.
Quinn P. Korbulic, New Mexico State University, Las Cruces, NM
New Mexico State University (NMSU) is working with the City of El Paso to support development of a land use model using UrbanSim, a multi-agent microsimulation-based behavioral model. For example, a household's choice to move to a specific location will be shaped by land prices, proximity to arterials, shopping, and characteristics of the household, such as income, children, and age of the head-of-household.
For the El Paso, Texas pilot study, a relatively small study area with clearly defined political and geographic boundaries were chosen. The primary tables in UrbanSim are gridcells, which act as the unit of change within the model. For this study the gridcells were set at 150 meters on a side. Multiple attributes, such as income, race, and gender, can be added to the gridcells. Demographic data comes from the Census but is synthesized using household synthesis software.
It is fairly simple to build scenarios in UrbanSim and they can be combined in multiple ways. Scenarios included institution of an urban growth boundary (UGB), as it provides a sharp contrast, not because it is likely to be implemented. The basic scenarios developed were "Trend 2027" and "UGB 2027" scenarios. The latter increased density and reduced development of new land, although only by 1.25 people per acre over the study area. Total density (jobs plus population) was also compared under both scenarios. Other scenarios include not allowing development inside the floodzones, adding 1,000 housing units under a planned development, and combinations of these scenarios.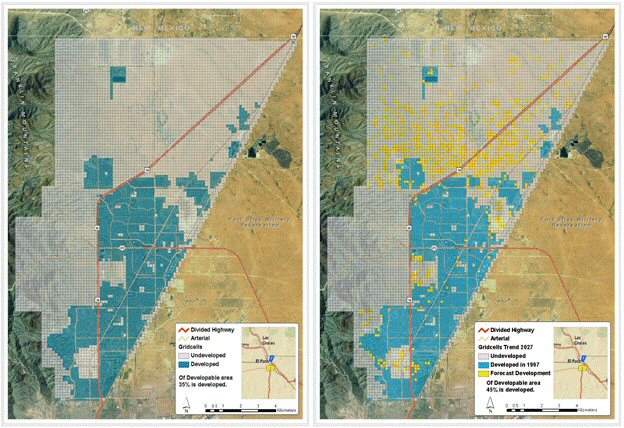 Figure 3: Study area development forecast in the 2027 trend (right) and 2027 urban growth boundary (left) model runs.
For the pilot study, only a general approximation of land use controls was used to create the development constraints table, which had far ranging effects on the results. The model still needs refinement before it is ready to be used operationally. An updated development constraints table and travel data are necessary, and other questions must be answered. The model did not accurately estimate 2007 conditions.
While the software is free, and used in major cities such as Portland, Houston, Detroit, Honolulu, and others, it is an immense undertaking. The data creation and the staffing components are complex and time-consuming.