Scenario Planning Peer Workshop Report - Mooresville, North Carolina
Continue to Table of Contents
Also available for download : PDF (614 KB)
To view PDF files, you need the Acrobat® Reader®.
Sponsored by the Federal Highway Administration
Location:

Mooresville, NC

Date:

July 20, 2005

Workshop Host Agencies:

Federal Highway Administration, North Carolina Division Office
North Carolina Department of Transportation
Town of Mooresville

Workshop Participants:

Centralina Council of Governments
Federal Highway Administration, North Carolina Division
Federal Highway Administration, Office of Planning
Federal Highway Administration, Resource Center
Fountainworks
Iredell County Planning Department
Lake Norman RPO
North Carolina Dept. of Transportation, Transportation Planning Branch
Renaissance Planning
Town of Mooresville Planning
Town of Mooresville Manager's Office Town of Mooresville Board of Commissioners
Town of Mooresville Public Works
US DOT Volpe National Transportation Systems Center
Summary
The following report summarizes a Peer Workshop on tools and effective practices for scenario planning. The Federal Highway Administration (FHWA) coordinated and supported the one day workshop. The FHWA North Carolina Division Office, the North Carolina Department of Transportation, and the Town of Mooresville hosted the event in Mooresville, North Carolina. Presenters at the workshop provided participants with an overview of the scenario planning process, shared examples of scenario planning efforts from elsewhere in the country, and described available resources and tools to assist with scenario planning analysis. Participants then brainstormed ideas for scenario planning in the Mooresville region.
Next Steps were identified at the workshop closeout. These next steps included agreeing to proceed with the scenario planning process; identifying stakeholders; creating an exploratory committee to define the scope and jurisdiction, help manage the process, and, with the help of the FHWA, contact other communities that have done or are doing scenario planning; identifying roles and responsibilities; and orienting existing and upcoming plans with scenario planning.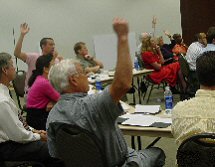 Continue to Table of Contents