New Trends in Transportation and Land Use Scenario Planning
Appendix C. Case Studies
Case Study 2: Chicago Metropolitan Agency for Planning (CMAP)
Background
CMAP is the regional planning organization for the northeastern Illinois area, including Chicago. CMAP's region includes six counties and the agency serves a total population of approximately eight million residents (see Figure 1). CMAP was established in 2005.The region is growing by about one percent per year. By 2040, nearly three million additional residents and 2 million additional jobs are expected.
Figure 1. Map of northeastern Illinois, including the CMAP region.
Overview of CMAP's Scenario Planning Effort
CMAP conducted an extensive scenario planning process as part of the GO TO 2040 effort. GO TO 2040 is the comprehensive regional plan to guide future development and growth. Scenario planning was used because CMAP viewed it as a best practice in developing complex LRTPs. In addition, CMAP reported that the scenario planning approach allowed it to conceptually test out various ideas before making actual recommendations on policies, strategies, or investments. Consultants, including Fregonese Associates and Envision Sustainability Tools, Inc., assisted with components of the CMAP scenario planning process.
Prior to the scenario planning portion of GO TO 2040, CMAP had developed a regional vision and collected extensive data on the region. With the assistance of a local community foundation (as well as the Volpe Center), CMAP also developed snapshot reports and strategy papers that identified important issues in the region and potential strategies to address those issues.
Three scenarios were constructed in 2008. During the summer of 2009, the public provided feedback on the scenarios during a series of "Invent the Future" workshops and other public outreach events. A draft preferred scenario was chosen and is currently being reviewed by the CMAP board. The total cost of the GO TO 2040 effort was approximately $10 million (including staff time) over three years, of which about $300,000 was spent on visualization tools.
Key Findings
The scenario planning process conducted by CMAP for GO TO 2040 was an example of innovative scenario planning for several reasons:
Scenario analysis focused on factors not traditionally considered in transportation agencies' long-range plans, such as energy and technological innovation. CMAP used scenario planning to identify policies and strategies that the region can use to address growth- and quality of life-related trends. The effort considered a wide range of strategies and indicators of success, ranging from congestion, energy use, and impact on long-term economic growth. CMAP limited the scenario planning effort to strategies within the region's control. The next step will be to test the robustness of these strategies to external forces beyond the region's control. CMAP will begin this "external-in" analysis after plan adoption.
Use of visualization tools. Extensive use of real-time visualization tools (both online and at workshops) helped educate the public on potential scenario outcomes.
Partnerships with external stakeholders. CMAP partnered with the Chicago Community Trust, a local community foundation, to support the overall GO TO 2040 effort and develop regional indicators to measure the area's success in meeting quality of life goals.
Use of robustness testing. CMAP plans to procure consultant assistance to develop a 'robustness test' after the GO TO 2040 plan is completed. The test will explore how the preferred scenario would perform given future external drivers of change, such as increased fuel prices and climate change.
Scenario Construction
CMAP constructed three scenarios for GO TO 2040 with the help of internal working committees that identified key, cross-cutting themes, then grouped themes into discrete scenarios. All scenarios used the same socioeconomic projections. Brief descriptions of each scenario and its associated recommended policies are listed below:
Reinvest: focused growth on existing infrastructure as well as support of transit-oriented development (TOD), walkable communities, and sustainable transportation options.

Policy and investment choices associated with the reinvest scenario include removal of regulatory barriers to affordable housing in TOD areas, support for non-motorized transportation, and zoning changes to permit more TOD areas.

Preserve: focused on system preservation with moderate increases in density, aesthetic improvements to increase regional quality of life, upgrading of transportation system to serve a larger population, and small-scale improvements such as the addition of bike lanes.

Policy and strategy options associated with the preserve scenario included increasing recycling and waste disposal programs, additional open space acquisition, bicycle and pedestrian improvements, implementation of car-sharing programs, and historic preservation programs.

Innovate: focused on use and support of clean energy, alternative fuels, and energy-efficient technologies to reduce development impacts while still growing the region outward.

Policies and strategies associated with the innovate scenario include support for 'green' jobs, investments in alternative fuels, adoption of congestion pricing, and support for context-sensitive transportation designs.
CMAP did not intend the scenarios to be mutually exclusive. Ultimately, the preferred scenario combined the 'best' strategies from all three scenarios.
Scenario Assessment and Analysis
To assess the performance of the three scenarios, CMAP developed 250 regional indicators, including land consumption, open space, air quality, congestion, and environmental justice. Indicators were developed with feedback from internal CMAP committees as well as the public and CMAP ensured that good data were available for each one. CMAP will monitor future growth and development using these indicators.
Scenarios were analyzed using in-house models, including a four-step travel model. CMAP also worked with consultants to develop spreadsheet models to calculate scenario outcomes. Land use patterns and investments were varied to test which scenarios reduced congestion and other factors. The model did not fully consider existing development and constraints, as CMAP believed that land use patterns could change in the future. However, CMAP did restrict development on open spaces in line with open space preservation strategies.
Public Outreach
To solicit public feedback on the scenarios, CMAP conducted an extensive public outreach campaign that included a series of 55 "Invent the Future" workshops during the summer of 2009. Each workshop averaged 20–30 participants and lasted about one-and-a-half hours. The first half of each workshop focused on providing participants with an introduction to the GO TO 2040 effort. Participants were then polled (using keypad devices) on their preference for each scenario and associated policy options. The second half of the workshop focused on discussion of results from the polling exercise.
CMAP also deliberately separated technical scenario analysis from public outreach to keep the workshops comprehensible and the public engaged.
MetroQuest software was used during the "Invent the Future" workshops as well as on CMAP's website as a public involvement and educational tool to show participants how their policy choices might 'play out' in the future. MetroQuest was built by Envision Sustainability Tools, Inc., a Vancouver-based consultant. The software was designed to simplify complex scenarios for use in a general public forum.
During the workshops, participants used keypad polling devices to anonymously vote on preferred development patterns. The most popular responses were chosen and input to the MetroQuest tool. The tool then displayed the results of the chosen development pattern in real-time. The displayed results were based on analyses that had been performed ahead of time and programmed into the MetroQuest tool.
Additional considerations regarding CMAP's use of MetroQuest are listed below:
CMAP believed that MetroQuest was an effective tool to help educate the public on scenario outcomes. CMAP reported that it chose to use MetroQuest because it was considered the most user-friendly tool available and had the most intuitive and usable interface.
CMAP reported that the level of detail offered by MetroQuest was appropriate given how it was used for the effort. CMAP reported that a minority of participants wanted more detail than was provided by the software; these participants were able to view the 2040 website for additional information.
Using the tool was not a labor-intensive process. The consultant did a large amount of work and CMAP had existing data to plug into the tool. The contract with Envision Tomorrow was signed in July 2008. Data transmissions began in September 2008 and the MetroQuest tool was working and utilized for workshops starting in May 2009.
The CMAP website also offered the public opportunities to construct their own scenario using MetroQuest software. Using the software, the public could also see the outcomes of each scenario as compared to indicators (while the specific indicators were built into MetroQuest, users could vary the priority level for each indicator) (see Figure 2).
Figure 2. Screenshot of "Invent 2040," a MetroQuest-based online tool available on the CMAP website that allowed users to develop their own scenarios based on various policy choices and tradeoffs.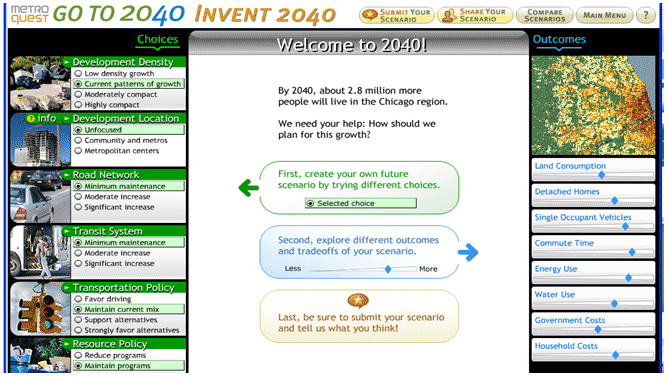 Use of Additional Visualization Tools
CMAP offered a variety of online visualization tools on its website, including general images that displayed each scenario as it might look like in the future. These images were used to help the public better understand the impacts of their choices.
In addition to these general images, CMAP worked with several architecture and urban design firms to create scenario outcome-based images specific to several communities. These images displayed the outcomes of the preserve, reinvest, and preserve scenarios as each might be overlaid on community-specific maps and plans (see Figure 3).
Figure 3. Innovate Scenario as it might look for the City of Blue Island, Illinois.
Preferred Regional Scenario
The draft preferred regional scenario was selected by CMAP after extensive analysis and was consistent with public input provided during the "Invent the Future" workshops. The preferred scenario includes a focus on dense, mixed-use redevelopment, strengthening the region's green infrastructure (i.e., interconnected open spaces and other green spaces), and other issues, such as development of innovative finance options and intergovernmental cooperation. The preferred regional scenario was endorsed by the CMAP Board in January 2010.
Outcomes
The CMAP board endorsed the preferred scenario in January 2010. Next, CMAP will focus on the details of implementing the preferred scenario components in winter and spring 2010. Next steps might include:
Supporting innovative finance options (e.g., congestion pricing, public-private partnerships) for recommended transportation investments.
Supporting local government land use decisions in line with the preferred scenario.
Other actions, such as supporting open space preservation, resource conservation, public transit improvements, and others.
To build support for the preferred scenario, CMAP's executive director has coordinated with area COGs and other stakeholders to explain the vision and its associated recommended policies, strategies, and actions.
Lessons Learned and Benefits
CMAP reported the following lessons learned in conducting the GO TO 2040 scenario planning process:
It is difficult to communicate technical details to the public. When presenting results or information to the public, it was important to keep the detailed and complex technical analysis portion, such as the results of travel modeling, separate from the communications portion of scenario planning to keep the public engaged.
Scenario planning is a comprehensive approach that can help to create complex LRTPs.
CMAP already receives significant support from USDOT and believes that its priorities are well aligned with USDOT's planning priorities. However, it would always be helpful to look for additional opportunities to continue strengthening the relationship between CMAP, FHWA, and USDOT.
Challenges
CMAP reported the following challenges:
The GO TO 2040 process covered more than transportation, land use, and environment; as a result, traditional funding sources were difficult to use for this purpose. CMAP did have access to a private source of funds for GO TO 2040—the Chicago Community Trust—that provided CMAP with approximately $1.3 million. Without this private funding source, CMAP believed it would have been very difficult to have sufficient resources to focus on in the full range of issues that a comprehensive plan should address.
The GO TO 2040 scenario planning processes have been very complicated and complex. Scenario planning has a lot of power but cannot be conducted quickly or simply. CMAP has expended significant time and staff resources to develop the plan; communication of the scenario planning effort to the public has always been a challenge.
Generally, CMAP had access to good data (for land use, energy, water, etc.) to develop the three scenarios. However, CMAP did not have good freight data, which limited its ability to focus on freight issues when developing the preferred scenario. Freight issues are being addressed for GO TO 2040 as part of an ongoing study.
In addition, CMAP reported that the analytic tools it used to assess scenarios were adequate, but could be improved. It is difficult to find comprehensive models that can include data from non-built environment to help answer questions such as: what kind of impact will educational strategies have on the economy?
Key Documentation
GO TO 2040 strategy papers: http://www.cmap.illinois.gov/go-to-2040-strategy-papers
Regional indicators for scenarios:
http://www.cmap.illinois.gov/metropulse
---
Footnotes
7 General information regarding GO TO 2040 can be found at http://www.cmap.illinois.gov/2040/main.
8 To build the vision, CMAP conducted a visioning workshop in the fall of 2007. About 150 participants attended the event; group brainstorming sessions and keypad devices were used to capture and prioritize key growth themes for 2040, such as sustainability and environmental health. A draft vision was then developed by CMAP and provided to internal committees for review and feedback. Ultimately, the preferred growth vision was approved by CMAP board in June 2008. Additional information on the visioning workshop is available at http://www.cmap.illinois.gov/documents/20583/3c81f529-e5c9-4f36-bf41-2c32af3a5500. The regional vision plan and additional information on the development process are available at http://www.cmap.illinois.gov/regional-vision/.
9 More information on the snapshot reports in available at http://www.cmap.illinois.gov/cmap-regional-snapshots.
10 The strategy papers are available at http://www.cmap.illinois.gov/go-to-2040-strategy-papers.
11 More details on the reinvest scenario can be found at http://www.cmap.illinois.gov/reinvest-scenario.
12 More details on the preserve scenario can be found at http://www.cmap.illinois.gov/preserve-scenario.
13 More information on the innovate scenario can be found at http://www.cmap.illinois.gov/innovate-scenario.
14 As part of the campaign, kiosks were displayed in high-traffic public areas to solicit feedback on future development. CMAP received nearly 20,000 responses to the kiosks.
15 For more information on MetroQuest software, see http://www.metroquest.com/.
16 Graphic from the GO TO 2040 website at http://www.cmap.illinois.gov/2040/main.
17 Graphic from the GO TO 2040 website at http://www.cmap.illinois.gov/2040/main.
18 More information on the draft preferred scenario is available at http://www.cmap.illinois.gov/draft-plan.