Third Infantry Division Highway Corridor Study
6.0 Project Development Process
This study is not intended to recommend any alternative for implementation; it will not lead to any further planning beyond Phase II of this study, design activities, right-of-way acquisition, or construction activities for any specific highway improvement unless State and local transportation decisionmakers determine additional project development steps are warranted. The following discussion is included to identify key steps that would be necessary if a project were identified for further development.
Table 13 – Projected Year of Expenditure Cost Estimates
Alternative
Min. Build
Super-2
Arterial
Interstate
2010
A West
$700 Million
$1.2 Billion
$2.5 Billion
$4.8 Billion
A West (Dalton Spur)
$600 Million
$900 Million
$2.0 Billion
$4.2 Billion
B/A West
---
---
$2.5 Billion
$5.2 Billion
B Bypass/A West
---
---
$3.1 Billion
$5.9 Billion
2020
A West
$1.0 Billion
$1.7 Billion
$3.6 Billion
$6.9 Billion
A West (Dalton Spur)
$800 Million
$1.2 Billion
$2.9 Billion
$6.0 Billion
B/A West
---
---
$3.6 Billion
$7.4 Billion
B Bypass/A West
---
---
$4.4 Billion
$8.4 Billion
2030
A West
$1.4 Billion
$2.5 Billion
$5.1 Billion
$9.8 Billion
A West (Dalton Spur)
$1.1 Billion
$1.8 Billion
$4.1 Billion
$8.5 Billion
B/A West
---
---
$5.1 Billion
$10.5 Billion
B Bypass/A West
---
---
$6.2 Billion
$11.9 Billion
2040
A West
$2.0 Billion
$3.5 Billion
$7.2 Billion
$14.0 Billion
A West (Dalton Spur)
$1.6 Billion
$2.5 Billion
$5.9 Billion
$12.1 Billion
B/A West
---
---
$7.2 Billion
$14.9 Billion
B Bypass/A West
---
---
$8.9 Billion
$17.0 Billion
2050
A West
$2.9 Billion
$5.0 Billion
$10.3 Billion
$20.0 Billion
A West (Dalton Spur)
$2.3 Billion
$3.6 Billion
$8.4 Billion
$17.2 Billion
B/A West
---
---
$10.3 Billion
$21.3 Billion
B Bypass/A West
---
---
$12.7 Billion
$24.2 Billion
The project development process for highway projects is primarily a linear process that is prescribed by Federal and State requirements. It includes the following components:
Identifying a problem (defining purpose and need)
Analyzing alternative solutions and their impacts
Finding a recommended solution to address that problem (identifying a preferred alternative)
Defining the scope and cost of a project to provide that solution
Finding and programming funds to implement the project
Implementing the project in accordance with Federal and State policies, standards, guidelines, laws, and regulations.
Although all States have similar processes for project development, each has special requirements based on that State's own administrative, regulatory, and legislative requirements.
Depending on the size and scale of the project, the project development process can be complex, involving 200+ major steps, with approvals or input required from numerous Federal agencies, State agencies, and other stakeholders. The various steps in the project development process for GDOT are shown in Figure 12 and the steps in the TDOT Program, Project, and Resource Management Plan process are shown in Figure 13.
Often, it is not practical to improve the entirety of one lengthy corridor at once; the corridor must be divided into manageable sections. Ideally, these would be Sections of Independent Utility (SIUs), in which a long corridor is broken into smaller sections so that improvements to each smaller improvement project would have independent utility with logical termini, even if the remainder of the proposed improvements along the entire corridor were not completed. While it is too early to try to break up the 3rd Infantry Division Highway corridor into SIUs, the recently 156-mile Savannah River Parkway was constructed as 15 segments for an example.
If a large, multistate corridor like the 3rd Infantry Division Highway corridor were selected for further development, there are several organizational structures that could be utilized for further development.
Each State may elect to pursue any project(s) independently on its own using State or Federal funds.
States may create a multistate coalition (via a Memorandum of Understanding) to guide mutually agreeable goals and priorities for the project.
States may enter into a formal interstate compact that would define specific projects, priorities, funding sources, and other terms for implementation.
Regardless of the mechanism, each State would address project development in a similar manner generally using the following steps: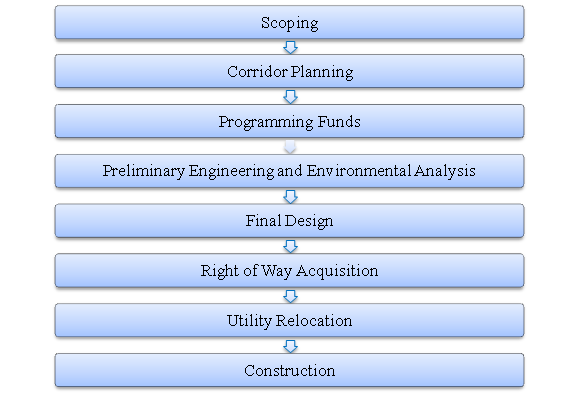 Typically, the major challenges will be at the front and back ends of the project development process. At the beginning, the challenge is to determine whether improvements are justified and whether funds should be committed to pursue those improvements. Assuming a project goes forward, finding funding for the construction of all the proposed improvements is another major challenge.
The following discussion provides a summary of key phases necessary for project development and implementation. This is not intended to be an all-encompassing discussion, but only to provide a sufficient overview to explain the type and complexity of task needed for project delivery.
6.1 Scoping
Any project(s) identified for implementation should address an existing transportation need. Needs can be identified by a variety of sources: MPOs, elected officials, the public, or through the long-range planning processes. If policy-makers determine additional study is warranted, an analysis of overall needs and deficiencies within the 3rd Infantry Division Highway corridor could occur at two levels:
First, needs and deficiencies must be considered in the context of the multistate highway system to determine whether (1) there are route deficiencies or other constraints along the existing highway system or (2) there are gaps in system connectivity or access to communities, economic centers, or other attractions.
Second, for projects along existing routes, a more detailed analysis is needed to determine if the existing roadways demonstrate any physical or operational deficiencies. This effort could include analyzing data to identify any current or future problems related to safety, capacity, level of service, highway geometrics, access, drainage, structural issues, or other factors on a case-by-case basis.
It is possible that a needs/deficiencies analysis could identify multiple needs, either from a system-wide perspective or through the analysis of existing facilities. Depending on the results of this analysis (which has not been conducted for the 3rd Infantry Division Highway corridor at this time), needs could be identified that could be addressed through new highway routes, relocation of existing routes, reconstruction of existing routes, spot improvements (e.g. rehabilitating deficient structures), or some combination of these. Until decisionmakers have a thorough understanding of the transportation needs, it is premature to identify whether improvement projects should be pursued.
a. Purpose and Need
A key element of any proposed project is the development of a Purpose and Need Statement that describes the need for a proposed project and how the proposed project will meet that need. In other words, it states the problem (e.g., safety or congestion) and why the project is being proposed (e.g., to reduce fatalities or improve capacity). The purpose should not be a specific solution, but must focus only on what the project is trying to achieve and why.
While the project purpose is defined on a customized, needs-specific basis, there are several generally accepted issues that can be addressed by highway improvements and are likely to be used in a Purpose and Need Statement. Some of the typical issues are economic development, national defense/security, legislative mandates, and goals from State or local transportation plans, such as improved mobility, connectivity, accessibility, safety, and level of service.
For the proposed 3rd Infantry Division Highway corridor, there could be multiple Purpose and Need Statements. If a corridor is selected for implementation, a statement should be developed to define the need for improvements to the entire corridor and to describe the overall purpose for constructing/improving routes between Savannah and Knoxville. In addition, this Purpose and Need Statement for the entire corridor would be expanded with further detail for each of the SIUs that make up the corridor, since each of the proposed improvements within those SIUs must be independently useful.
If a project becomes part of the State DOT's work program, the preliminary Purpose and Need Statement will continue to be reviewed and refined, if needed, as more information becomes available during the initial phases of project development.
6.2 Corridor Planning
After initial data collection during the scoping phase, a project will enter the Planning phase. Typically, it could take up to 2 years to complete a feasibility study of the overall corridor improvements or to complete an alternatives study within each SIU. For larger, more complex corridors, the Planning phase can take longer.
As with the Needs/Deficiencies Analysis, corridor planning can occur at two levels:
First, the proposed corridor improvement may be reconsidered in the context of the MPO or statewide long-range transportation plan to evaluate whether there is justification for the project(s) on a system-wide basis. Likely, this "big picture" evaluation would be part of the initial justification analysis for the Programming phase to help decide whether the proposed project will be advanced, rejected, or studied further before a final funding decision is made.
Second, a more detailed project-level planning analysis may be needed for each of the proposed SIU projects in a corridor. This analysis can serve two purposes. It can be used to confirm or deny that a need exists and provide more information as to whether a project has merit and should go forward. If a need does exist, the planning-level analysis can then be used to better define the purpose and need, termini, project description and scope, and other factors to be considered as the project proceeds into future phases. Planning work may examine design criteria, environmental resources, community impacts, engineering issues, preliminary cost estimates, or other factors.
In Tennessee, these early stages of the project development process are documented in a Transportation Planning Report (TPR).The TPR defines the purpose and need for the project by looking at evaluation factors such as congestion relief, accessibility and mobility, economic development, goods/freight movement, and safety. A set of preliminary alternatives or options for addressing the transportation needs is also identified and evaluated; environmental surveys are initiated, using desktop databases and windshield surveys.
Other types of transportation planning documents include corridor studies (focusing on one corridor), sub-area studies (focusing on a small geographic area), needs assessment/identification studies, master plans (defining a broad vision for a corridor or area), feasibility studies, and implementation plans. A variety of these type of studies would be necessary if the 3rd Infantry Division Highway were selected for implementation, both at the corridor-wide level and for individual SIUs. Planning documents typically include a description of area needs/project purpose, a preliminary alternatives analysis, and overview-level information about environmental constraints.
a. State/MPO Coordination and the Transportation Improvement Program
Assuming that a project moves beyond the planning phase for future implementation, it will first be returned for further programming so funds can be identified for the next phase of the project. It is assumed that a combination of Federal and State funding will be needed for implementation if any projects are identified in the 3rd Infantry Division Highway corridor.
The project can then begin progressing through a series of prioritization steps at the State level, and at the MPO level for project in urban areas.
The Long Range Transportation Plan (LRTP) describes the strategies and actions guiding transportation system investments over a 20-year horizon. The LRTP is defined at both the MPO level and statewide. The LRTP may be built on major corridor studies completed in the Planning phase or may serve as a venue to identify major corridors that should be considered for planning analysis and further development. LRTPs typically address:
Policies that will shape the future transportation network for the State/region
Demands and needs, both present and future, facing the system
Regional/statewide land use, development, and socioeconomic factors
Projected costs and reasonably available funding sources
A variety of involvement techniques are employed to solicit input from stakeholders and interested members of the public. The LRTP for the MPO and State must be thoroughly coordinated to ensure consistency.
Before Federal funds can be authorized, any proposed project must be included in the Transportation Improvement Program (TIP), which is completed at the MPO and State level and lists the program of federally funded capital improvement projects to be accomplished within a 4-year period. The TIP/STIP identifies how the MPO/State DOT will allocate its limited funding to address transportation needs of the region/State, based on a clearly defined set of short-term priorities. Much more specific than the LRTP, the TIP defines actual projects identified for implementation, allocating funding for different phases. The STIP or TIP includes a project name and description, cost estimate, and implementation schedule based, respectively, on previous phase cost estimates, and the project priority, as assigned by the State DOT or MPO.
By Federal regulation, the TIP/STIP may include projects only if adequate funding can reasonably be anticipated to be available; projects must be prioritized by the State DOT or MPO in the competition for limited funding. The priority and implementation for a project may be determined by each agency's project prioritization process and criteria, which could include a variety of factors.
How well will the project satisfy established goals set forth in the transportation plan?
How will the project fit into the overall transportation system?
What is the benefit-to-cost ratio?
Is funding available?
What input is available from previous planning efforts for the project?
What input was provided by the public, stakeholders, and Federal, State, and/or local officials and agencies?
Again, given Federal and State funding cycles, it is estimated that it could take 1 year or more to acquire the necessary Federal and State funds and to incorporate any projects into the STIP and/or TIP. For areas which do not meet air quality attainment standards (Atlanta, Macon, Knoxville, and Chattanooga), the MPO TIP development process requires a more complex analysis and can take much longer to complete.
6.3 Programming
Following Planning and inclusion in the TIP/STIP, the next step is the submittal of potential project(s) resulting from the needs analysis to State DOT decisionmakers for funding and for possible inclusion in the Department's work program. Using GDOT as an example, a proposed project would be submitted to GDOT's Project Nomination Review Committee, which decides whether it should be included in the GDOT Construction Work Program (CWP). Typically, a potential project would be included if there is a reasonable justification for the project. This initial justification would be based on the preliminary Purpose and Need statement, which describes the transportation need and how the proposed project would meet that need.
After considering the justification for the project, State DOT decisionmakers may recommend approval, recommend further study, or reject the project. Approval or a decision for further study is generally a commitment to provide funding and to formally program the project(s) for further project development actions.
For GDOT, upon a favorable recommendation by the Project Nomination Review Committee and concurrence by the GDOT Chief Engineer, a proposed project would be submitted to the Director of Planning to approve its addition to the CWP. The CWP includes priority projects with committed funding during the next work program cycle. Projects that are not a top priority or that do not have sufficient funding may remain in the LRTP until a future version of the Work Program is issued. All major projects must have final approval from the Transportation Board before inclusion in the CWP and in GDOT's Project Management System.
a. An Incremental, Iterative Process
Programming is usually an incremental process since funds are limited and a project must pass through multiple phases of activity, spaced over several years. According to TDOT's 2005 LRTP, Tennessee's transportation needs over the 25 years will amount to nearly $130 billion (adjusted for inflation) while the available Federal, State, and local funds are estimated at $69 billion. A similar shortfall is predicted in Georgia's 2005 STIP: "Total revenues (2006-2035) are forecast to be $86 billion for the thirty year period, compared to total costs in the Build/Financially Unconstrained scenario of $160 billion."
Large projects are often subdivided into smaller, more manageable sections which can be staggered over several years. Adequate funding may be available to advance one or two SIUs even if funding is not available for the entire corridor.
Programming is also an iterative process as more information becomes available through each phase and decisions are refined and reevaluated. New information about the project description, scope, funding needs, and constructability issues can lead decisionmakers to reevaluate their support for a project.
The first phase, and often the only initial funding commitment, is the Planning phase. Programming for further project development may depend on the outcome of the Planning phase.
Given State funding cycles, it is estimated that it could take at least 1 year to build upon planning-level findings to develop the project justification, identify a source of funds for at least the initial phase of project development, and formally adopt the project into the DOT work program.
6.4 Preliminary Engineering and Environmental Analysis
Once authorized for Federal funds, the Preliminary Engineering and Environmental Analysis phase can begin. State funds may be authorized for early studies and/or preliminary engineering if it is deemed necessary to expedite the project schedule. However, if Federal funds are used for any phase of the project, the project is considered federally funded and full analysis is necessary to satisfy Federal requirements.
This phase of a project is conducted in accordance with the requirements of theNEPA of 1969 and other subsequent Federal environmental laws, regulations, and guidelines. The project development procedures used during this phase are usually referred to as the NEPA process. This phase of the project development process typically adds more specificity and technical detail to analyses conducted during the Scoping and Planning phases. Streamlining to link planning and environmental analysis phases reduces duplication of efforts and can expedite a project timeline, as discussed in Section 6.4.e.
Typically, this phase would be expected to take at least 2 years and probably more, especially if any major issues or significant impacts are identified. According to FHWA research for EISs completed during 1999 to 2010, an average of 74 months was required to complete the NEPA process. Based on data from a limited number of projects completed under SAFETEA-LU legislation, the average schedule for completing the NEPA process under SAFETEA-LU has been reduced to 3.4 years.
a. Preliminary Engineering
Preliminary Engineering includes preparation of conceptual designs, engineering studies, preliminary design, and environmental studies. Preliminary engineering for major projects generally consists of further concept development to update and expand any previous planning work. Some of the more important steps in this phase include:
Public Participation – Public involvement, resource agency coordination, and consultation with local officials are undertaken as a vital part of concept development to solicit input on potential issues, impacts, and alternatives. This input is used to help define and evaluate proposed alternatives for the project.
Needs/Deficiencies Analysis – Using the results of the initial Scoping and Planning tasks as a starting point, the project development process continues with more detailed and/or updated data collection and analyses to focus more specifically on systems/route needs and deficiencies. Input received through public participation and the results of the updated Needs/Deficiencies Analysis can help verify or result in modifications to the Purpose and Need. It can also be used to better identify current and future deficiencies and needs that exist along a study corridor, as well as potential engineering issues and operational impacts of a project.
Purpose and Need – Before beginning the development of alternatives, the information gained from the Planning process, the Public Participation process, and the Needs/Deficiencies Analysis is evaluated to determine if modifications should be made to the Purpose and Need statement. The statement must clearly establish the problem that the proposed project will address, with supporting data and explanation. It should clearly identify the need for the project, discuss logical termini, and identify major engineering and operational issues.
Alternatives Development – The Purpose and Need of the project is the framework for the initial development of potential alternatives within the study corridor. Typical sections and design criteria will be proposed for any Build alignments, which will be used to better define the project footprint for environmental studies and to develop updated, more accurate cost estimates for the remaining phases of the project (i.e., final design, right-of-way, utilities, and construction). Preliminary line and grade plans may be developed; this will include such tasks as surveys and mapping, soils surveys, property surveys, utility investigations and coordination, railroad coordination, traffic forecasts and analysis, identification of required permits, consideration of underground storage tanks and hazardous materials sites, and preliminary work on various design elements, such as highway geometrics, pavement, drainage, hydraulics and structures, lighting, traffic control, and erosion control.
The Preliminary Engineering phase feeds the Environmental Analysis phase, often overlapping as alternatives are refined to reduce footprints or projected impacts.
b. Environmental Analysis
The environmental steps in this phase are used to identify and determine potential impacts on the human and natural environmental, community, and cultural resources, including impacts on aquatic and terrestrial wildlife habitats, streams, wetlands, historic and archeological features, homes, businesses, and other unique features of value in the study area. This will also ascertain potential social and economic impacts and identify any features of special concern, such as the existence of underground storage tanks and hazardous materials sites. Another major outcome of this process is a compilation of environmental mitigation strategies that can be used to offset any potential impacts that may occur from the alternatives.
Depending on the scale of the project and characteristics of its environmental setting, data collection requirements can impact project timelines. Surveys for wildlife and endangered species may be constrained by season. Consultation with resource agencies regarding impacts can require close coordination and time sensitive efforts; this would be particularly true for the 3rd Infantry Division Highway corridor due to the density of resources in north Georgia and Tennessee.
c. Alternatives Evaluation
Based on the previous data and analyses, an evaluation of each of the proposed alternatives is conducted. The first step is the development of the criteria to apply for this evaluation. One of the evaluation criteria should be a relative comparison of how well each alternative satisfies the Purpose and Need of the project. Other criteria would also be considered, such as environmental resources, socioeconomic and community impacts, safety, travel benefits, engineering feasibility, project costs, public concerns, and others as determined by the project team. Using the selected criteria, the evaluation would include a comparison of the Build alternatives versus the No Build alternative, as well as comparisons among the various Build alternatives.
Based on this evaluation, a recommendation would be made regarding whether to choose the Build or No Build alternative and, if the former, the preferred Build alternative that should be carried forward for further project development.
d. NEPA Documents
Ultimately, this phase of project development results in an environmental document that is submitted for review and approval by FHWA. Three levels of NEPA documentation exist: Categorical Exclusion (CE) for projects with no significant impacts, Environmental Impact Statement (EIS) for projects with significant impacts, and Environmental Assessment (EA) for projects that may or may not result in significant impacts. Given the scope of the proposed improvements to the corridor and the controversy that surrounds the 3rd Infantry Division Highway corridor, it is anticipated that a formal EIS will be required if any projects are identified and advanced to this stage.
A Tiered EIS may be well suited to address NEPA issues at the full-corridor level and smaller SIUs for the 3rd Infantry Division corridor. In this process, a first tier EIS focuses on broad issues, e.g., general location, mode choice, and region-wide impacts related to major alternative concepts. In the second tier, site-specific details are examined for each SIU. This two-tier strategy facilitates resolution of big picture decisions early on so later studies can focus on relevant details. The Tiered EIS also follows the NEPA process to involve environmental, regulatory and resource agencies, and the public in making decisions, as well as consideration of environmental resources and potential impacts in these planning-level decisions.
Once an EIS is prepared and approved by FHWA, its availability for agency and public comment will be announced in the Federal Register. The Draft EIS is circulated to Federal, State, and local resource agencies and made available to the public for review. The agencies and public are given an opportunity to provide written comments on the EIS. A public hearing is held so that citizens, officials and agencies can also provide comments for the record in person.
At the end of the comment period, all written comments and comments received at the public hearing are summarized and addressed. A Final EIS would then be developed and its availability would be announced in the Federal Register. After 30 days, a Record of Decision is prepared, signed by FHWA and an announcement is placed in the Federal Register.
e. Planning and Environmental Linkage
One of the means for reducing some of the time for project development is to streamline the environmental process. If efforts are made during the Planning or Preliminary Engineering phase to follow the principles of the NEPA process, some planning-level analyses and decisions can be adopted and incorporated into subsequent phases of project development, thus reducing the time needed for the environmental studies, alternatives development and evaluation, and environmental documentation.
Planning and Environmental Linkages represent a more efficient approach to transportation decisionmaking and the project development process. Considering community and agency perspectives, environmental issues, and other goals earlier in the Planning phase facilitates a smooth transition to future project development stages. By anticipating and addressing a range of environmental issues earlier in the process, designers can develop context-sensitive alternatives and minimize time-consuming redesigns in the future.
If planning-level tasks meet FHWA requirements regarding agency coordination, public involvement, and documentation, results from these efforts can be adopted into the NEPA process for
The foundation for Purpose and Need statements;
Definition of the general travel corridor;
Preliminary screening of alternatives and elimination of unreasonable alternatives;
Planning-level evaluation of indirect and cumulative effects;
Regional or ecosystem-level mitigation options and priorities; and
Linkage with housing, development, economic, and environmental goals and analysis.
Early consultation with resource agencies and other stakeholders during the Planning phase can help identify key environmental factors and resources, leading to informed decisionmaking and more focused analysis during NEPA phases.
Although specific implementation strategies to link planning and NEPA are still under development, applying this concept could eliminate the need to pursue a Tiered EIS and could help streamline the project development timeline.
6.5 Final Design
Final Design includes all of the work needed for the preparation of construction bid documents, including plans, specifications, and estimates (PS&E). This will include final plans, design/construction specifications, and estimates of quantities for roadway design, which includes roadway geometry, drainage, staging plans, erosion control, signs and markings, and signals. This also includes plans and specifications for structures, right-of-way acquisition, utility relocation, pavement design, lighting, and landscaping.
Obtaining permits from regulatory agencies is another component of the final design stage. Although specific requirements vary by location and project type, permits would likely be required from following agencies for each SIU.
The U.S. Coast Guard, under the 1946 General Bridge Act, issues bridge permits requiring specific clearances for structures over navigable waterways.
The U.S. Army Corps of Engineers issues permits under Sections 9 and 10 of the 1899 Rivers and Harbors Act and Section 404 of the Clean Water Act for construction activities in navigable waterways and wetlands. These permits regulate construction activities for placement/removal of structures over streams, dredge/fill earthwork, and other stream disturbances.
The State Environmental Agency (TN Department of Environment and Conservation or GA Department of Natural Resources) provides Section 401 Water Quality Certifications for in-stream construction activities. This agency also typically oversees National Pollutant Discharge Elimination permits for surface runoff.
The TN Valley Authority (TVA) provides permits for construction across or along the Tennessee River and its tributaries under the 1933 TVA Act.
The Federal Aviation Administration issues permits for vertical obstructions (e.g. cranes or other equipment) located near airports.
The National Resource Conservation Service issues approval for projects converting farmlands to non-agricultural uses under the Farmland Protection Act.
In addition, agency coordination and specific documentation requirements may apply if a project impacts threatened/endangered species, parks or recreational sites, historic/archaeological resources, lands developed under the Land and Water Conservation Fund Act, hazardous waste sites, State or federally managed lands, or coastal management zones.
At this conceptual level of detail, with no specific improvements defined, it is premature to try to identify the number of specific permits that will be required along the entire corridor. As most SIUs will likely require most of the permits listed above, this represents a relatively significant level of effort.
Other key elements are incorporating environmental mitigation into the final design, developing construction cost estimates, acquiring necessary easements, and the execution of appropriate agreements with the utilities and railroads.
Once the Final Design right-of-way plans are approved, the State DOT can seek Federal authorization of construction funds.
The Final Design phase for a project can take up to 2 years, and it can take longer if difficulties arise or approval is not given, which may require additional engineering studies, surveys, and/or plan revisions. The time required to obtain permits varies by project type and complexity.
6.6 Right-of-Way Acquisition
On approval of the NEPA document for the project, right-of-way acquisition can begin. The right-of-way acquisition process culminates with the actual acquiring of properties necessary for the planned and approved project. The process to determine the approved alignment for a project involves public hearings and consideration of the input gathered during these hearings and during the environmental decisionmaking process.
The acquisition of real property and the relocation of persons displaced by federally funded transportation projects must follow all requirements of the Federal Uniform Relocation Assistance and Real Property Acquisition Policies Act of 1970, as amended (the Uniform Act, Public Law 91-646). The Uniform Act is codified at 42 USC 4601, and implementing regulations can be found at 49 CFR 24. As agreement is reached, deeds are prepared and parcels can be purchased. This phase addresses displacements and relocations, where necessary. Special efforts are also made to address any other negotiated or legal requirements, such as access improvements or removal of underground storage tanks, as well as the acquisition of easements and any necessary demolition and removal.
The Right-of-Way phase typically takes approximately 1 year for each project, depending on the scope of the project and the number of properties affected. However, it could take longer if a successful negotiation cannot be reached with a property owner, which would require continued negotiations or legal condemnation action, or if any unusual difficulties arise with the deed or with demolition and removal.
Before the project can be advertised for construction, a Right-of-Way Clearance Certification must be approved to certify that right-of-way was acquired in accordance with applicable FHWA directives, or that acquisition of right-of-way is not required.
6.7 Utilities Relocation
Once the Final Design utility relocation plans are approved and authorization has been granted to proceed to construction, the DOT can initiate physical relocation of any utilities that will be disturbed by the project. Again, if funds have not already been programmed, funds must be identified for the Utilities phase and incorporated into the DOT work program before this work can begin.
Any necessary right-of-way or easements must be obtained prior to the beginning of the Utilities phase. Coordination with the utility companies will have taken place throughout previous phases, and the plans would have been submitted to the utilities for review before Final Design was complete. At this point, field surveys are completed and discussions with the utilities continue to resolve any issues, update the plans as needed, and enter into formal agreements for the initiation of and reimbursement for the relocation work. Once all of these necessary steps are taken, the physical relocation of the work is accomplished.
Although railroads are not technically a utility, a similar process would also apply to any project impacts on railroad facilities within the project area.
The Utilities phase typically takes approximately 1 year, but it could take longer, depending on the circumstances and laws in effect for each State. It is possible that work could be accomplished simultaneously with the Right-of-Way phase if the utility right-of-way and easements are acquired early.
6.8 Construction
Once Construction Authorization has been given and both the Right-of-Way and Utilities phases are complete, the DOT can proceed with the Construction phase.
The Final PS&E are used for the letting and award process for the construction contract. The Construction phase includes construction engineering, materials testing, construction inspection, and other work directly related to the administration of the construction contract.
For a typical project, this phase can be expected to take up to 2 years, but it could take longer, depending on the scope and complexity of the project. Seasonal factors and weather events can impact construction timelines as well.
Maintenance of Traffic
Maintaining vehicle access to existing roadways and adjacent properties is a consideration throughout the construction process. One of the key elements that must be addressed before construction begins is developing a plan for the reasonable accommodation of existing traffic directly affected by the project. Of special importance, the requirement for the maintenance of traffic during construction can have a major impact on the construction schedule.
Under Federal regulations, work zone safety and mobility measures are required during the construction of Federal-aid highway projects. This requires the development of a Traffic Management Plan as part of the Final Design Phase. For major projects, the Plan includes development of a temporary traffic control plan, a traffic operations component, and a public information component, which is likely to apply if any improvements are identified for implementation along the 3rd Infantry Division Highway corridor.
Maintenance of traffic could include such things as signing, channelization, alternate routes, night work, or other hourly or daily restrictions, as well as innovative measures to accelerate or minimize the impacts of construction. Public information techniques using local media or intelligent transportation systems raise public awareness or provide information directly to motorists. In some cases, particularly in major urban areas, the Traffic Management Plan must address potential system-wide impacts. While beyond the scope for a typical project, the Plan could also include demand management options, such as the promotion of transit use, carpooling, or flexible working hours, which are perhaps more applicable in major urban areas.
6.9 Schedule
As noted previously, if improvements along the 3rd Infantry Division Highway corridor are identified for implementation, it will not be practical or possible to undertake all of the improvements along the entire corridor at the same time. Also, finding and programming the necessary funds for full implementation of numerous SIU improvements within a large corridor would be a major challenge especially in light of the current economic climate.
As part of the Every Day Counts initiative, project delivery timelines are being shortened through enhanced technical support. Assuming a best case scenario whereby all of the funds could be programmed and all of the improvements undertaken simultaneously, the corridor improvements could take at least 12-13 years for full implementation, if no major issues arise to delay the project. Delivery of larger, more complex projects may take longer due to the magnitude and technical issues associated with a project, due to the number of Federal and State regulations they must comply with, and due to the public interest they generate.
As a comparison, a selection of Interstate and major corridor projects below required decades to advance through the project development stages to construction; several are still under development today. While numerous environmental policies and surface transportation authorizations have altered the project development process over the past decades, these examples provide a general illustration of timelines for major corridor projects.
The construction of 76 miles of I-68 through the Appalachian region in Maryland began in 1963 and was completed in 1991.
The I-75 through Tennessee was divided into 11 sections which completed constructed between 1963 and 1974.
The 156-mile Savannah River Parkway (a four-lane arterial from Savannah to Augusta) was initially identified in the 1989 Georgia Governor's Road Improvement Program and completed construction in 2010.
The Appalachian Development Highway System began with the Appalachian Development Act in 1965, which identified over 3,000 miles of highways for construction in 13 States. Over the next 45 years, 2,715 miles have been constructed (88 percent of the total system) and the remaining corridor segments are in planning, design, or right-of-way phases. Within the 3rd Infantry Division Highway study area, portions of Corridors A, K, and W have not yet been completed.
The I-69 corridor, first envisioned in the 1950s, was first included as Corridor 18 in ISTEA in 1991. The corridor stretches through eight States to create a Canada-to-Mexico Interstate link on new and existing alignments. The corridor exists from Port Huron, MI to Indianapolis, IN. The over 1,600 mile corridor has been divided into 32 SIU which are still progressing through planning and NEPA stages at this time. A 22-mile section of the route in Mississippi opened to traffic in 2006; a few other SIUs are in the construction phase.
Given today's climate of budget constraints, the ability to fund, program, develop, and construct a series of improvement projects in the corridor would likely require many years or decades for full implementation.